General Dynamics Information Technology is a Top-Notch Example of an Excellent Corporate Citizen
General Dynamics Information Technology (GDIT) – through CSRA and other organizations – has been a longtime supporter of The Children's Inn at NIH, and supports our mission in a variety of ways. This year, GDIT is a Gold sponsor for An Evening for Hope, The Inn's largest annual fundraising gala. Their contribution of $50,000 supports seriously ill children who are staying at The Inn while participating in clinical trials at the National Institutes of Health (NIH)–but that's not all GDIT has done for The Inn.
"They [The Children's Inn] are a vital part of what the NIH stands for. They really do create an environment for families and the children that are going through treatment as well as their siblings. In addition to sponsoring the gala for a number of years, we have a number of employees who support a number of different events to raise additional funds," said Paul Nedzbala, GDIT Senior Vice President, Federal Civilian.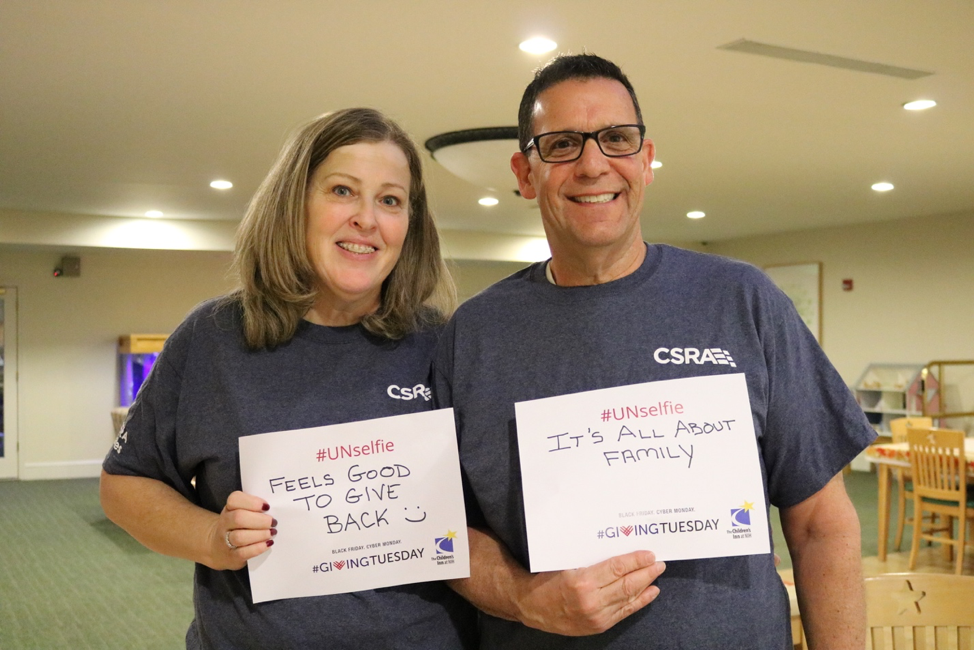 CSRA holding a sign #UNselfie
GDIT not only makes generous financial contributions to our programs, but their employees donate their time to prepare and serve dinner to Inn families. Their most recent "make-your-own-taco" themed dinner was a huge hit! Employees also organized a bowling fundraiser, raised funds for a new oven, and GDIT even sponsored our Instagram photo contest that sent one of our families to Disney World.
As one of our most generous corporate partners, we cannot thank GDIT enough for their unwavering support and compassion for our families. Because of them, we're able to make childhood possible for over 1,700 families every year!
Stay Up To Date
on how The Children's Inn is creating 'A Place Like Home'