Help The Children's Inn Keep Seriously Ill Children and Their Families Safe and Supported During Coronavirus Pandemic
Here are the most urgent ways you can make a difference now:

---
May 29, 2020
As businesses open back up and pandemic-related restrictions loosen, The Children's Inn is preparing for an increase in families.
In order to protect vulnerable children and young adults, we are implementing a host of additional safety measures. Please view these and other Children's Inn news below:
While we are continuing to serve the children with the most urgent medical needs, our reservations are expected to increase this summer as children and young adults return to The Inn to take part in noncritical, routine checkups at the NIH Clinical Center. To safely accommodate larger numbers of people, we are limiting the number of families per kitchen to two at a time. Families now reserve times electronically. In addition, children and young people must check out equipment to use our game room, so we can help ensure physical distancing and disinfect items and surfaces. Finally, foot stickers show families where to stand to maintain the recommended distance to others while in line at our front desk.
Memorial Day was a quieter holiday than usual at The Inn, but thanks to your support, our families enjoyed hamburgers, hot dogs, watermelon, ice cream and popsicles as well as lawn games and outdoor activities. Thank you!
On Wednesday, The Children's Inn was featured on Good Morning Washington, a local TV morning show. Check it out!
Zilly, our beloved therapy dog, was back at The Inn this week after spending several weeks "working from home." Our families enjoyed seeing her around, and Zilly loves being at her favorite place, around her favorite people: our children and families.
The Children's Inn is grateful for a $25,000 grant for family programs from The J. Willard and Alice S. Marriott Foundation. The grant will help us provide traditional and virtual activities to our children and families as well as our young adults.
How can we safely bring back our administrative staff and volunteers? We are making plans to slowly return to more normal operations over the coming months. Due to the difficulty of predicting how the current crisis may develop, we are making tentative plans that can be adjusted at a moment's notice. Once finalized, we will share these plans with you.
We wish you and your loved ones a safe and relaxing weekend. If you're looking for a way to make a difference for our children and families now, here are the most impactful ways to do so:

---
May 22, 2020
How are you commemorating Memorial Day this year? Physical distancing doesn't permit us to host a large gathering as we normally would. However, your support is helping us provide families with hamburgers, hot dogs and all the fixings so they may create their own holiday meals.
To maintain physical distancing, families can sign up for time slots to use our new high-end outdoor cooking station – thank you, Anthony Wilder Design/Build and partners – or to prepare their food in one of our community kitchens.
We're also making outdoor activities available, including chalk for sidewalk art as well as lawn games and bubbles for a little magic and loads of fun.
What else is new at The Inn?
We are grateful to the Rock and Roll for Children Foundation (RRFC) for their generous $50,000 donation to The Inn. The foundation, created by Jon Belinkie and Lou Marmon, puts on a great rock concert every year to benefit The Children's Inn. Due to the pandemic, this year's concert had to be canceled, but RRCF still raised this incredible amount to support the seriously ill children and young adults who are seeking help and hope in NIH clinical trials at this time. Thank you, Jon and Lou, and Rock and Roll for Children Foundation, along with all of your supporters, for your big hearts and this generous contribution. You rock!
We appreciate the kind folks from the NIH police and Montgomery County Police Department who came back this week to safely play tic-tac-toe using the large window to our playground as a game board and finger paints. Thank you for bringing joy to our children and families once again!
The Children's Inn is about to turn 30. Thanks to your support, The Inn opened its doors to our first families in June, 1990. While we cannot hold a anniversary bash this year, we do want to celebrate all we have accomplished together, albeit not in person but via email and our website. In the months to come, we will highlight the groundbreaking medical discoveries children and families staying at The Inn have contributed to over the years. We will also tell you about some of the more than 15,000 children, their families and young adults we served with your help during that time. And we will thank you for making all this and more possible.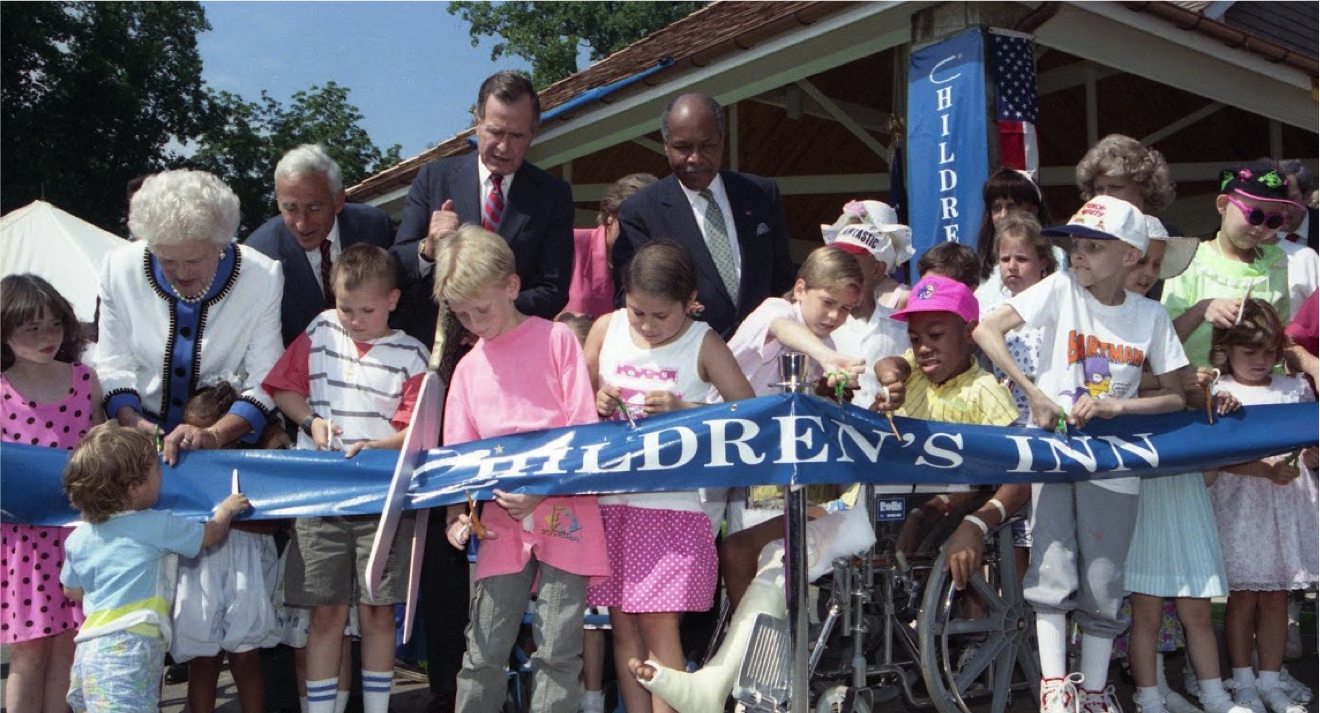 President George H.W. Bush and First Lady Barbara Bush at The Inn's ribbon cutting in 1990
As The Inn's getting older, we have had a needed a facelift. After many years of renovation of our roof and façade, we're finally nearing completion of this important project. Construction crews stay entirely separate from our families as they work to exchange our dark wood shingles for beige siding and replace windows and doors. How do you like our new look?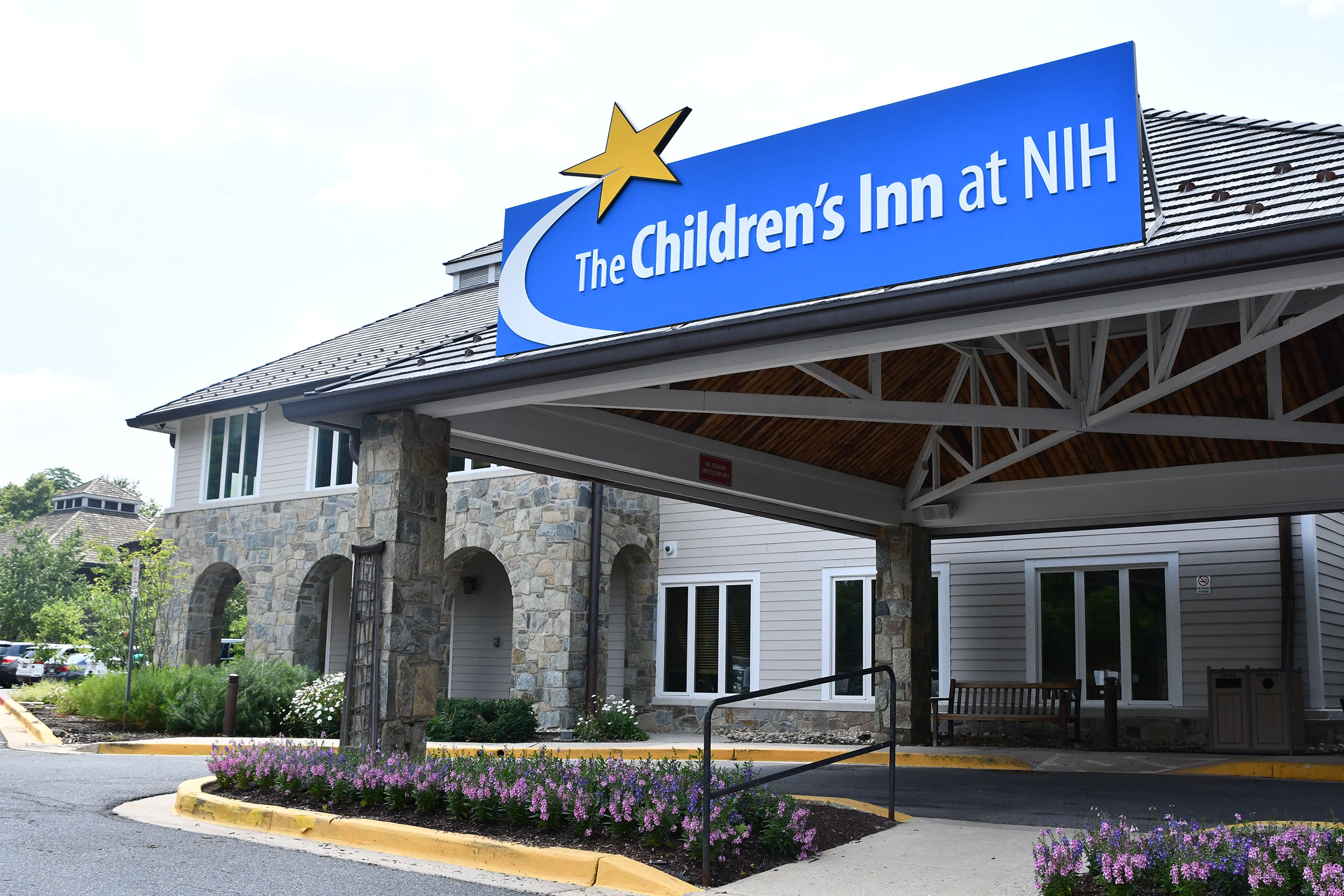 We're grateful for you, and we wish you and your loved ones a safe and happy Memorial Day!
Please help us spread the word about the continuing support we need now:

---
May 15, 2020
Thank you for making our moms feel cared for and appreciated this Mother's Day. Thanks to your help, our in-house moms received special meals and gift boxes for a little extra personal care during this difficult time.
If you missed our CEO Jennie Lucca's Mother's Day message and could use some inspiration, here's another chance to read how it took the love of two moms to save Emi's life and to watch Emi and her adoptive mom's video update on this special Mother's Day, shown below.
We hope you also enjoyed Mother's Day and had the chance to reach out to some of the special moms in your life!
It's been a quiet week at The Inn. Our families are taking physical distancing very seriously, which continues to be extremely important because so many of our young people with us now are immunocompromised due to their diseases or treatments. They're still having fun though, thanks to you!
Our virtual activities continue to be popular with our children and young adults. Especially wonderful was a recent cooking activity led by Danielle Cook Navidi, founder of Happily Hungry. She taught our children and young adults how to prepare a healthful, nutritious and scrumptious meal thanks to a grant from the Mead Family Foundation. See how much fun cooking was for Ujji, shown below, one of our longtime residents from Mongolia!
We're super excited about some of our upcoming family activities: virtual summer concerts, a makeup tutorial with one of our former residents and glow-in-the-dark mini golf, among others. We cannot wait to tell you more about this soon. And it's all made possible thanks to volunteers and supporters like you. Thank you!
Washington Area Toyota Dealers recently made a very generous donation to The Children's Inn. They have been supporting The Inn for many years through their K's for Kids program in conjunction with the Washington Nationals. We're so grateful they continue to support us this year despite the coronavirus' disruption of professional baseball. Watch a 'highlights reel' from Inn families at Washington Nationals games over the past couple of years, shown below. Thank you, Washington Area Toyota Dealers!
The weather made a sudden turn to summer-like temperatures here in Bethesda, Maryland. It's perfect for our children and families to enjoy our outdoor playground, cooking station and soak up the May sun.
Have a safe and relaxing weekend and thank you for your continued support of our children and families. Your commitment makes a difference every day!
Here are additional ways you can help now – and please feel free to help spread the word on social media:

---
May 8, 2020
At The Children's Inn, we're getting ready to celebrate our wonderful moms this weekend with special decorations, gift baskets and celebratory meals. It's a small but also highly important gesture of support as our moms are going through the most difficult times of their lives.
All of the children with us now have extremely difficult-to-treat diseases. Despite participating in the most promising clinical trials, treatments remain experimental, and the outcome is not always known.
Your support of The Children's Inn is especially meaningful this Mother's Day when the pandemic is complicating our moms' lives even more. Thank you for keeping our moms in your thoughts this Mother's Day!
This week, we've had some very exciting things happen at The Inn:
On Tuesday, first lady Melania Trump sent the White House executive chef, pastry chef and several ushers to hand deliver 150 specially prepared meals to The Children's Inn. The mac-and-cheese lunches, served with fruits and cookies, helped express the first lady's and the president's support of our families and appreciation for our hard-working staff. View media coverage in Newsweek and The Hill.
Also on Tuesday, we participated in the first #GivingTuesdayNow – a day of giving outside of the traditional #GivingTuesday held the day after Cyber Monday. Thanks to all of you who made gifts of support to The Inn. Your kindness is our guiding star during these dark days and will help lead our families and all of us at The Inn to brighter days ahead. Thank you! Watch a brief tour of The Inn to see how we're helping keep our families safe during the outbreak.
This week, celebrity chef José Andrés made a special promise to a very special little girl. Pierina, 11, from Peru, who met the famous chef as he delivered another round of World Central Kitchen-prepared meals to The Inn, told Andrés she missed her home country and its food. The chef immediately asked Pierina for her favorite meal. When she responded with Peruvian-style chicken and rice, he promised to have one of his cooks prepare the meal for her. To wish Pierina well in her impending treatment, he hand-delivered chicken and rice from his famous Peruvian-Asian fusion restaurant China Chilcano for her and all Inn residents. Watch a video of their sweet interaction.
The kind folks at Arts-n-STEM4Hearts recently raised funds to purchase 100 cloth face masks for the children and families at The Inn as well as Mother's Day card kits. Amber Briscoe, founder and president of Arts-n-STEM4Hearts, also donated two canvas paintings created by her. The Children's Inn is grateful for these thoughtful gifts that help make The Inn a safer and more joyful place during this disconcerting time!
Thank you for being part of our mission and supporting our community!
If you want to do more to help our children, families and young people, please consider these options:

---
May 1, 2020
If April showers bring May flowers, moms will be in for a treat this Mother's Day. And they should be! With your support, our staff is already hard at work to make this Mother's Day special for the moms staying at The Inn through the pandemic.
Look out for a special Mother's Day message and photos to come soon. A big thanks to all of you who are helping us honor our wonderful moms!
Here are some highlights from the past week at The Inn:
What's it like to be a mom of seriously ill children staying at the Inn right now? Washington Post Columnist Theresa Vargas wrote a wonderful column about a mom – and dad – from Sweden who surmounted every hurdle in their way to travel to The Children's Inn in the nick of time. Their three children all have a rare genetic disease and are participating in a groundbreaking NIH gene therapy trial that is the best chance to save their lives. Read their story and watch a video recorded by the parents to remind us how staying home helps protect children like theirs.
Check out @NIH officer Alvin Maker doing tic-tac-toe with our residents, featured first on #TODAYHeroes! Revisit his story: https://t.co/JnFuxUEfHq #ThankfulThursday https://t.co/QkEfQanAoT

— The Children's Inn (@TheChildrensInn) April 30, 2020
Also this week, WUSA9 interviewed Children's Inn CEO Jennie Lucca and Resident Services Operations Manager Stephanie Feinberg about how The Children's Inn is coping during the pandemic.
Like you, our corporate supporters are incredibly important sustainers of The Inn. In an article published by FedHealthIT, our CEO Jennie Lucca thanked our corporate supporters for all they do. We greatly appreciate the sponsors of An Evening for Hope gala who turned their sponsorships into donations when we had to cancel the event due to the pandemic. These generous contributions help us provide for our families every day.
Thanks for making our first virtual auction a resounding success. You helped raise an incredible $151,000! Your generosity is a strong testament to how much you care about the children and young people whose best hope is an NIH clinical trial.
Next week, The Children's Inn's programming staff will launch exciting virtual activities specifically for our young adults.
We're incredibly grateful for your dedicated support of The Children's Inn. Thank you for answering our calls for support, continuously creating cloth masks, bidding on our auction items and making sure our children, their families and our young adults have everything they need to make it through this challenging time.
If you can, here are some impactful ways to help now:

---
April 28, 2020
We've made it through another week of staying home and physical distancing! Our onsite team continues to do everything possible to ensure the safety, comfort and mental well-being of the families we are supporting at The Inn.
We are offering virtual programs like Bingo and magic shows, creating personalized craft kits and ensuring families have the supplies and support they need.
Meanwhile, Children's Inn families have found new ways to enjoy spring. Here are some examples of how your donations are supporting our families during this unusual and difficult time:
One of our young adults, a high school senior recovering from a bone marrow transplant, loves watching birds and asked whether we could install a bird feeder in front of her window. Your donations made it possible. After the young person left The Inn to return home, another family immediately asked for the bird feeder to be moved to their window. Due to unanticipated popular demand, we have since ordered and installed several additional bird feeders that are bringing joy to our children, families and young adults throughout The Inn. Thank you!
As you may have experienced yourselves, it's not easy to schedule food deliveries due to limited availability. When we couldn't find a time slot for a delivery to The Inn recently, we instead chose to send a large order to our resident services manager's home. She hand-delivered the groceries to The Inn, where our staff sorted and disinfected every item. Knowing they can count on you and us to provide them with everything they need gives our families precious peace of mind. We are currently accepting gift card donations to Peapod and Instacart to help fulfill our family's orders.
Toiletries, after being sanitized, being sorted for Inn residents
We love the beautiful, colorful cloth face masks several of you have sewn with love at home to help keep our children and families safe. Thank you! Please help keep them coming.
Thank you for brightening these times for children and young people with serious diseases whose best hope is an NIH clinical trial.
Have a good week, and please stay healthy!
Here are some more ways you can make a difference:

---
April 17, 2020
We're excited to share some happy news made possible thanks to your support of The Children's Inn during these difficult times:
To date, the protective measures we've put in place have been able to keep all of our families and staff safe from coronavirus. We appreciate your donations of masks and hand sanitizer. Thank you for helping protect The Children's Inn families!
Our families are enjoying the meals from your donations to our Feeding Families program, and local restaurants are providing meals at a special discount. Not having to cook makes our families' lives so much easier and allows them to fully focus on the well-being of their children.
As of Monday, April 13, Children's Inn residents have been able to count on another supporter to help keep them fed: Celebrity Chef José Andrés and his nonprofit World Central Kitchen have been bringing nutritious and delicious meals to feed our families breakfast and dinner. The meals are prepared at the Nationals Stadium, where World Central Kitchen is cooking for thousands of Washington-area residents every day. The famous chef personally delivered meals to The Inn on Monday. We're still star-struck.

Grocery deliveries and stocked community pantries continue to put a smile on families' faces. Thank you for helping make sure our families have everything they need!
And finally … a big thanks for making sure the Easter Bunny had an Easter basket for every child, parent and young adult staying at The Inn. Easter egg hunts took place one child at a time to maintain social distancing, and every one of our residents had a fun and memorable Easter.
Your kind support of The Inn makes children smile every day and leaves a legacy of hope at The Children's Inn, especially during these dark times.
Thank you!
P.S. If you're looking to do more, please consider helping in one of these ways:

---
April 10, 2020
The children and families at The Inn sincerely appreciate your continued support during this time of crisis.
Your efforts truly make a difference – staying at home, wearing face masks, washing hands after you venture out and practicing physical distancing all help to keep infection rates down and protect our highly vulnerable children and their families.
The Inn is so grateful for the recent outpouring of support including contributions, gift cards, hand sanitizer, face masks and non-perishable foods.
Thanks to your timely assistance, now our children and families:
Enjoy nourishing meals every day of the week, including Fridays and Saturdays
Receive all the groceries they need via safe deliveries, and Inn staff carefully wipe down every item
Wear cloth masks you made for their protection
Participate in engaging virtual family activities and follow along using personal activity kits
Select items such as books, games, Lego sets, snack bags around-the-clock from our lobby resource table
Choose non-perishable foods from our community pantries
Because of your kindness, Inn residents, whose participation in NIH clinical research studies cannot wait, know they are safe and cared for especially during these challenging times.
Thank you for making wonderful things happen at The Inn and for keeping Inn children in mind as they access the medical care they so desperately need.
Here are a few of the most helpful ways you can make an immediate difference for families with seriously ill children:

---
March 27, 2020
During these most challenging times, The Children's Inn continues to provide a supportive "place like home" for seriously ill children and their families.
Our young residents' well-being depends on the treatments they receive at the NIH – and families know they can depend on The Inn for accommodations, hot meals and so much more.
"Our families' safety always comes first," shares Jennie Lucca, CEO of The Children's Inn. "The children and young adults who stay with us are participating in groundbreaking clinical research studies for their life-threatening conditions. Many are separated from loved ones at home and, of course, the COVID-19 pandemic greatly increases everyone's worries."
Until further notice, we have significantly modified the way we provide services. The Inn has implemented the following safety measures and changes:
Suspended all visitors, including volunteers.
Mandated a health screening for every person before entering the building.
Limited on-site staff to essential employees in resident services and family programming.
Shifted family programs to take place via social media. Please see The Inn's March family activities calendar.
Canceled our largest annual fundraiser, An Evening for Hope, set for April 25, 2020. However, we are planning to host an auction virtually. Stay tuned for more updates.
Here are the most impactful ways you can make an immediate difference for families with seriously ill children whose treatments cannot wait:

The Children's Inn's need for community support has been highlighted in recent stories by WTOP, WJLA and The Washington Post.
Thank you for giving our children and families "a place like home" during these stressful and uncertain days.
To stay updated on COVID-19, visit the NIH website for the latest details.
---
March 13, 2020
The health and safety of our Children's Inn family is always our top priority. As COVID-19 expands in communities around the world, The Children's Inn at NIH is taking measures to help keep the children and families we serve safe.
This is especially important since families staying at The Inn are faced with serious health issues such as cancer, genetic immune deficiencies and other rare diseases that place the children at a greater risk for becoming extremely ill.
In an effort to help keep our families safe, The Children's Inn has temporarily:
Stopped visitor access
Implemented symptoms screening protocols for anyone entering the building
Suspended all volunteer activities and scheduled tours
Suspended staff travel to external trainings and large gatherings
Enhanced cleaning standards
The Children's Inn will continue to carefully evaluate conditions based on guidance from the National Institutes of Health and the Centers for Disease Control and Prevention and adjust policies and procedures as recommended. Please check this website for updates or stay informed by signing up for our email notifications. You may also visit the NIH's Coronavirus page for additional information.
The Children's Inn needs your help! Meals provide comfort and support to our families. While volunteer groups are temporarily suspended from providing meals for safety reasons, your support of our Feeding Families Program can make all the difference. Your financial contribution will help cover the costs of providing meals and show our families how much you care. Thank you!
Together, we can navigate these uncertain times so Inn residents will receive the support they so greatly need. Thank you for your dedication to the brave families we serve.
– Your Children's Inn Team