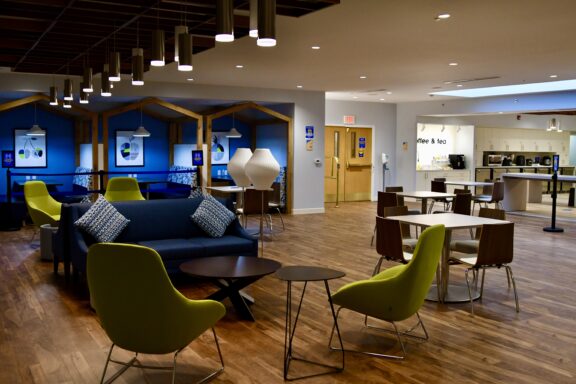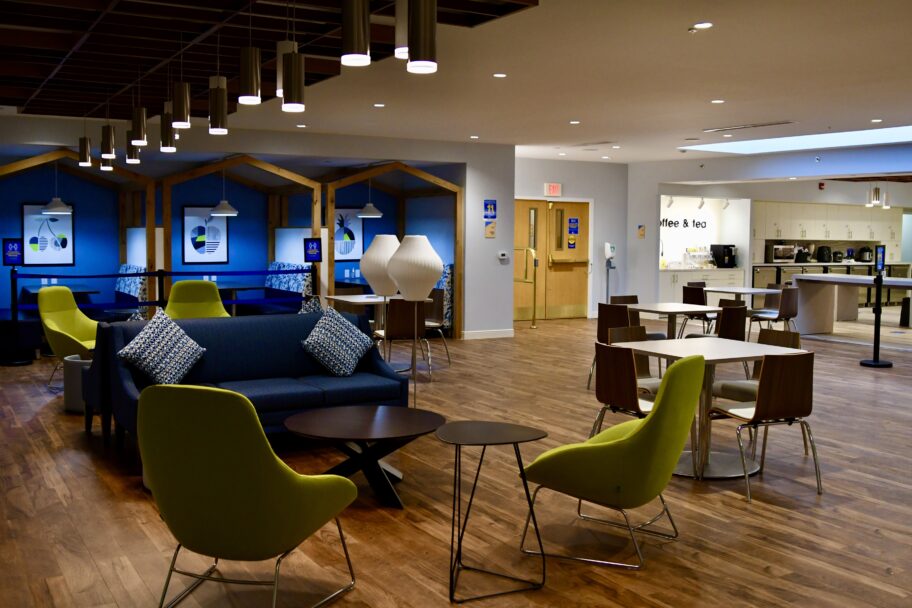 Our Services and Amenities
At The Children's Inn at NIH, our goal is to make your stay with us as comfortable as possible. We are pleased to provide you with a wide range of complimentary services and amenities.
Continental breakfast (Monday–Friday, 5:45 a.m. – 10:00 a.m.).
Washers and dryers (laundry detergent provided).
Wireless internet access.
Phone calls on WATS Line: The Inn has a 24-hour WATS Line. These phones are located in the resident corridors and can dial anywhere in the U.S. and internationally for free. We kindly ask that you limit your calls to 15 minutes if others are waiting to use the phone and that you keep your voices down during the quiet hours of 10 p.m. – 8:30 a.m.
Daily activities for children, teens, young adults and parents. Learn more on our Educational Services page.
Exercise classes for families, which are being held virtually over Zoom during the pandemic.
One-on-one sessions with a tutor.
Family dinners are provided every evening. During the pandemic, we are providing each family member with an individually packaged meal catered from a local restaurant. We also provide individually packaged lunches.
Various field trips–these are taking place virtually during the pandemic.
Shuttle transportation to and from appointments.
Weekly grocery orders delivered to The Inn.
Transportation to local airports – see schedules.
Learning Center: Equipped with the latest technology and school supplies. Drop by to explore. It's also a great place to do your homework.
Reflection Space: A quiet place for you to meditate, pray or reflect.
Bistro: Our breakfast and coffee/tea bar is a great place to relax. In addition to individual tables, you'll find a comfy couch, a lounge chair, a large flat-screen TV, games, books, magazines, movies and conversation.
Sunroom: A relaxing space for families to entertain their visitors or to enjoy activities and programs.
Exercise Room: Equipped with an exercise bike, treadmills, an elliptical trainer and weights. Please note that it is currently closed due to the COVID-19 pandemic.
Game Room: Play pool, air hockey or enjoy video games: Xbox One, Xbox Kinect, Wii or PlayStation 4. Games are available at the front desk.
Play Room: This is the perfect play space for our younger residents to play with a wide range of toys.
Computer Room: Do homework, play games, or stay in touch with your friends using our Apple computers.
Teen Lounge: If you are aged 13 or older, enjoy this special retreat just for teens where you can play foosball table, video games, and more!
Arts & Crafts Studio: Drop by any time to pick out arts and crafts supplies, and be creative.
Multipurpose Room: This is where our BINGO, theatre performances and more take place.
Playground & Park: Behind The Inn, join other children to play, swing, slide or spin, ride a bike and more. For teens, young adults and families, there are benches and chairs to sit and chat, a walking path for strolls and shaded spots to cool off and relax in hammocks.
Sport Court: Practice a wide range of sports with equipment stored in the shed located on the court.
Community Garden: Volunteers and families are welcome to grow vegetables, fruits and herbs in our small community garden.
Outdoor Cook Station and Terrace: Our communal patio provides a variety of seating arrangements and a cook station to make outdoor dining fun and easy.
Three Communal Full-Service Kitchens: Each kitchen features multiple stoves, ovens, sinks and all the pots, pans, plates, utensils, spices and cooking oil you need. Each family is provided with a personal refrigerator and pantry space. There are communal dining spaces adjacent to each kitchen. During the pandemic, families need to reserve time in the kitchen.
Help Yourself Pantries: Need to prepare a quick meal? Our pantries, located in each kitchen, are stocked with non-perishable items perfect for cooking a quick snack or in-between meal.
Book Nook: Choose from hundreds of books for your enjoyment, many of them geared to our younger residents.
We have the following items available for your use:
Toiletries, available upon request
Linens and towels
Hair-dryers
Irons
Heating pads
Cribs/Pack 'n Plays
IV poles
Bed rails
Cots/Roll-away beds
Shower chairs
Strollers
Car seats
High chairs
Medicine and specimen refrigerators
Kosher items (i.e. microwave, refrigerator, cooking utensils provided and maintained by Bikur Cholim of Greater Washington)
DVDs, video games and game system equipment checkout
Laptops or iPads for checkout
Each of our rooms is equipped with:
Two double beds
Tempur-Pedic mattresses
A private bathroom (handicapped-accessible bathrooms available upon request)
Telephone (local calls only)
Roku with Netflix and Disney+
Clothes storage
If you have any questions about our services or amenities, or would like to reserve specific items for your stay, please contact our resident services manager at [email protected] or call 301-451-1334.
---