First Lady Melania Trump Visits The Inn for the Second Time
The children, families and staff of The Children's Inn were honored to welcome First Lady Melania Trump for Valentine's Day for the second year in a row.
The First Lady was greeted by Inn CEO Jennie Lucca, NIH Director Dr. Francis Collins and Inn board chair and President of Palladian Partners Beth Maloney, along with Inn resident Amber, 9, of California.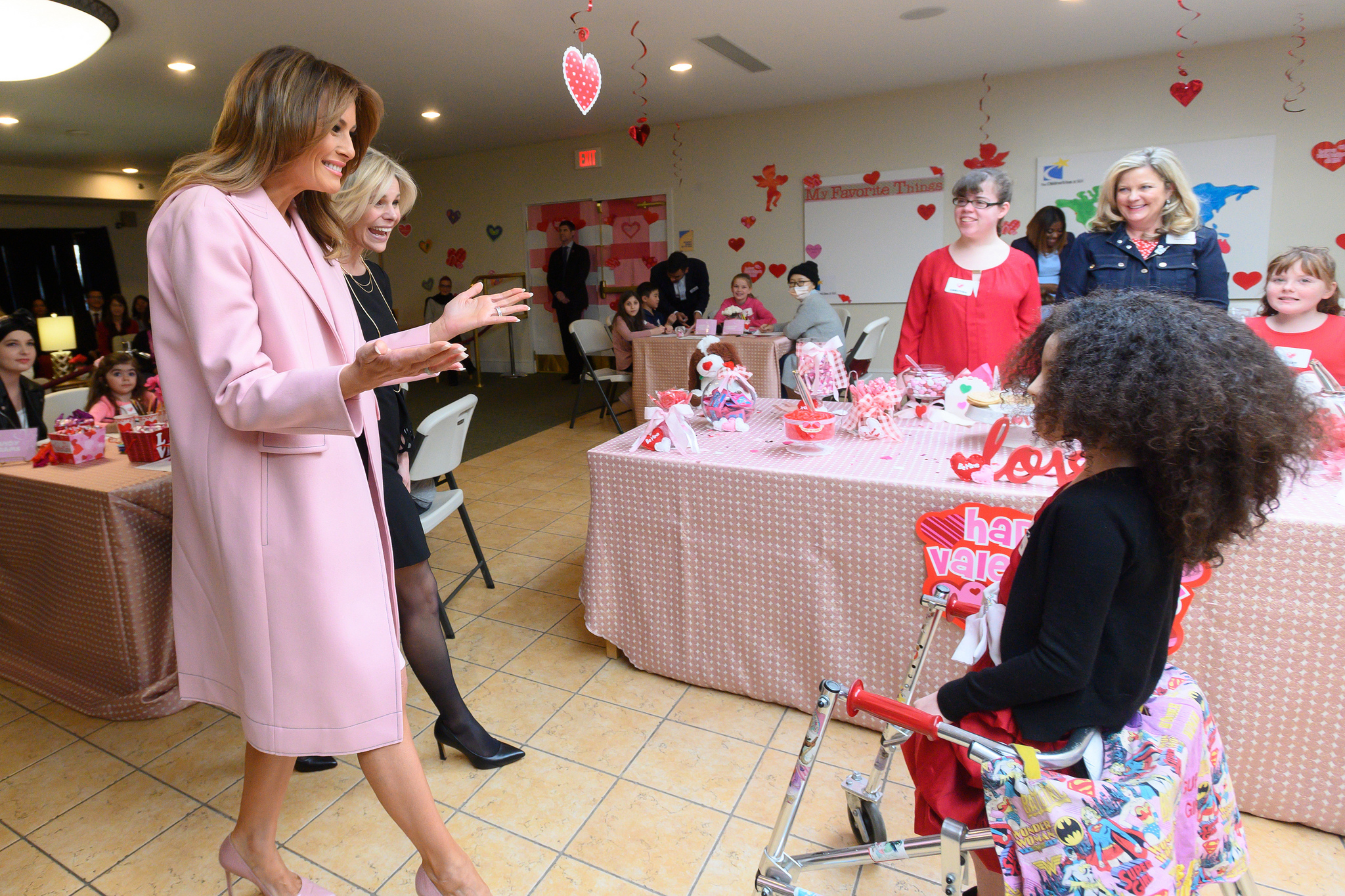 First Lady Melania Trump greets Amber
Amber, who is being treated at the NIH for a rare neurodegenerative disorder called giant axonal neuropathy, had one burning question for the Mrs. Trump.
"Do you remember me?" Amber asked the First Lady.
She was overjoyed to hear Mrs. Trump answer that she does remember Amber from last year's Valentine's Day visit to The Inn. After talking briefly, Amber led Mrs. Trump to one of several tables where children staying at The Inn were participating in Valentine's Day-themed activities.
Amber and other Inn children, including Caleb, 9, of Puerto Rico who is battling brain cancer and his twin brother, Josué, decorated candy boxes with the First Lady. Avery, 9, of Missouri, who is being treated for a rare, genetic immune deficiency, and other children led Mrs. Trump to a candy station where she made sure to fill every child's decorated box with a generous helping of a variety of candies.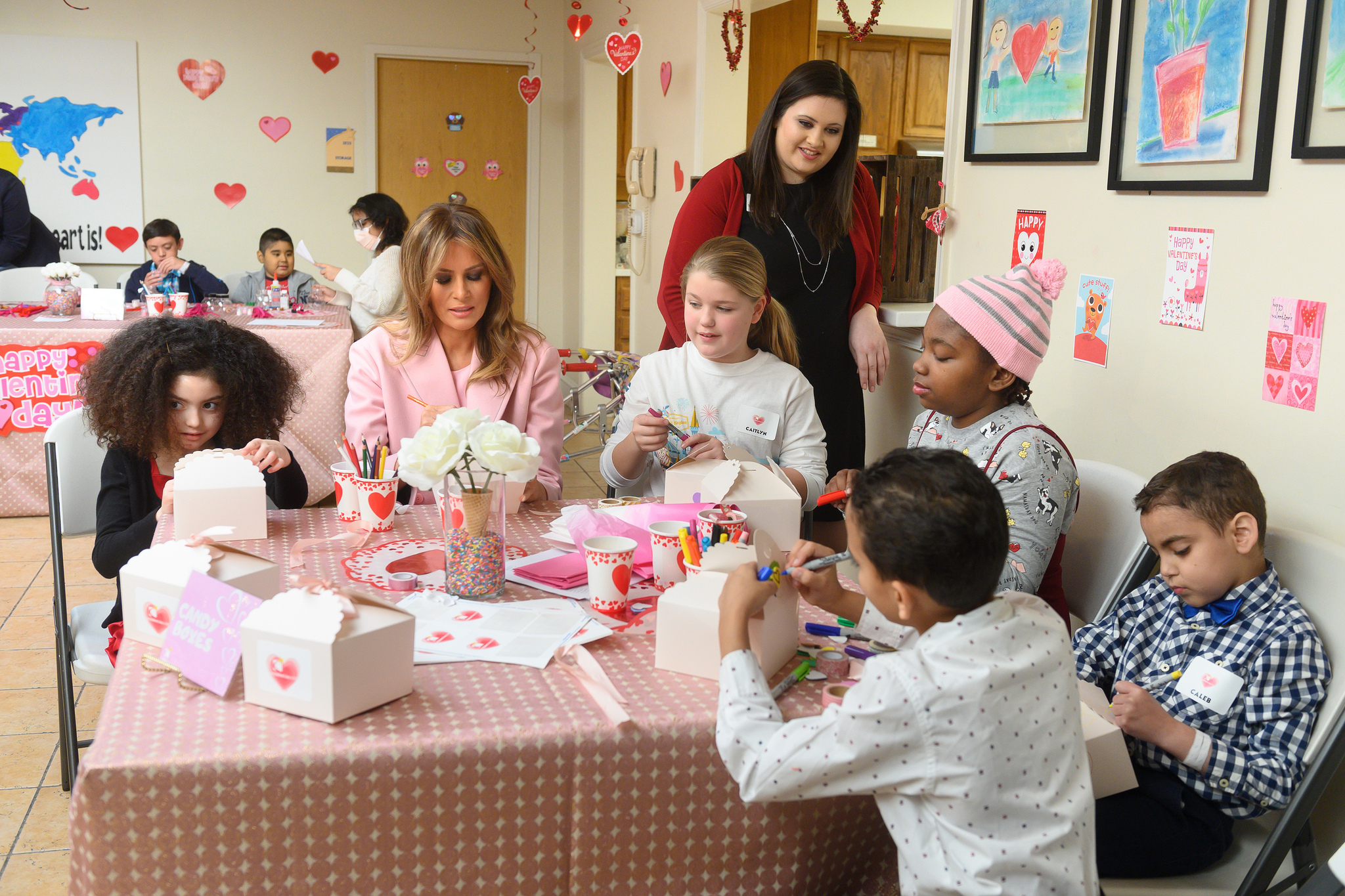 First Lady Melania Trump helps Christina, left, and Avery, right, pick out candy
Mrs. Trump also made heart-filled snow globes with the children, wrote on a heart-shaped piece of paper about "things I love," placed the White House on a world map and watched children place hearts on the places they come from – in the United States and countries as far away as China and Kenya.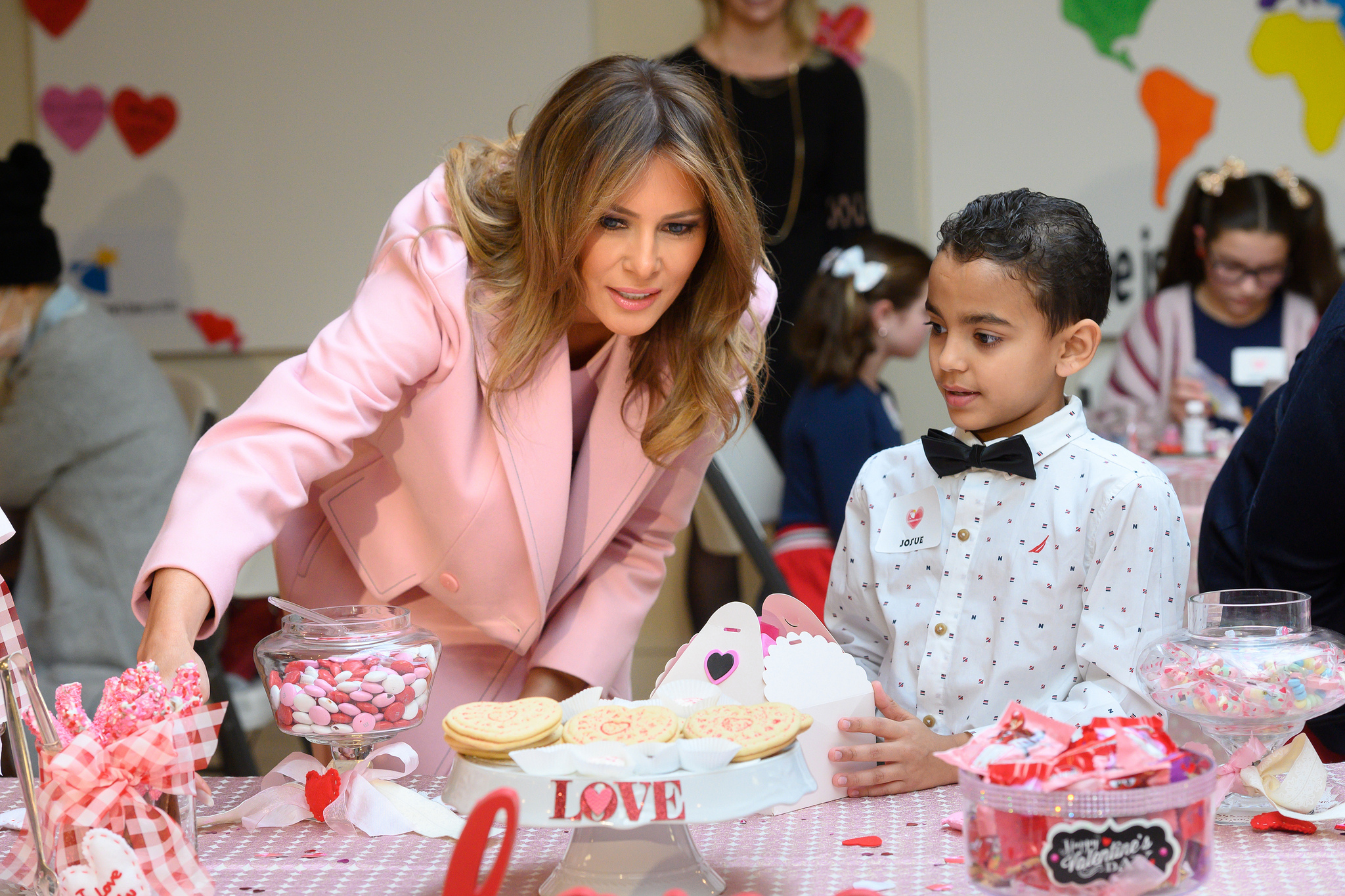 First Lady Melania Trump chats with Inn resident Euphy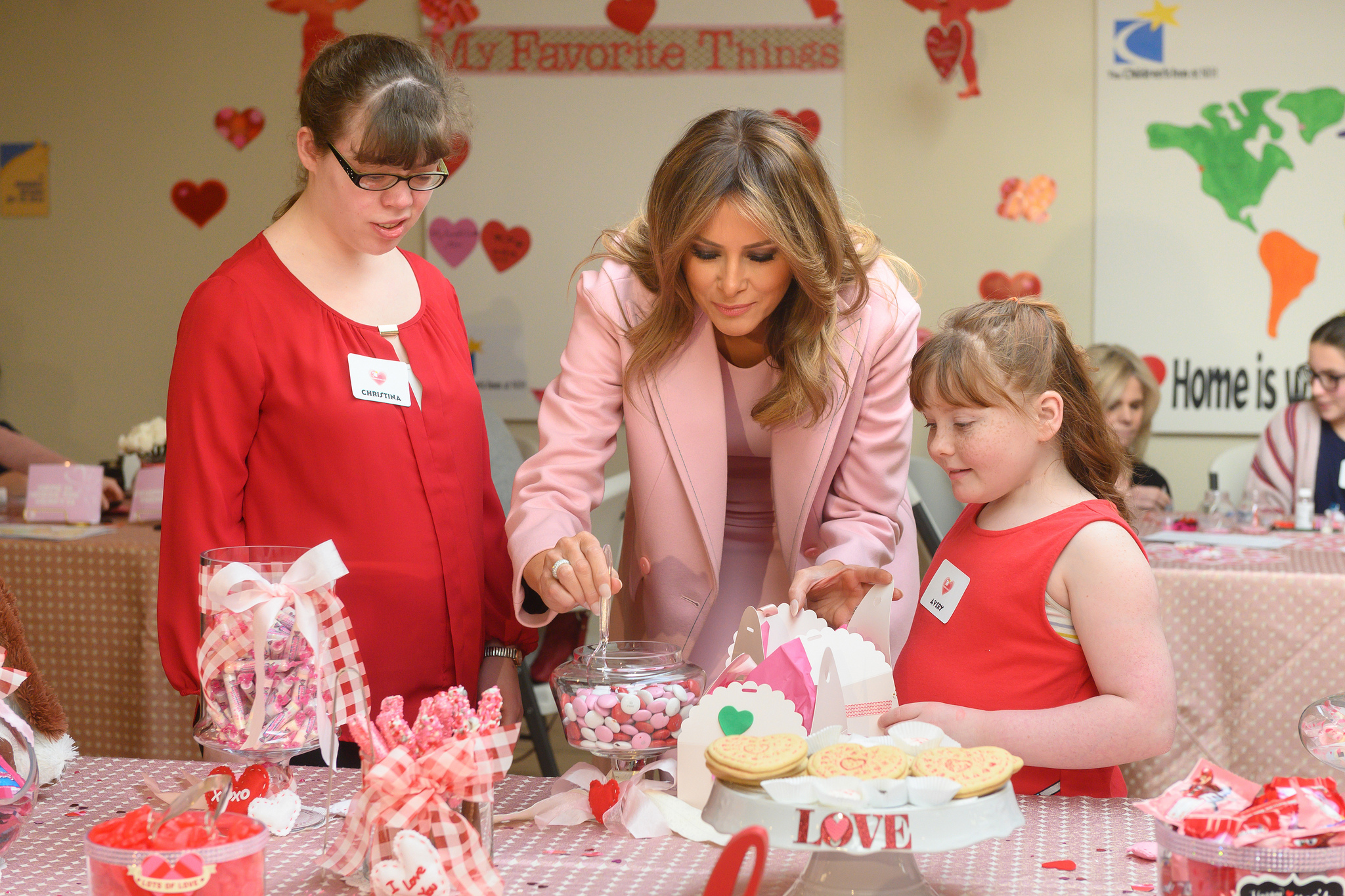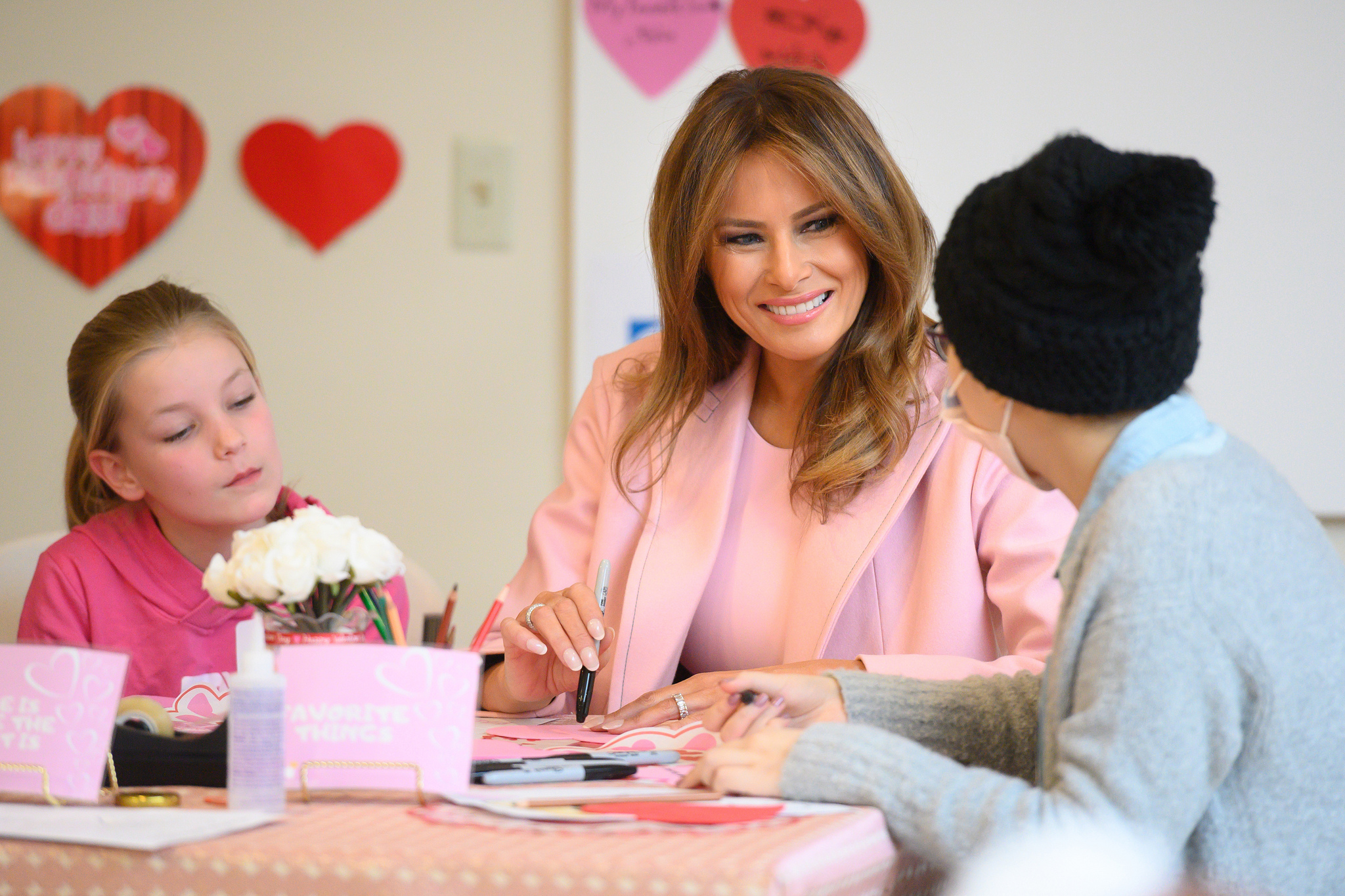 Finally, Mrs. Trump joined a group of children making candy grams – candy with a Valentine's Day message. As the activity came to a close, Amani, 13, of Kenya presented the First Lady with a handmade MyIntent necklace with the words "hope" and "faith" inscribed. The words carry special meaning for Amani who has been suffering from sickle cell disease his entire life and was preparing for a potentially curative bone marrow transplant at the NIH. Touched by Amani's kind gesture and moving story, Mrs. Trump wished him well for his transplant and invited him and his family to visit her once he's feeling better.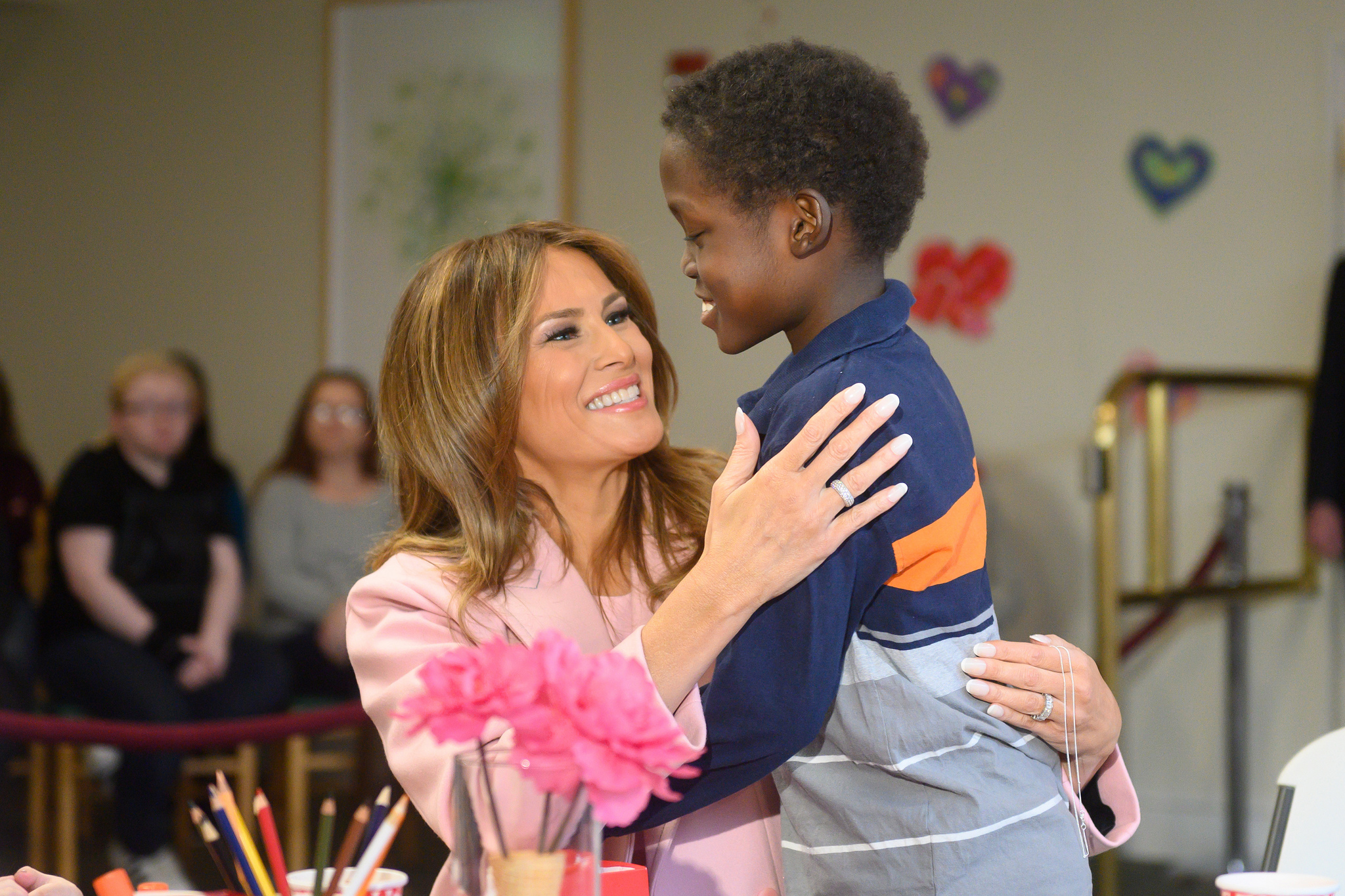 First Lady Melania Trump embraces Amani
"Our children, families and staff were so delighted that the First Lady chose to celebrate Valentine's Day with them at The Children's Inn once again," says Jennie Lucca, CEO of The Children's Inn at NIH. "Her visit made our children feel so very special and helped raise awareness of the need for ongoing medical research at the NIH to help the seriously ill children we serve today and benefit generations to come."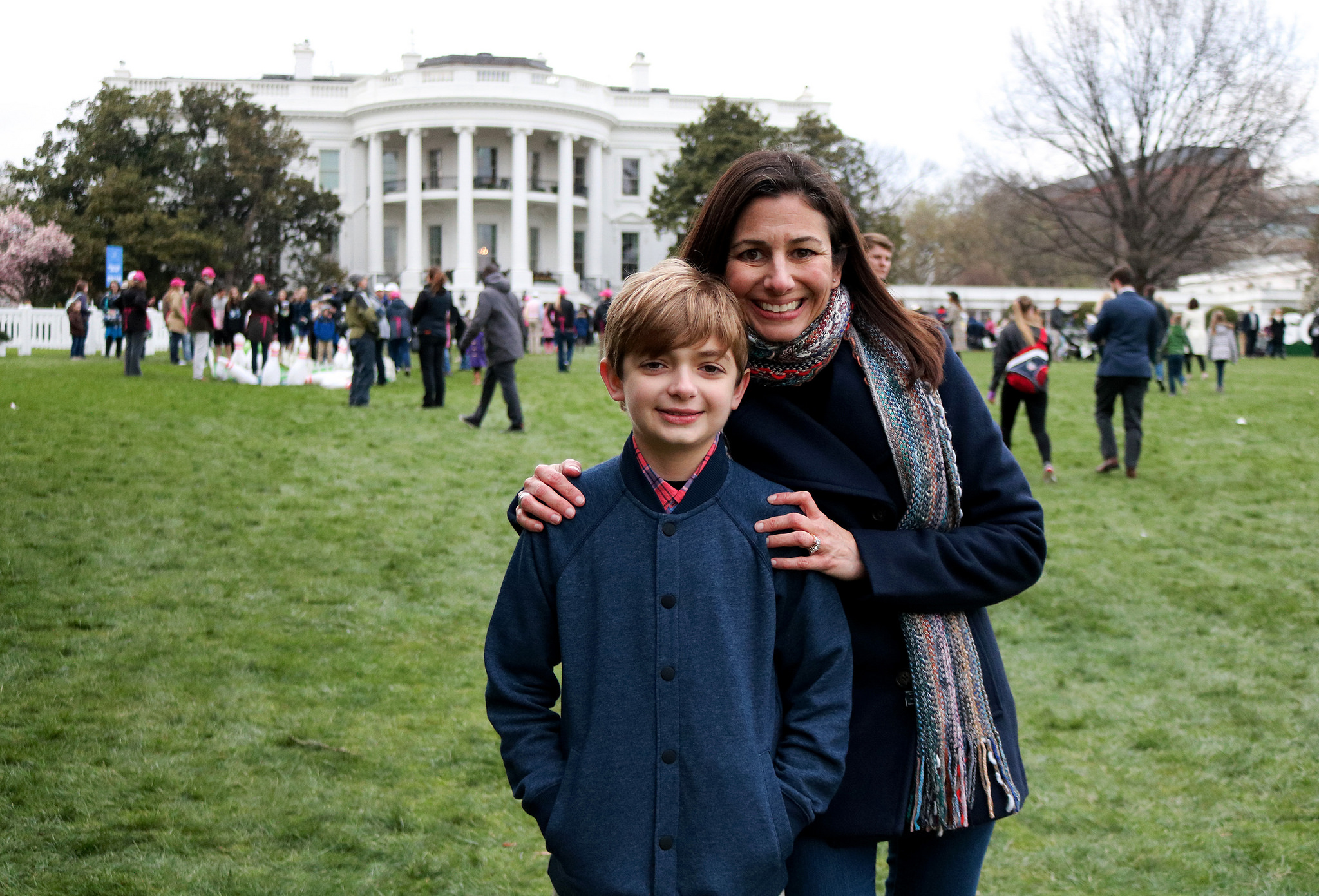 Over the past year, the First Lady also invited Children's Inn families to participate in The White House's annual Easter Egg Roll, a holiday visit to the White House and the launch of her Be Best campaign.
Stay Up To Date
on how The Children's Inn is creating 'A Place Like Home'