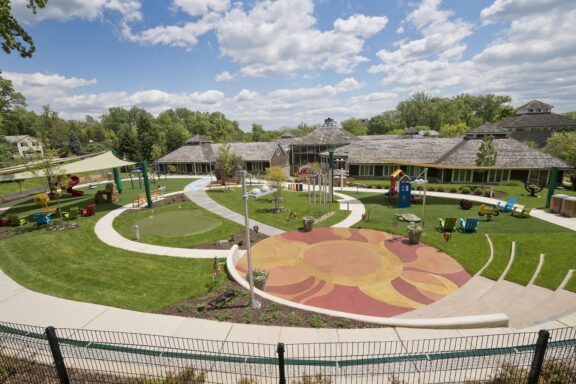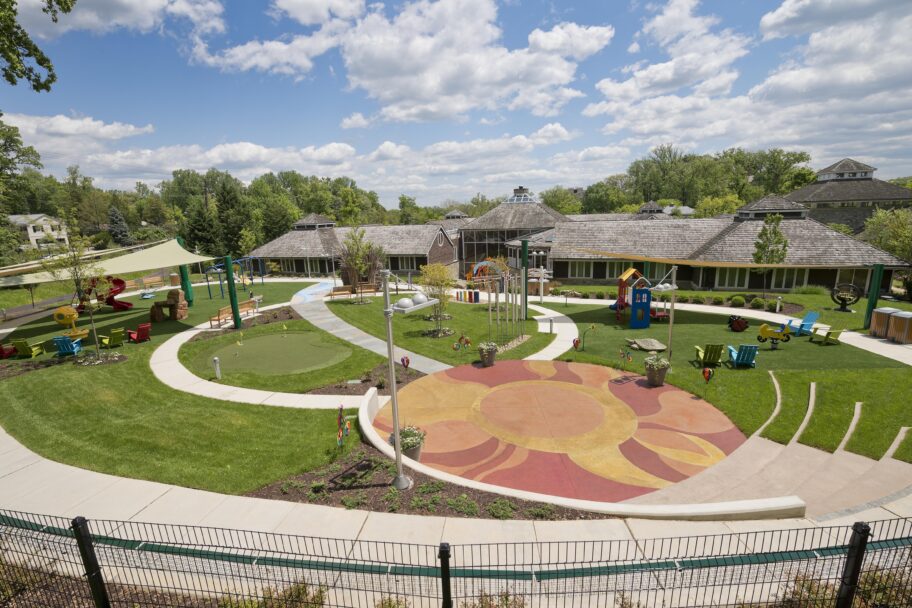 #INN2025
In 2018, The Children's Inn at NIH launched our #INN2025 strategic plan. To date, we have made considerable progress in accelerating our impact on medical discovery and care through our three strategic goals. Here is a look at our progress this year:
Goal One
Evolve to a State-of-the-Art Living Environment
We began the renovation and expansion design process based on the approved Facility Master Plan. The vision for the Inn of the Future is built around four major principles:
An Inn that has a welcoming design aesthetic both exterior and interior, with consistent décor that ties each area together.
A living environment that supports the social aspect of providing care as well as a physical environment supporting health and wellbeing.
A dynamic environment that supports diverse programs and activities while addressing the changing nature of how children and young adults interact with their families.
A workplace which creates community while encouraging collaboration and productivity through naturally lit, multi-functional design and approaches that meet the needs of today's workforce.
In the spring we hired Orr Partners to support our important work of implementing the master plan and we recently selected the architectural firm of Perkins & Will to design this project.
Goal Two
Strengthen the Integration of Discovery and Care
We are excited to announce that between July 2021 and June 2022, we developed a Pediatric Initiative Pilot Program to align Inn services with the NIH's patient recruitment goals. Surveys of clinicians and families conducted by the Inn highlighted the need to collaborate early in the clinical trial process to best support families and research. Bringing our staff to the table with clinicians as they set up studies allows us to be proactive. For example, if we know that a trial is recruiting infants, we will be ready with cribs, formula, and other supplies. This Pediatric Initiative lays the groundwork to further our partnership and strengthen the integration of discovery and care.
In FY22, we also developed a hybrid Tutoring Program for families staying at The Inn and continues online for students at home. The program supports parents and learners by providing homework assistance and instruction in writing, English, science, and math.
We continued our partnership with the NIH's National Library of Medicine and the Office of Patient Recruitment by developing a webpage with online resources and holding virtual training sessions to assist Inn families in accessing and understanding research trial information.
Goal Three
Maximize Community Support and Promote Financial Viability
Financial Sustainability
We determined the scale and cost of #INN2025 and created a long-term plan for funding our strategic goals and annual expenses.
Diversity, Equity and Inclusion (DEI)
In expanding, evolving and affirming the organization's commitment to DEI, we:
Diversified our stakeholder base through engagement and outreach;
Promoted awareness and knowledge on the board to ensure a diverse, equitable and inclusive Board of Directors that fully represents the families we serve through continued education, building the board recruitment pipeline and cultivating a board culture that encourages individual member's participation and growth;
Promoted awareness and knowledge among Inn staff by measuring, evaluating and documenting our staff DEI initiative and cultivating a culture that encourages individual member's participation and growth.
There are many ways to support The Children's Inn. Learn more about how you can help the children and families who call The Inn home.
Get Involved