The Children's Inn at NIH Timeline
This timeline chronicles and celebrates The Children's Inn at NIH's crucial milestones, events and achievements. These include the selfless contributions of more than 14,500 children, teens, young adults and their families who have stayed at The Inn while they are participating in pioneering medical research studies at the National Institutes of Health.
The Early Years
1980s
OUR HOME
Envisioning The Children's Inn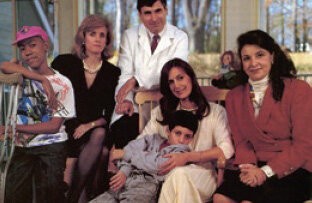 Dr. Phil Pizzo, chief of the National Cancer Institute's pediatric branch, meets Carmala Walgren, wife of Rep. Doug Walgren (D-PA), through a National Institutes of Health Clinical Center patient. She learns of the need for a children's home at NIH from Dr. Pizzo. With the help of fellow congressional spouse Debbie Dingell, wife of Rep. John Dingell (D-MI), congressional leadership, Chris Downey, wife of Rep. Tom Downey (D-NY), and private donations—along with a major grant from Merck—construction on The Inn begins shortly thereafter.
1990
OUR HOME
President Bush and First Lady Celebrate The Children's Inn Opening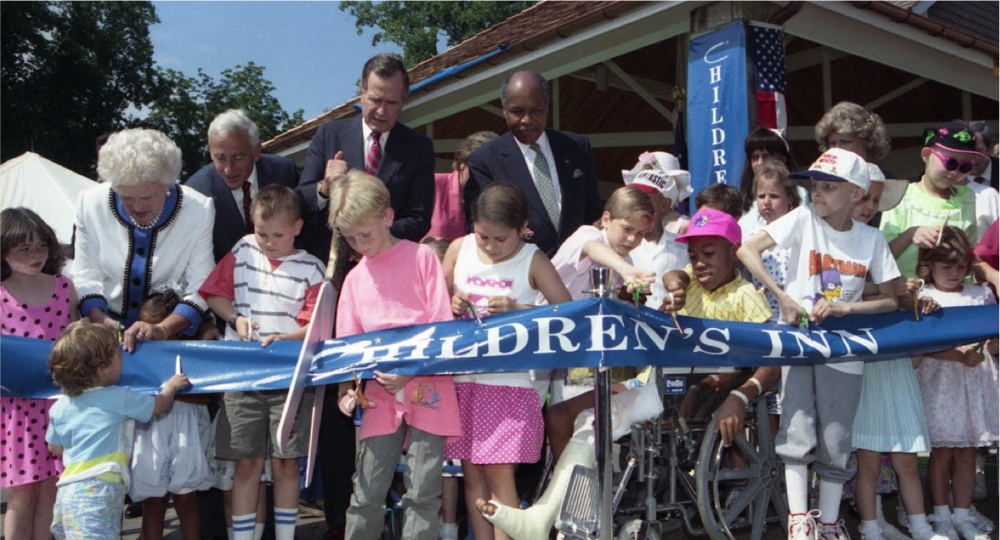 President George H.W. Bush and first lady Barbara Bush, Health and Human Services Secretary Louis Sullivan and Merck Chairman/CEO Dr. Roy Vagelos preside over a ribbon-cutting ceremony to celebrate the opening of The Children's Inn, capable of serving 37 families at a time.
1994 and 1995
OUR INN FAMILY
President Clinton and First Lady Visit The Inn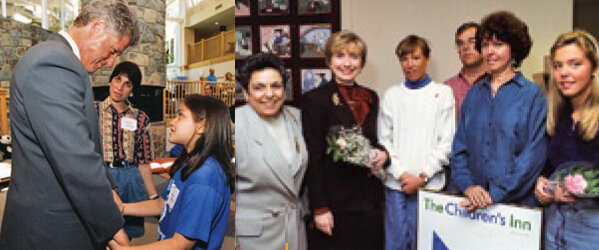 President Bill Clinton and first lady Hillary Rodham Clinton visit with the families staying at The Inn.
1996-1998
MEDICAL ADVANCEMENT
Making HIV/AIDS a Treatable Disease
As the HIV/AIDS crisis continues, children at The Inn participate in initial research at the NIH to test lamivudine and ritonavir for pediatric HIV/AIDS, resulting in FDA approval for use in children.
1996-1998
OUR INN FAMILY
Meet Hydeia
As a young child, Hydeia stays at The Inn while undergoing treatment for AIDS. With her TV appearance with Magic Johnson, Hydeia becomes a symbol of children living with AIDS and the importance of finding effective treatments for the devastating disease. Today, Hydeia continues to be an AIDS activist.