Bringing Enthusiasm and Optimism to The Inn
On Monday mornings, the families at The Inn can count on seeing a perpetually smiling face around the building. Timaron has been volunteering through the Neurodiversity at Work Department at Kennedy Krieger Institute since late 2022, bringing enthusiasm and optimism to his work and a unique understanding of the challenging path forward for some of the families he meets.
Timaron is a 23-year-old from Potomac, where he lives with his parents, Mandy and John, and his dog, Lulu. He was born with Rubenstein-Taybi syndrome, a genetic intellectual disability, the cause of which is unknown. After he graduated from Walter Johnson High School, he joined the CORE Foundations community. Through that, he learned about The Children's Inn and began helping where he could. Hannah Wayne, the Director of Meaningful Community Services at Kennedy Krieger, explained the connection.
"Kennedy Krieger Institute is a licensed Developmental Disabilities Administration provider," she said. "We provide support to people with developmental disabilities who are accessing meaningful engagement in the community, whether that is through volunteer work, paid employment, or engagement through fitness, leisure, and other daily activities. Part of Timaron's day is volunteering at The Children's Inn, and he has support while he's on-site from staff who work for our department."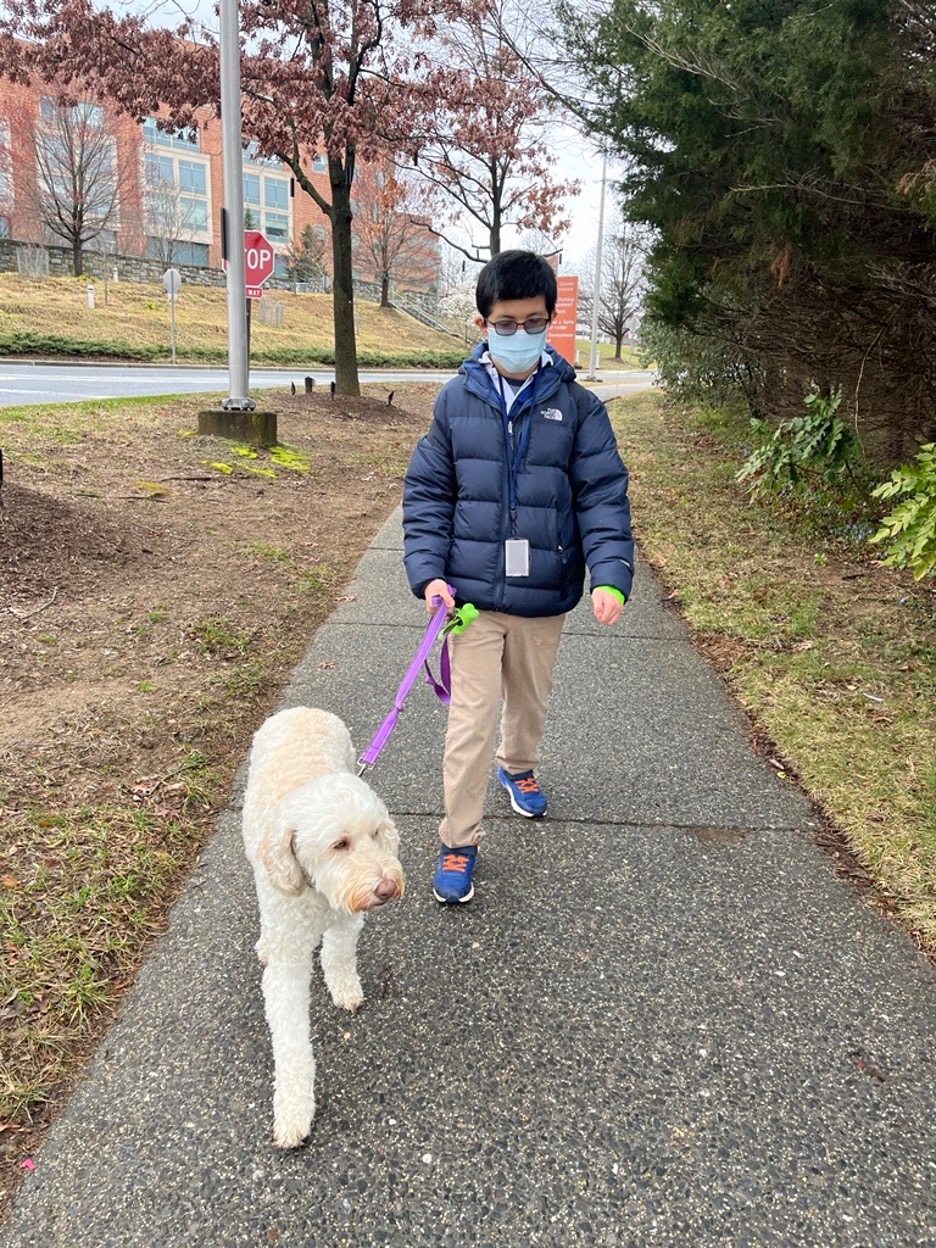 Walking Zilly is one of his favorite parts of the day here at The Children's Inn."

Austin, a Kennedy Krieger employee
Each Monday, Timaron goes to The Inn with Austin, a Kennedy Krieger employee who helps him navigate the days' jobs. His primary task is labeling food in the pantries, checking for expiration dates, and applying color-coded labels for food safety. He also helps maintain and organize the community refrigerators and playroom at The Inn. But when asked what his favorite responsibility at The Inn has been, there was no hesitation. He burst into a wide grin and playfully exclaimed: "Walking Zilly!"
"Timaron enjoys working with kids," Austin smiled. "And walking Zilly is one of his favorite parts of the day here at The Children's Inn. Meghan actually had to schedule him to be here between 12 and 12:30 because she realized he was so connected to Zilly. And he wants to volunteer even more days here."
For Timaron, these volunteer efforts are a first step towards securing a paying job for himself. "That's the idea," Austin agreed. "Timaron wants to volunteer as much as he can and start practicing. We want the population out there to see that there are opportunities for all individuals to be useful in society and work like anybody else."
The partnership between Kennedy Krieger and The Children's Inn began prior to the COVID-19 pandemic and has evolved in the ensuing years. Currently, Timaron is one of two volunteers at The Inn from the CORE Foundations program, along with Jared, who comes to The Inn on Fridays.
"Our partnership with Kennedy Krieger has been a wonderful addition to our volunteer program at The Inn," said Smith. "We are looking forward to seeing it grow."
"The Children's Inn has been a fantastic partner," added Wayne. "We would absolutely love to find additional volunteer opportunities for the young adults who we support. And we want to thank The Children's Inn for providing these opportunities and for being so warm and welcoming for us."
Austin described Timaron as "jovial," an understatement for the young man whose smile never seems to leave his face and whose eyes lit up at the thought of spending time with Zilly and the children at The Inn. "He interacts with people very well. He has had a chance to meet some of the families, and because of his jovial mood, they are always smiling at him and happy to interact with him."
That mood has made Timaron a valued part of life at The Inn, not just for the families he meets but for the staff he helps out. "Timaron is a joy to have at The Inn," Smith said. "He brings so much energy and light when he enters the building. He is always ready to tackle any projects we have for him each week, and I know Zilly looks forward to her walks with him in the afternoons!"
Join in the hope created at The Children's Inn by donating today.
Donate