The Inn Announces Partnership with NASA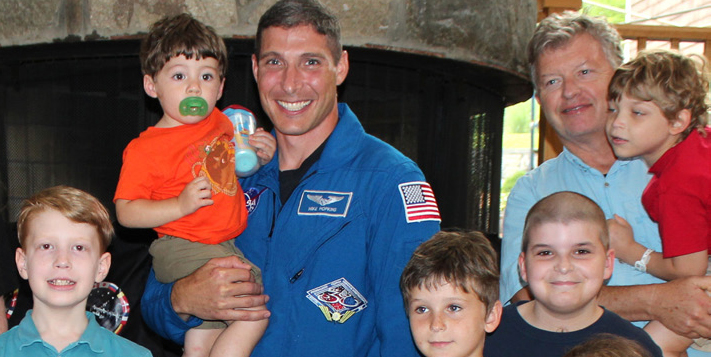 "How do you shave in space?" was just one of the questions asked of NASA Astronaut Mike Hopkins when he met with children and their families at The Children's Inn on Tuesday, June 10. Other things kids wanted to know were "How do you tie your shoes in space?" "What if you get sick when you are up there?" "Is there a microwave on the space station?" The visit from the astronaut was part of a new partnership between The Inn and NASA Headquarters.
Astronaut Hopkins launched into space with two Russian cosmonauts last September, where they docked with the International Space Station and spent the next 166 days in space, performing science experiments and conducting spacewalks to make repairs to the station. During the expedition, the crew orbited the earth 2,656 times and traveled more than 70 million miles. "We saw the sun rise and set 16 times a day," said Hopkins.
Performing everyday tasks like shaving and brushing one's teeth poses a number of challenges in zero gravity. Inn families heard not only about how the astronauts shaved in space, but how they brushed their teeth, drank coffee, and how they kept clean without being able to take a shower for several months. They learned about what the food is like on the space station (lots of dehydrated burritos and macaroni and cheese, and no fresh fruits or vegetables), and how easy it is to lose things when you lack an "up and down" orientation. Hopkins also talked about the biomedical research they do while in space—learning how to prevent bone loss during extended space travel can help shed light on preventing bone loss among elderly people here on earth.
"We are looking forward to more astronaut visits," says Laura King, The Inn's Director of Volunteers and Community Outreach. "We also have a range of other activities planned, including an outdoor lighting 'shooting stars' display during the holiday season, a NASA star-gazing activity using telescopes, science and space-related educational activities at Camp INNcredible, and guided tours for our families of NASA Goddard Space Flight Center and the National Air and Space Museum."
Stay Up To Date
on how The Children's Inn is creating 'A Place Like Home'