Summer Fun Thanks to 2018 Camp INNcredible
Summer fun and a lifetime of memories. That's what you make happen for seriously ill children staying at The Children's Inn this summer.
"I love the art activities," Tabatha, 8, from Chile, says, in Spanish. "I love painting."
Tabatha is one of hundreds of children who are visiting the NIH this summer to get crucial medical care for rare or critical illnesses – care that is not available anywhere else. Thanks to generous supporters like you, The Children's Inn is able to provide these children and their families with a wide range of recreational, educational and therapeutic activities throughout the summer, allowing childhood to thrive despite illness and making moments of joy possible that families will treasure for years to come.
Summer activities have included:
therapeutic horseback riding
sailing trips
art projects like sand art, making jelly fish umbrellas, creating messages in a bottle, painting
a summer concert series presenting Grammy-nominated musicians
carnival games
pasta-making
baking and cupcake decorating
outings to museums, DC's monuments, restaurants
Euphy, 21, who attends college in New Jersey and is originally from China, is spending several months at The Inn. Whenever possible, she's participated in The Inn's summer camp, teen camp and young adult night out activities.
"Everything is so fun for me – I love everything!" Euphy says. "I go to every activity I can go to. My favorites … the therapy dog visits. I love dogs. And the sailing trip was really amazing. Every family had a boat for themselves and you could talk to the captain."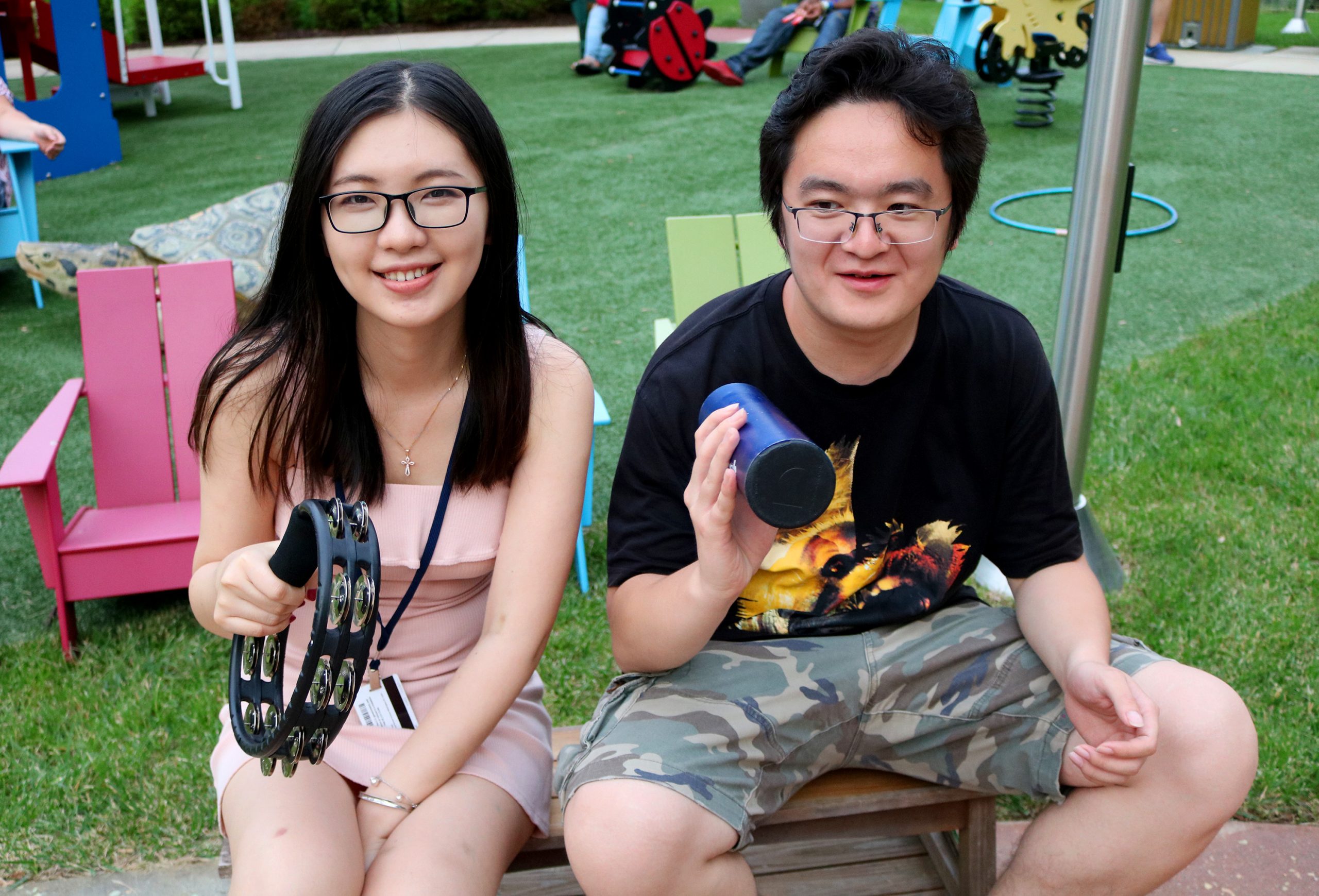 Inn resident Euphy at one of our summer concerts
Euphy and her boyfriend enjoy a show during our summer concert series
Luna, 4, of Mexico has been battling a serious and rare infection that could not be treated in the community, so she came to NIH for doctors to learn more about her condition and the best ways to treat it. Spending a couple of months at The Inn, Luna, her older sister, Dania, 7, and their parents, have been participating in as many activities at The Inn as possible.
"It's been really wonderful here," said Yury, Luna and Dania's mother, in Spanish about their stay at The Inn. "All the activities for the kids are so well done – they have loved them. And if the kids are happy, then we adults are too. We're so grateful."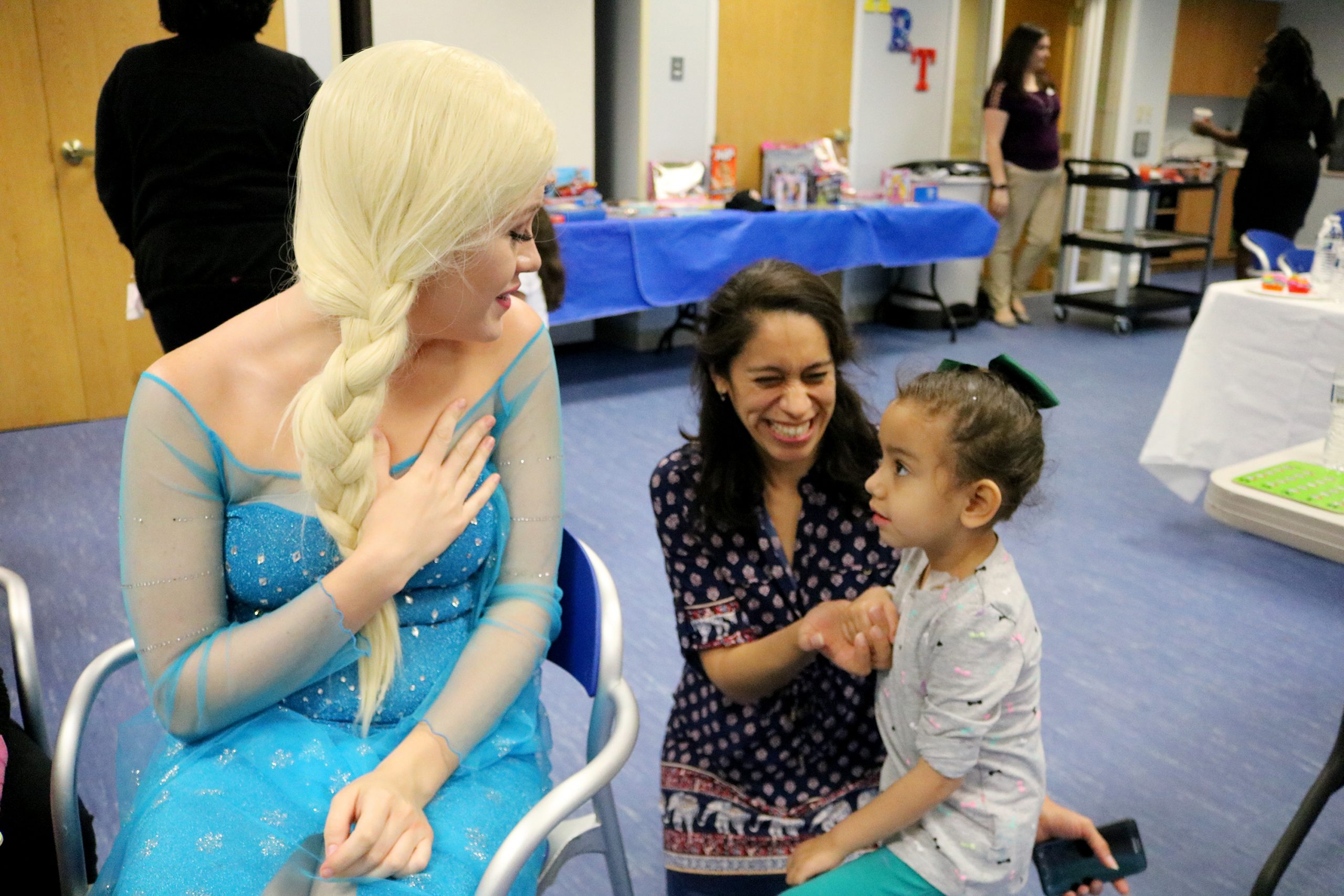 Luna and her mom Yury meet Elsa
Yury and her daughter Luna met Frozen's Elsa during Bingo
Thanks to support from donors like you, Luna and Dania have had a wonderful summer so far – and it's only gotten better since the family found out Luna has been responding well to treatment – so well, the family was able to return home to Mexico earlier than expected.
Dania's favorite part of her summer at The Inn? Learning about bloodwork during Sibling Day, an annual event organized by the NIH and The Children's Inn to celebrate the countless contributions healthy siblings make to their families.
"I learned how blood is taken from the arm," said Dania in Spanish, her native language. "Because they always do that to my little sister, and I was always wondering what they are doing."
To help bring more moments of joy to families of seriously ill children staying at The Inn so they can participate in groundbreaking medical research at the NIH, please donate today.
Stay Up To Date
on how The Children's Inn is creating 'A Place Like Home'