Sarah's Handmade Ice Cream Hosts Inn Fundraiser on Monday, Jan. 9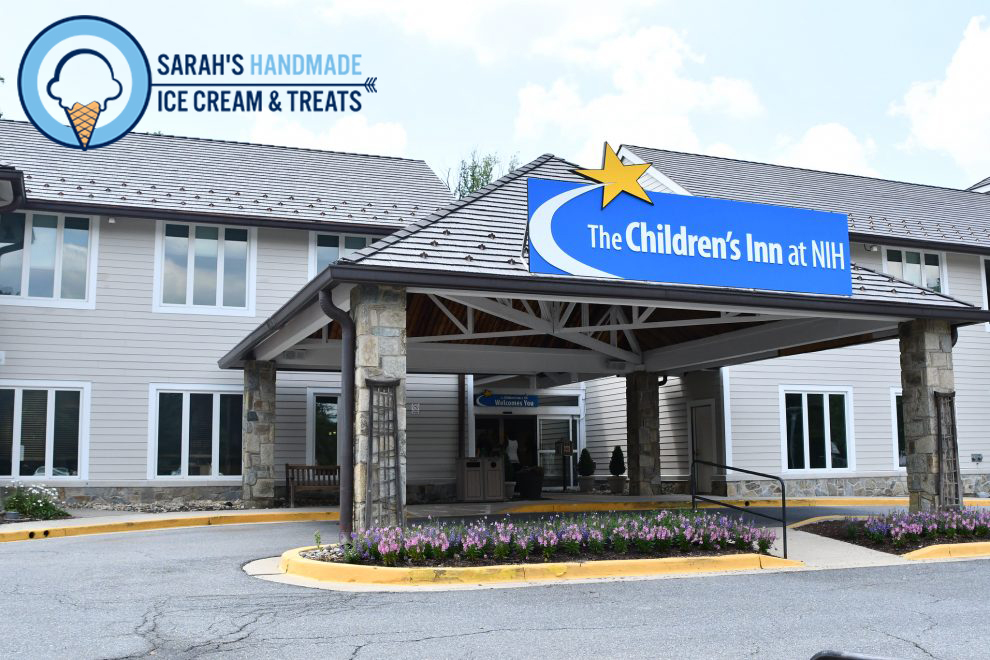 Every Monday could use a little extra sweetness. On Monday, January 9, you can put some sweetness into your life and spread some to the families at The Children's Inn at NIH at the same time simply by visiting Sarah's Handmade Ice Cream. When you mention The Inn at checkout, 20 percent of your purchase price will be donated to The Inn.
Since 2018, Sarah's Handmade has been scooping up delicious frozen treats to the Montgomery County area at their locations on River Road and Old Georgetown Road. They now offer 40 flavors with a kid-friendly menu and strong community consciousness.
The shops were the creation of the mother-daughter duo Sarah and Annie Park. After retiring from a career working with small businesses, Sarah developed an ice cream-making hobby. She would experiment with new flavors for her family, soon producing too much for them to eat. So, she gave samples to friends and neighbors. Sarah would make special batches for their birthdays or big events. Word began to spread, and eventually strangers contacted her asking how they could get some of her creamy concoctions.
When Sarah learned that a local ice cream shop on River Road was going out of business, she enlisted the help of her daughter, Annie, in taking over the space and turning it into a commercial outlet for her hobby. A teleworker even before the COVID-19 pandemic, Annie expected to help her mother get the business and social media pages up and running before returning to her previous job.
Instead, Annie joined her mother in making Sarah's Handmade Ice Cream their passion. Students from nearby Walt Whitman High School would wander in, expecting the previous ice cream shop that had shipped its products in from elsewhere. Instead, they could hear the ice cream-making process in the back, and asked whether there were any employment chances. "Yes, you can start right now," Annie would tell them, and soon the Sarah's Handmade ambassador program was up and running with young men and women getting their first on-the-job experience.
As the business grew, Annie and her mother wanted to find ways to become involved in the local community. With the location on Old Georgetown Road just up the street from the National Institutes of Health, Annie thought it would be a natural fit to partner with The Children's Inn. The stores also sell books, mostly children's books, with proceeds benefiting the families at The Inn.
Sarah's ambassadors greet customers with a smile and are schooled in the art of getting the perfect scoop of ice cream every time. At The Inn, the teen ambassadors who come from nearby schools to volunteer are also playing a part in Monday's event. They have been promoting it on social media and will be at the shops helping out and taking part for their January engagement and giving back.
On Monday, anyone who walks into either location will be greeted with the smell of freshly-made ice cream. Sarah's prides itself on using the best, "local-whenever possible" ingredients to churn its 40 flavors (Annie said that Cotton Candy or Rainbow Sorbet are particular favorites among young children). And by simply mentioning The Children's Inn, anyone purchasing ice cream that day will not only be bringing a little sweetness into their lives, but will be making a difference in the lives of the families staying at The Children's Inn. Sarah's locations are both open from 11 a.m. to 9 p.m., so make a difference while enjoying some ice cream and stop by Sarah's Handmade Ice Cream on Monday!
Stay Up To Date
on how The Children's Inn is creating 'A Place Like Home'