The Children's Inn Visits Ravens Training Camp
Two shuttle buses full of families from The Children's Inn at NIH made the trip an hour north to the suburbs of Baltimore on Thursday, where they attended a Baltimore Ravens practice as part of the team's training camp in preparation for the 2023 NFL season. The group saw many of the Ravens' stars in action and met them for photos and autographs following the practice.
For many families, it was their first experience with American football. Sitting just a few feet from the field during practice, they were awed by the size of many of the athletes who towered over the children, teens, and young adults visiting from The Inn.
"We are so grateful to the Ravens staff, coaches, and players for the hospitality they showed us today," said Family Programming Recreation Coordinator Haja Kumalah. "Our families had a great day and were thrilled to meet so many players up close."
After arriving at the Under Armour Performance Center in Owings Mills, MD, where the Ravens hold their training camp, the families were accompanied to a shaded VIP area where they could eat lunch, relax, and watch the action. The Ravens held a walkthrough practice, meaning the team was not in pads or running at full speed. But all the fan favorites were in action, from Lamar Jackson and Odell Beckham, Jr. to Roquan Smith and Marlon Humphrey.
As practice wound down, the contingent from The Inn was brought to a staging area near the players' entrance to the facility. There, they waited for the players, several of whom made their way over to The Inn's group to sign autographs and pose for pictures. Head coach John Harbaugh, All-Pro kicker Justin Tucker, standout linebacker Patrick Queen, and first-round draft pick Zay Flowers were among those who also signed a handmade poster that the children had painted with The Inn's and the Ravens' logos.
During the autograph session, many of the children visiting from The Inn were overwhelmed by the excitement – unsure of where to look or what to say. Kumalah kept things moving and made sure everyone was having a good time. It caught the attention of Coach Harbaugh, who smiled at her as he posed for pictures. "You're a pretty good coach!" he said to her as he continued greeting the kids.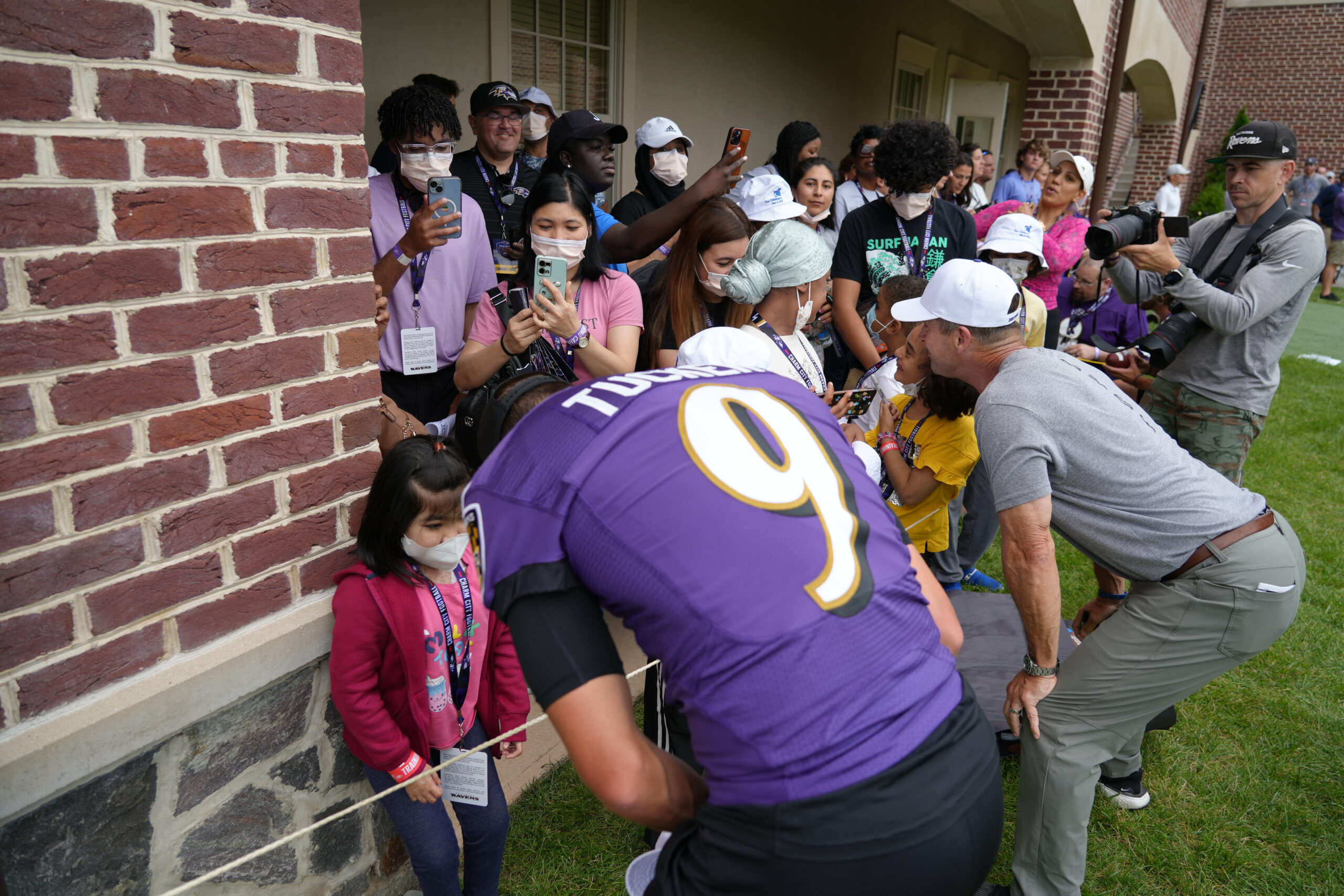 The weather cooperated with The Inn's families as well. Temperatures were in the high 70s with plenty of clouds for shade when they ventured out towards the practice field. Rain held off until just minutes after they boarded the buses for the trip back to Bethesda, toting souvenirs the Ravens had given out, autographed Children's Inn bucket hats, and for some, a new sport and new team to follow for the season to come.
Stay Up To Date
on how The Children's Inn is creating 'A Place Like Home'