Rare Disease Patients Create Lasting Bond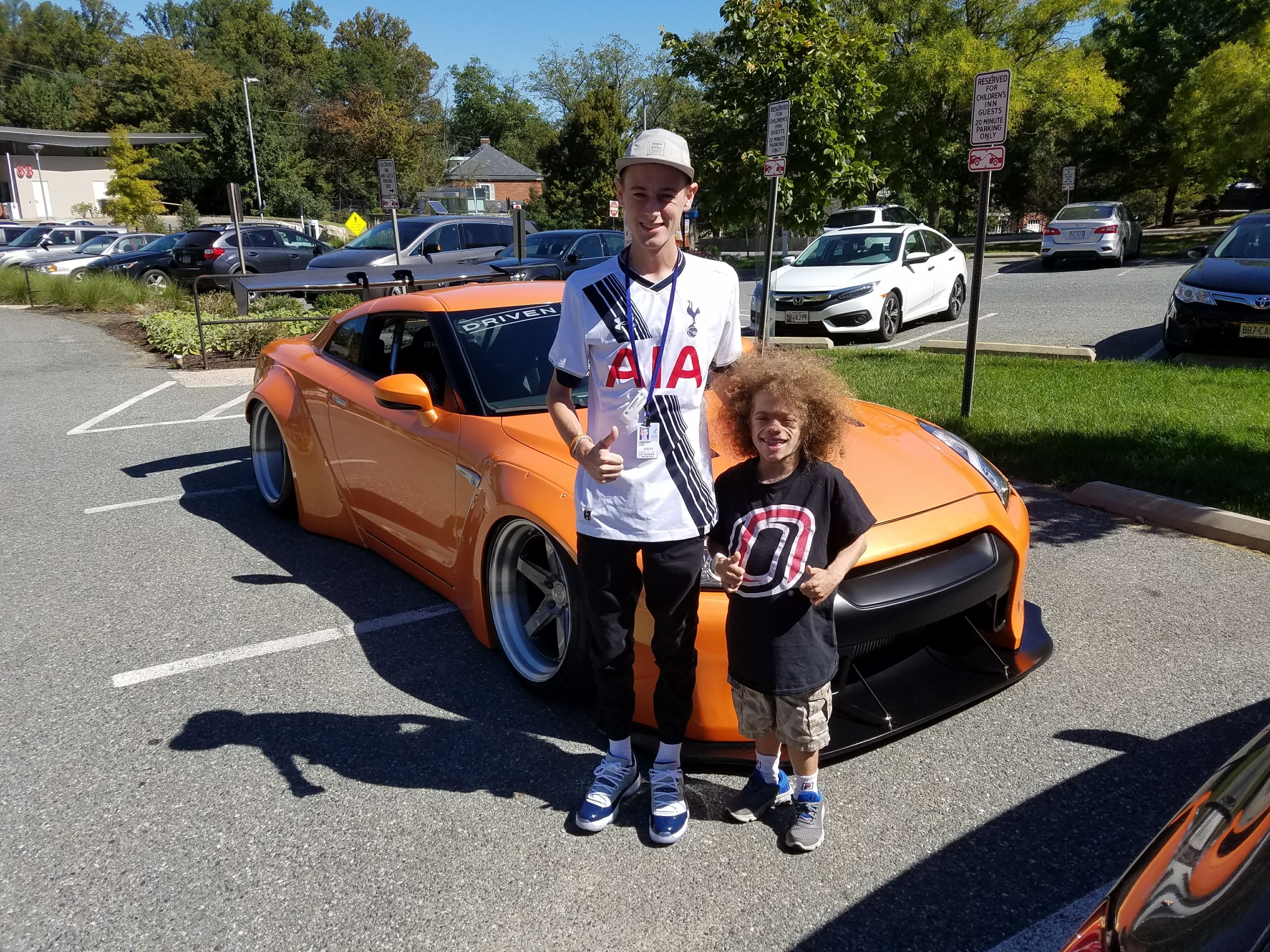 NIH rare disease patients Isaac, 15, of Omaha, Nebraska, and Andrew Lee, 23, of Kensington, Maryland, bonded over the things they had in common: a love for sports, video games and Andrew's dog, Dexter, as well as being clinical trial patients at the NIH Clinical Center. Most of all, they bonded over their desire to enjoy life despite their serious, life-threatening, even terminal, diseases.
Although their four-year friendship was cut short when Andrew died as a result of kidney cancer in late April, their bond continues through their families, unforgettable memories and Andrew's last wish to give his custom wheelchair to Isaac. Andrew's family made his wish come true for Isaac's 15th birthday, when they held a celebration for Isaac at The Children's Inn at NIH and presented the special gift to him.
Isaac was born with a genetic disease called CANDLE syndrome, a painful, ultra-rare and life-threatening autoinflammatory disorder. Andrew was diagnosed with stage 4 HLRCC, a rare and aggressive form of kidney cancer, his freshman year of college. For both young men, clinical research studies were the best chance at a treatment. Andrew participated in seven clinical trials that helped to extend his life by several years. Isaac's life was saved by the experimental treatments he underwent at the NIH, which also greatly improved his quality of life.
Isaac met Andrew's dad, Bruce Lee, at a Nationals baseball game in Washington, D.C. Finding out Isaac was an NIH patient, just like his son, he suggested Andrew and Isaac meet.
"He said, 'You gotta meet my son,'" Isaac recounts.
They met at The Children's Inn shortly after. From then on, they met regularly, hanging out at Andrew's place, playing the soccer video game 'FIFA' and hanging out with Andrew's dog. Isaac's treatments and checkups bring him to The Children's Inn at least three or four times a year. Since the age of 2, that's been 80 visits so far.
Andrew continued to go to college when possible and founded the nonprofit Driven to Cure (DTC). He used his bright-orange Nissan GTR, a gift from his father, to connect with other people, educate them about kidney cancer and raise funds for cancer research at the NIH. Andrew wrote on his website:
"Driving the GTR has become a tremendous outlet for me. The places I have gone, the people I have met, and the passions I have developed just because of this gift have become the best medicine available."
Andrew managed to raise over $400,000 for cancer research and significantly more since news of his death spread online. Andrew died on April 21 at the NIH Clinical Center.
Andrew's family was diligent about carrying out his final wishes. For Isaac, the Lee family had Andrew's wheelchair painted the same custom color – DTC Orange – as Andrew's GTR and had Driven to Cure embroidered on the chair's back. On a removable side cushion, Andrew's dad had Andrew's motto from his license plate added: "F CANCR."
On June 7, Isaac's 15th birthday and one day before Andrew's memorial service, Andrew's family surprised Isaac with a birthday lunch at The Inn, Driven to Cure merchandise and the custom wheelchair.
"Isaac has an old, used wheelchair," his mom says. "He is not wheelchair-dependent, but walking long distances can be hard, and traveling is hard."
For Isaac, the wheelchair is a "pretty cool" gift and reminder of his cherished friendship with a young man who touched the hearts of so many, including NIH Director Francis Collins, M.D., Ph.D. Collins wrote about Andrew's life and legacy on the NIH Director's Blog in a recent post, highlighting Andrew's drive and caring spirit as well as his friendship with Isaac.
"But I think it was Andrew's humanity that touched us the most," Collins writes. "He always had time to share his story, to encourage another child or adult struggling with a frightening diagnosis. He'd give thrills to kids at The Children's Inn at NIH when he rumbled into the parking lot with his 700 horsepower GTR."
"I liked hanging out with him," Isaac says. "Just knowing him. He was an awesome young man. Yes, he had a cool car, but I just liked him as a person. He was not thinking about his cancer but just going out there and living his life. That's what I liked."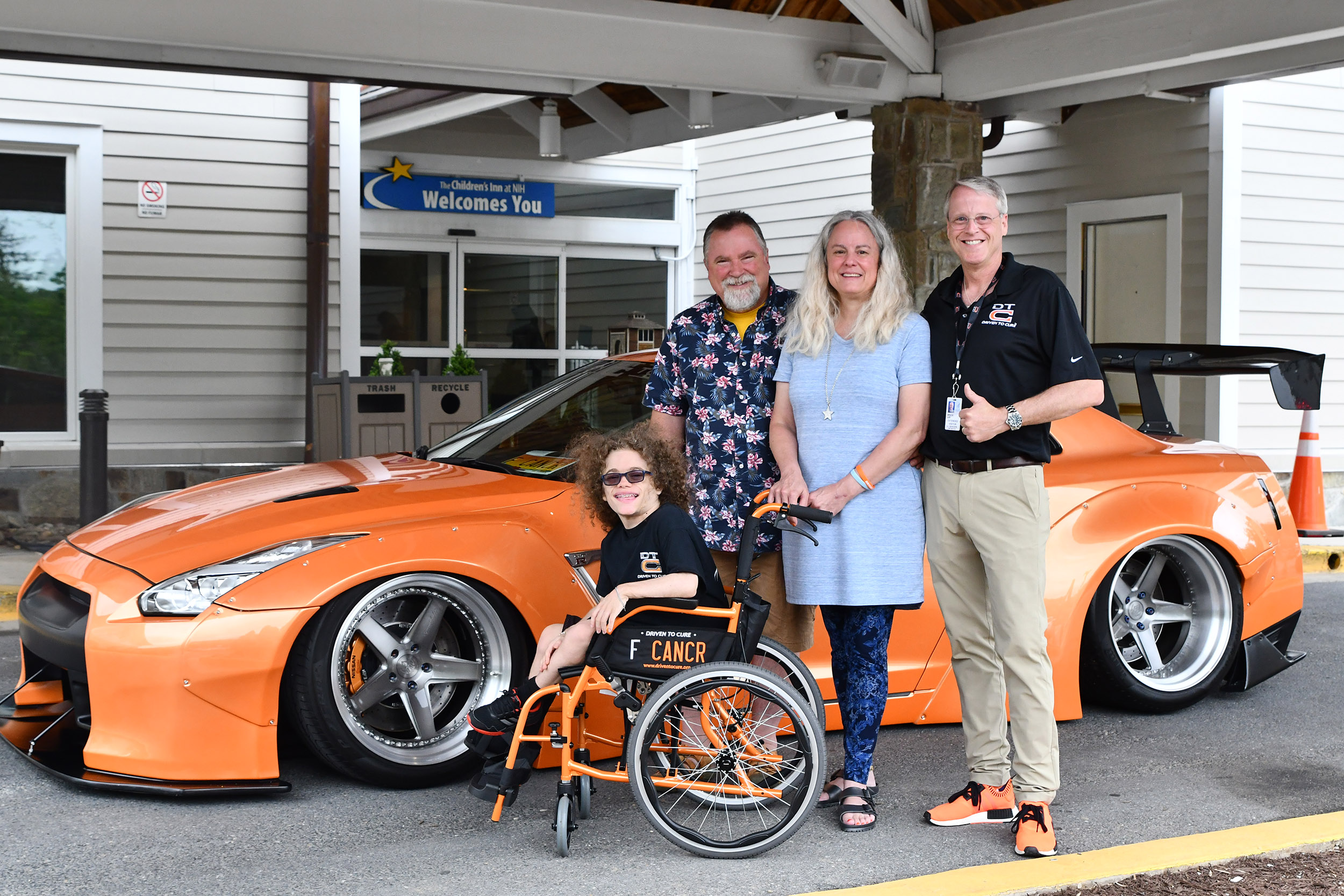 Andrew and his signature car also made a big impression on other children and families staying at The Inn as well as Inn staff. Andrew's family recently brought Andrew's GTR, information about Driven to Cure and giveaways to The Inn for the second annual Children's Inn Car Show. Although Andrew was deeply missed, his legacy continues to inspire Children's Inn kids, families and staff, and people all over the world.
View more photos from the visit:
Stay Up To Date
on how The Children's Inn is creating 'A Place Like Home'