Your Support Gives Noah and Her Family Precious Peace of Mind
At first, Noah's symptoms looked like infant reflux – she was irritable, cried constantly and could not keep milk down. But even as first-time parents, Gisela and Carlos knew in their hearts their baby daughter's health issues ran much deeper. In the first few months of her life, Noah was hospitalized three times before intensive testing finally revealed the real reason for her feeding troubles: a highly rare disease that makes it impossible for her body to absorb any dietary fats and causes her to feel constant pain. Noah, now 21, has needed specialized care since birth, bringing her regularly to the NIH and The Children's Inn, where she has found a caring "place like home" thanks to your kind support.
Noah's kind spirit shines brightly through anything she does, even though most days, she feels sick and tired. Noah is one of only about 100 people in the world diagnosed with abetalipoproteinemia. Caused by a genetic mutation, the metabolic condition makes it impossible for her body to absorb any dietary fats and, as a result, causes a deficiency in vitally important fat-soluble vitamins. This can lead to dangerous nutritional deficiencies that can bring about issues such as eye problems and blindness, nerve-functioning issues, anemia and abnormal bleeding. People with abetalipoproteinemia are also prone to liver disease, including fatty liver disease, and gastrointestinal problems.
For Noah, her disease is a daily struggle with fatigue and nearly constant pain in addition to regular stomach upsets, despite restricting dietary fats.
"Every day when we wake up, we don't know whether we'll have a good or bad day," her mom, Gisela, says.
Researchers know what genetic mutation causes Noah's disease, but a successful treatment or cure does not yet exist. Noah's care, led by Dr. Robert Shamburek at the National Heart, Lung and Blood Institute (NHLBI), has always been experimental. Part of her treatment is aimed at preventing serious vitamin deficiencies resulting from her body's inability to process essential, fat-soluble vitamins. Serious vitamin deficiencies can cause vision loss leading to blindness and progressive nervous system issues.
"The therapy right now is overloading her with the vitamins in hopes her body absorbs some of them," her mom says. "A healthy person would take one vitamin E a day, but she takes 28 vitamin E tablets a day."
The chance for her doctors at the National Heart, Lung and Blood Institute (NHLBI) to oversee her care benefits both Noah and her physician team, who are learning so much more about the disease thanks to Noah.
"Even if they don't find a cure for me, and a kid in the future has the same disease as me or anything close, if they find it for them, then I will just be happy," Noah says.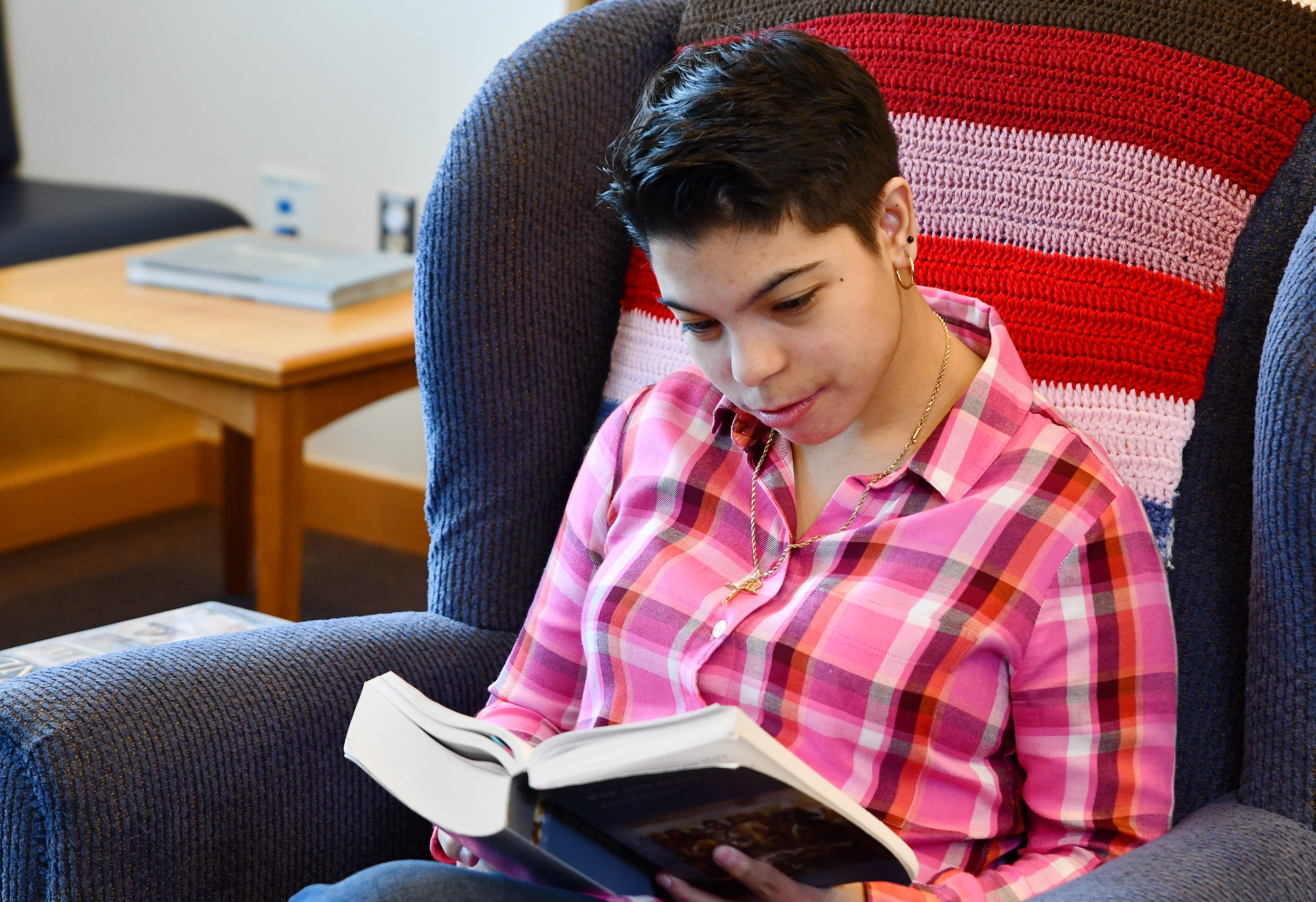 Noah reads War and Peace, one of her favorite novels
But as much as Noah has been studied, doctors have not been able to match some of her medical issues, including her skeletal issues, with her current diagnosis.
"I usually tell families when they come that our working hypotheses are: you either have an ultra-rare disease, which abeta [lipoproteinemia] actually is, or you have a common disease, but it's just an unusual presentation, which is why your genetics doctors haven't been able to see it before – or you have more than one disease," says Dr. Cynthia Tifft, clinical director of the National Human Genome Research Institute (NHGRI) and director of the Undiagnosed Diseases Program (UDP). "And what we have learned over time in some of our more unusual UDP patients, it's more than one thing. And in Noah's case, it's more than one thing."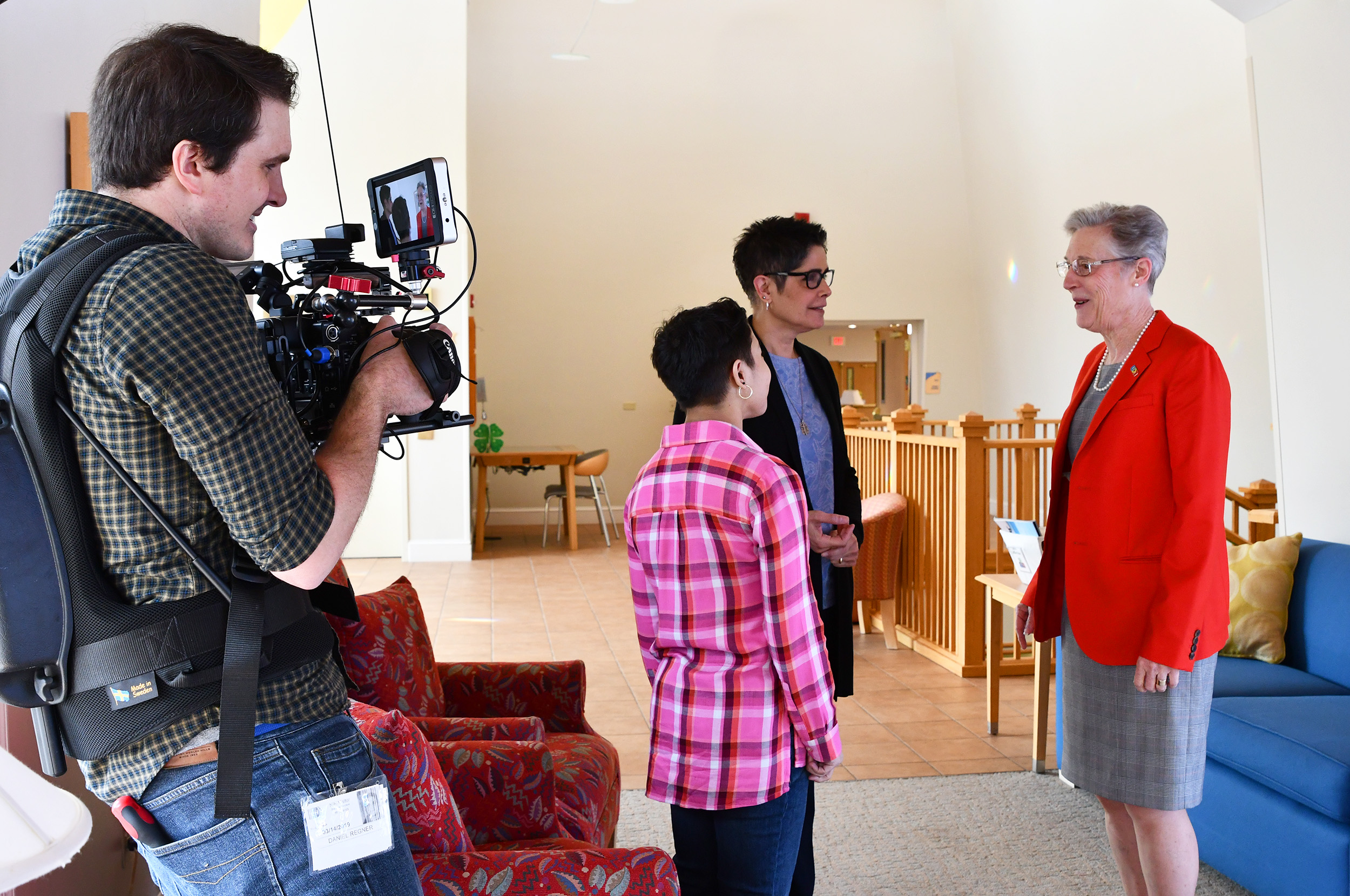 Behind the scenes: Noah, Gisela and Dr. Tifft are filmed by our crew
Dr. Tifft, who is one of two doctors who initially diagnosed Noah when she was hospitalized as an infant, has been working with Noah as part of NHGRI's Undiagnosed Diseases Program in an effort to provide a diagnosis that might explain some of Noah's additional health issues, including her unusual skeletal issues, fatigue and other complications.
"Dr. Tifft is basically like family for me," Noah says. "She's been part of my whole life, so working with her here at NIH has been great."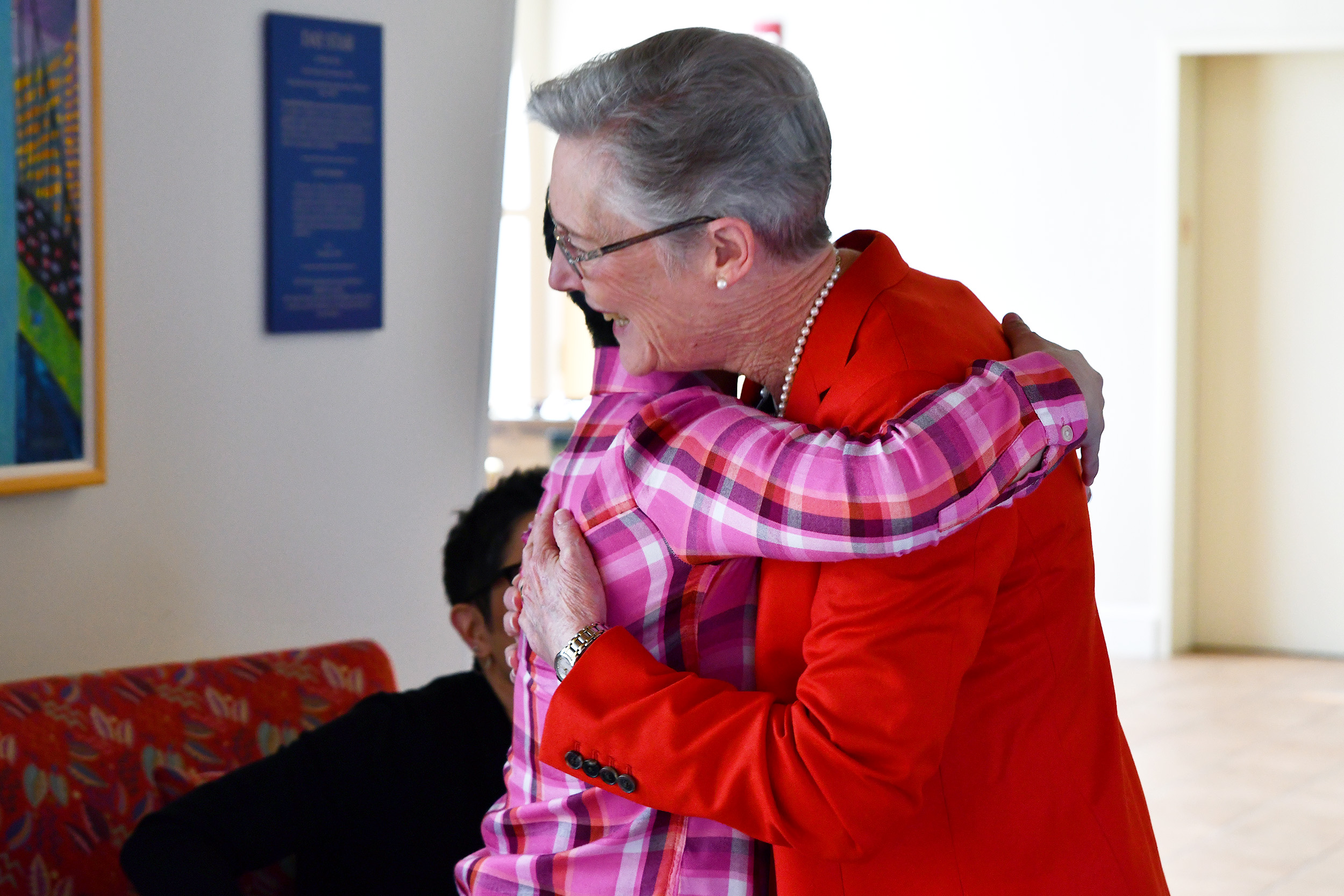 Noah and Dr. Tifft embrace
Noah and her mom also have formed a very close relationship with Dr. Shamburek at NHLBI, who has overseen Noah's medical care for many years.
"Dr. Shamburek has always been there for me, no matter what," Noah says. "He is so dedicated, kind and loving. He has always included my mom in a way that has made her feel part of the team. Like Dr. Tifft, he's family to us."
But it's visits to The Children's Inn Noah has always looked forward to most. She started coming to the NIH at 18 months and became a regular resident of The Inn in 2004.
"The thing I like about The Children's Inn is – I actually feel normal here," Noah says. "Unlike, outside in the real world, I know I'm different. [The Children's Inn] It's just a really awesome place to be."
"When she was little, Noah would say she cannot wait to go back to The Inn because she would get to play in the playroom, meet new kids and make friends," her mom adds. "She loved bingo, arts and crafts, and she loves the staff."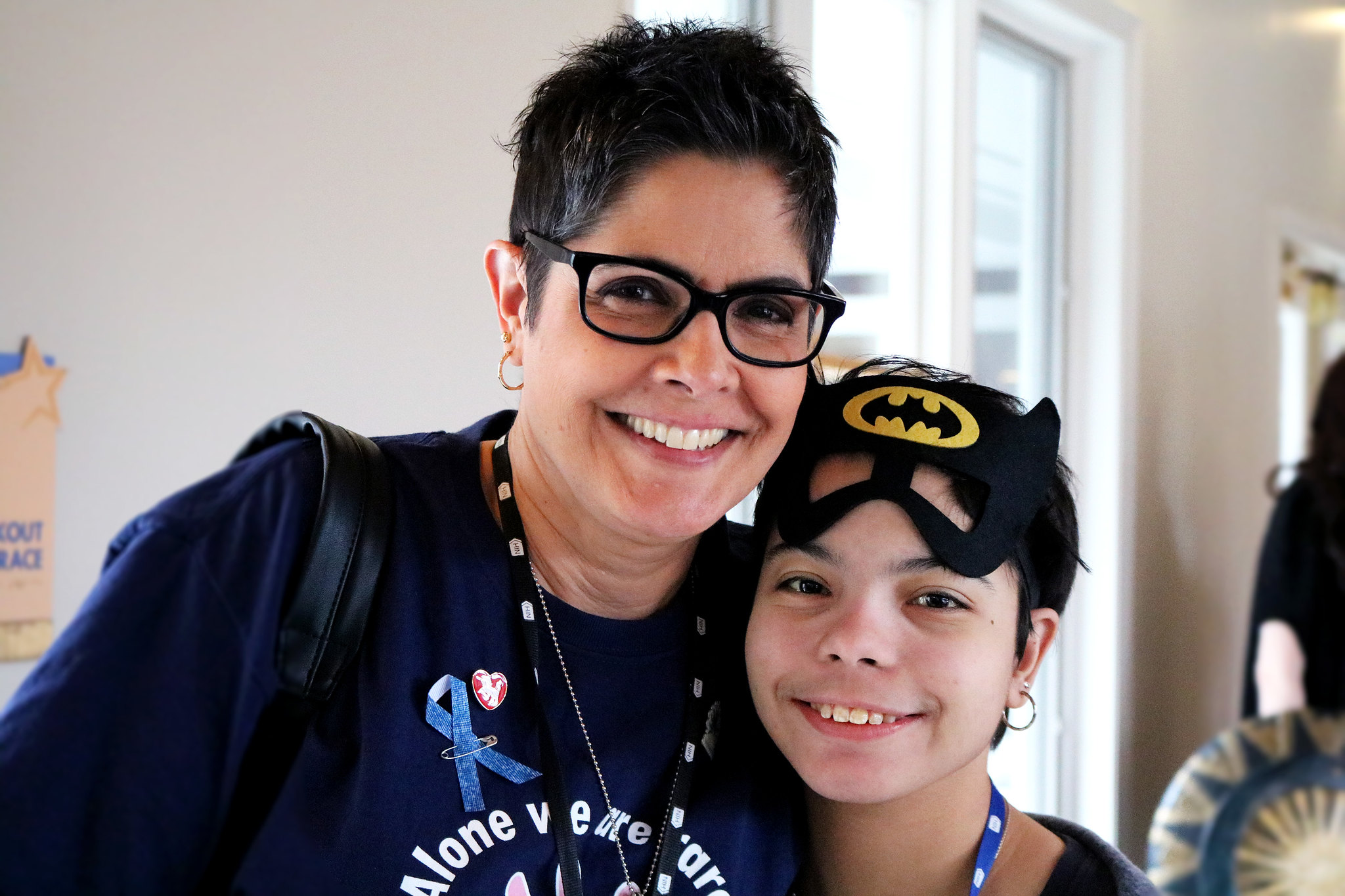 Noah and her mom have fun at a Comic-Con themed party
For Gisela, who has been taking Noah to too many hospitals for too many stays to be able to count them, The Inn stands out for its free, comfortable and convenient accommodations that are unlike anything they have experienced anywhere else. Most of all, she loves the kitchens that make it easy for her to meet Noah's dietary restrictions and the volunteer-provided community meals that offer Gisela a welcome break from cooking for herself. Faith and spirituality are important to Gisela and Noah, and both enjoy attending The Inn's caregiver gatherings with Cantor Mike, the NIH Clinical Center's pediatric chaplain.
"As she's gotten older, what touches us the most is spending time with Cantor Mike who comes to The Inn with his guitar and sings songs," Gisela says. "We meet families from all over the world, and it gives the parents the chance to talk and feel like they can talk. There is no judgement. You just feel free to be who you are."
A bookworm who also loves writing poetry herself, Noah is working on compiling a book of her own poems illustrated by her mother's watercolor paintings.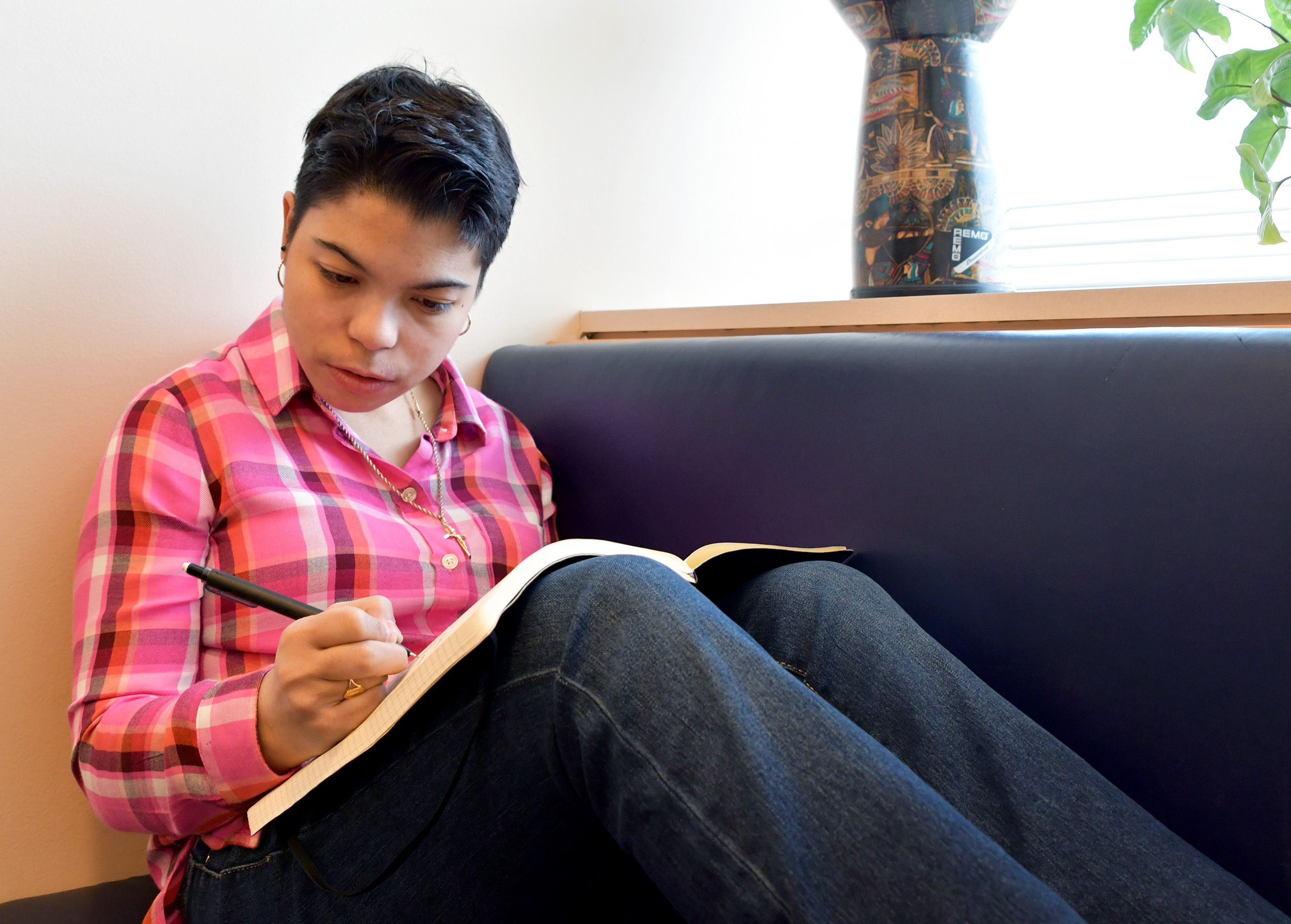 Noah writing poetry
"God put me here for a reason – sick, or whatever the situation is – and he gave me poetry and literature and all that to help me through it," Noah says.
The Children's Inn inspired Noah to write a poem in which she compares The Inn to a strong, loving, protective tree whose leaves never fall: "This tree embraces me with love. Its branches clap a thousand claps for my unmistaken happiness. Rooted forever in my heart."
"Having The Inn made a huge difference," Noah's mom says. "I wish everyone could experience what a life changer it is for the families. I don't know what we would do if we didn't have it."
Your support allows Noah and families like hers to stay comfortably at The Children's Inn so they can focus on what matters most – their children's health and the medical care they need. Thanks to caring donors like you, our families never have to worry about paying for lodging, food or finding activities to occupy their time. Your donations to The Children's Inn make childhood possible despite serious illness.
Stay Up To Date
on how The Children's Inn is creating 'A Place Like Home'