NIH Gives Kavya a Chance for a Full Life
For Kavya, 17, not having the right diagnosis would have been deadly.
The first sign that not all was well with Kavya from Sugar Land, Texas, came when she was only 10 months old. A cookie made for children caused such a serious allergic reaction in the infant that her family rushed her to the hospital.
From then on, Kavya developed a continually lengthening list of serious allergies, eczema, skin infections, viral infections and respiratory infections. But even with aggressive treatment, her medical issues wouldn't clear up as doctors expected, and she often had to visit multiple specialists. When one especially bothersome skin infection left Kavya with uncomfortable hives on her back and face for more than three years despite treatment, Kavya's immunologist recommended her family contact the National Institute of Allergy and Infectious Diseases (NIAID) at the National Institutes of Health (NIH) to seek specialized testing to determine whether their daughter had a rare immune deficiency.
A young teen at the time, Kavya submitted blood samples to the NIH for testing, and her family did the same. In 2014, the family was relieved to hear the NIH had a diagnosis for Kavya. But the implications were devastating.
"DOCK8 is normally found within white blood cells that are important for fighting off infections," said Helen Su, M.D., Ph.D., chief of the Human Immunological Diseases Section of NIAID's Laboratory of Host Defenses, who helped treat Kavya. "When DOCK8 is missing, these cells don't move through the body like they should, making them prone to die off instead of doing the things they need to do to keep a person healthy."
Kavya's NIAID team of doctors, which only a few years prior to Kavya's diagnosis had discovered that mutations in DOCK8 cause the disease, helped Kavya and her family cope with the difficult news and the knowledge that the only chance to give the teen a long life was a bone marrow transplant to exchange her defective immune cells with healthy ones from a donor.
"Her body does not fight infections," Kavya's mom said. "I was very scared for her. All I requested was prayers from everyone we know. It was very hard."
Testing showed Kavya's mother, Prashanthi, was a perfect donor match for her daughter. In the summer of 2016, Kavya underwent chemotherapy at the NIH Clinical Center to destroy her immune cells and was infused with her mother's healthy cells in hopes she would build a new, healthy immune system.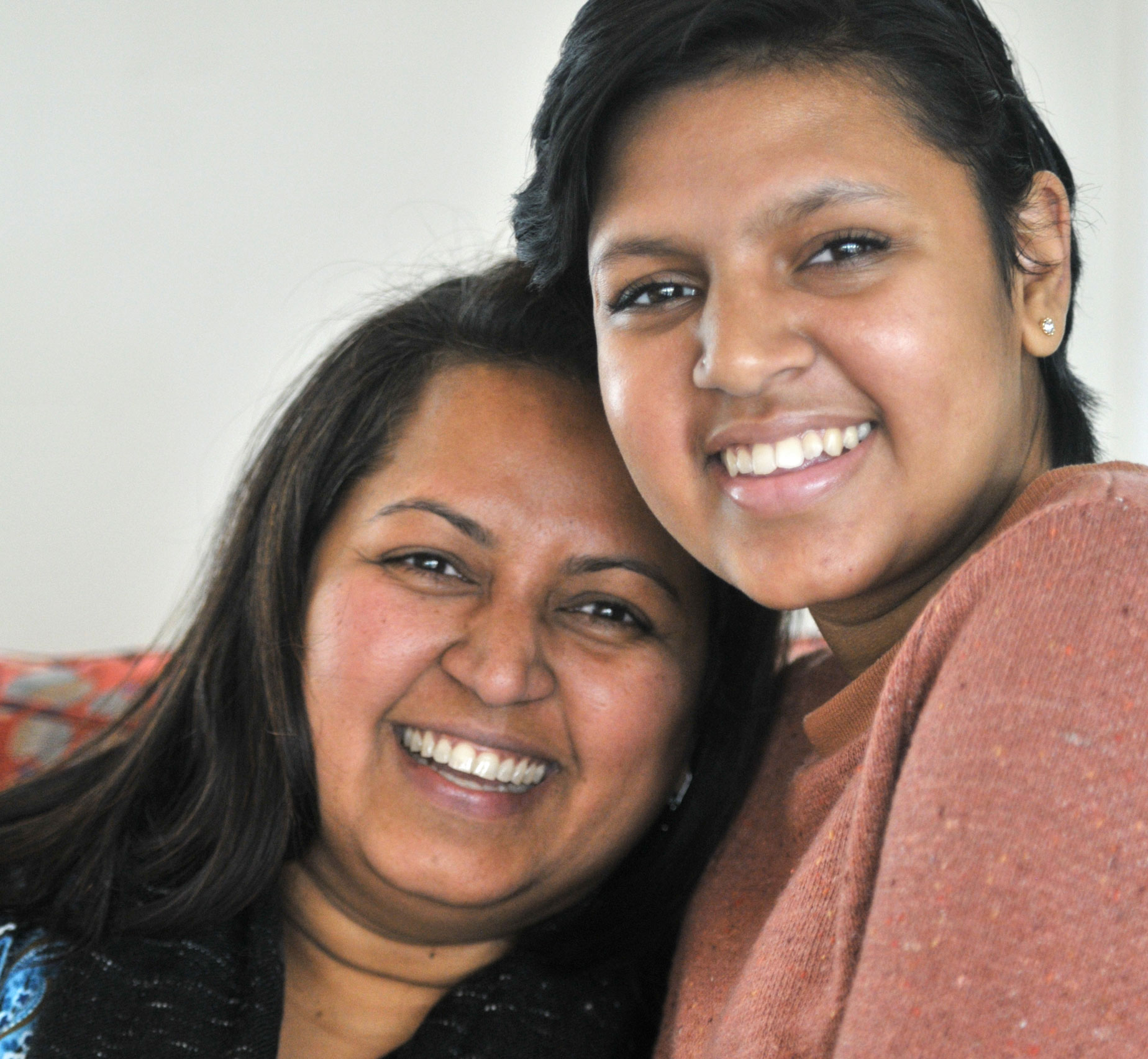 Kavya Nadella a guest at The Inn with her mother
Kavya's bone marrow transplant was successful, and it dramatically changed her life in a short time span. Her skin infections cleared up quickly, and the teen no longer suffered as many severe viral and respiratory infections. She began to have more energy and didn't need to sleep as much as before. Finally, the high school student could attend school most days and focus on her school work. She also, finally, had the chance to make long-term plans for her future.
"We have been coming to the NIH and The Inn almost every 3 or 6 months," Prashanthi said. "NIH helped save her life. If we didn't know what was going on or didn't know about the NIH research study, we would have only had her for 20 or 24 years, and that's just very young to lose a child."
During her diagnosis and treatment at the NIH, Kavya and her family knew they could count on continuous support from The Children's Inn at NIH, the hospitality house located across the street from the NIH Clinical Center. Kavya and her mom spent five long months away from the rest of their family and home in Texas to stay throughout Kavya's treatments leading up to and following her lifesaving transplant. When the rest of Kavya's family visited her during treatment, they stayed at The Inn as well.
"I absolutely love The Children's Inn," Kavya said. "I love being around kids, and I just love the environment. It's always so fun to be here. During the summer, they have Camp INNcredible and teen retreat, which give children and teens who are able to participate the chance to enjoy some time away from the hospital bed. They have various activities. I remember Rosa [a former Inn staff member] teaching salsa, and they brought in a Bollywood dancer, and I love dancing, so anything around dancing, I am always involved in. It's absolutely an amazing facility. Being able to come here – it's a place like home. And getting away from all the hospital stuff, it's amazing."
Become a monthly donor
Stay Up To Date
on how The Children's Inn is creating 'A Place Like Home'