Aaron's Journey of Hope
Growing up, Aaron Ramsay was unable to experience life without frequent infections, complications, and paralyzing pain. This was due to a diagnosis discovered a month after he was born. He came to this world with sickle cell anemia.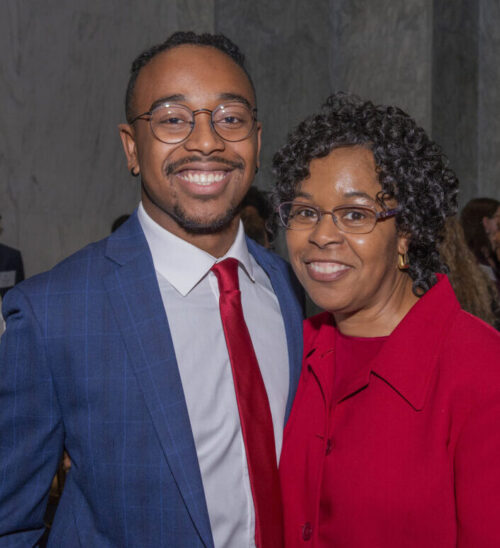 Sickle cell, as Aaron eloquently described it, is a genetic disease that causes red blood cells to form in the shape of a crescent moon instead of round. These cells cause clotting, damage to blood vessels, and, most notably, pain. As the most common blood disorder in the United States, the only possible cure is a bone marrow transplant. In 2018, the National Institutes of Health launched the Cure Sickle Cell Initiative aimed at developing a gene therapy cure for this disease.
As Aaron grew up, his pain steadily increased. By the time he was a freshman in college, he suffered weekly, making him question if he should forgo his dream of becoming an educator. Warm and welcoming news, however, came in the midst of a cold, harsh winter. Aaron was notified by his doctors that his younger brother, Luke, was a perfect donor match for his bone marrow transplant. This revelation led to his four-month medical journey to the National Institutes of Health and The Children's Inn.
While seeking treatment at the NIH Clinical Center, Aaron found The Inn as a refuge and a place of comfort and reprieve. During this time, he built a support system with other young adults going through shared experiences. In fact, Aaron was able to participate in The Inn's Retreat, a two-day event filled with recreational activities.
Before leaving The Inn, Aaron wrote a letter of gratitude addressed to the staff and The Inn's committed supporters. He also reminisced about his memorable encounters and new bounds while remaining optimistic for a hopeful and pain-free future.
Everything seemed perfectly well until 2020. His doctors discovered that the transplant was not working the way that it should. He was diagnosed with chronic myelogenous leukemia.
Over the past year, Aaron has been receiving treatment and his body has responded well. "Thankfully, it has actually been much easier than treating my sickle cell. What we have noticed is that, as we treat the leukemia, the sickle cell has gotten better," he fervently explained.
Aside from this downturn, Aaron's life has drastically changed since his departure from The Inn. In Los Angeles, his dream of becoming an educator was fulfilled when he walked into a classroom as a middle school teacher. His focus: science. With an encouraging outlook, he moved back to his hometown of Sacramento, California. He is now a high school pastor. This past April, he also married Abi, who has been by his side for the last two years.
Although Aaron faced adversity time and time again, he remains hopeful, a quality synonymous with his way of life. When asked about his message of hope, he flashed a coy smile and, with rising crescendo in his voice, said, "Know that there is light beyond the darkness. Know that even in the hardship, you're being formed into something that you may not even understand. And you'll look back many years from now and see how the trials that people will go through shaped you into a better person and a better human being."
Stay Up To Date
on how The Children's Inn is creating 'A Place Like Home'