Meet Dr. Lori Wiener, NCI Social Worker & Inn Co-Founder
This March we join the wonderful social workers who make a difference for the children and young adults with rare and serious diseases we serve at The Children's Inn in celebrating National Professional Social Work Month.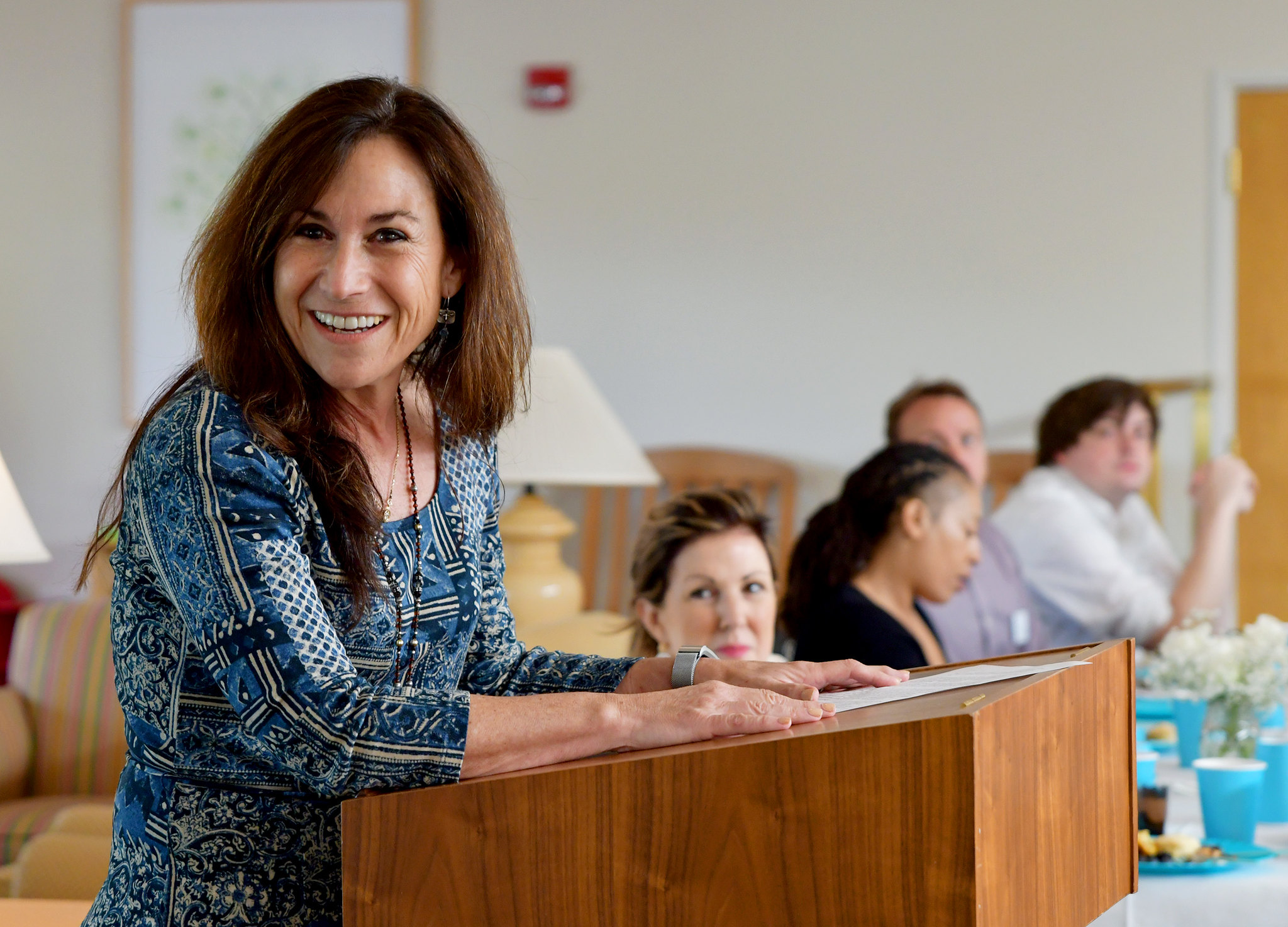 Wiener joined NCI's Pediatric Oncology Branch in 1986 to help provide the highest quality psychosocial support to NCI's pediatric research participants and establish a pediatric AIDS program at NIH. She also joined in the efforts led by Dr. Phil Pizzo, former chief of NCI's Pediatric Oncology Branch, to help establish free NIH pediatric patient and family housing on the NIH campus to provide support and comfort to families whose children are participating in often lengthy clinical research studies at NIH. Since The Inn's opening in 1990, Lori has acted as a trusted adviser to The Inn, having served as a board member, board chair and, now, trustee.
"Lori truly has gone above and beyond in providing psychosocial support to young patients and their families in NCI's Pediatric Oncology Branch," NIH Director Dr. Francis Collins said about Wiener while presenting her with the Alan S. Rabson Award at the 2018 NIH Director's Awards Ceremony. "She developed innovative resources that have become the standard of care in psychosocial oncology across the country. […] One of her most remarkable accomplishments is co-founding The Children's Inn at NIH. It should come as no surprise that for the last 27 years, Lori and her family have gone out of their way to make the holidays extra special for youngsters who are too sick to leave The Inn."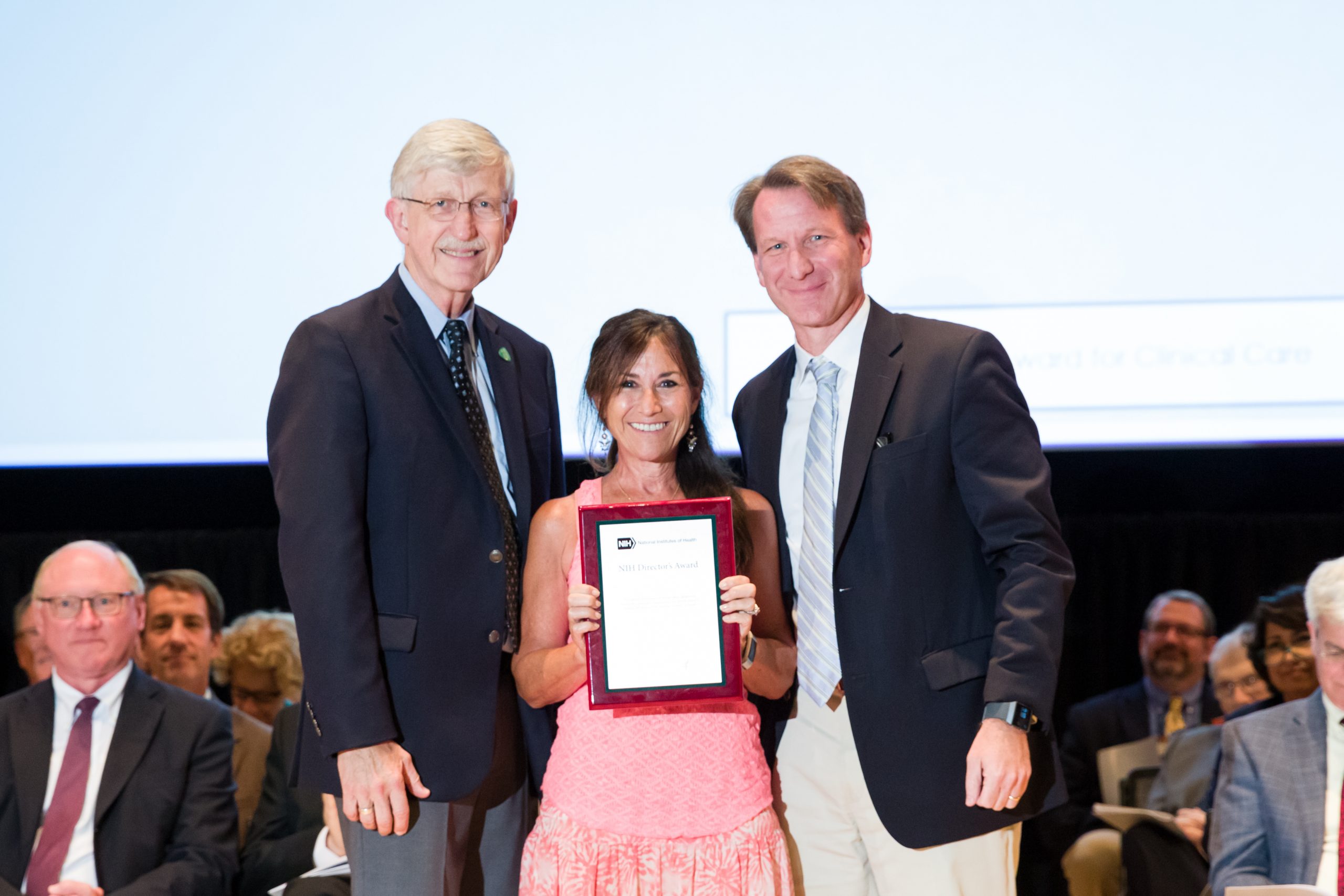 Lori Wiener pictured with NIH Director Dr. Francis Collins and NCI Director Dr. Ned Sharpless
From left: NIH Director Francis Collins, Lori Wiener, and NCI Director Ned Sharpless
Since The Inn opened, Wiener and her children, Marisa and Brett Brawerman, have been spending the Christmas holidays at The Children's Inn. Every year, they wrap gifts for the NIH pediatric patients and their families who spend the holiday season at The Inn, prepare holiday meals and stockings for the children, take family portraits and help organize cookie-decorating and holiday-themed activities.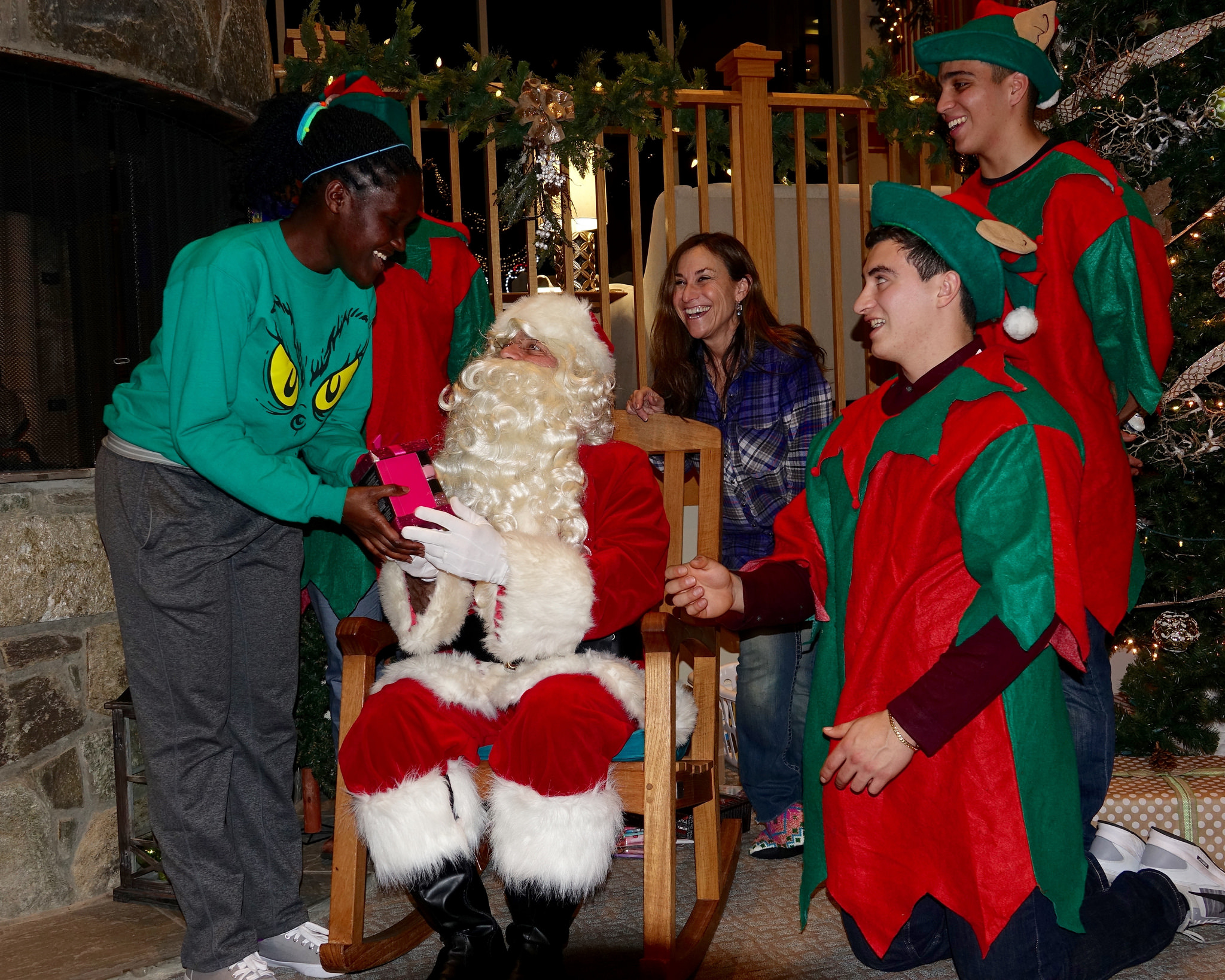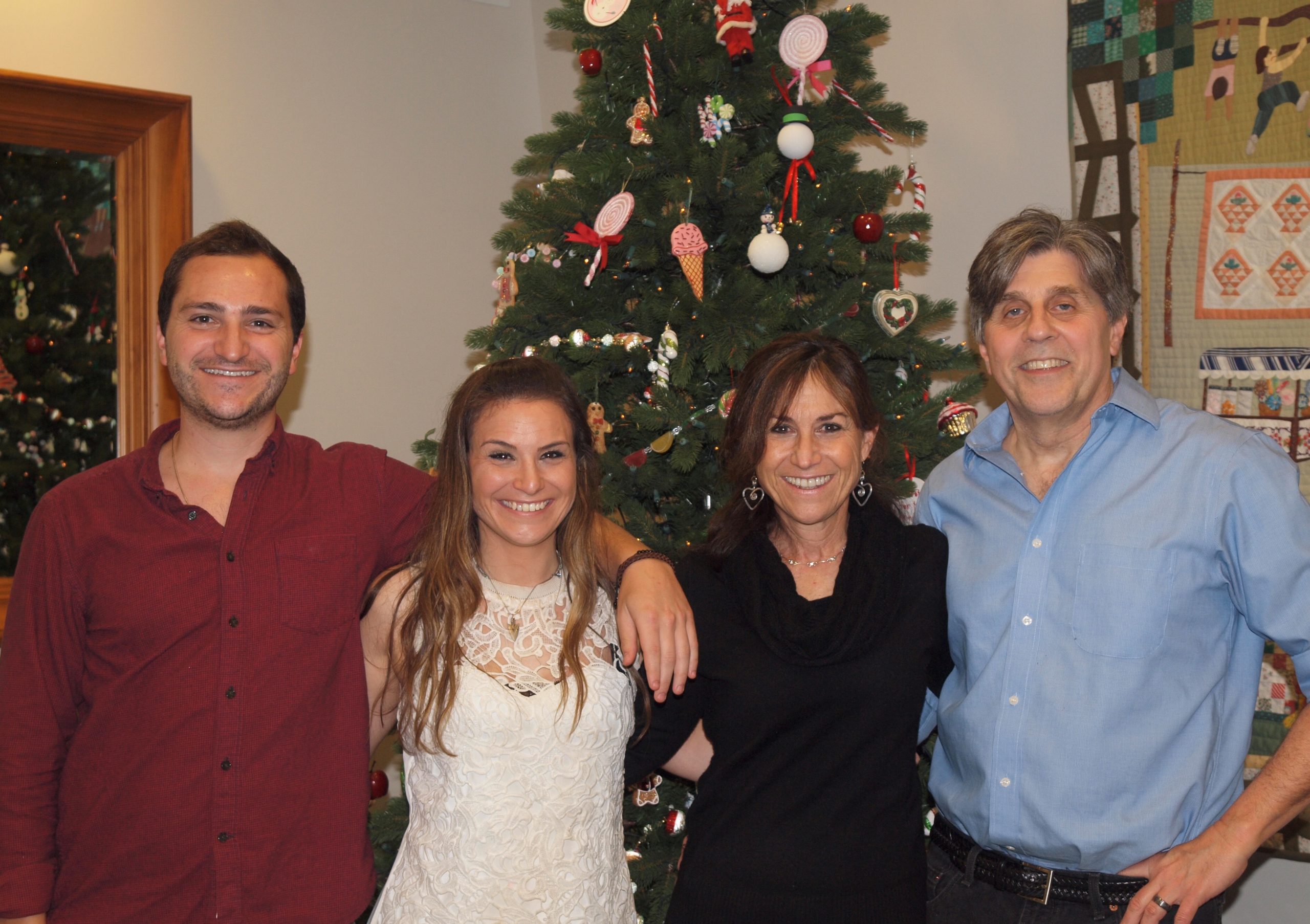 Lori and her family have spent Christmas volunteering at The Inn for years
She also accompanies Santa to the NIH Clinical Center directly across from The Inn to help provide gifts to children who are too ill to leave the hospital. Lori's husband, Sylvan Caplan, also volunteers at The Inn.
Wiener is pivotal in organizing sibling day, an annual event hosted by the NIH and The Children's Inn that recognizes the brothers and sisters of seriously ill children for their contributions to the health and well-being of their siblings as well as the family overall. Sibling day provides children with the chance to spend half a day at the NIH Clinical Center to learn about some of the procedures their brothers and sisters regularly undergo at the hospital, including diagnostic imaging and having their blood drawn. The rest of the day, the siblings spend at The Children's Inn, doing fun activities and creating a song about what it means to be a "super sibling."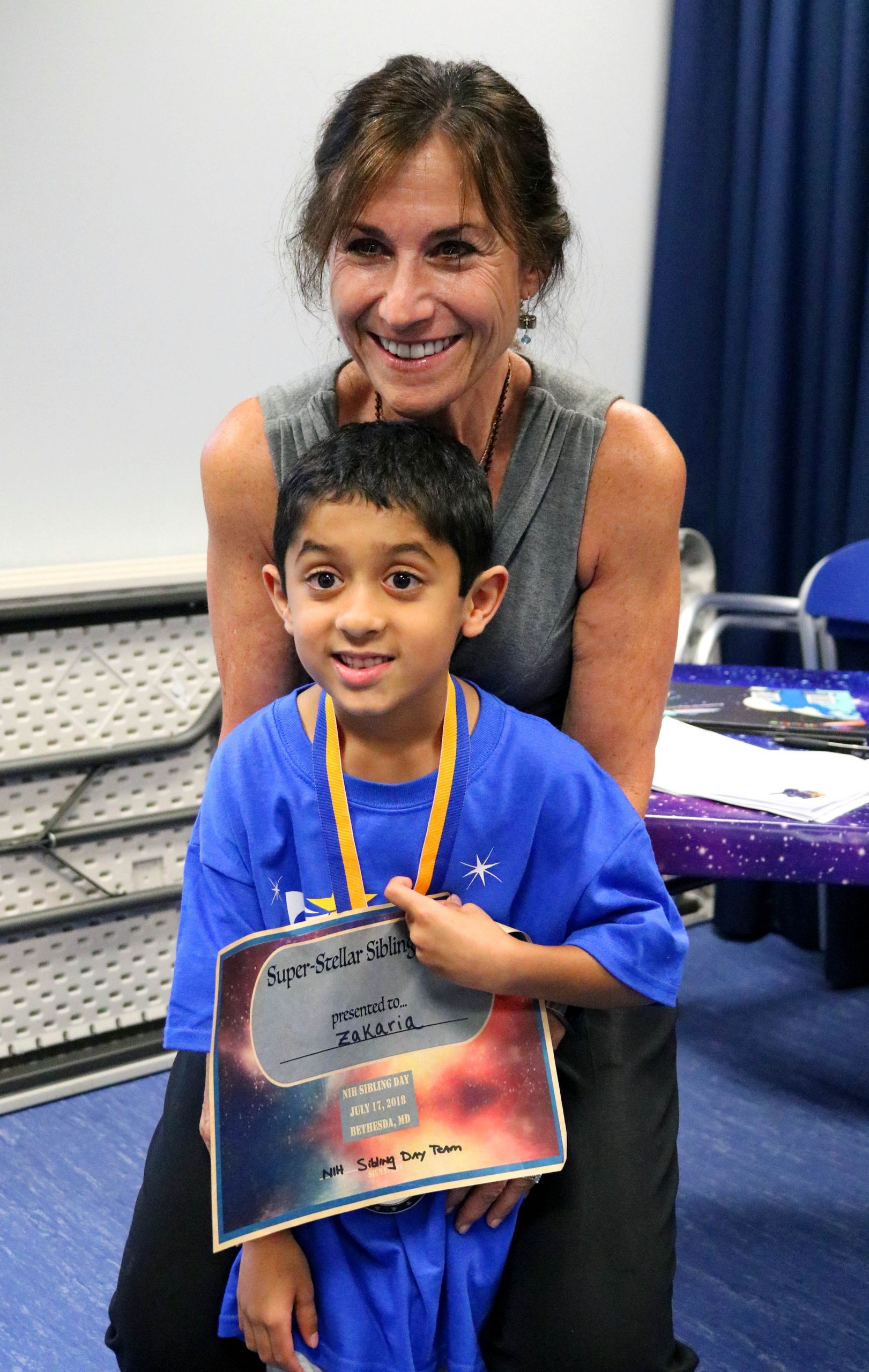 Lori Wiener on Sibling Day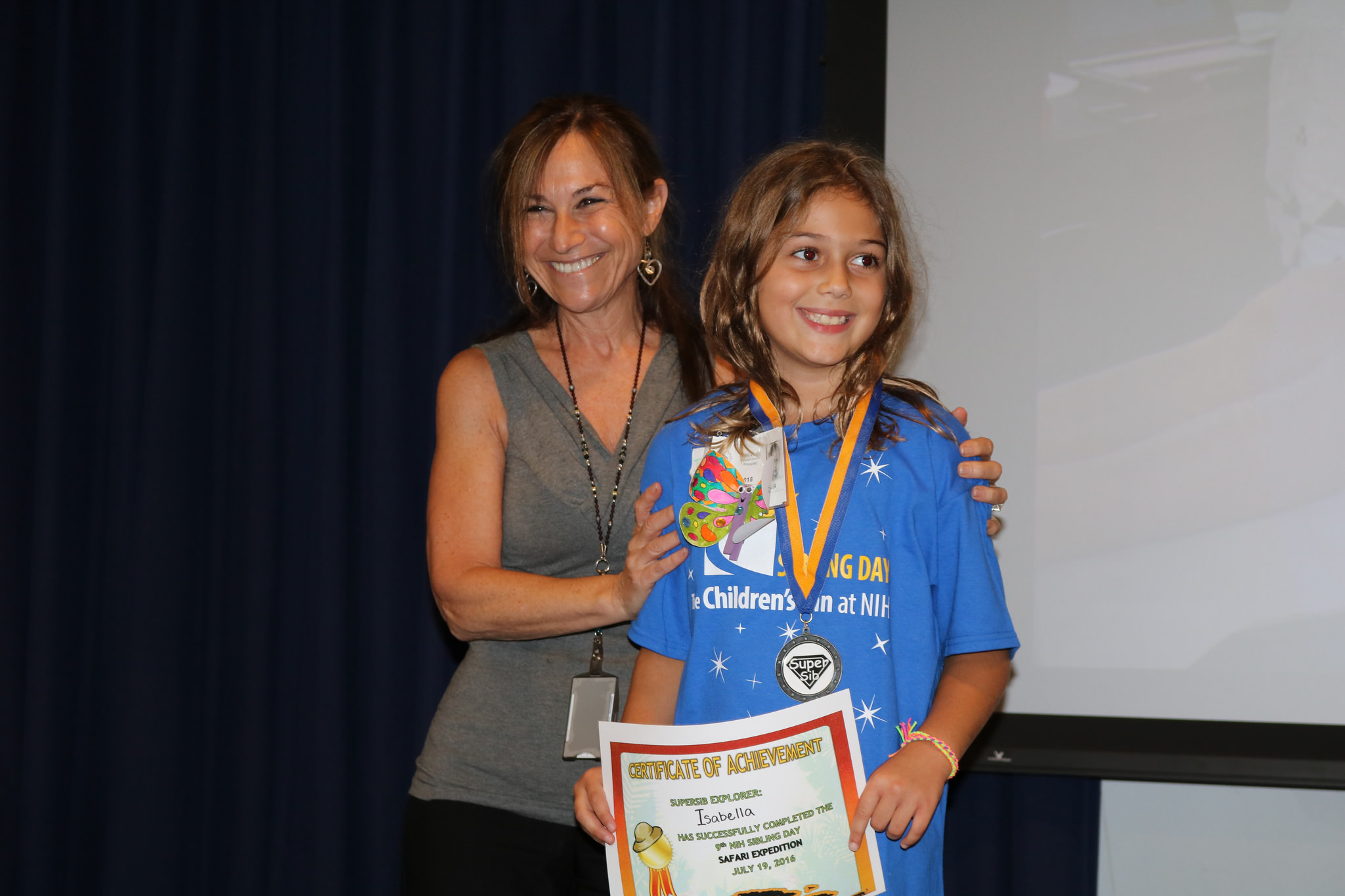 Lori and Inn residents on Sibling Day
Wiener also has been instrumental in helping The Children's Inn understand the needs of adolescent and young adult patients. Recently, she encouraged The Inn to raise its age limit to accommodate clinical trial participants up to age 30 and to launch a program tailored to the needs and interests of people ages 18 and older staying at The Inn.
"Lori goes out of her way to do what's best for seriously ill children and young adults who participate in clinical trials at NCI, and she has made a tremendous difference in the care and support pediatric patients receive at The Children's Inn," says Jennie Lucca, CEO of The Children's Inn at NIH. "All of us at The Inn are deeply grateful to and inspired by Lori's unparalleled efforts in making sure we meet the unique needs of every child and family we serve at The Children's Inn."
To provide families of children participating in NIH clinical trials with professional family portraits free of charge, Wiener has brought the national program Flashes of Hope to the NIH Clinical Center year after year.
Helping families come to terms with difficult diagnoses and helping children and teens think about and vocalize their legacies in case of death also has been an important part of her work.
Wiener is responsible for creating the unique therapeutic game ShopTalk, which helps young cancer patients find simple yet meaningful ways to open up about their disease. ShopTalk is available in most U.S. children's hospitals and has been requested by doctors in 24 countries. Two additional versions of the game respectively help children come to terms with a parent's or sibling's cancer diagnosis. Through years of extensive research, Wiener and colleagues developed Voicing My CHOiCES, an advance care planning guide that helps guide young people facing potentially life-threatening illnesses in creating their own legacies. To date, more than 46,000 copies of the guide have been distributed.
Wiener also is instrumental in helping organize the annual NIH Clinical Center Pediatric Remembrance Ceremony, an event that's been held for 25 years to help NIH and Children's Inn staff process the losses of and honor NIH pediatric patients who died during the previous year.
During the recent 25th annual NIH Clinical Center's Pediatric Remembrance ceremony, Wiener introduced her latest work to help dying children under the age of 12 and their families accept a child's terminal disease with the help of a beautifully illustrated book, "The Gift of Gerbert's Feathers." The book, written by Dr. Meaghann Weaver and Wiener with illustrations by Mikki Butterley, details the life of a brave gosling who learns to support and comfort his family, and the ways his family learns to support and comfort him – even when the end of his life is near.
The book will be available later this year through Magination Press.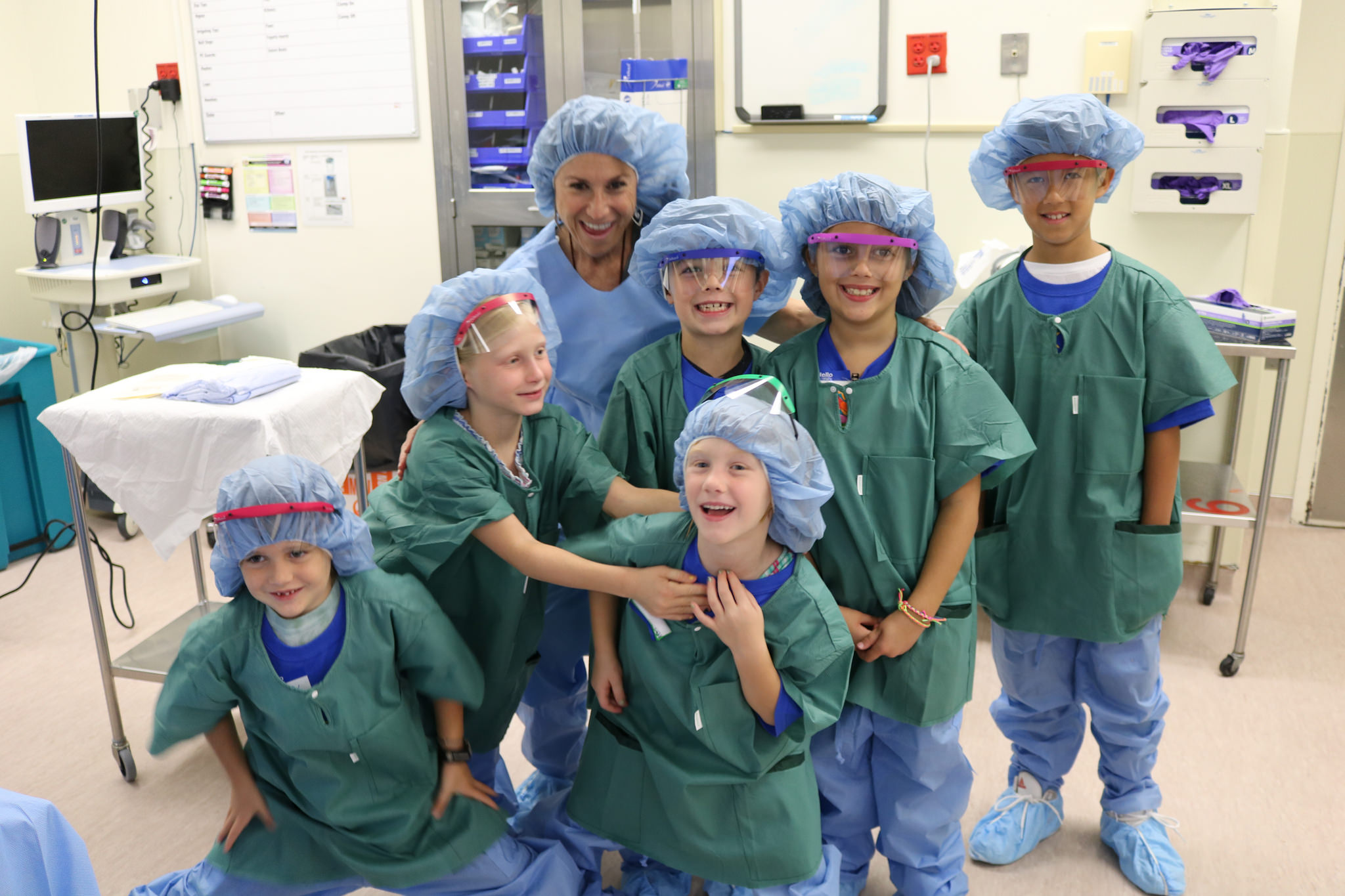 Wiener is the author and editor of close to 200 articles, book chapters, therapeutic workbooks and books about the psychiatric and psychological needs of pediatric patients, including a definitive multidisciplinary textbook, the first evidence-based psychosocial standards of care for children with cancer and their families as well as online resources for pediatric psychosocial oncology professionals.
Wiener holds a Ph.D. in social work from New York University.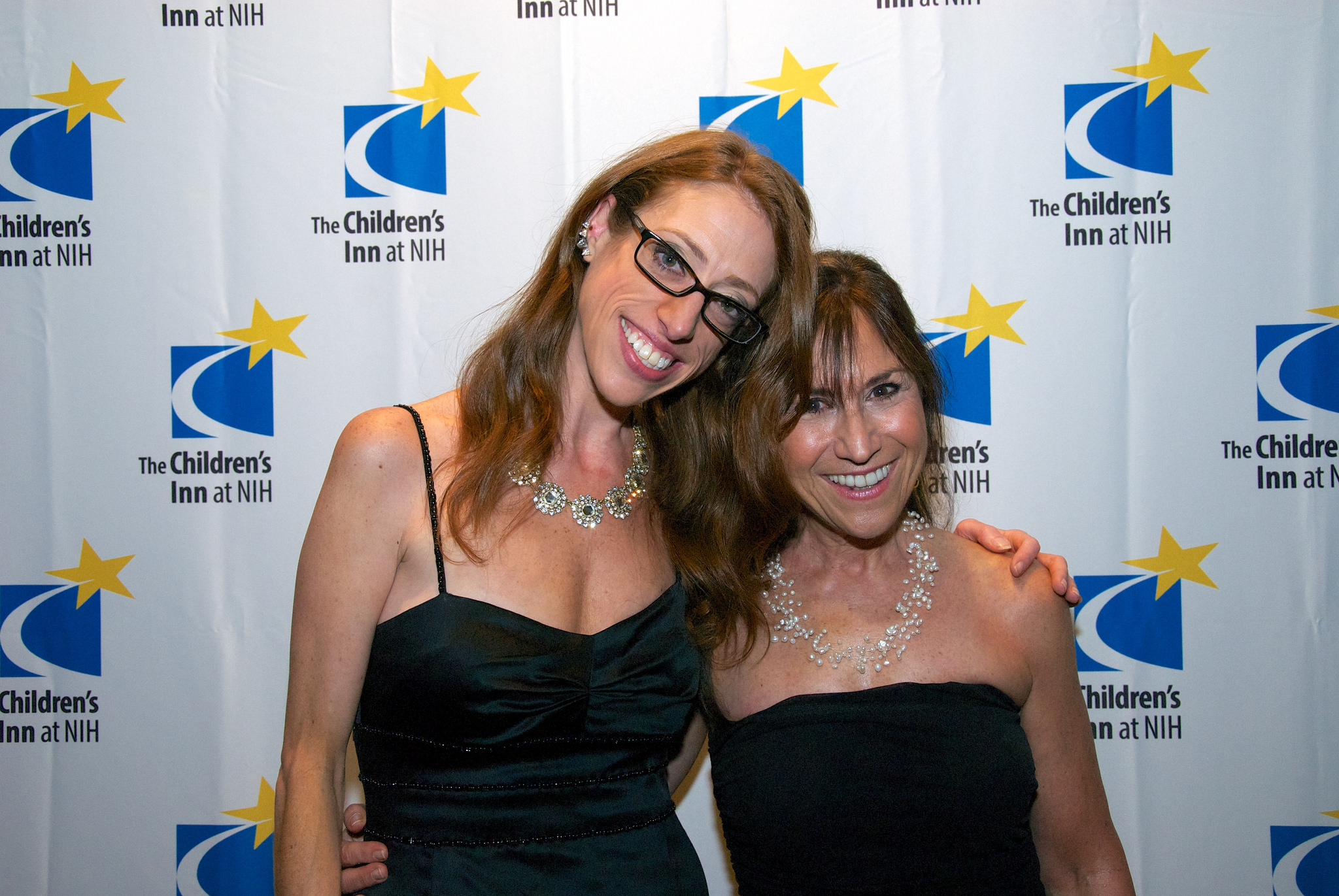 "Lori has had such a profound influence on The Inn and everything we do – as well as how we care for children and young adults," Lucca says. "She's a shining example of the important contributions social workers make toward creating and shaping organizations like ours, helping us understand how we can provide the very best support to seriously ill children, young adults and their families. It's impossible to imagine The Inn without her. We're so grateful to her immeasurable contributions and those of all the wonderful social workers who work so hard to make The Inn and the world a better place for all."
Stay Up To Date
on how The Children's Inn is creating 'A Place Like Home'