Two-Year-Old Kamryn Living with Niemann-Pick Disease Type C (NPC)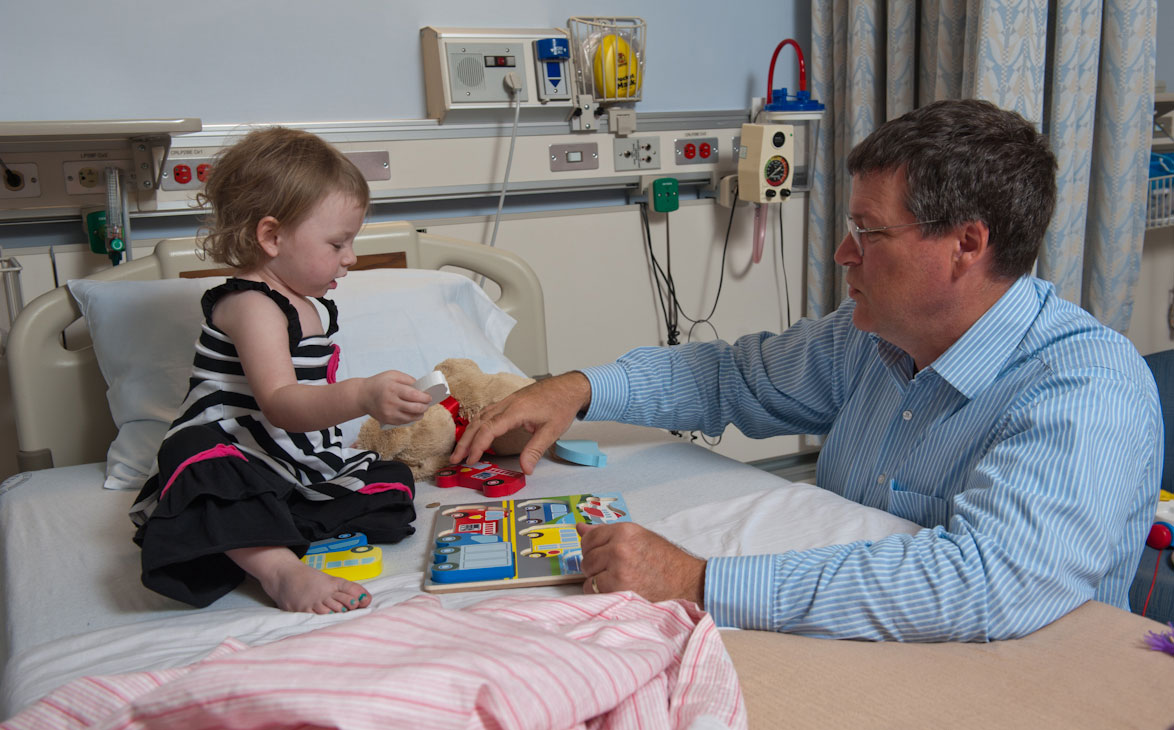 With a contagious laugh and a vivid imagination, two-year-old Kamryn Brumbeloe, from Guntersville, Alabama, commands the attention of everyone she encounters. Now that she is old enough to run, she bounces around The Inn from one toy or play area to another. Kamryn has been coming to the National Institutes of Health (NIH) and The Inn with her mother Kayla and father Will since January 2012 to participate in a research study at the National Institute of Child Health and Human Development.
After taking two-month-old Kamryn to the doctor for a bloated stomach, the Brumbeloe's learned that she had an enlarged spleen and liver and were referred to the Children's Hospital in Birmingham. When Kamryn was four months old, she was diagnosed with Niemann-Pick Disease Type C (NPC). NPC is a genetic, neurodegenerative disorder that interferes with the body's ability to metabolize cholesterol and is often referred to as "childhood Alzheimer's." With only about 500 cases diagnosed worldwide, another mother of a child with NPC contacted Kayla and informed her about the research studies at the NIH.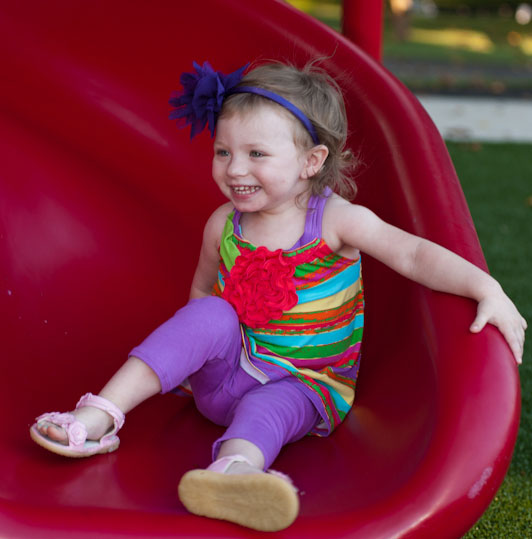 Kamryn has not had any neurological symptoms associated with NPC and is not yet taking medication or receiving treatment for her condition, but her parents are grateful to be involved in a research study at the NIH. "It's a blessing to feel like we're doing something, even if it's just testing," says Kayla.
The Brumbeloe's visit to The Inn this summer was extra special because Kamryn is now old enough to make full use of The Inn's play areas, including the new Park and Playground, where she climbs up every slide–even the big ones. Kamryn's parents had a hard time getting her to come inside. Kayla enjoys spending time in the Reflection Space, where she can get away from everything for a while and meditate or pray. Both Kayla and Will welcome the diverse environment of The Inn, where they have met people from all over the world. They also got a taste of home during one visit when they met another family from Alabama. "[The Inn] does feel like a second home to us," says Will.
Kamryn's family started a foundation called "Kure 4 Kamryn" that holds events and fundraisers in their town every year to raise awareness about NPC. Kayla, a fifth-grade teacher, also helped start a Rare Disease Day at her school to educate others about rare conditions like Kamryn's. Meanwhile, Will is studying physical therapy so that he can help Kamryn with symptoms she likely will develop from the disease as she gets older.
"We want her to change as many people's hearts as possible and make a name for herself," says Will.
Stay Up To Date
on how The Children's Inn is creating 'A Place Like Home'