An Evening for Hope Returns to Rousing Success
On Saturday, April 29th, The Children's Inn at NIH hosted An Evening for Hope gala at The Ritz-Carlton in Tysons Corner, Virginia. After a two-year hiatus due to the COVID-19 pandemic, the gala's return was a smashing success, raising over $1 million in donations for Inn families.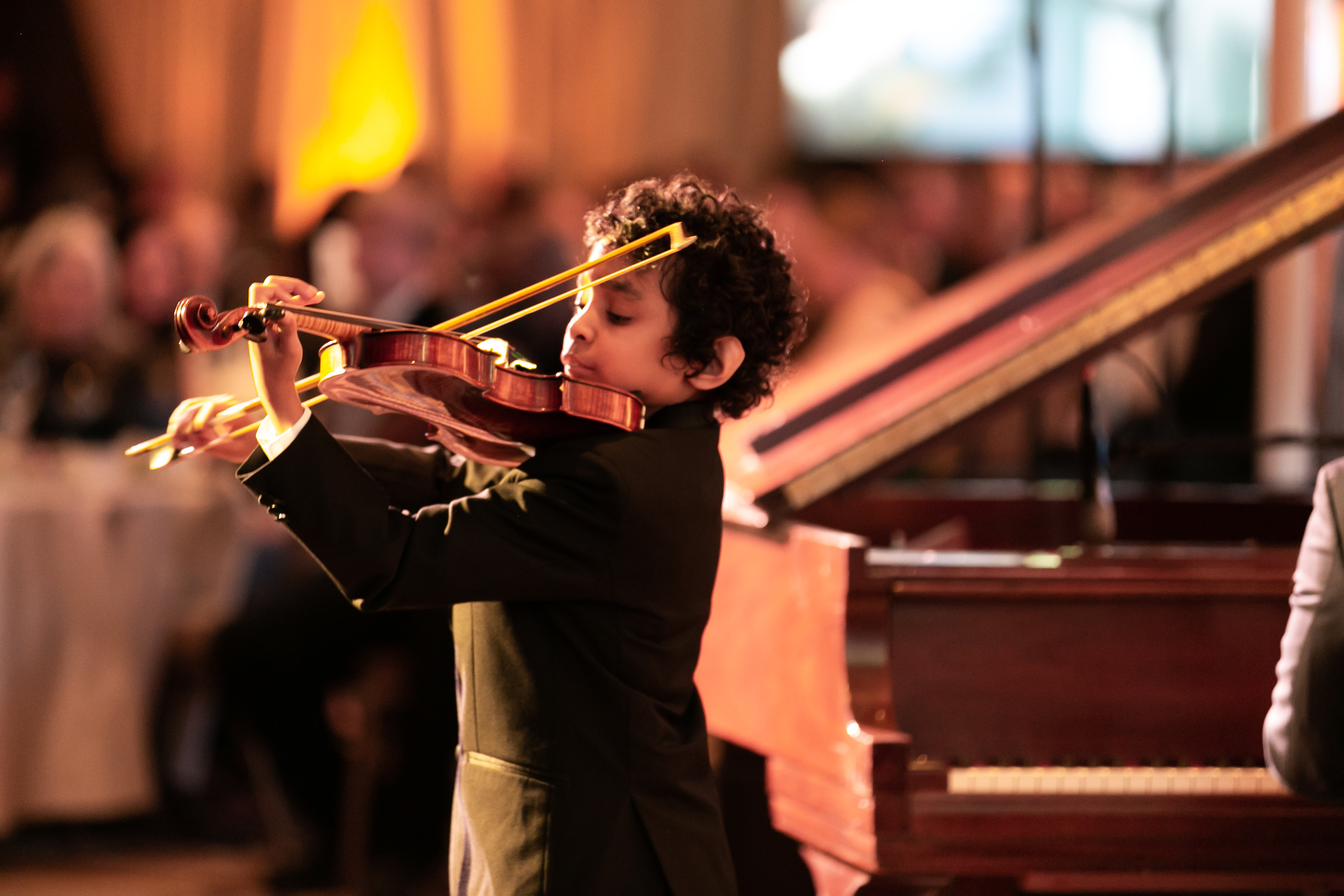 The Children's Inn @ NIH 2022 Gala
Shawn Yancy of NBC4 Washington emceed An Evening for Hope.
The evening was highlighted by the performance of Caesar, a 13-year-old violin prodigy who recently underwent a successful bone marrow transplant to aid in his recovery from sickle cell anemia. Although capacity at the event was limited to roughly half its normal size as a COVID-19 precaution, onlookers would not have been able to tell by the thunderous standing ovation Caesar received after his show-stopping performance of 'Ave Maria.' He then received a heartwarming embrace by his sister, Helen, who had been his bone marrow donor last fall.
"I want to thank our supporters for giving generously and from your hearts so that hundreds of children, teens, and young adults with rare and life-threatening diseases can stay free of charge at The Children's Inn at NIH while pursuing groundbreaking treatments only available as part of NIH clinical research studies," said Jennie Lucca, CEO of The Children's Inn at NIH. "After a trying two years, it's a wonderful comeback for the gala, and we're excited for The Inn of the future."
Shawn Yancy, an award-winning anchor for NBC4 Washington, served as the evening's emcee. Dr. Lawrence Tabak, the Acting Director of the National Institutes of Health, spoke about the importance of The Inn for the overall mission of the NIH, and the challenges it has faced over the past two years.
Following Caesar's performance, auctioneer Billy Harris hosted a live auction, which alone raised over $200,000. A silent auction, with hundreds of items up for bids both in-person and online, also went a long way towards achieving the evening's goal of $1 million.
Attendees also heard from Liz Porter, the president of Leidos Health Group, and Tammy McChain, Senior Vice President, Federal Health and Civilian, NTT Data, the two presenting sponsors for the evening. The gala's Partners in Impact – Booz Allen Hamilton, Deloitte, General Dynamics IT, SAIC, and Synergy Enterprises – were also recognized during the program. Todd Pantezzi, Inn trustee and Chief Strategy Officer, CVP, once again served as event chair and led the organizing committee.
Save the date for next year's An Evening for Hope, which will return to The Ritz-Carlton in Tysons Corner on April 29, 2023. Photos from this year's gala are available at Hope 2022. To support The Inn, click here.
Stay Up To Date
on how The Children's Inn is creating 'A Place Like Home'