Driven by Gratitude, Sharon Zeigler Has Been Volunteering at The Inn for Nearly 30 Years
In the spring of 1982, Sharon Zeigler of Kensington, Maryland, looked forward to welcoming her brother and his 8-year-old daughter, Stephanie, to her house for a weeklong visit filled with fun activities. But once they arrived, Stephanie began experiencing leg pain so severe, Sharon and her brother took the young girl to see a doctor instead.
The orthopedic doctor couldn't find anything wrong. But shortly after Stephanie returned home to Florida, she was diagnosed with Ewing sarcoma, a rare and aggressive cancer that grows in bones or the soft tissue around them.
When surgery couldn't remove her entire tumor, doctors suggested Stephanie participate in an NIH clinical trial – her best chance at beating her cancer.
Stephanie spent six weeks inpatient at the NIH Clinical Center, receiving radiation and chemotherapy. Sharon visited her almost daily, spending as many hours as possible by her niece's side.
"Doctors didn't give a lot of hope," Sharon says. "But she went into remission."
Grateful for the NIH doctors and nurses who saved her niece's life, Sharon, the office manager for Kimberly Clark's government affairs department, volunteered to do clerical work at the NIH Clinical Center to give back.
In 1990, when Sharon learned about The Children's Inn's opening, she knew what was next for her.
"I thought, 'I want to be part of that!'" Sharon remembers. One year later, she became one of The Children's Inn's very first volunteers.
"They didn't have The Inn when my niece was first treated at the NIH," Sharon adds. "My niece had three siblings, and for them to be able to come and stay while their sister was undergoing cancer treatment, it definitely would have been a help for them."
Sharon's first volunteer job at The Inn was to relieve the weekend resident services manager for a night whenever a staff member could not step in.
"The Children's Inn had five staff members at the time," she says.
Stephanie had gone into remission from cancer by the time The Children's Inn opened, so Sharon's volunteer work didn't directly benefit her niece or her family during their darkest times.
However, when Stephanie was 18, she returned to the NIH to undergo a complex foot surgery to help correct problems caused by her tumors that left her with a permanent limp. She finally got to stay at The Children's Inn.
"She thought The Inn was wonderful," Sharon says.
Knowing how important The Inn is to families of seriously ill children who live far from Bethesda, Maryland, Sharon felt compelled to help out whenever and however she could. In addition to relieving weekend night staff, she worked The Inn's welcome desk, drove an Inn van to take families to the grocery store, helped clean and organize the community kitchens, replaced linens, assisted with inventory and setting up The Inn's apartments, and more.
In the mid-1990s, Sharon and several friends organized Halloween parties for the children and families. They dressed up, brought cake and snacks, and decorated The Inn for the holiday.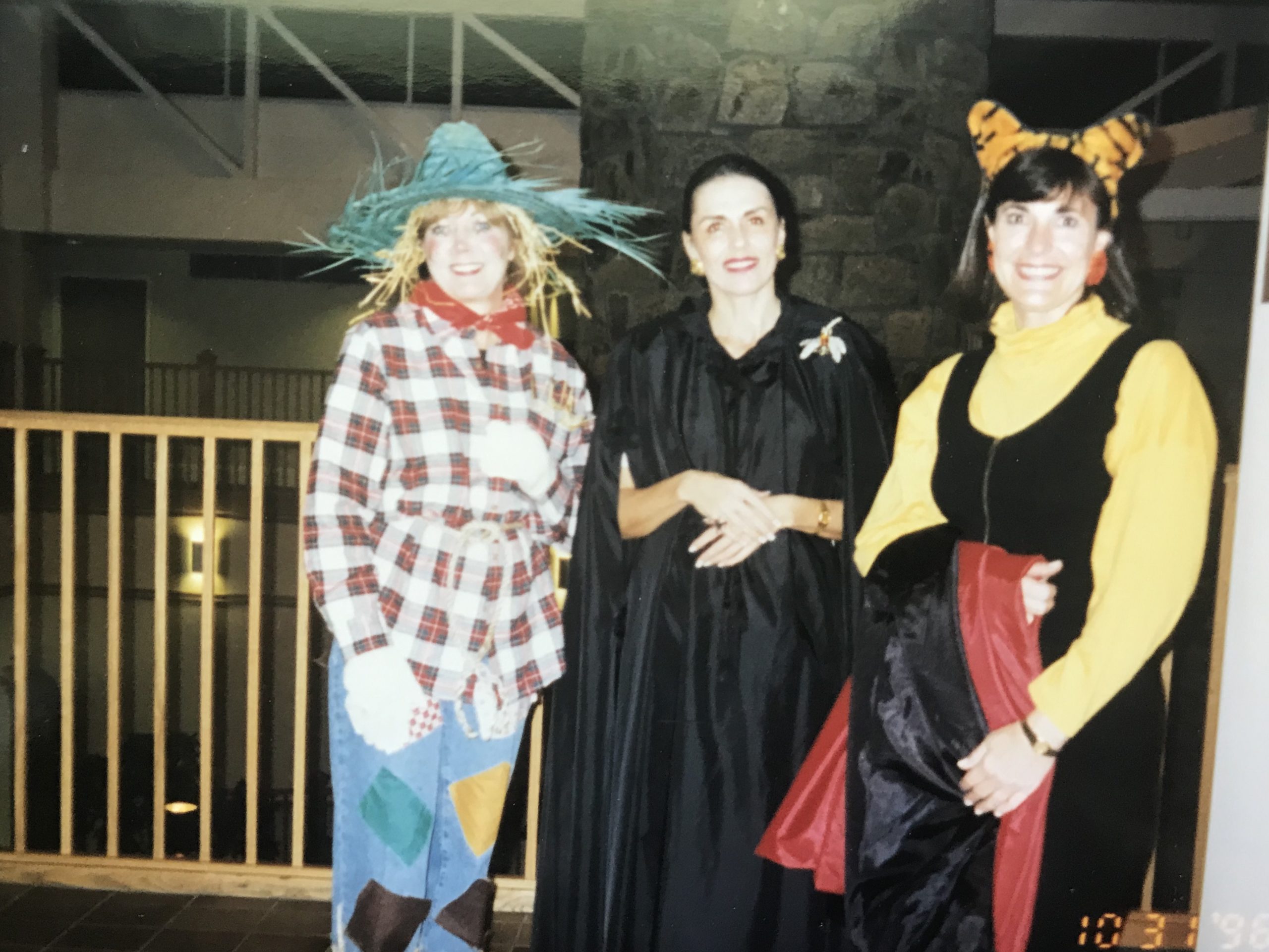 Sharon Zeigler, left, with other volunteers in their Halloween costumes.
"Sharon has a heart of gold," says Aisha Campbell, The Children's Inn's associate director of programs and services. "She is always so put together and looks so elegant, and she will always help out with anything, no matter what is asked of her."
Over the years, Sharon also became a donor to The Children's Inn and volunteered for The Inn's Circle of Hearts, visiting children who are inpatient at the NIH Clinical Center to bring them smiles, toys, blankets, books and the chance for conversation.
"People do want to feel like they are contributing and are part of something worthwhile," Sharon says. "At The Inn, that just grew and grew – the number of volunteers, the different things we were able to do, that keeps growing."
Along with the opportunities to make a difference, Sharon also saw The Inn grow, from serving 36 families at a time in 1990 to serving 59 families in 2004 to serving 65 families in recent years. Over nearly 30 years of service, Sharon also saw medical discoveries made at the NIH change countless children's lives and bring about new treatments and cures.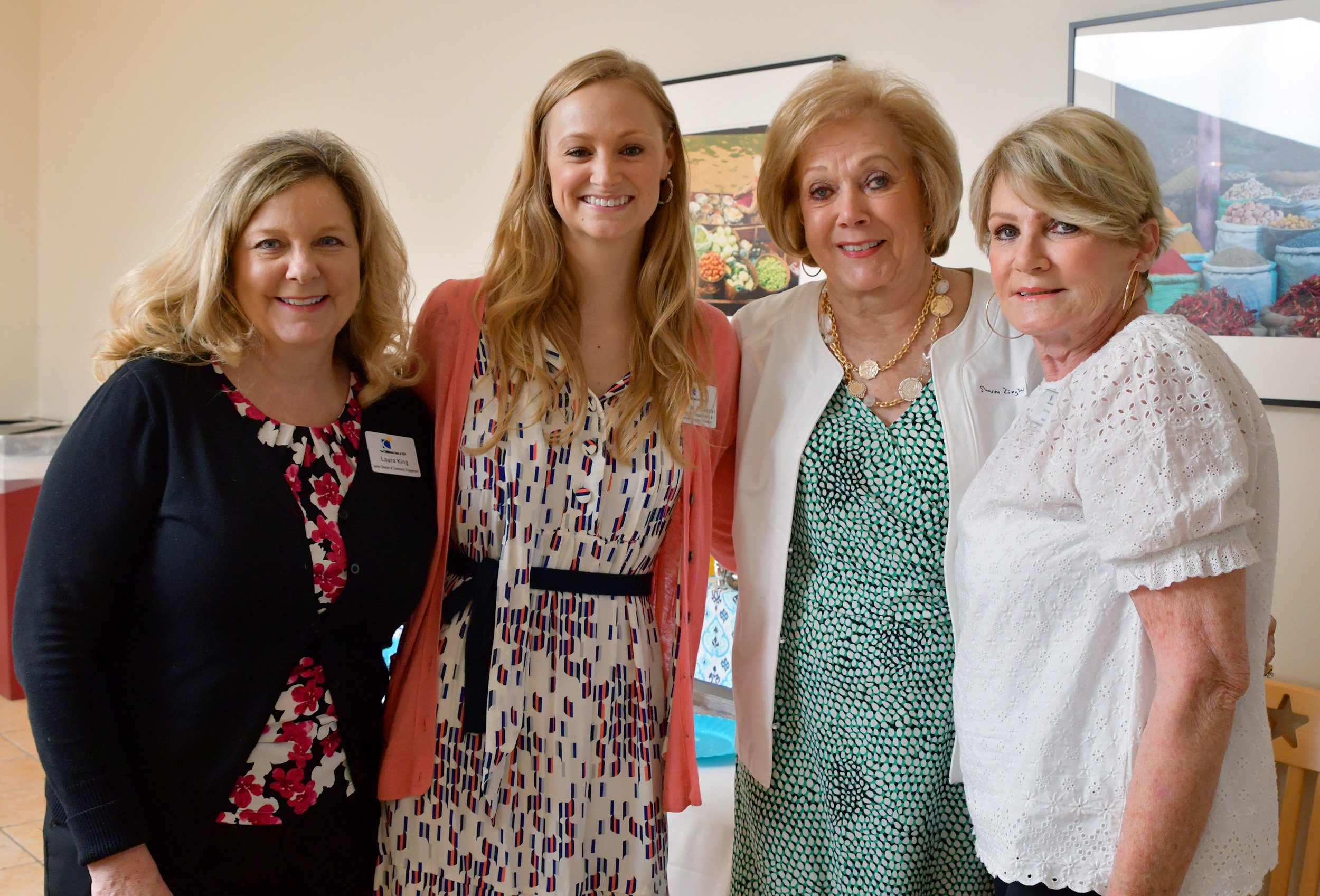 From left: Inn staffers Laura King, Meghan Arbegast and Inn volunteers Sharon Zeigler and Ellin O'Hare at The Inn's 2019 Volunteer Appreciation Luncheon.
"Feeling that you are doing something to help someone and seeing the advancement of how far they have come in finding cures, and that it's such a visible place and so well-known, I just think that's wonderful," she reflects.
Recently, Sharon joined the most dedicated group of Children's Inn supporters, The Innkeepers Society, who include The Inn as a beneficiary in their wills.
"It is better to give than receive, that is how I feel," she says. "I have always helped financially as well, and it is just a good feeling knowing you are helping, especially young, sick children. It gives me gratification."
"Sharon is our longest-serving volunteer – she's been at The Inn longer than any employee," says Meghan Arbegast, community engagement & volunteer program manager. "For nearly 30 years, she has been greeting our residents with a smile and making sure they feel at home at The Inn while also helping out with special projects. She's helped shape and define the nurturing family atmosphere we have at The Children's Inn. We are so grateful to have someone so dedicated to our mission who has stayed at The Inn from our very beginning. Thank you, Sharon!"
Stay Up To Date
on how The Children's Inn is creating 'A Place Like Home'