Meet Inn Resident Connor O'Brien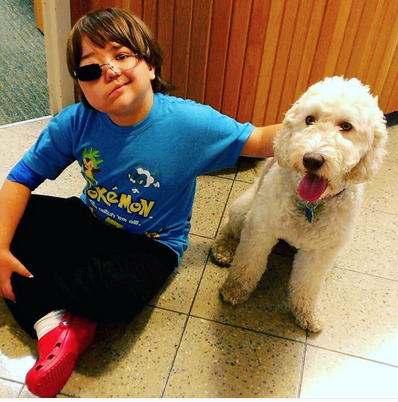 Connor, 13, from Garland, Texas, has been coming to The Children's Inn for the past five years. He is treated at the National Institute for Neurological Disorders and Stroke (NINDS) for neurofibromatosis type 1 (NF1), a genetic disorder that causes tumors to grow in the nervous system. Connor has had numerous tumors in his brain and optic nerve, causing him to lose his right eye and hearing in his right ear. He continues to struggle with palsy and growing tumors.
Despite his lifelong hospital visits, multiple brain surgeries and ongoing treatments, Connor has a positive outlook on life and an amazing sense of humor. He finds time to play the piano, study Latin and take care of his dog, Kali, a loyal bull mastiff. He's also a big fan of The Inn's therapy dog Zilly.
Connor has read a lot of books about dogs, and he studies the way their minds work. He has combined his interest in becoming a spy with his love of dogs by spying on Kali, especially when he's in the hospital and can't be with her. He installed a camera in his bedroom so he could monitor when she jumps on his bed. He recorded his voice telling her to "get off the bed." He says this is all part of being an effective dog behaviorist.
Connor recently was the keynote speaker at The Inn's annual An Evening for Hope gala where he spoke to a crowd of nearly 800 Inn supporters. He was accompanied by his parents, Mike and Tammy O'Brien, and his younger brother, Cayden.
In the words of Connor: "A lot of times treatment for cancer and chronic diseases is very difficult to sustain. A lot of times it hurts. A lot of times you have to be given anesthesia, invasive things like that. The Inn gives you somewhere to come home to, somewhere to end your day, a place where you can have closure. Thank you all for making sure we have The Inn to come home to."
Stay Up To Date
on how The Children's Inn is creating 'A Place Like Home'