Volunteer Spotlight: Carrene a Part of The Inn's Family for Over 30 Years
The Children's Inn at NIH provides "A Place Like Home" for children, teens, and young adults with rare and serious diseases who come from all over the world to the National Institutes of Health for their best hope of finding a cure. The staff at The Inn make it their mission to provide a welcoming spirit and a friendly face for all who are staying at The Inn.
However, they are not the only ones working to ensure the comfort and well-being of the families. Each year, volunteers from throughout the region come to The Inn and do what they can to help. Under the direction of Volunteer Engagement Manager Meghan Smith, these volunteers staff the front desk, manage the community kitchens, provide tutoring, support extracurricular activities and entertainment, and so much more. This month, as we celebrate Volunteer Appreciation Month throughout April, we are proud to share some of their stories.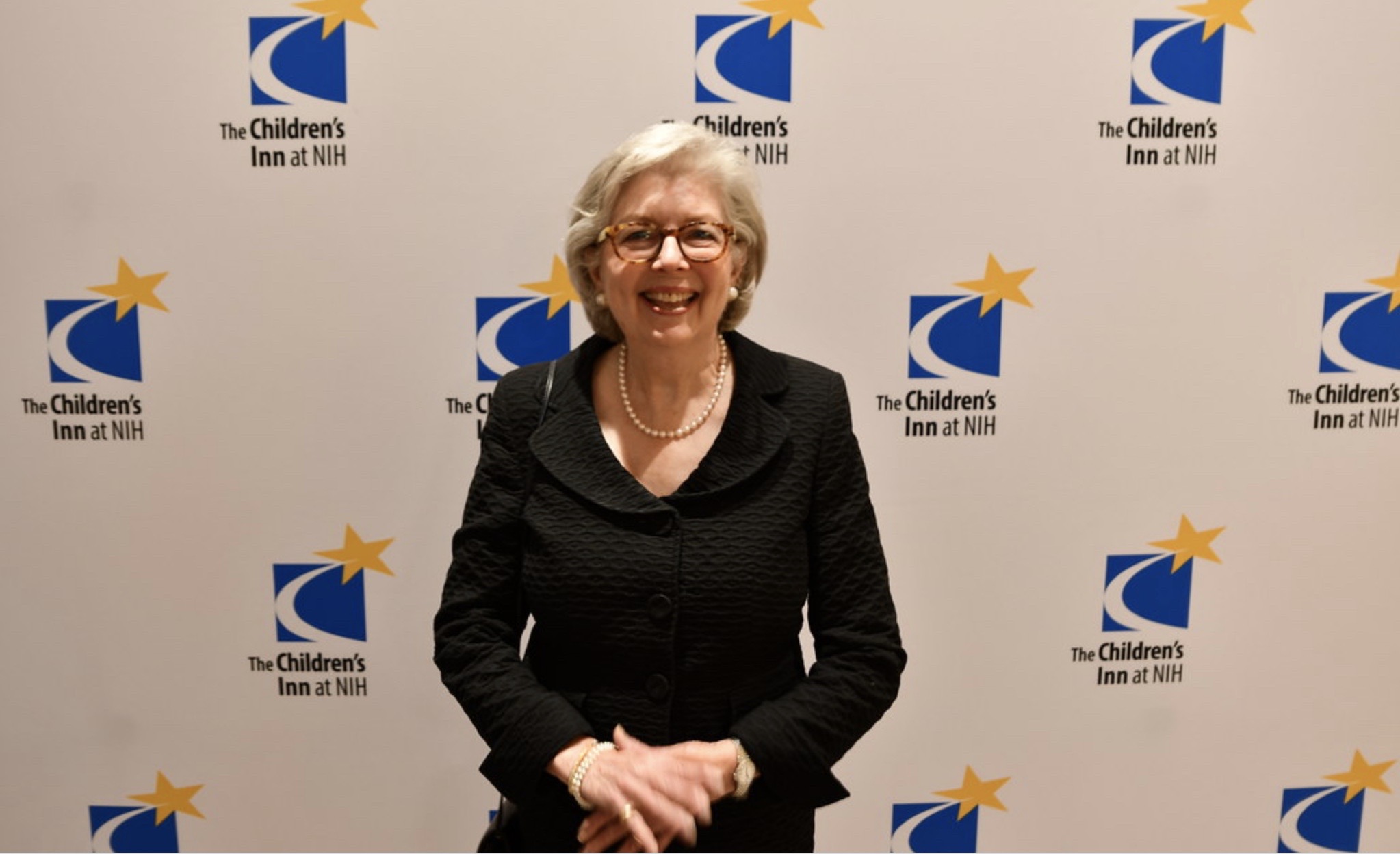 Years before there even was a place called The Children's Inn at NIH, Carrene Ressa was making an impact at the National Institutes of Health. A lifelong Maryland native who grew up in Montgomery County, Carrene and her husband were solicited through county records to participate in a newlywed study after they got their marriage license. That led to a newborn study when they welcomed their first child, and shortly after The Inn opened its doors in 1990, Carrene decided to volunteer.
"I've always been a bit connected to NIH," she recalled. "I wanted to do some volunteer work. I had done some volunteer work with my local church and the children's school, but I wanted to do something that made a difference in the larger community. This opportunity presented itself."
For more than 30 years, Carrene has been a constant, welcoming presence for the families staying at The Children's Inn. Though some of her responsibilities have changed, the chance to work directly with those families has kept her coming back through expansions, major renovations, and a global pandemic.
"In the early days as volunteers, we were even able to use our personal cars to take patients shopping," she smiled. Though insurance concerns ended that practice, she also remembered driving what she referred to as "the Looney Tunes van," a small shuttle bus donated by Warner Brothers that featured characters like Bugs Bunny and Porky Pig painted on the sides. A fellow volunteer named Wally taught her how to drive the vehicle, and she would take families to the grocery store when they needed a ride.
Carrene continued to make her weekly visits to The Inn for nearly 30 years, working through the expansion of The Inn in 2004 and the renovation following the roof collapse in 2018. Then in 2020, the COVID-19 pandemic hit, and the volunteer program was temporarily put on pause. She made only one visit to the NIH campus over the next two years, remembering that she had to meet an Inn staffer in the parking lot to drop off Halloween costumes she had bought.
For more than a year now, Carrene has been back at her post and greeting anyone who comes through the front door. "I'm so thankful to be back here," she said, adding that she is even more thankful now that plexiglass barriers at the welcome desk have recently been removed. "You feel a better connection to the guests. We interact with them and welcome anyone who comes in, whether it's a family or staffer, another volunteer, or a contractor or someone bringing in dinner."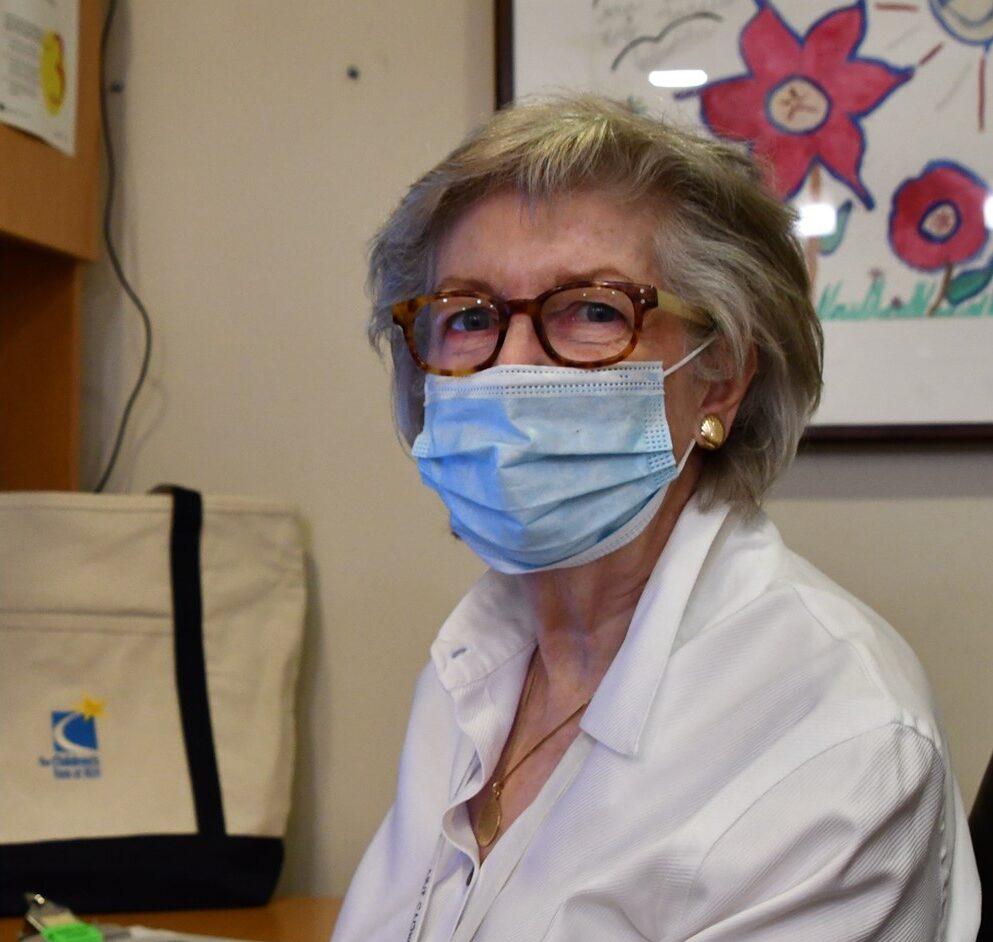 Carrene at her post at The Inn's welcome desk
And she greets them all with a smile and a kind word. Now with more than 30 years of service to The Inn under her belt, Carrene has seen it all. She remembers a far smaller NIH campus, one where she and her husband could freely come and go as they pleased during their early study participation. She laughed as she commented that between the campus' exponential growth and its frequent road closures for construction, she sometimes gets lost trying to make her way from a new entrance of the NIH to The Children's Inn.
But she always finds a way to make an impact on the families staying at The Inn. The impact they have on her, though, is sometimes far greater.
"There are certain children that stick with you," she remembered. "We used to know the families very well because they came and went so often and there weren't that many of them. In the early times, we had a number of children who were affected by blood donations because they were hemophiliacs and they developed AIDS. [The progress on AIDS treatment] strikes me as one of the many miracles I've seen come out of the studies here at NIH. There are so many children who remain in my memory."
Carrene now volunteers every other week, always working on Wednesday afternoons and evenings at the welcome desk. Her husband, Carl, passed away three years ago after a battle with cancer, but Carrene is grateful for the care he received at NIH during his fight. So, she continues to find ways to give back to the community. She has met and interacted with the vast majority of families who have ever made The Children's Inn their "Place Like Home," and always provides a warm welcome and a helping hand to everyone she encounters along the way.
Stay Up To Date
on how The Children's Inn is creating 'A Place Like Home'