Barbara and Barry Gordon Find Meaning in Making Families' Lives Comfortable
Barbara and Barry Gordon don't keep track of the number of years or hours they've volunteered at The Inn – though it's been many. For them, volunteering has always been about the impact on Inn families and their own lives.
The couple first learned about the NIH after Barry's job transferred them to the DC area in the 1960s. Barbara, a former elementary school teacher, and Barry, who worked in marketing at IBM, soon befriended a family who also had just moved to their new neighborhood from Baltimore, Maryland – albeit for very different reasons. One of their daughters had leukemia, and the best place to treat her was at the National Cancer Institute at the NIH.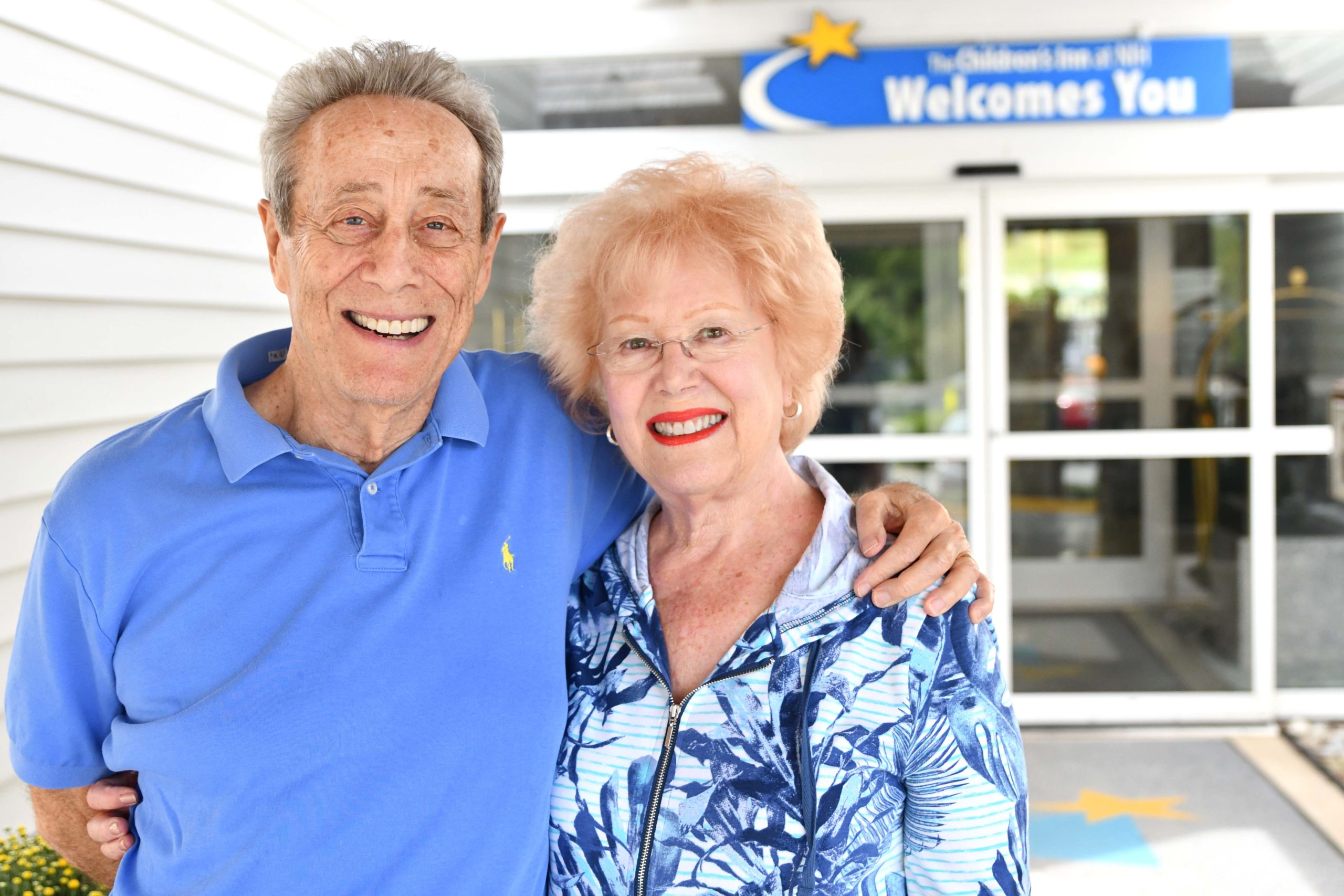 "Their daughter lost her life, but her family couldn't stop praising how wonderful the NIH was," Barbara says. "We realized they were doing pioneering, groundbreaking work in curing childhood leukemia. That always stayed in the back of my mind. I thought, 'What a wonderful facility where your taxpayer money goes to a cause you believe in.'"
Over the years, the couple learned more about the NIH from news stories. When their synagogue asked for volunteers to drive vans for The Children's Inn at NIH, Barry immediately said, "Yes."
"He'd drive the vans and come home with stories about this child and that," Barbara said. "That's what got me interested. I knew it was the perfect match."
Eventually, the NIH's buses began serving Children's Inn families, and volunteer van drivers were no longer needed. Barry started volunteering at The Inn's welcome desk instead, helping families check in, find their way around The Inn, store luggage and more. Barbara also joined The Inn, helping stock the kitchen pantries with food donations for families to cook quick meals. But over time, her position evolved into more.
"If I can help anyone in a little way and make a difference, I love to do it," she says.
For Barbara, that means finding the foods families crave, like a child's favorite cereal or Asian noodle bowls, when the pantries have run out. For Barry, it means encouraging children to open their personal Inn mailbox and watch their faces light up in excitement as they discover the "thoughtful treasures" hidden inside. The couple also donates to The Inn.
"Making families' lives more comfortable, that's the main goal," Barry says about their roles.
"Barbara and Barry make The Inn brighter and more fun place," says Meghan Arbegast, community engagement and volunteer program manager. "They greet everyone with a smile, and they go the extra mile to make our families feel special and cared for. We are so grateful to have them as volunteers and for their dedication to The Children's Inn."
Both in their early 80s, Barbara and Barry have volunteered at The Inn for countless hours over a combined total of at least 24 years, and they are determined to keep going as long as physically possible.
"Sometimes, you hear families say what a wonderful place The Inn is," Barbara says. "It's as if someone gave you two million dollars. They are so grateful. As are we."
Stay Up To Date
on how The Children's Inn is creating 'A Place Like Home'