The Children's Inn at NIH Named a Best Place to Work by the Washington Business Journal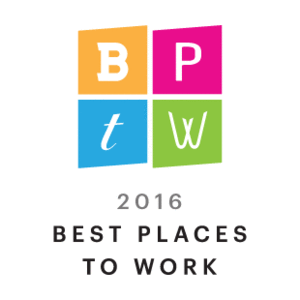 BETHESDA, Maryland (April 11, 2016) – The Children's Inn at NIH announced today that is has been named a 2016 Best Places to Work honoree. The Children's Inn is one of 86 honorees and was selected in the Medium category. The Best Places to Work, published by the Washington Business Journal, honors top companies for their employee engagement in the Greater Washington, DC area.
The awards are open to all employers, regardless of size or industry, with a location in the Greater Washington, DC area. To qualify for the medium category, companies must have between 25 to 49 employees in the Washington region. Participating companies are evaluated and scored on team effectiveness, trust in senior leadership and alignment with company goals.
Established in 1990, The Children's Inn at NIH is a private, nonprofit residence for children and their families participating in pediatric research at the Clinical Center of the world-renowned National Institutes of Health. Children are hoping for a cure while being treated for conditions including heart, lung, blood, bone and growth disorders, cancer, mental health issues and undiagnosed diseases.
"Our staff brings a tremendous amount of enthusiasm and dedication to our mission each and every day," says Jennie Lucca, Inn CEO. "I am proud of the environment we have created to promote continual innovation, opportunities for growth, and retention of exceptional individuals to support the needs of the more than 1,500 seriously ill children and their families who stay with us each year."
The Inn will be honored at the Best Places to Work Awards event on Thursday, June 9, 2016, at Arena Stage at the Mead Center for American Theater, where rankings of category winners will be announced. To view the full list of honorees, visit http://bizj.us/1m4gp4.
###
ABOUT THE CHILDREN'S INN AT NIH:
The Children's Inn at NIH is a nonprofit "Place Like Home" where families stay while their children are participating in medical research at the National Institutes of Health. The Inn reduces the burden of illness through therapeutic, educational and recreational programming – all at no cost to the families. Since opening in 1990, more than 12,000 families from across the world have considered The Inn their home. As a partner in discovery and care with the NIH, The Inn strives for the day when no family endures the heartbreak of a seriously ill child.
Media Contact:
Julie H. Herman
Assistant Director of Communications
The Children's Inn at NIH
[email protected]