Comptroller of Maryland Peter Franchot recently honored Andrew Lee, founder of the nonprofit Driven to Cure, with the 2017 William Donald Schaefer Helping People Award for Montgomery County. The award presentation was held at The Children's Inn at NIH, a private nonprofit that provides free lodging and supportive services to children and young adults like Lee with rare or critical illnesses whose only hope for a treatment is a clinical trial at the NIH.
"You're my hero," Franchot told Lee while holding his thumbs up, the characteristic Driven-to-Cure-supporter pose. "For the heroic work you do and the example you set not only for young adults but all of us."
Diagnosed with a rare and terminal form of kidney cancer named HLRCC at the age of 19, Lee, a resident of Kensington, Maryland, turned to NIH clinical trials to help find a cure for his and other cancers. He has participated in three NIH-led clinical trials so far that are extending his life and drives his dream car, a Nissan GTR that has undergone several rounds of enhancements with the support of generous sponsors, to raise awareness and funds for the need for ongoing cancer research.
"I created Driven to Cure to join two of my biggest passions, cars and cancer awareness, and to serve something far greater than myself," Lee writes on his website.
Lee launched Driven to Cure in 2016 at The Children's Inn, a place he feels strongly connected to thanks to the shared goal of helping young people afflicted by rare or critical illnesses, including cancer, and the mission to advance NIH clinical research to find new cures. To date, Driven to Cure has raised more than $300,000 for NIH cancer research.
"By turning his illness into an awareness and fundraising tool to fight his rare cancer and other cancers, Andrew serves as a real-life hero to the children and families of The Inn as well as our staff, volunteers, the rare disease community and anyone else who has had the pleasure of meeting him," said Jennie Lucca, CEO of The Children's Inn at NIH, who kicked off the event. "Andrew, you're an inspiration to all of us!"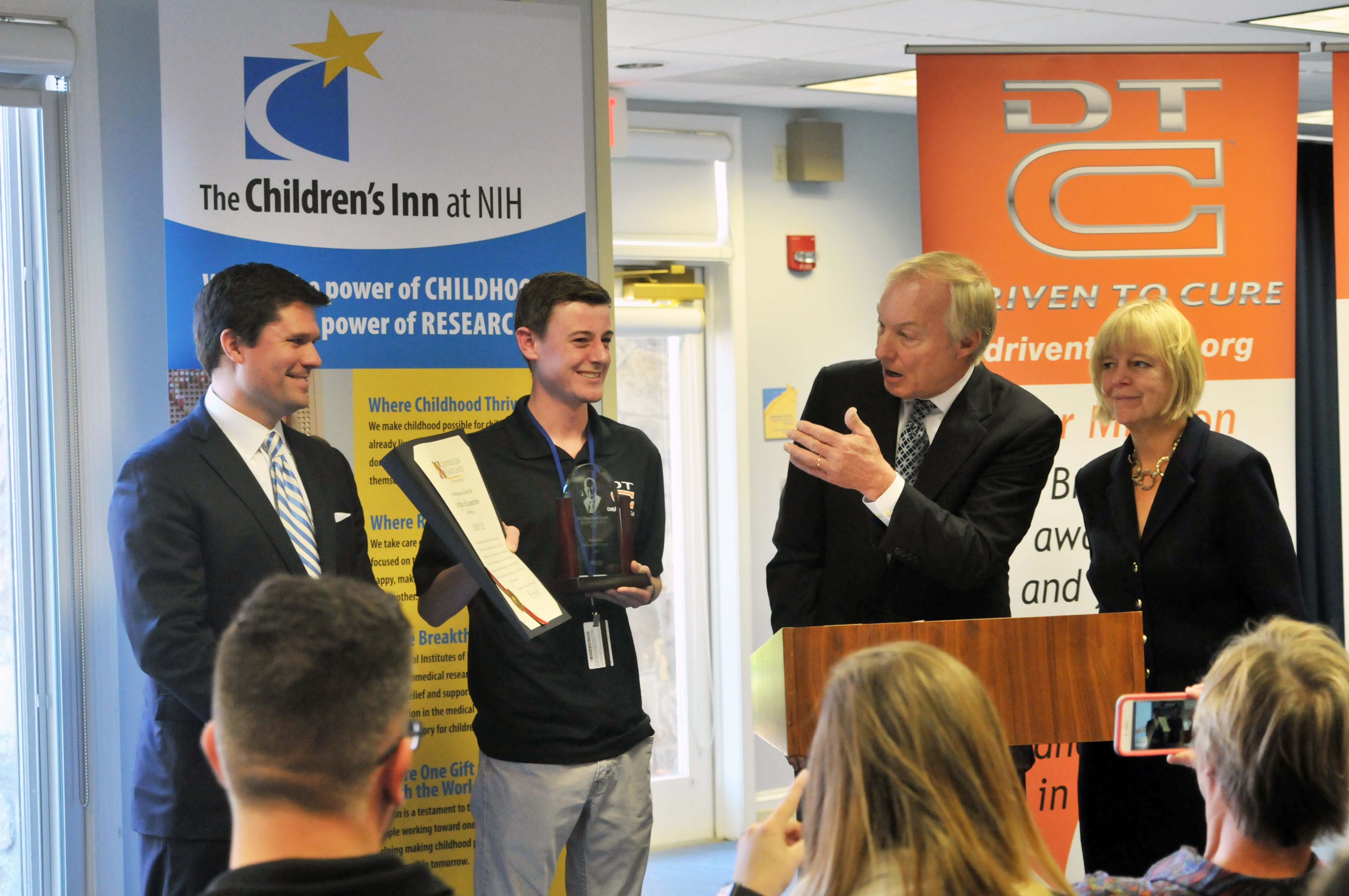 The William Donald Schaefer Helping People Award is named after the 44th mayor of Baltimore who served on state and local levels in Maryland for 50 years, leaving a legacy of helping the most vulnerable people of Maryland. The award is presented annually by the Maryland comptroller to a deserving recipient in every Maryland county and Baltimore city.
The Children's Inn at NIH is a private nonprofit located on the NIH campus in Bethesda, Maryland. Every year, The Inn provides free lodging and a wide range of recreational, educational and therapeutic activities to more than 1,700 families of children from across the United States and all over the world with rare or critical illnesses whose last and only hope for a cure is a clinical trial at the NIH. The goals of The Children's Inn are to allow childhood to thrive, relieve the burden of illness on families and help advance clinical research at the NIH to bring about new treatments and cures that benefit children today and generations to come. To learn more about The Children's Inn, visit www.childrensinn.org.