Travis Does More, Not Less, in Fight Against NF1
For the past three years, Travis and his family have lived the motto: "Do More, Not Less." A 10th grader in Salt Lake City, Travis has found ways to stay active and indulge his passion for sports despite growing up with neurofibromatosis type 1 (NF1), but that motto took on particular importance for him and his family in the spring of 2021 when his left leg was amputated.
Diagnosed in Travis when he was just six months old, NF1 is a medical disorder involving the development of tumors that affect the brain, spinal cord, and nerves that send signals to all parts of the body. In him, it left one leg significantly longer than the other—a disparity that grew to more than three inches by the time he was seven years old—and a long, deep plexiform neurofibroma tumor running from his lower spine down across his hip to below his knee.
For the first several years of Travis' life, his treatment came at home—sometimes literally. His family moved to Salt Lake City to be closer to the hospital where he got treatment. During one clinical trial his mother, Kelly, was personally responsible for giving him a weekly injection of peg interferon, a weekly chemotherapy shot. The injections left Travis with flulike symptoms two days a week, and Kelly suffering physical symptoms as well, from the psychological stress of their situation. She was spared when a school nurse eventually stepped in and took over the role; but Travis' journey was just beginning.
Despite his diagnosis, Travis immersed himself in the world of sports. He enjoyed watching favorites like the Utah Jazz, Denver Broncos, and Kyle Busch of NASCAR, and began actively participating on wheelchair basketball and tennis teams. He took a particular interest in racing, too, starting with go-karts. Travis was always enthralled with motorsports more than anything else, and eventually joined J.R. Smith Racing's Team Fight Cancer as a crew chief.
Travis' medical journey first brought him to The Children's Inn at NIH with his mother when he joined the peg interferon clinical trial at the National Cancer Institute in 2014. The next year, he was enrolled in a second clinical trial at NIH, this one aimed at shrinking or slowing down his tumors. He was put on a drug then known as Selumetinib.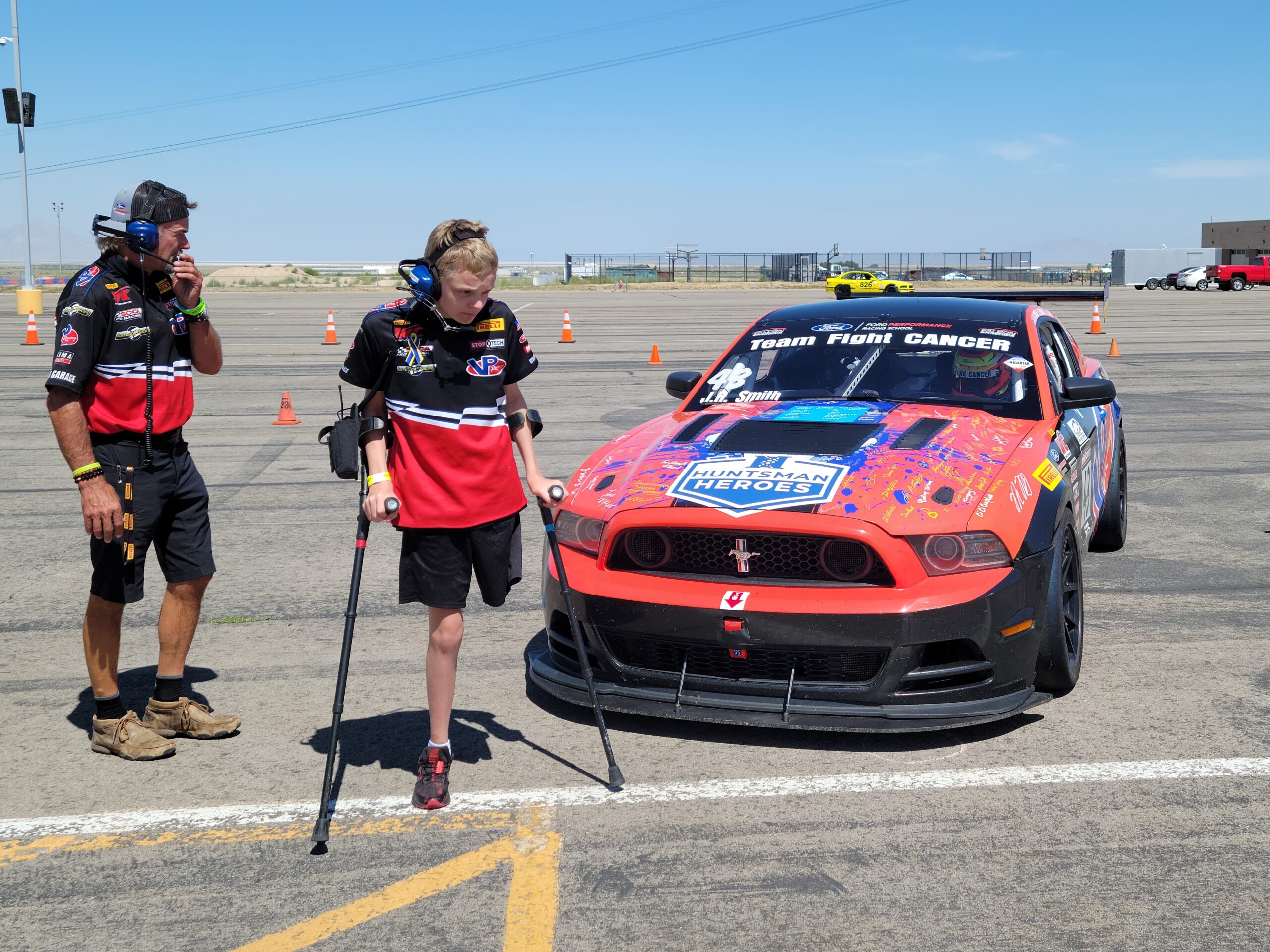 Travis and a teammate in front of the Team Fight Cancer car
At first, the trial required Travis and Kelly to make the cross-country flights every two months, but that gradually slowed to a four-month cycle. The drug was having the desired effect, shrinking the tumors, but things proved problematic in his left leg. There, the tumors had attached themselves to his femur—the largest and normally strongest bone in the human body—and weaved themselves into the bone. That left the left femur dramatically more vulnerable than usual, and twice Travis suffered painful femur fractures.
A third femur fracture followed in the fall of 2020. He wore a full leg cast and had four large screws inserted to help the bone heal, but it was too fragile. Travis was facing the possibility of not being able to participate in sports anymore due to the vulnerability of his leg. With his family's and doctor's support, he made the brave decision to undergo a hip disarticulation—an amputation of his entire left leg.
The procedure was undergone in Utah in April of 2021. Though it had become a liability for him, Travis made sure that his leg would still be able to provide some good. Pieces of it were donated to research facilities across the country, including at NIH, to help further the chances of a cure for NF1. He was fitted for a prosthetic leg and resumed his active lifestyle as soon as he could.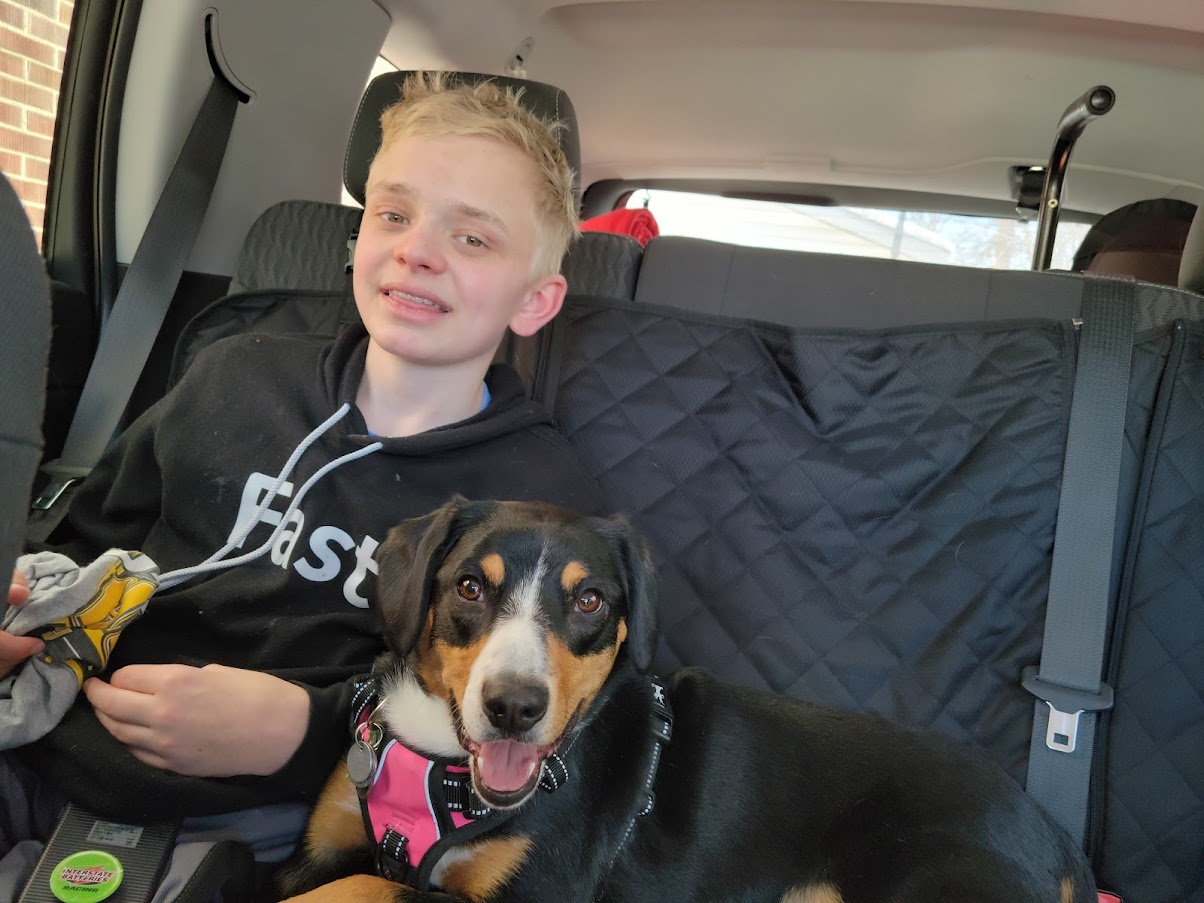 Not long after his third femur fracture, Travis and his family got a dog named Lady, a companion for Travis who may have a unique understanding of what her boy is going through. Lady was born with only three fully-grown legs. That made the decision to bring her home easy for Travis, who told his parents that "the kid with the stumpy leg gets the dog with the stumpy leg."
That resilient outlook has helped Travis get to where he is today and is evident to everyone who sees him at The Inn. Travis and Kelly now visit every six months. During his visits, he has connected with other Inn families and enjoyed programs such as Bingo night and, of course, spending time with Zilly. In early 2023, Travis and his family were recognized at the annual An Evening for Hope gala, where over $2 million was raised to benefit The Children's Inn. His doctors detailed his medical journey to the audience at the Ritz-Carlton in Tysons that night, and then Travis gave an emotional and memorable speech thanking The Inn and its supporters for their impact on his life.
Meanwhile Selumetinib, the drug he had been on, got FDA approval and was renamed Koselugo—outstanding news for Travis and so many other children with plexiform neurofibromas.
Prior to the COVID-19 pandemic, Travis' father and two older brothers came to NIH with him and Kelly on one of their visits. His brothers loved getting to see the sights around Washington, D.C.—something Travis had always enjoyed as well—but found the days of medical appointments difficult to sit through. They are not Travis' favorite part of the visits either, of course, but his smile is a constant and his determination never waivers. He credits The Inn with being an encouraging, calming place full of welcoming staff and other families, and looks forward to his visits because of the atmosphere The Inn provides. In addition to his wheelchair teams and crew chief responsibilities with Team Fight Cancer, Travis has taken up standing skiing and river rafting since his amputation. As he goes through high school, he shows no signs of slowing down. With his family and his dog by his side, Travis will continue finding inspiring ways to "Do More, Not Less."
Donate to The Inn and help keep the breakthroughs coming!
Donate