See The Inn's Therapy Dog at Work
Zilly, The Children's Inn's Therapy Dog, Not Only Lifts the Spirits of Children Hospitalized at the NIH Clinical Center But Also Helps Them Attain Crucial Therapeutic Goals
Recreation therapy and physical therapy sessions have helped keep Luciano, 4, active since he arrived at the NIH Clinical Center in the spring. But the little boy, who is being treated for a serious infection, doesn't always feel like participating in therapy. To motivate him and other hospitalized pediatric patients, the world's largest research hospital's recreational therapy team regularly enlists a special volunteer staff member: Zilly, The Children's Inn's gentle and fluffy therapy dog.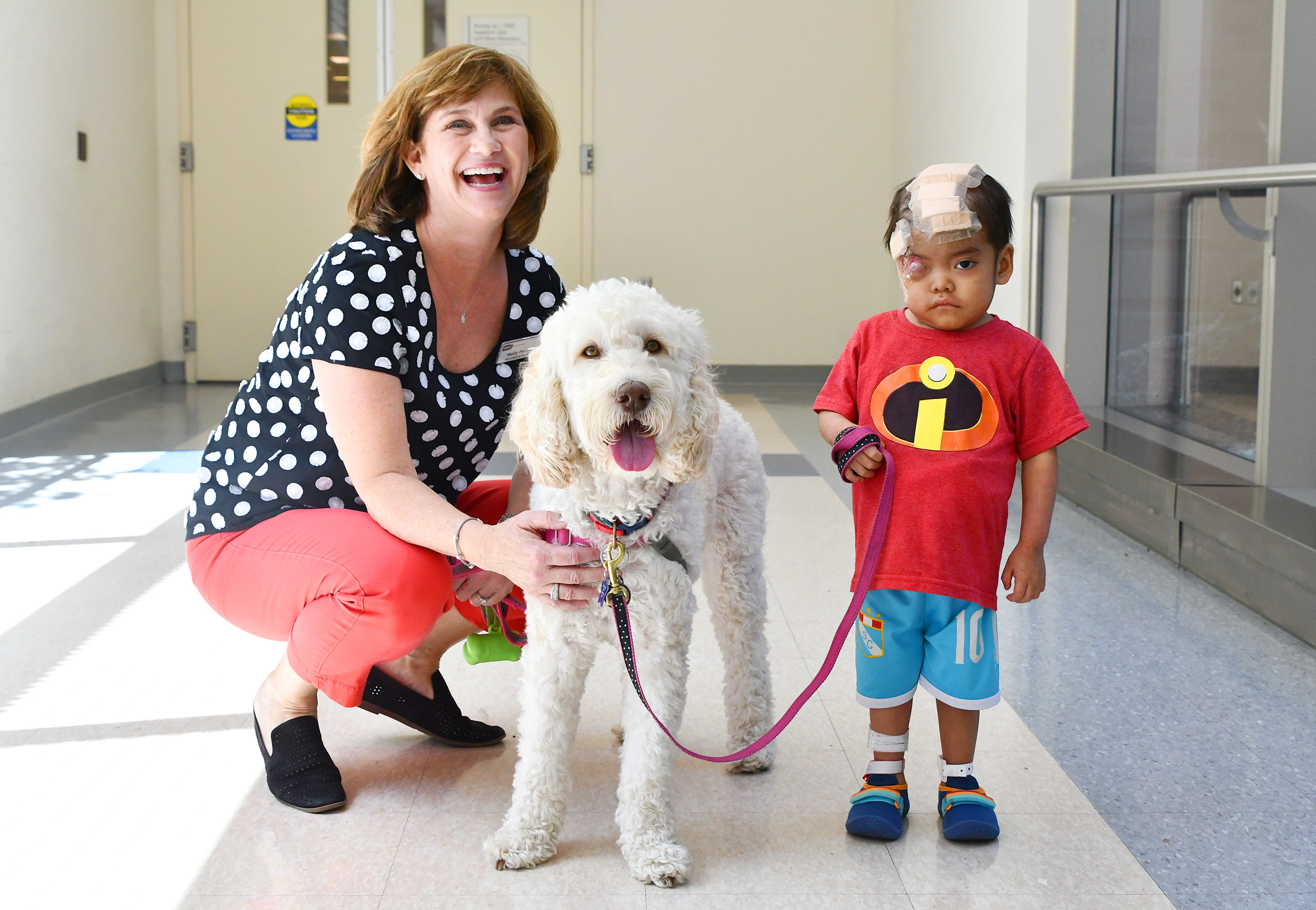 Luciano with Holly Parker and Zilly
"Zilly can be a huge motivator because the patient wants to interact with the dog," says Holly Parker, a NIH Clinical Center Recreational Therapist and coordinator of the research hospital's animal-assisted therapy program.
Children, parents and young adults staying at The Inn immediately take to Zilly, a multigenerational Australian labradoodle and certified therapy dog. But Zilly's role is to do more than bring joy.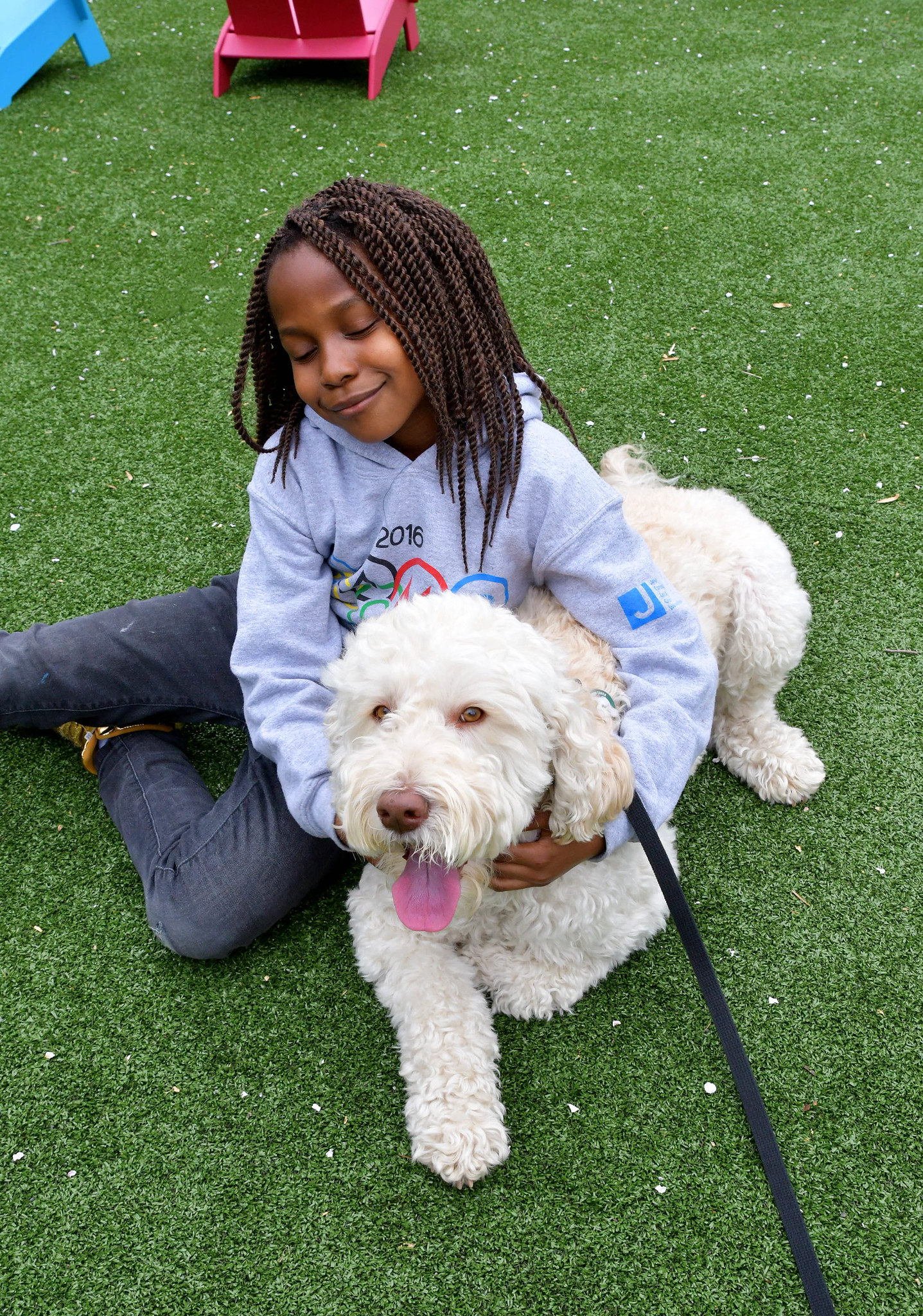 Inn resident Amana embraces Zilly
Research has shown that animals reduce stress and anxiety, lower blood pressure and make people feel better overall. Animals also can help motivate children to attain a wide variety of therapeutic goals – physical or behavioral.
In addition to the important role she plays at The Children's Inn, a partnership between The Inn and the NIH Clinical Center has given Zilly the chance to act as an honorary assistant to the Clinical Center's Recreational Therapy Department.
Several times per month, Zilly accompanies recreational therapist Holly Parker, to therapy sessions with children like Luciano who are hospitalized at the NIH Clinical Center.
At the Clinical Center, certified recreational therapists assess and treat the physical, cognitive, emotional, social and leisure needs of pediatric patients with a wide range of complex diagnoses. Zilly aids in administering evidence-based therapeutic interventions that are individually tailored to help prevent, minimize or reverse children's loss of sensory and motor abilities or attain behavioral goals.
"In our role, you sometimes jump over hurdles when a child is in pain or really doesn't want to do things," Holly explains. "But the desire to interact with the dog can override those hurdles. That is why animal-assisted therapy is such a powerful tool and intervention in recreational therapy."
To help Luciano get moderate exercise, the little boy holds a second leash to walk Zilly down quiet hallways of the NIH hospital. His efforts are rewarded by a tail wag and Zilly's adoring glances. The nursing staff cheers him and Zilly on as they walk by.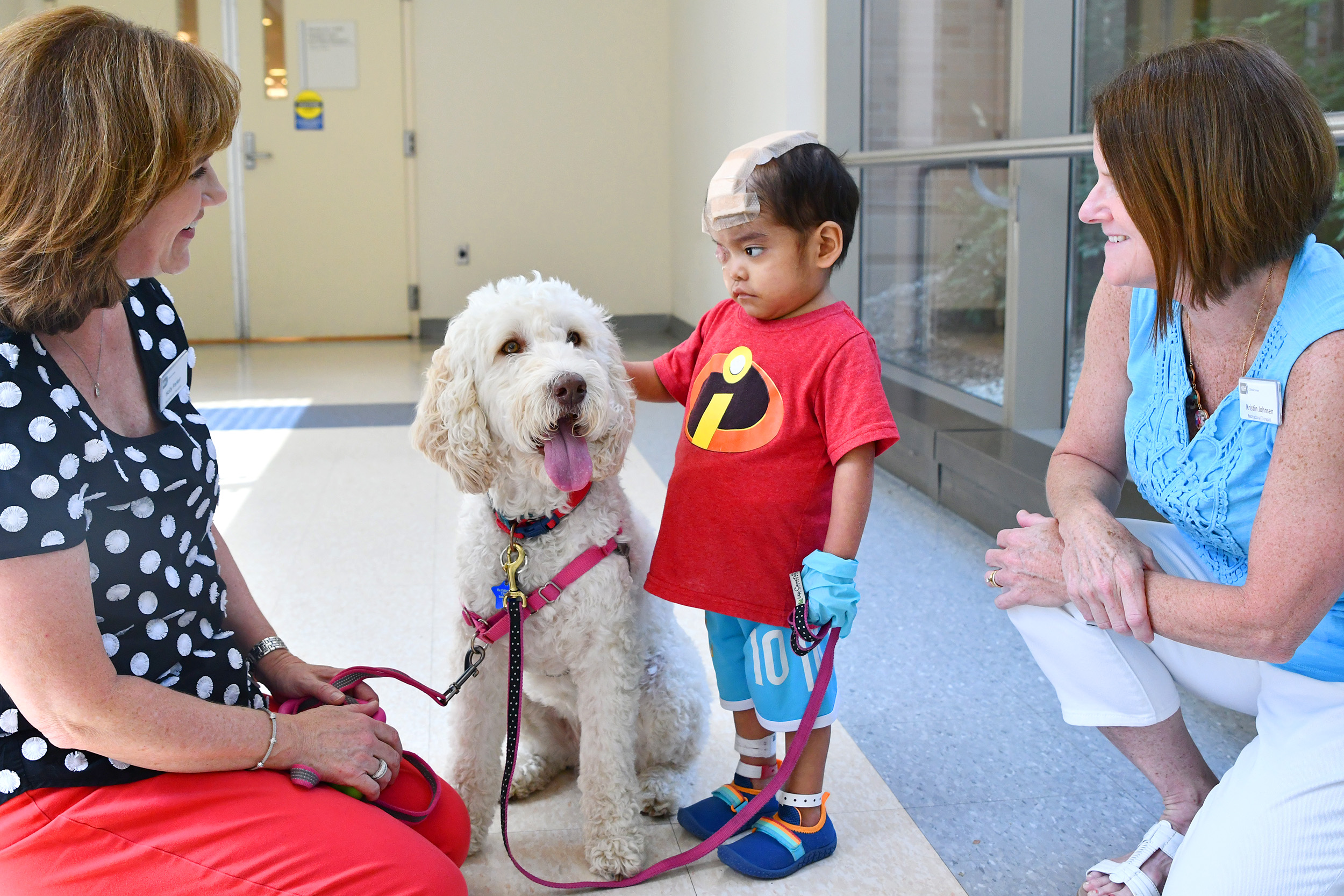 Luciano holds Zilly's leash as Clinical Center Recreational Therapists stand by
Zilly's gentle presence also lends itself to helping children hospitalized at the NIH for mental or behavioral disorders. They are able to practice social skills or attain behavioral goals that their recreation therapist is working on.
"We may practice eye contact while talking about Zilly," Holly says. "Or practice taking turns."
But, Holly says, one of Zilly's best skills is to provide comfort and emotional support to seriously ill children who may be confined to their hospital beds or who are feeling sad.
"Zilly is best at bed-side visits," Holly says. "She jumps up onto children's hospital beds and snuggles right up to them. In some situations, there's nothing that we can do or provide that comes close to the power of her snuggles."
Zilly joined The Inn's staff in 2015 thanks to caring supporters who have made The Inn's therapy dog program possible, including the family of Kent and Lynn Davis; Tom and Mimi Nordlinger and the Gwyn and Nancy Ackland Memorial Fund at the Montgomery County Community Foundation through trustees Steve and Louisa Hollman; National Capital Therapy Dogs and Al Marx, owner of Obedience WorksLLC and A Better Pet LLC.
Stay Up To Date
on how The Children's Inn is creating 'A Place Like Home'