NIH #PuppyCam Celebrates Zilly, Therapy Dogs
Zilly, The Children's Inn's resident therapy dog, recently starred on the National Institute of Health's second annual #PuppyCam, a one-day live stream hosted on Twitter that celebrates the therapeutic benefits of therapy dogs and provides a wide range of stress management tips.
Studies have shown that therapy dogs can help lower heart rates and stress and can even provide pain relief. As a certified therapy dog, Zilly's job is to bring joy and smiles to the children and families served by The Inn. How? By greeting children and families arriving at The Inn, receiving children's cuddles when they ask for her and snuggling up with children when they're experiencing pain or feel unwell due to their illness or treatment.
"I'm always excited when I see Zilly," says Amber, 9, of California, who is at The Inn for her fifth visit to the NIH. "She makes me feel happy and loved. She's so soft and so friendly."
Amber and Zilly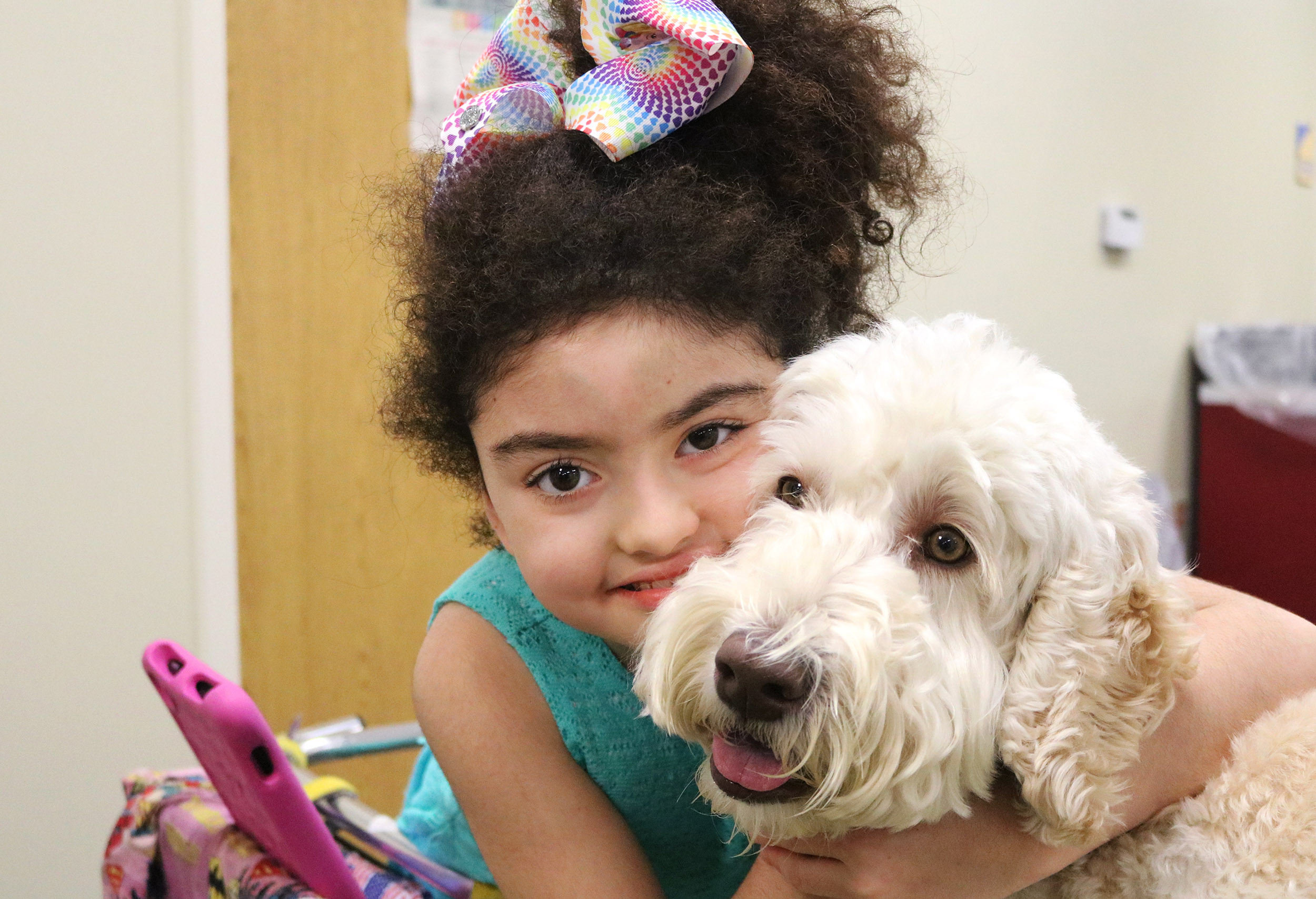 Bella, 10, of Florida, who is staying at The Inn for two consecutive months, echoes those sentiments.
"I love dogs, and I'm happier when I'm around Zilly," Bella says. "She has the softest fur. She reminds me of my dog who is at home."
Zilly joined The Inn in 2015 after the organization's first therapy dog retired. The multigenerational Australian labradoodle instantly became the most popular and beloved Inn staff member – and the only staff with an Instagram account that boasts more than 1,000 followers.
Abram and Zilly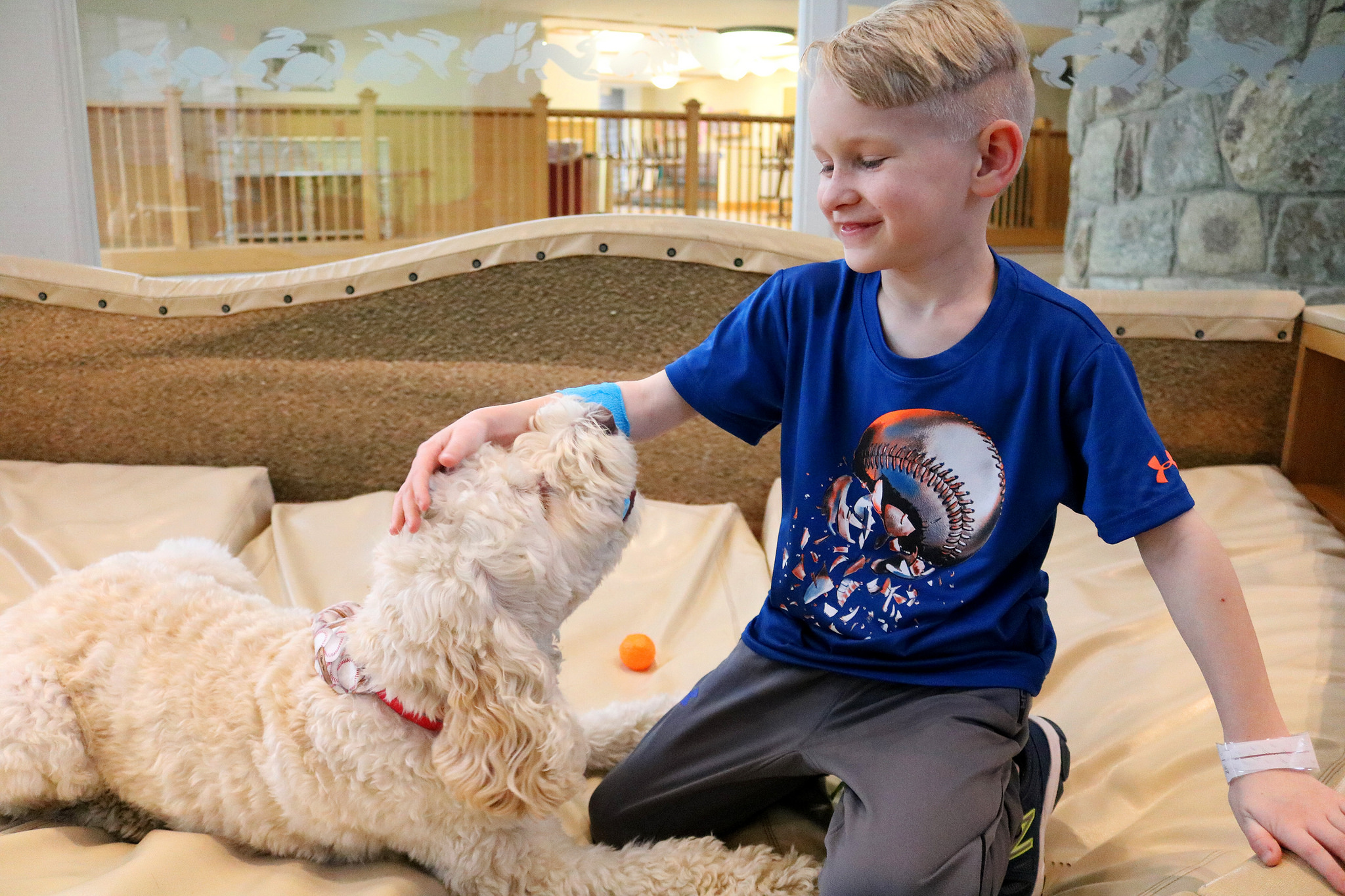 Abram plays with Zilly the therapy dog at The Inn
Zilly also regularly visits children during inpatient stays at the NIH hospital playroom and even visits hospital rooms to share hugs with children confined to their beds.
In addition to Zilly, a group of therapy dogs from National Capital Therapy Dogs regularly visit The Children's Inn and the NIH Clinical Center to provide additional emotional support.
Seeing Zilly and the other therapy dogs is what Euphy, 22 most looks forward to. Euphy recently underwent a bone marrow transplant at the NIH Clinical Center and has stayed at The Inn for more than seven months so far. She has noted the times of the dogs' visits and joins them whenever her health allows.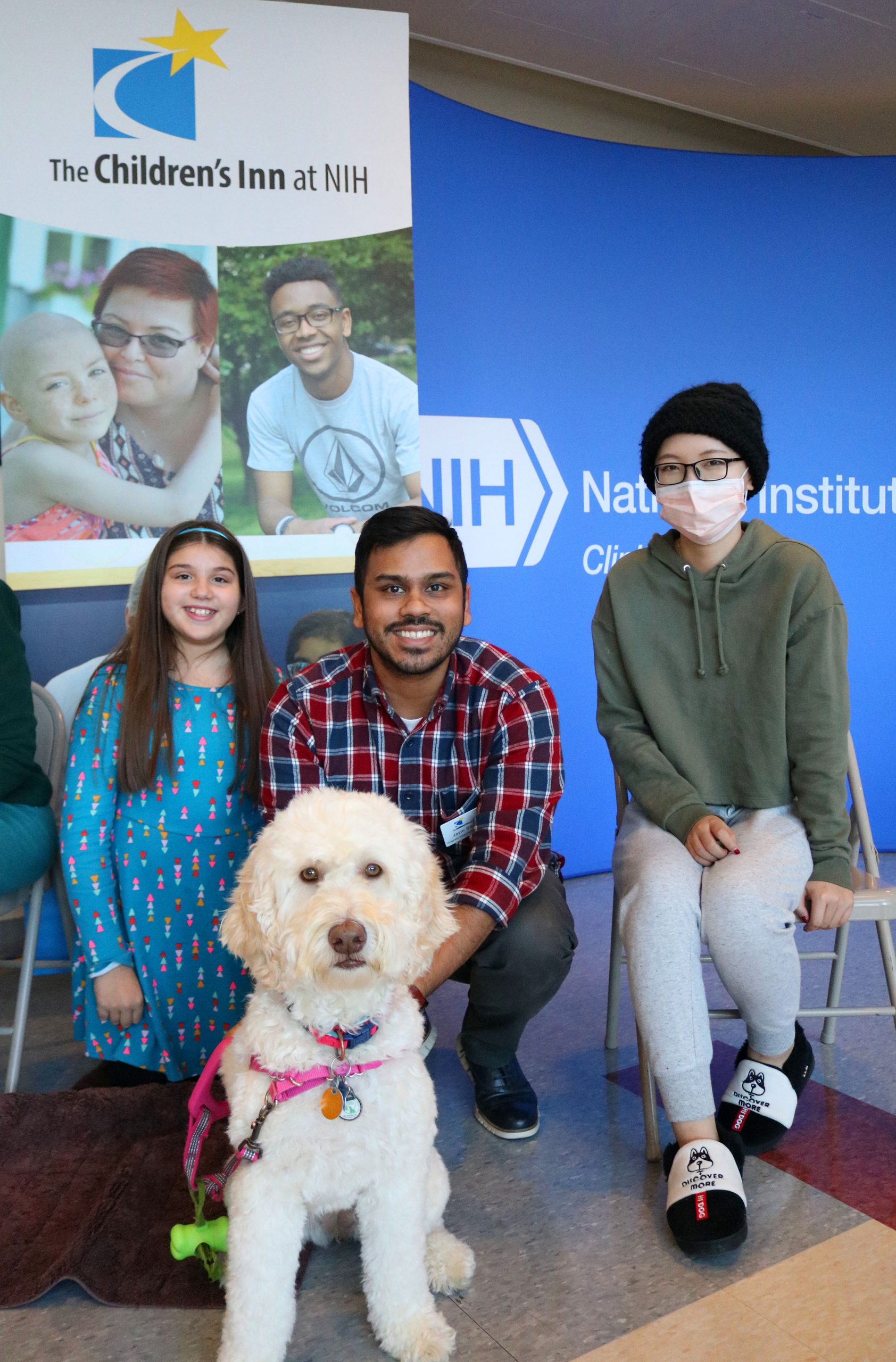 Puppy cam with Zill the Therapy dog at The Inn
To the left, Zilly is pictured with Inn staff member Javin Smith (center) and Inn residents Bella and Euphy at #PuppyCam.
"The dogs are my favorite," she says. "I just love dogs. They make me feel happy and calm."
Inn Program Operations Manager Javin Smith introduced Zilly on #PuppyCam with the help of Inn residents Bella and Euphy. #PuppyCam also featured talks about stress reduction and active puppy play time with NIH Director Dr. Francis Collins, therapy dog trainers from National Capital Therapy Dogs and Hero Dogs as well as appearances of a host of therapy dogs from both organizations.
The Inn is grateful for Zilly and the caring people who have made The Inn's therapy dog program possible, including the family of Kent and Lynn Davis; Tom and Mimi Nordlinger and the Gwyn and Nancy Ackland Memorial Fund at the Montgomery County Community Foundation through trustees Steve and Louisa Hollman; National Capital Therapy Dogs and Al Marx, owner of Obedience WorksLLC and A Better Pet LLC. To learn more about Zilly, follow her on Instagram at @zilly_the_therapy_dog.
Stay Up To Date
on how The Children's Inn is creating 'A Place Like Home'