You Give Families Hope During Global Pandemic
You, Celebrity Chef José Andrés, the first lady of the United States, corporations, restaurants, distilleries and foundations have all pitched in to help provide meals, activities, safety equipment and joy to the children and families who call The Children's Inn home during the pandemic.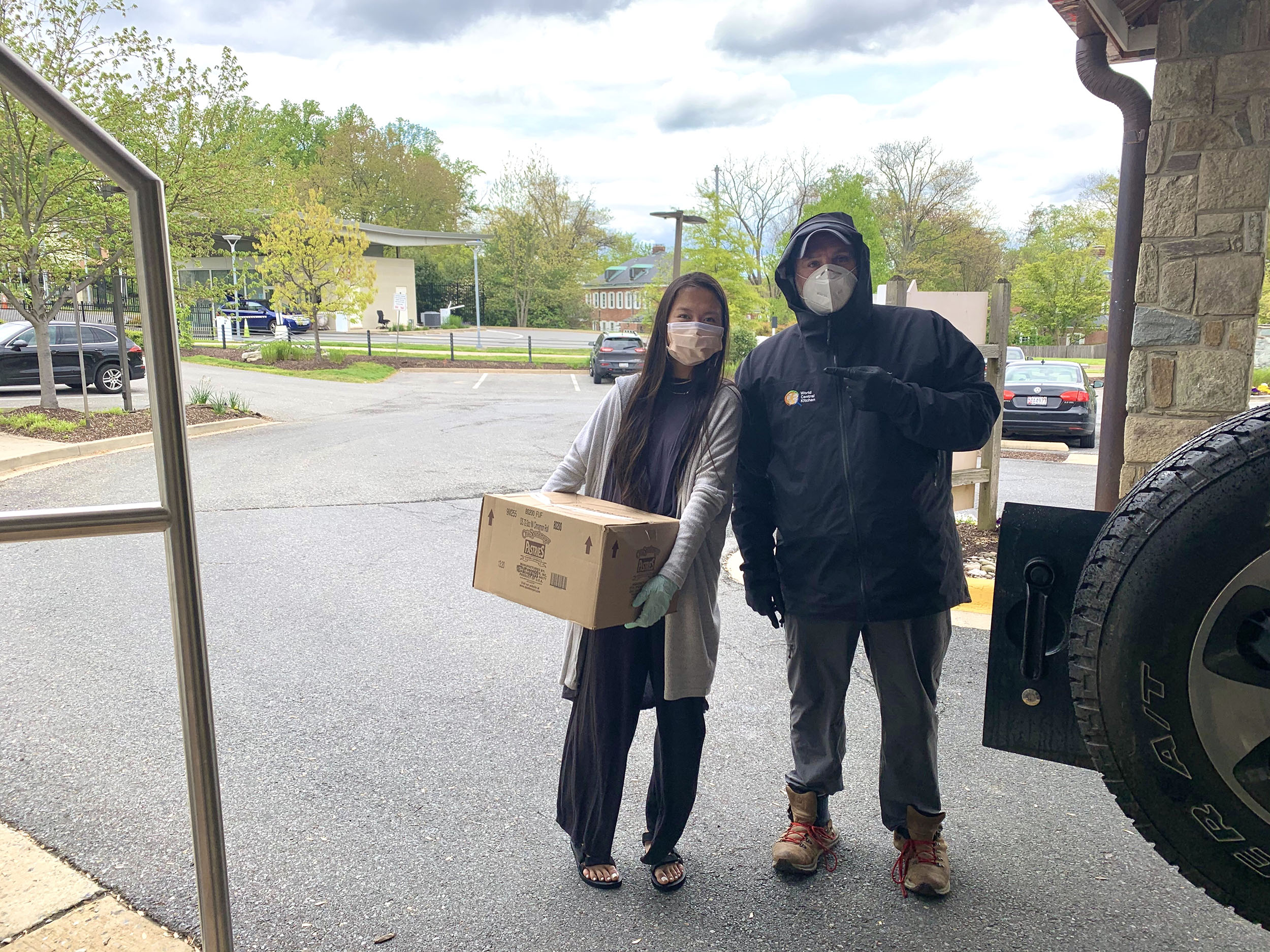 Inn staffer Melody Phuong and Chef José Andrés unload his car, packed with food
prepared by his team at World Central Kitchen.
Your caring support is allowing children with difficult-to-treat leukemia to access a groundbreaking immunotherapy trial that is their best hope to put their cancer into remission, for children with fatal genetic diseases to undergo the first and only gene therapy treatment available in the world, and for young people with rare and potential deadly immune deficiencies to access stem cell transplants that are their only chance for a cure. Thank you for giving the gift of hope to children and families who need it most!
A big, "Thank you!" goes from our hearts to:
You for every donation — big and small — you make to help save children's lives now and relieve the burden of illness on their families.
José Andrés and his nonprofit World Central Kitchen for providing breakfast and dinner to Inn families since mid-April.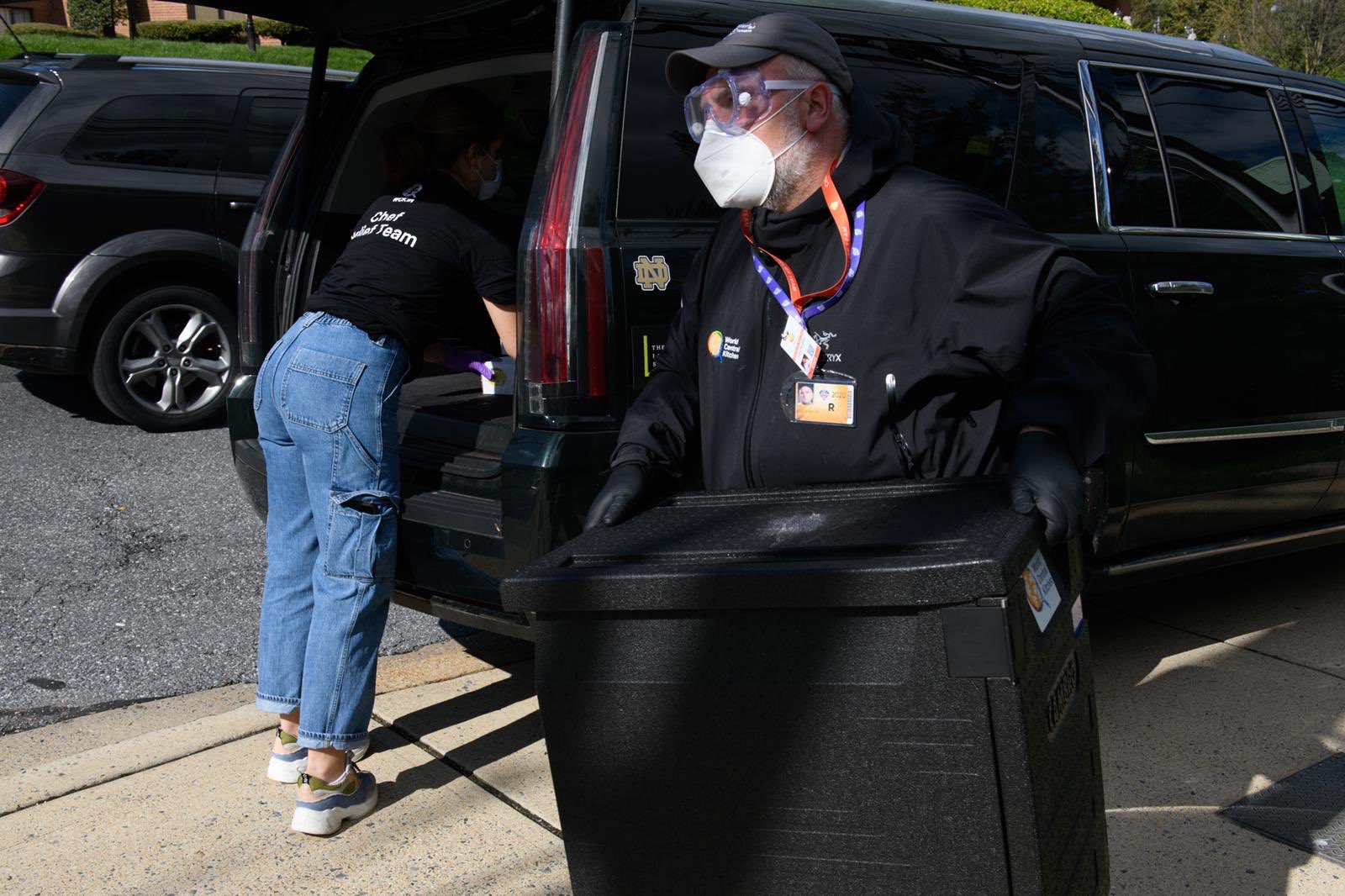 Chef José Andrés unloads his World Central Kitchen van with food donations to The Children's Inn. Photo courtesy of World Central Kitchen.
First lady Melania Trump for sending the White House executive chef, pastry chef and ushers to hand-deliver scrumptious mac-and-cheese meals to our children and families along with a letter of encouragement and appreciation, shown below.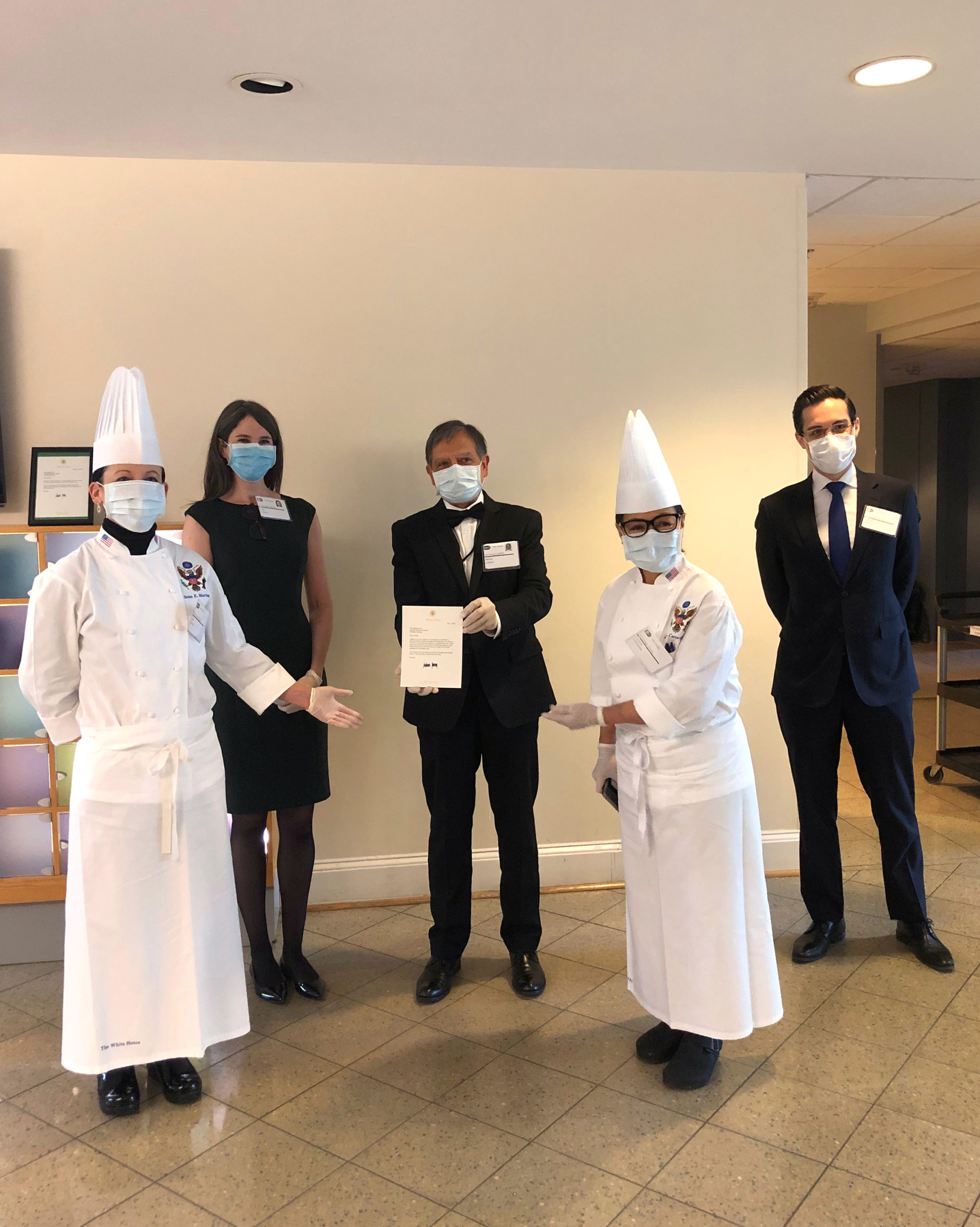 White House Executive Chef Cristeta Comerford, Executive Pastry Chef Susan Morrison, and ushers.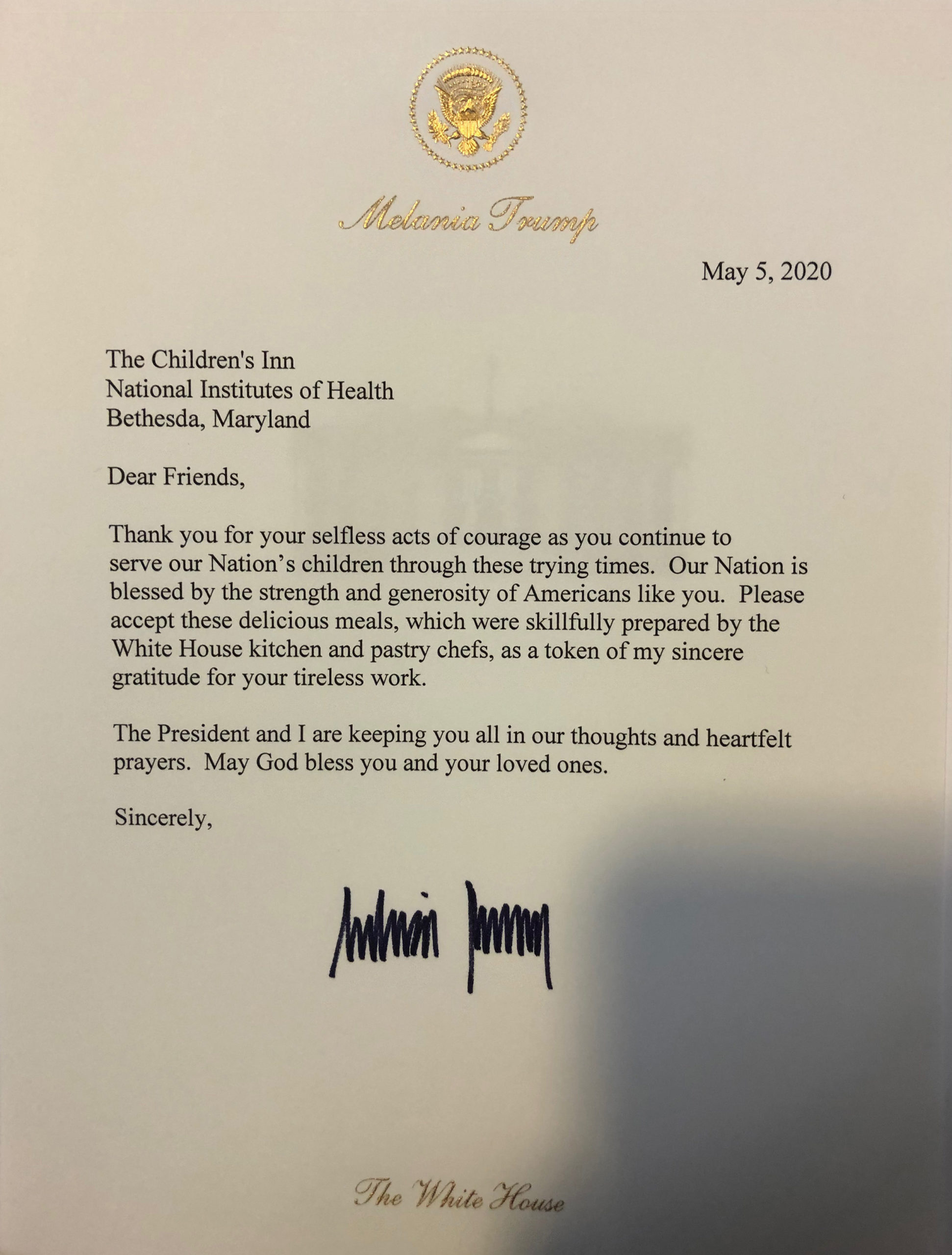 A letter of encouragement from first lady Melania Trump.
Bethesda restaurants Hanaro Sushi, Kusshi Sushi, Smoke BBQ, Roti, &pizza for providing discounted meals for our children and families.
Bethesda restaurant Summer House Santa Monica for donating cookies and wonderful gift cards to Inn families.
Arts-n-STEM 4 HEARTS for donating 100 homemade masks, Mother's Day cards kit and two canvas paintings created by Amber Briscoe, founder and president of Arts-n-STEM4Hearts.
LUSH for amazing Mother's Day gift boxes for all of our moms.
Jenny Han, author of the popular book "To All the Boys I've Loved Before," which also has been turned into a successful movie, for holding a free book talk with our young adults and families.
The Ritzrow family for providing thoughtful treasures so our children enjoy little gifts every day.
Tammy Schmidt, a Children's Inn welcome desk volunteer, Mariela Light, an NIH human resources specialist, and Children's Inn supporter Cinthia Escavage, for sewing reusable protective masks for our children and families. The fun patterns have been extremely popular! Also a big thanks to Children's Inn board member Lois Alperstein and family for providing additional masks as well as Laura Chopp, a doctoral fellow and NIH fellow, for sewing reusable masks with her family.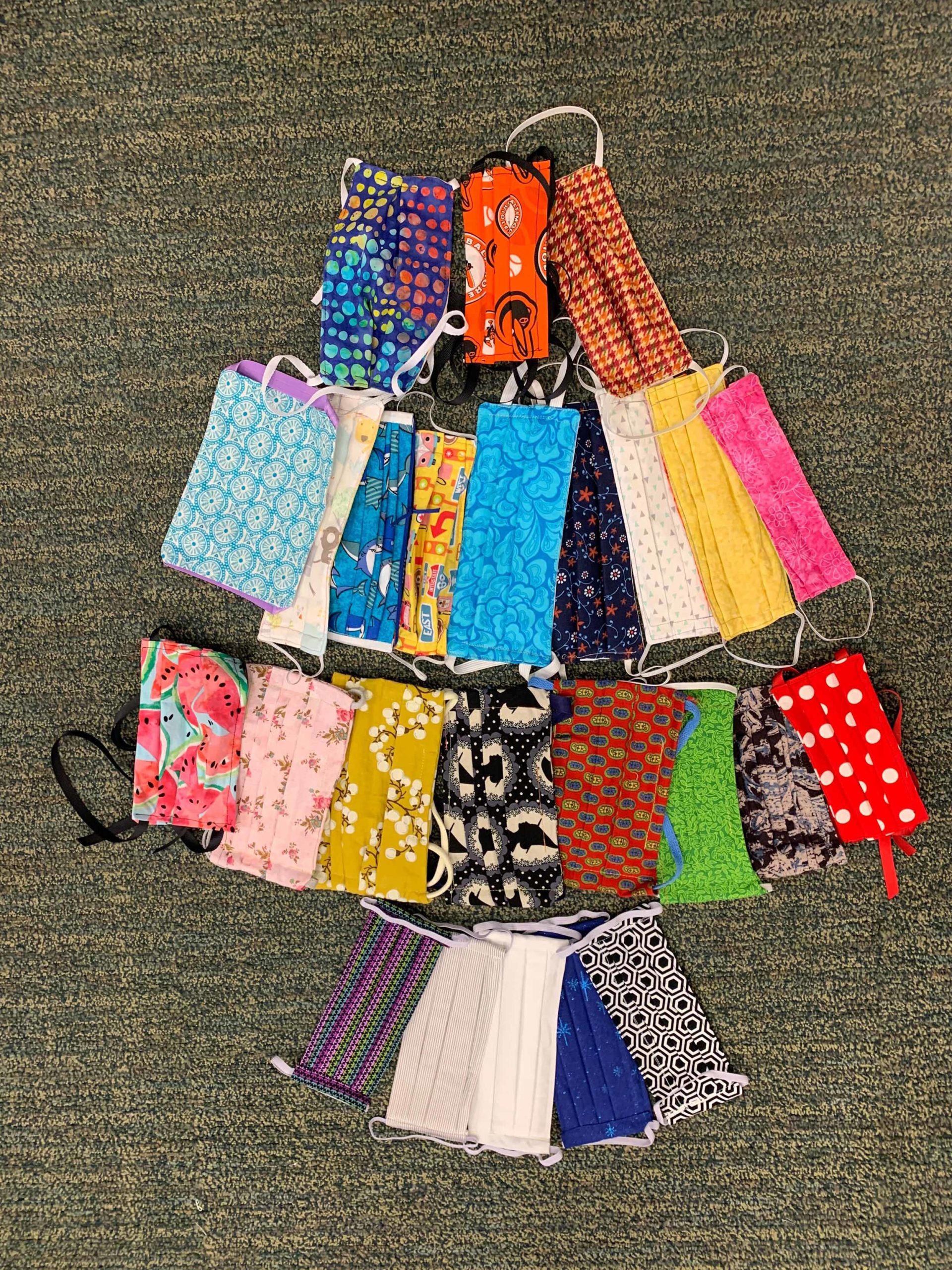 Some of the many fabric face masks donated by our wonderful supporters.
Thank you for all you do! If you'd like to do more, please help us spread the word about what we need now and look over the ways you can best make a difference: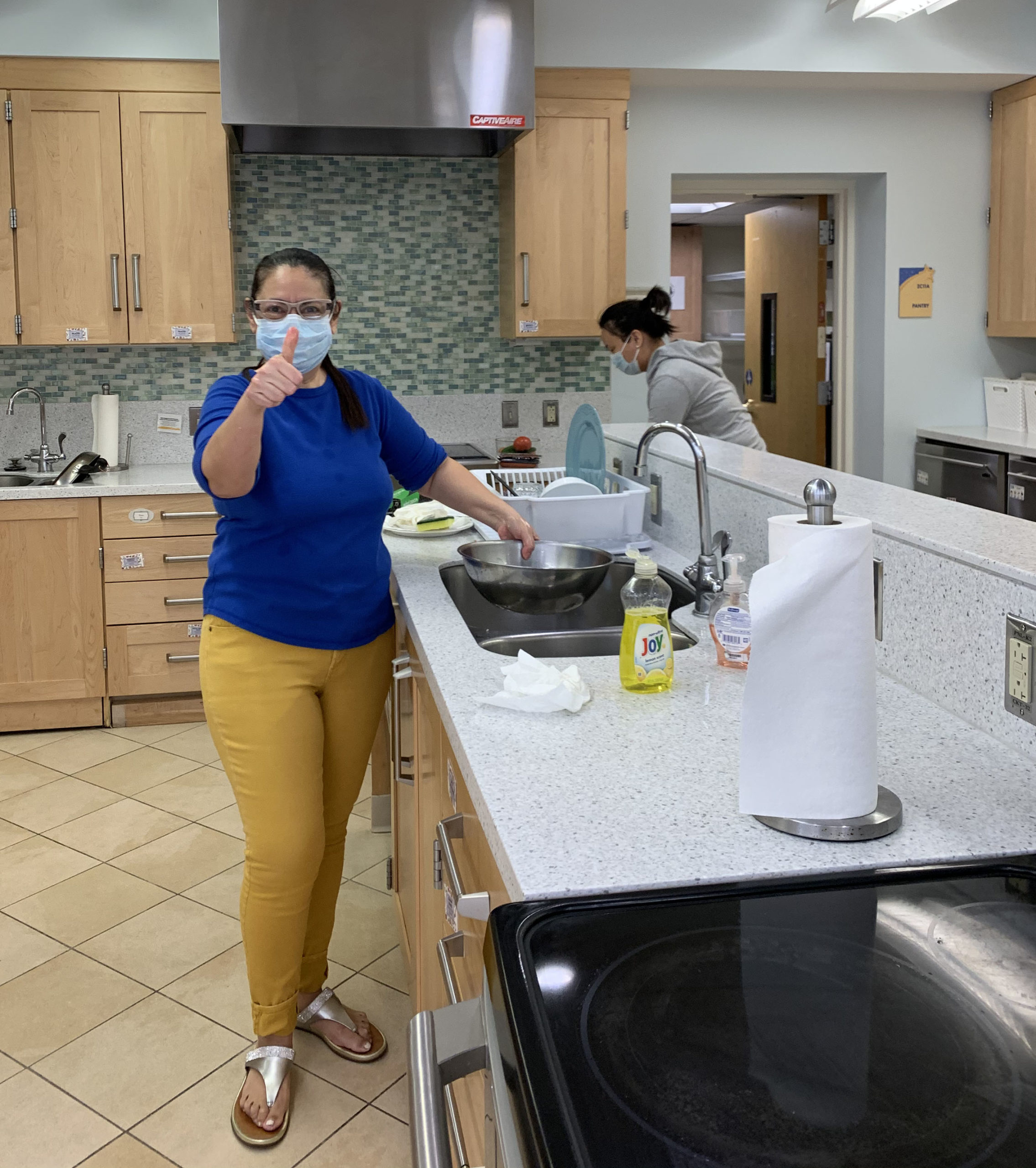 Stay Up To Date
on how The Children's Inn is creating 'A Place Like Home'