Volunteer Spotlight – Cathy Nicholson Troutman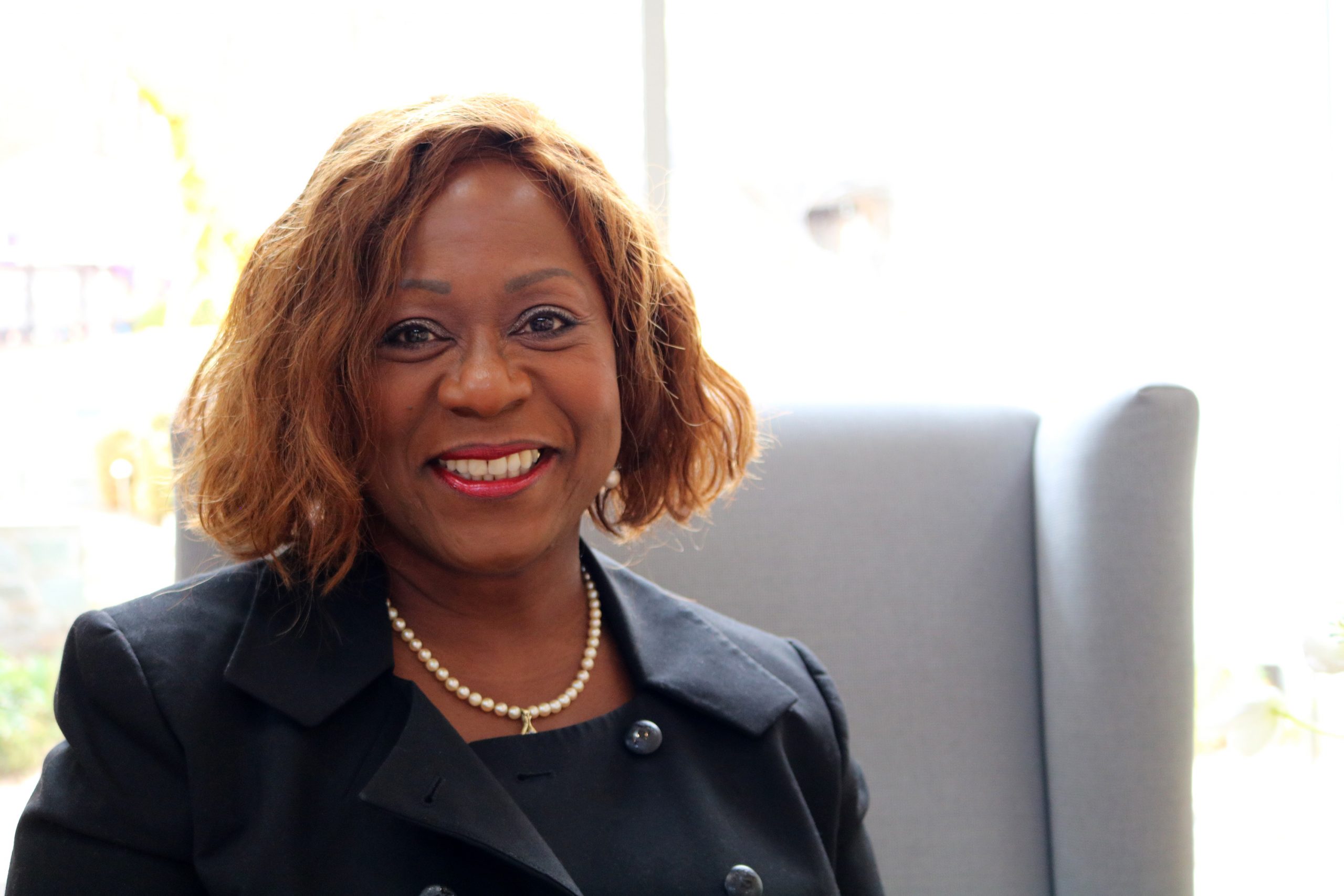 "Your personal best is all it takes to serve!"
That's the uplifting message shared by Inn volunteer Lieutenant Colonel (Ret.) Cathy Troutman, who for six years has served family dinners to Inn residents with the Potomac Valley Alumnae Chapter of Delta Sigma Theta Sorority and who also expertly assists our residents at our welcome desk. Currently a management analyst with NIH's National Heart, Lung, and Blood Institute's (NHLBI), Cathy retired after serving 24 years in the United States Army in 2008. Here, Cathy explains in her own words about how she became involved with The Inn and what volunteering means to her.
Tell us how you first got involved with The Inn.
The Children's Inn mission, to fully and consistently meet the needs of children and families participating in groundbreaking research at the National Institutes of Health, inspired me to do more than simply work at the National Heart, Lung, and Blood Institute (NHLBI). When I first learned of The Children's Inn, I knew I wanted to be involved with this organization because I know that giving of my time through volunteering warms my heart and allows me to help my community.
Tell us more about your role and how you are involved?
I volunteer at the Inn on a regular basis by filling in when the primary volunteers go on leave. In addition, one of my special projects as a member of the Potomac Valley Alumnae Chapter (PVAC) of Delta Sigma Theta, Incorporated is to organize a catered annual holiday hot meal to the families of the Children's Inn. This is a popular event for the PVAC members because of the unique and valuable mission that the Children's Inn serves in our community. In 2017, our sixth year in serving the Inn, we added a science project for the children—which was a huge hit with the children.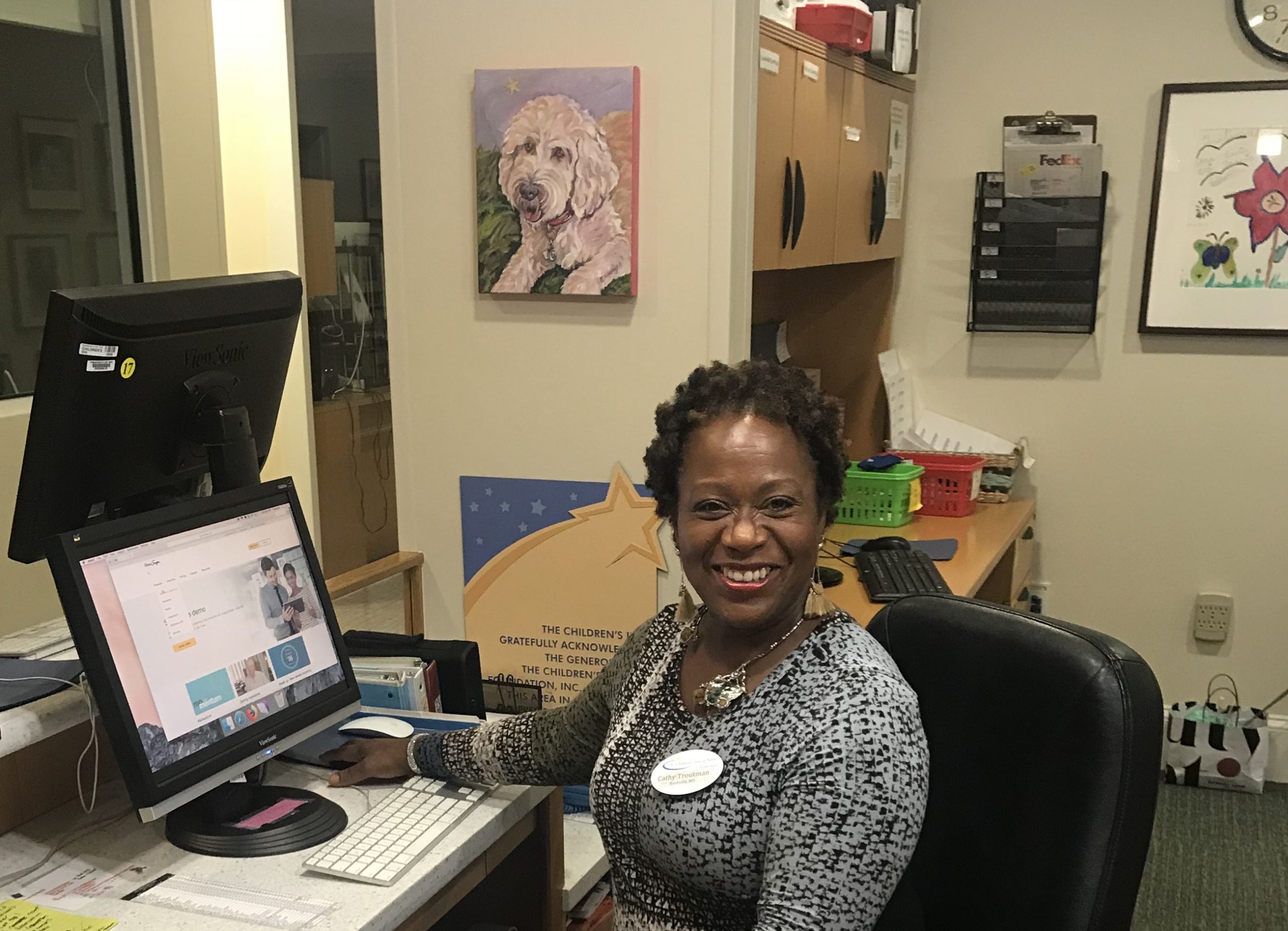 Cathy Troutman working at the volunteer desk
What motivates you to stay involved?
Volunteering is part of my DNA. My mother volunteered throughout her life which has inspired me to volunteer—as such the tradition continues. My daughters also enjoy giving through public service opportunities and have joined me in volunteering during the PVAC, Delta Sigma Theta Sorority, Inc.'s annual holiday dinner.
Talk about some of the people you've met while volunteering and the impact they have had on you.
The managers and support staff are extremely helpful and a joy to work with. You feel a sense of appreciation every time you step in the door. After you leave for the day, you feel VALUED—a feeling that you've impacted the lives of others, a sensational feeling.
The families I've come into contact with have voluntarily shared their stories and seem uplifted by everything done to improve their lives and make them feel that they have a special place away from home. They are so appreciative of the hot meals served to them and the generosity shown through simple acts of kindness—selecting and providing a movie, recommending places to eat, or simply playing a family games—all the things I help to provide as a receptionist at the Children's Inn. When they hear that I am a volunteer, they simply can't thank me enough. The families have a special place in my heart. The families share their appreciation through kind words as I work the reception desk and through the annual holiday meals I organize through PVAC, Delta Sigma Theta Sorority, Inc.
Does anyone in your life play a role in supporting your involvement, or in providing inspiration?
My husband and daughters are very supportive of my volunteering. Once my sorority decided to provide and serve the dinners more than six years ago, my daughters quickly asked if they could participate. Although, they were not part of the chapter, I involved them as helpers and photographers until such time they were both sorority sisters themselves. My family and my sorority continue to inspire me to do more.
Tell us a little more about you.
I'm at retired Lieutenant Colonel and served 24 years as an active duty Army Biomedical Information Systems Officer, Chief Information Officer, Chief Technology Officer, Telemedicine Clinical Information Officer, and culminated my career as Deputy Director for two high priority programs: The Army's Neuropsychological Assessment Metrics Program for Mild Traumatic Brain Injury and the Department of Defense Pharmacovigilance Program before retiring in 2008. In December 2008, I accepted a position at the National Heart, Lung, and Blood Institute (NHLBI), and currently serve as a management analyst in the NHLBI Office of Science Policy, Engagement, Education and Communications' Health Education and Digital Information Dissemination Branch. I served as the Grand Marshal for the City of Rockville 2017 Memorial Day Parade.
I am married to Rich Troutman, who is also a military Veteran, and we reside in Rockville, Maryland and have two daughters, Michele and Ashley.
What other organizations or causes do you support?
I am an associate member of the Jack and Jill Associates of America and support causes to support the educational, developmental, and enrichment needs of African American children.
I also support military and community causes as a lifetime member of the following organizations: Association of United States Army, Military Officer's Association, Veterans of Foreign Wars, and the Disabled American Veterans. In addition, I continuously provide community service through outreach programs as a Diamond Life Member of Delta Sigma Theta Sorority, Inc.
Do you have a message to share?
Your personal best is all it takes to serve!
Learn more about our volunteer program and make a difference in the lives of Children's Inn families.
Stay Up To Date
on how The Children's Inn is creating 'A Place Like Home'