Tom Is Determined To Grow
Tom loves spending endless hours playing video games online with his cousins in France or his friends at home in Mountain View, California. It's why the game room is his favorite place at The Children's Inn at NIH.
"I can play video games for days," Tom says. "At The Inn, you can pretty much check out any game you want. They have it all."
The video games and other features of The Inn helped him and his family relax and feel at home even while Tom was getting help at the National Institute of Health's Clinical Center to beat a rare disease that had begun to stop him from achieving one of his goals: growing tall.
Tom, now 15, always liked the idea of being tall and was set on becoming at least as tall as his cousin. Impatient to see himself grow, he closely monitored his height and was upset when in fourth grade he seemed to have stopped growing.
"I told him, 'Don't worry; the summer is coming up, and by the end of it, you'll have grown,'" his mom remembers telling Tom.
But by the end of summer, the jeans he had worn before the break still fit. Rather than growing tall, Tom had started gaining weight.
Surprised, Tom's mom, Sylvie, took him to the pediatrician who examined Tom and did bloodwork.
"The doctor said, 'I'm pretty sure it's Cushing's,'" Sylvie says.
Cushing syndrome is an adrenal or pituitary gland disorder that disrupts the production of hormones in the body.
While Cushing's is rare in children, its symptoms can include stunted growth, weight gain and headaches, all of which Tom experienced. Other physical symptoms may include, a round, red face, a lump between the shoulders called a buffalo hump and, for some youngsters, reddish-purple stretch marks called striae (pronounced STRAHY-uh) on the body.
There are several ways Cushing syndrome can develop, including from prolonged use of medications that contain a cortisol-like synthetic compound, such as Prednisone. The disorder also can be caused by a tumor growing on the pea-sized but highly important pituitary gland, located on the base of the brain.
Removing pituitary gland tumors can be challenging in children because the tumors are often tiny – less than one millimeter in size. Their small size makes pinpointing them extremely difficult and extracting them even more so, especially due to the location on the brain stem, explained Dr. Constantine A. Stratakis, scientific director of the Eunice Kennedy Shriver National Institute of Child Health and Human Development (NICHD).
Suspecting that a pituitary gland tumor had caused Cushing's in Tom, his doctors in California referred him to NICHD because of the expertise needed to identify and surgically remove the tumor.
The NIH has been treating Cushing syndrome since the early 1970s. Generations of doctors trained at the NIH have developed methods to better diagnose Cushing syndrome, which have resulted in significant improvements in health outcomes for children and adults affected by this rare disorder. The NIH Clinical Center is one of the only places in the country to use a specialized magnetic imaging test to locate miniscule tumors.
"Having children with Cushing's at the NIH allows us to improve and develop better methods for diagnosis and treatment," said Dr. Stratakis, who has discovered gene mutations responsible for Cushing's, as well as a number of tests to better diagnose the condition in children.
Dr. Stratakis also emphasized the need for children with rare disorders to be seen at highly specialized centers where the expertise to manage their illness is concentrated.
For Tom, locating the precise location of the tumor took time because it was hidden from plain view and not visible on standard magnetic imaging tests. However, two years after diagnosis, Tom was scheduled for surgery at the NIH Clinical Center.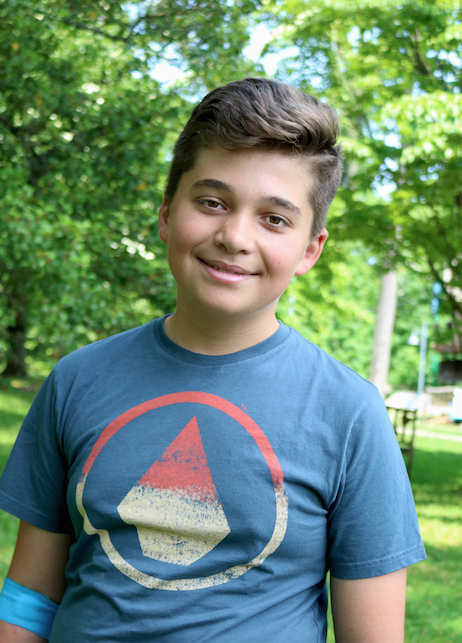 "The worst were the headaches," Tom explains, referring to the bruising from metal rods that held his head perfectly in place for the doctors to perform the delicate surgery.
The doctors successfully removed the tumor, and recovery was quick. To his delight, Tom soon began growing again, allowing his body to absorb the 40 lbs. he had gained due to Cushing's.
Prior to Tom's illness, his family, who is originally from Lille, France, hadn't been familiar with the National Institutes of Health.
"For me, the NIH – at the beginning, I had no idea what it was," Sylvie says. "I didn't hear the name before. And now, I say, 'Wow, it's an amazing place.' We met a lot of different people, and we can see that they're taking care of different diseases and people from all over the world. It's really amazing."
While Tom is in good health overall, two years post-surgery, he has stopped growing again. He recently returned to The Inn a seventh time for additional testing at the NIH.
Tests confirmed Tom has beaten Cushing's. However, one of the side effects of having had Cushing's can be a short body stature. Set on growing, Tom and his family now have to decide whether they want to coax his body into growing through rigorous exercise or by taking growth hormone shots.
"I think that everybody can find a spot for themselves here, where you can relax and get things out of your mind," Sylvie says about The Children's Inn. "We really love this place."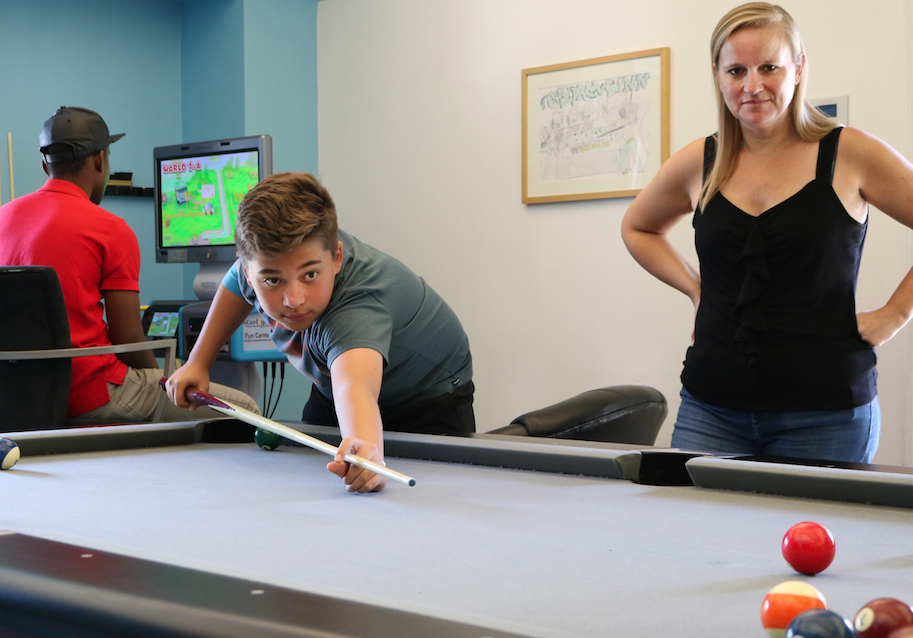 During their recent visit, Tom challenged his mom to a pool game in The Inn's game room and a friendly but fierce foosball competition in The Inn's teen lounge.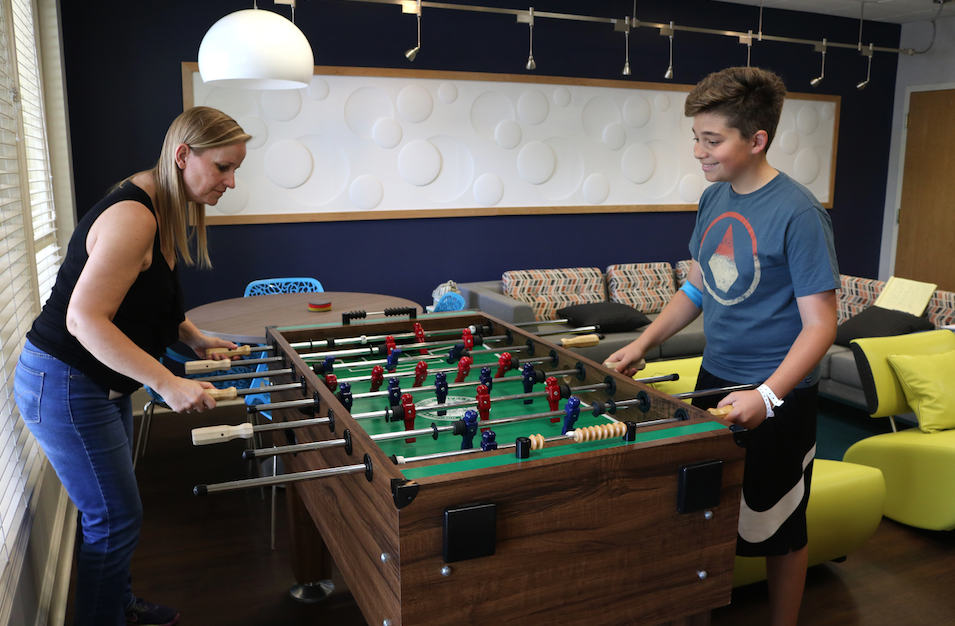 "The Children's Inn is really like 'a place like home' because it's just so friendly, and there are a bunch of things to do to take your mind off," Tom says. "If you take a look around, there is not a lot of medical things that you see – there are kitchens, there's dinners and a gaming room, you can do some sports, you can do yoga – there's just so many things that you can do that take your mind off – it's just really nice."
Stay Up To Date
on how The Children's Inn is creating 'A Place Like Home'