You Help Tina Face the Unimaginable With Courage
Tina was born premature, with her little belly distended. After doctors drained 2 pounds of fluid from her abdomen, the 33-week-old infant was left weighing barely 3 pounds.
"Doctors knew Tina had a rare type of disease, but they didn't know what kind," Sue, Tina's adoptive mom, recounts. "It took 18 months to get the diagnosis of Niemann-Pick type C."
The diagnosis shocked Tina's foster family. Niemann-Pick type C (NPC) is a rare and often fatal genetic disease that causes cholesterol to build up in the brain, liver and spleen, leading to declining intellectual functioning, poor muscle tone and difficulty coordinating movements, along with liver and lung problems. Tina's doctors didn't expect the baby girl to live past her fifth birthday. Along with the shocking diagnosis, Tina's foster parents received more unexpected news.
"They told us her parents were pulling out," Sue recounts. "They asked, 'Would you adopt?'"
Sue and Frank, Tina's foster and adoptive parents, reached out to the National Niemann-Pick Disease Foundation to learn more about Tina's disease. They learned that clinical trials might help Tina and prolong her life. Most importantly, they learned that their hearts were ready to adopt Tina.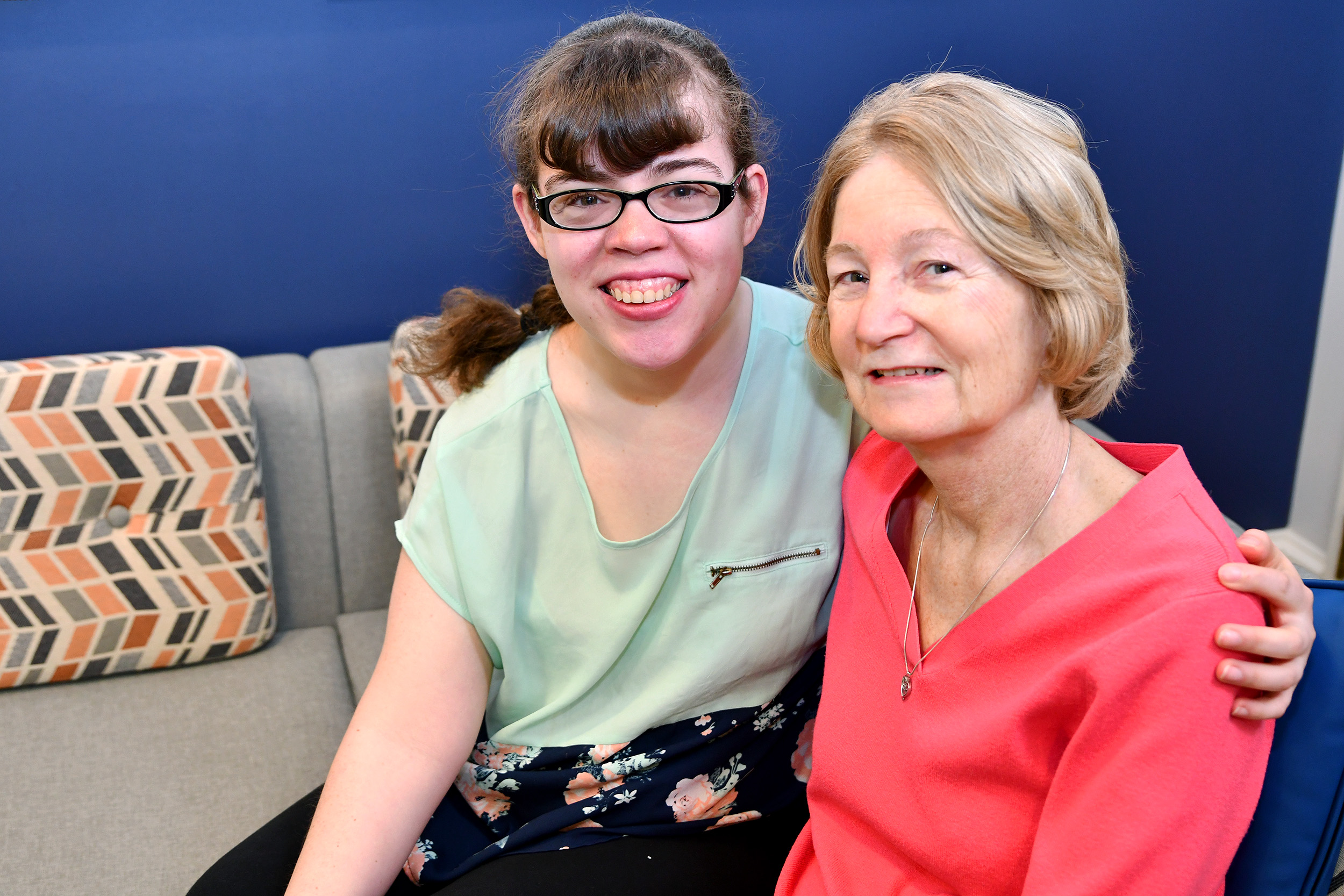 Tina embraces her mom, Sue
For Sue and Frank, adopting Tina meant they would do everything in their power to help their adoptive daughter live her best life possible. They enrolled her in clinical trials that required them to travel regularly between their home in Pennsylvania and New York and, later, the NIH and The Children's Inn.
"Tina's participation in the natural history and the therapeutic trials hopefully will benefit her directly," says NICHD Clinical Director Forbes D. Porter, M.D., Ph.D. "But, ultimately, the information that we gain from these trials will help individuals and children with NPC in the future."
"Tina's really been very stable with it, so we're very thankful to be involved," Sue says about participating in Tina's current trial.
Preliminary results from the drug trial look promising.
"Compared to untreated patients we followed in an earlier study, participants who received VTS-270 scored better on a scale used to evaluate disease severity and progression, including elements such as speech, cognition and mobility," said Porter, who is the study's senior author.
Dr. Porter's team also found that the medication seems to aid cholesterol metabolism in the brain and reduce brain injury.
"The Children's Inn is truly a partner in these clinical research efforts," Dr. Porter adds. "The kids love it. I know Tina loves it."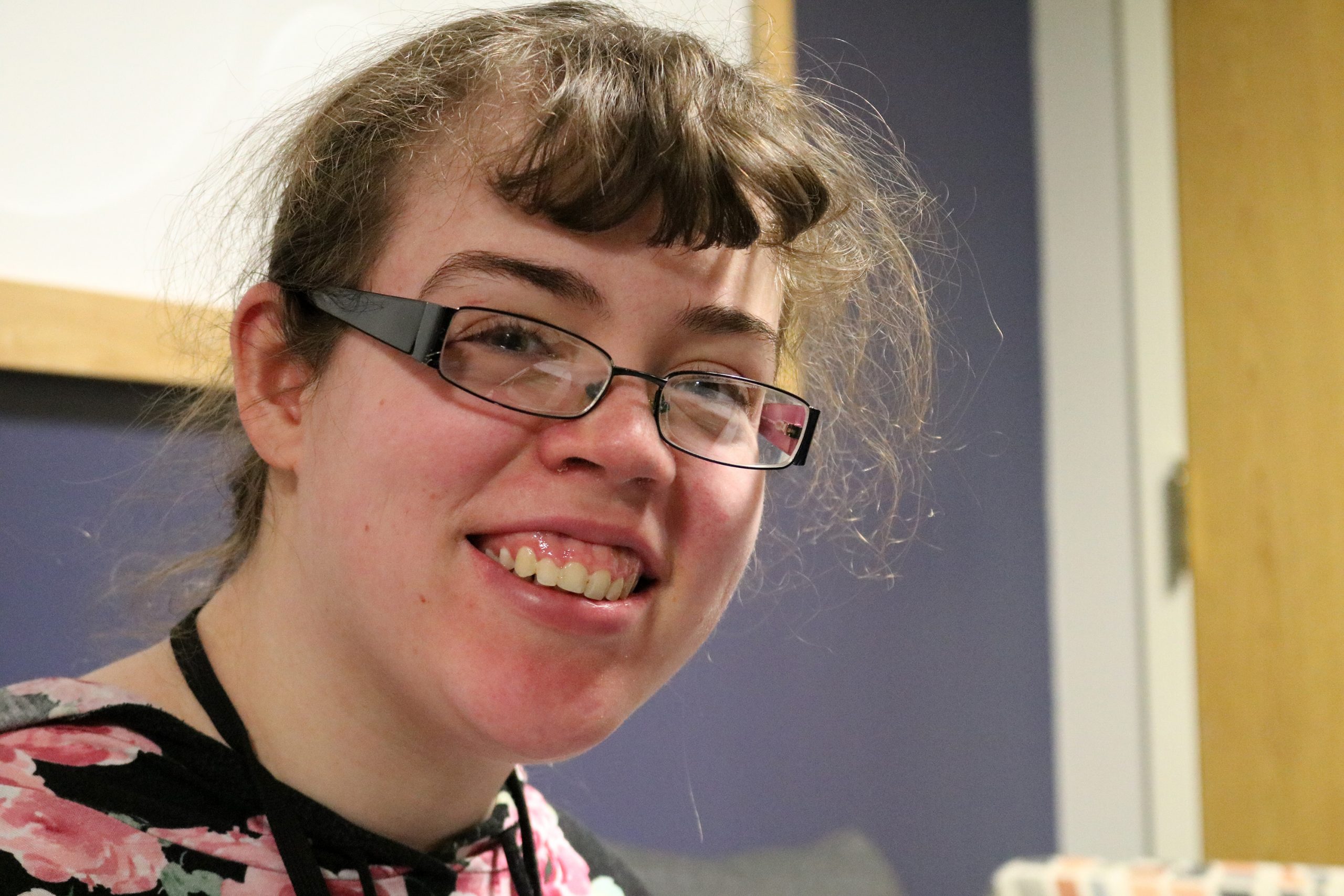 Tina enjoys a trivia activity with fellow young adults
"Tina says The Inn is one of her homes – it feels like this is her home," Sue says.
Tina loves the many special activities The Inn offers as well as the recreational activities held at The Inn during weeknights, especially bingo nights and painting projects. She also has formed close relationships with many of The Inn's programming and resident services staff members, including Aisha, Javin and Betty.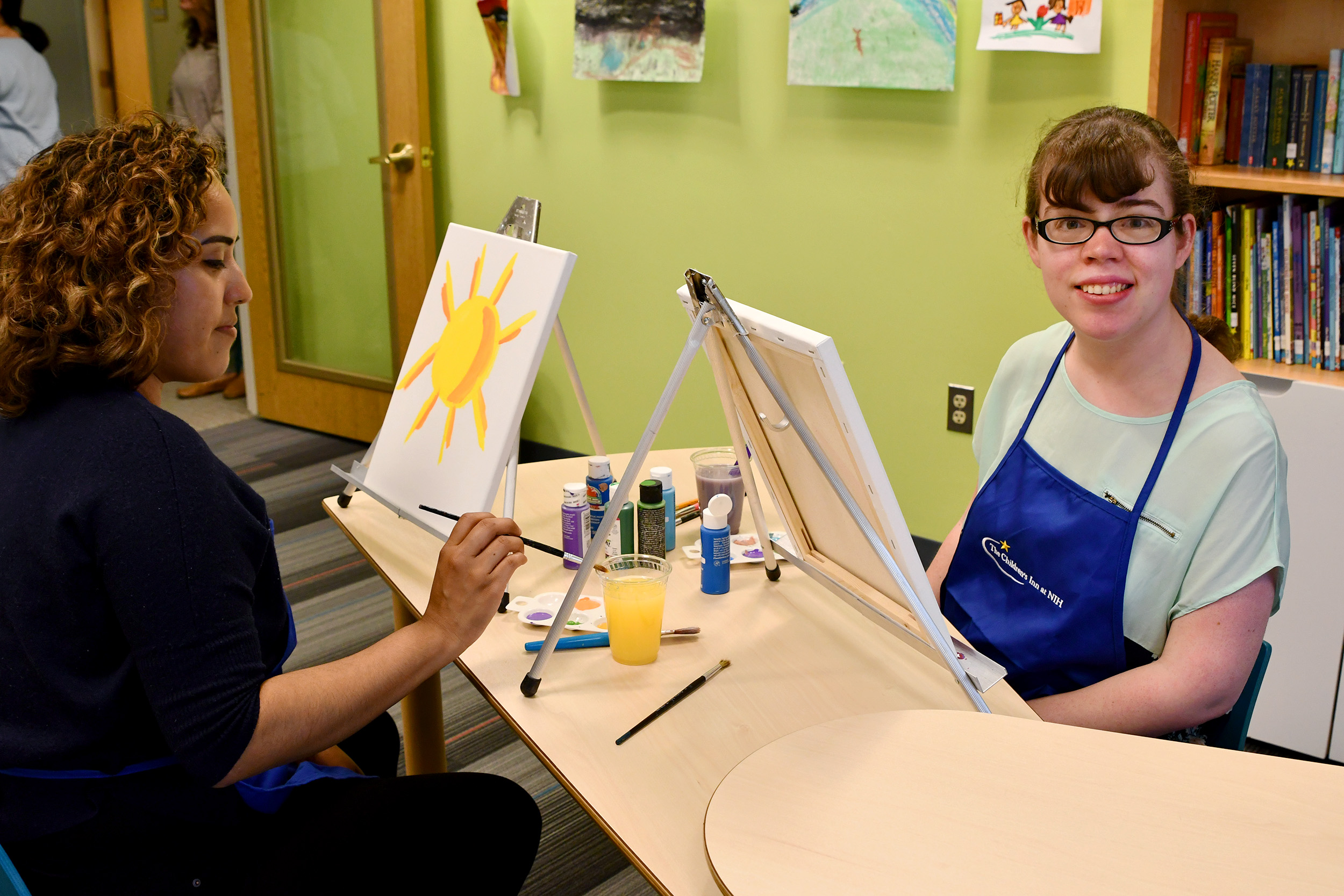 Tina paints with Lidia, an Inn staff member. Activities like this are calming to her
"When we arrive at The Inn, the first thing Tina does is run to the table that lists all the events," Sue says. "Whether it's Disney on Ice or a musical performance at Strathmore – there's always an amazing event."
Both mom and daughter enjoy the dinners served by volunteers and the chance to take walks around The Inn's playground.
"The dinners are wonderful and the different groups who provide them," she says. "I hope they know how much the families appreciate it."
Tina met First Lady Melania Trump twice during her Valentine's Day visits to The Inn. Talking to the first lady left a deep impression on Tina.
"This year, she helped the first lady give out candy," Sue says. "She got a stuffed animal that day and tells everyone she got it from the first lady."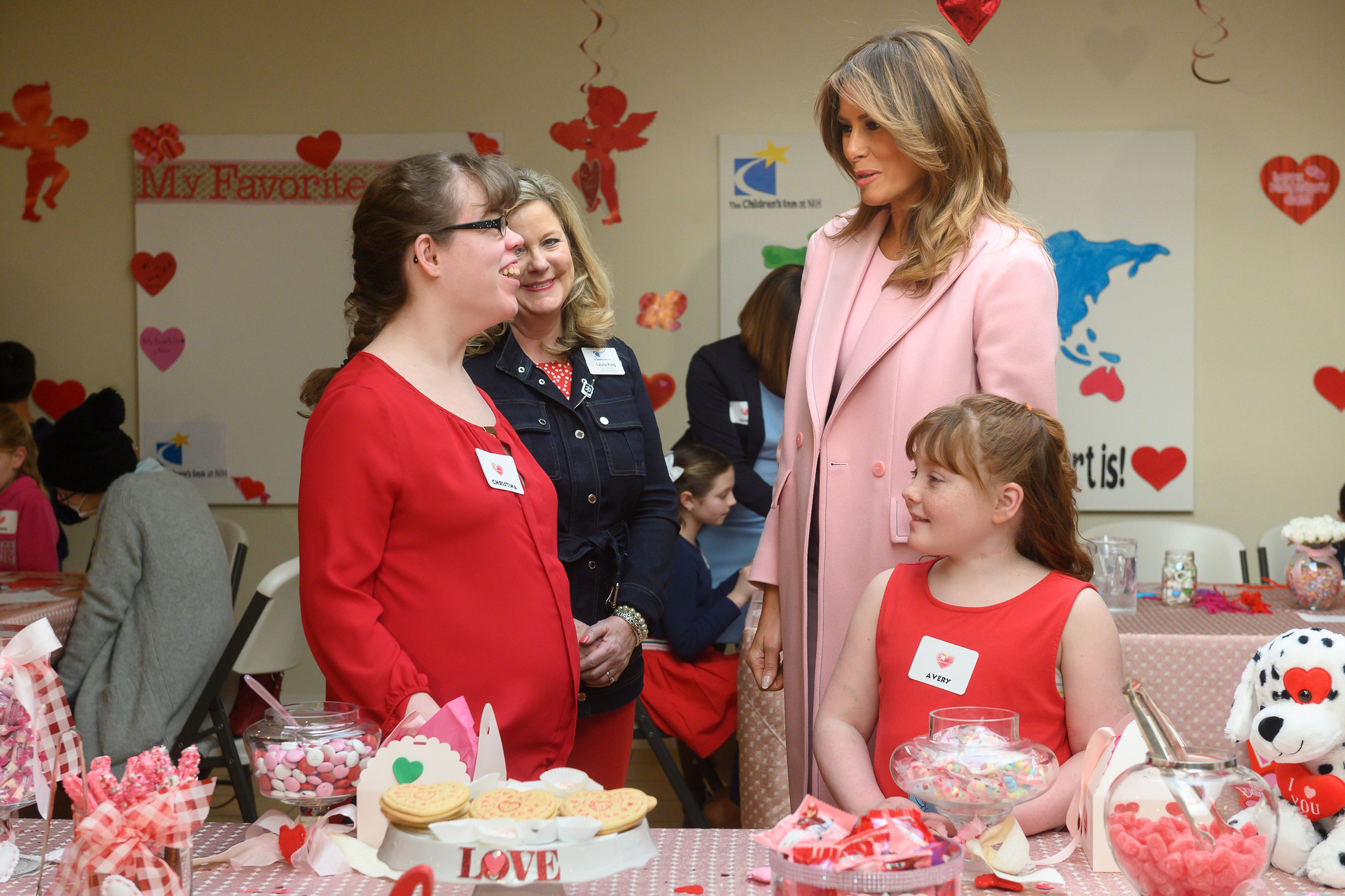 Tina speaks with First Lady Melania Trump
Your support has helped Tina, 24, stay at The Inn more than 70 times so far and contributed directly to the important research taking place at the NIH Clinical Center, the world's largest hospital dedicated solely to research.
"One of the wonderful things about The Children's Inn is we have met so many families who also have children with Niemann-Pick," Sue says. "You share dinner with them. You share your story; and it's just life-changing to have this support. We are so grateful to the donors, the staff, the volunteers, everybody involved in The Children's Inn. If we didn't have The Children's Inn, I don't know how we would do this."
"The Children's Inn is out of this world," Tina says.
Your support allows Tina and families like hers to stay comfortably at The Children's Inn, so they can focus on what matters most – their children's health and the medical care they need. Thanks to caring donors like you, our families never have to worry about paying for lodging, food or finding activities to occupy their time. Your donations to The Children's Inn make childhood possible despite serious illness.
Stay Up To Date
on how The Children's Inn is creating 'A Place Like Home'