This Father's Day, We're Celebrating Fathers Like Carlos
On Father's Day, families and staff at The Inn are celebrating the amazing fathers who are spending this special day with us so their children can participate in groundbreaking clinical trials at the NIH. One of these amazing dads is Carlos of Peru.
Carlos is the father of three children, Juan Carlos, 16, Melva, 10, and Jhon Kali, 8. But the farmer from a town near historic Cuzco hasn't been able to spend equal time with his children or provide for his family by tending to corn, potatoes, quinoa and other crops the way he had hoped. When his only daughter became seriously ill at only 9 months old, he took on the role of seeking specialized medical care for her – a role that took him far from home and away from his sons and wife for years at a time.
Melva was born with a rare and life-threatening immune deficiency. To treat her, Carlos spent nearly two years by Melva's side when she had to be hospitalized for a serious infection in Peru's capital, Lima, many hours away from the family's home.
Melva, 7 at the time, responded to her new treatment provided by her NIAID doctors and soon became known and loved by all at The Children's Inn for her outgoing, happy-go-lucky personality, sparkling eyes and free spirit.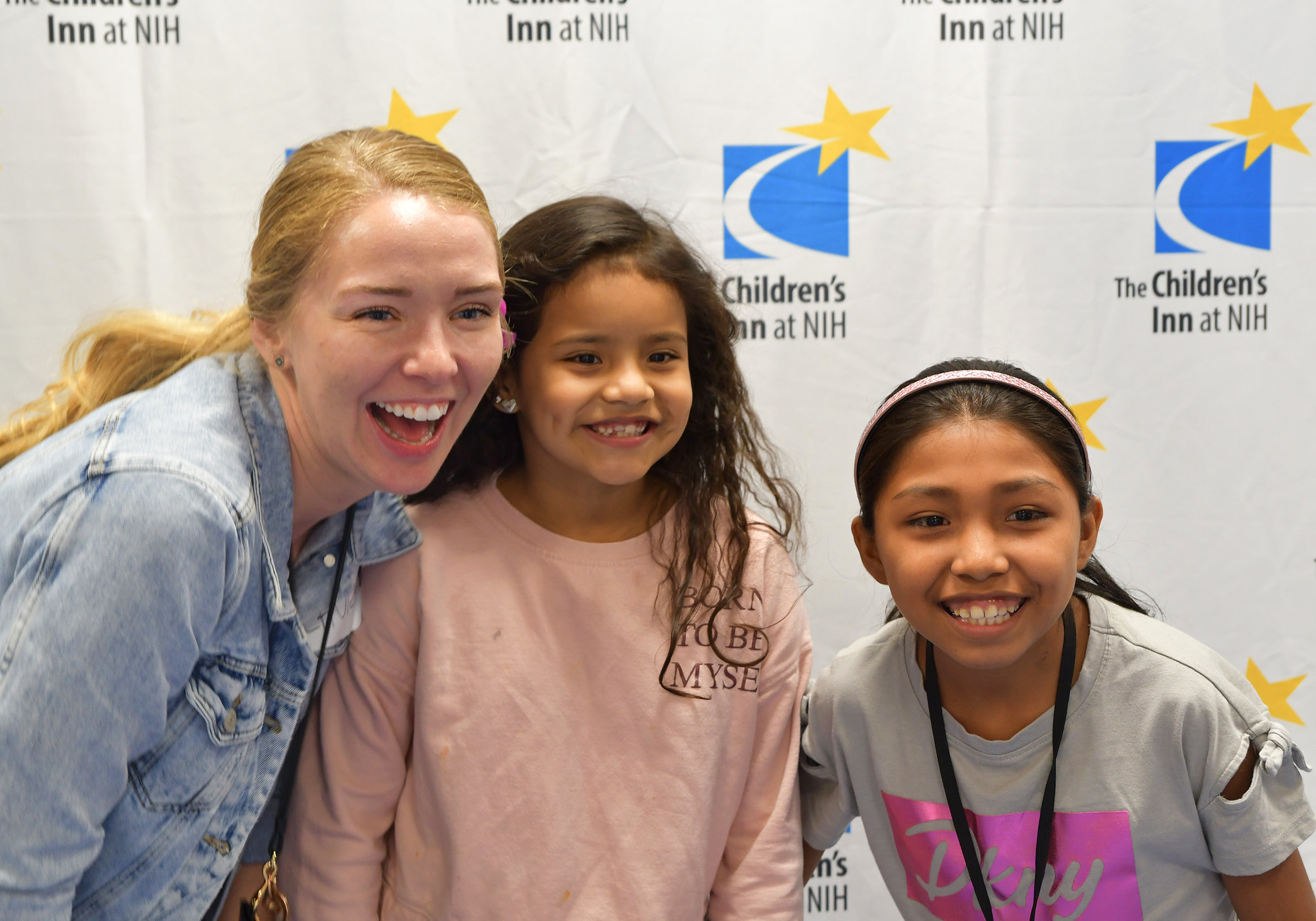 From left: Inn volunteer Laura Chopp and fellow Inn residents Thais and Melva.
After her infection cleared, Melva and her dad finally returned home but traveled regularly to The Inn for checkups at the NIH Clinical Center.
In 2019, Melva's NIAID medical team discovered that her infection had returned. They determined Melva needed a new immune system through an experimental bone marrow transplant.
A few months ago, Carlos finally was able to give his daughter the ultimate gift: his bone marrow – the best chance for Melva to live a healthful life and for their family to finally become reunited.

This Father's Day, Carlos is once again celebrating with his family over the phone, thousands of miles apart. But this year, he has hope – hope that next year, they will all be together again. For good.
Carlos and Melva recently enjoyed an outdoor movie night and picnic on The Inn's playground.
Thanks to you, Melva, 10, and Carlos have found a second home at The Children's Inn, where they have stayed eight times so far and where they have spent the past 12 months. At The Inn, Melva has been learning English and is catching up on some of the years of schoolwork she has missed. In addition to becoming healthy and returning home, her greatest wish is to learn to read and write fluently. Thanks to your support and the help of a caring volunteer tutor, Melva is making progress on all of her goals.
Happy Father's Day to Carlos, you and all the wonderful dads at The Inn and in your life!
Your donation makes it possible for dads like Carlos to give the gift of hope for a brighter future to children like Melva by providing free lodging, meals, activities and caring support to families whose children's best chance is a clinical research study at the NIH. Give more fathers like Carlos and children like Melva "a place like home" by making a gift of any size today.
Stay Up To Date
on how The Children's Inn is creating 'A Place Like Home'