The Inn's Therapy Dog Retires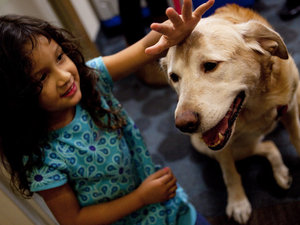 Viola Mars, The Inn's therapy dog is retiring at the end of October. Vi, as she is affectionately called, has delivered many smiles, kisses, and comfort to Children's Inn residents for the past six years. Now 11 years old, she is slowing down and will be transitioning to a new laid back beach lifestyle with friends of The Inn.
There are many studies that show benefits from having a pet, but no one watching Vi has needed a study to confirm that. Even children who have never been around dogs dissolve into squeals and giggles when Vi greets them with her smile or flops on her back, begging for a belly rub.
"Vi has worked hard, brought a lot of joy and happiness to many and deserves an opportunity to relax and not be in a working role," says Kathy. "While this has been a hard decision, we make it based on what we think is really in Vi's best interest from a health and wellness perspective."
Vi came to The Inn in 2008, though Mars Inc., a company best known for its candy, but also has a presence in the pet care market. A connection at Mars Inc. arranged with a Seeing Eye organization in New Jersey, where Vi had been working as a service animal for two different families and was in need of a less-demanding role. In addition to helping The Inn find a perfect dog for the job, Mars Inc. has also paid for her veterinary care, dog food and treats.
"Vi has been an incredibly patient and kind dog who provided unconditional love to children who are dealing with intense medical treatments," says Jennie Lucca, The Inn's Chief Program & Services Officer. "We know that Vi will be missed by The Inn's residents, staff and volunteers."
Vi leaves big paws to fill. A group of staff members called the "BARK" committee is in the process of evaluating the prospects of a new therapy animal at The Inn–stay tuned.
Stay Up To Date
on how The Children's Inn is creating 'A Place Like Home'