Teen Sells Lollipops to Raise Money for The Children's Inn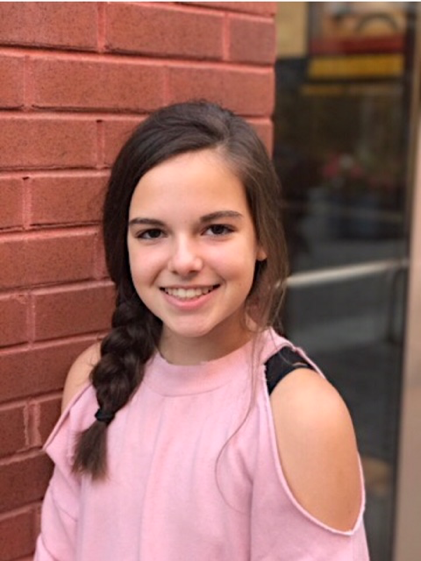 Samantha Cohen is a teen ambassador who raised over $500.00 for The Children's Inn.
Samantha Cohen, a seventh grader at Tilden Middle School in Rockville, MD, and a member of The Children's Inn Teen Ambassadors program, recently raised $525 for The Inn by selling old-fashioned gourmet lollipops.
She raised funds at Luxmanor Elementary's school picnic and by going door to door in her neighborhood. Her family recently volunteered at The Inn's holiday gift shop, organizing gifts for kids to pick out for their family members. They have been dedicated volunteers at The Inn for several years.
Samantha said that she "has been involved at The Inn since [she] was young through [her] parents, and from an early age was instilled with a love of helping others and giving back." She noted that The Inn "does important work in helping families, which is a huge motivator for [her]."
She had the idea to sell candy to benefit her favorite charity while on vacation in Las Vegas this summer. Stopping at See's Candies, an advertisement that encouraged fundraising using the store's candies caught her eye. It was the perfect idea for a fundraiser, her first "solo fundraiser," organized entirely on her own.
Samantha brought back 500 lollipops and started selling them going door to door in her neighborhood. She also sold a good number of lollipops at an elementary school picnic.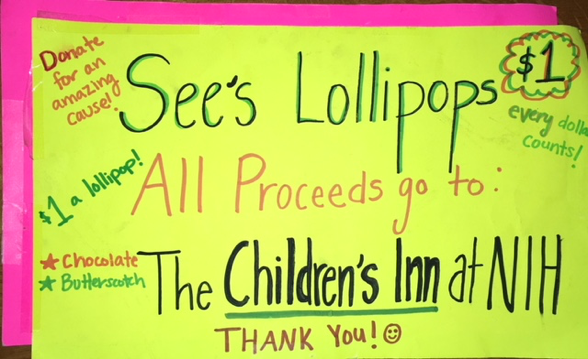 Lollipop poster to raise money for The Children's Inn
Even though her dad offered to help with her fundraiser, Samantha was adamant about completing the fundraiser on her own.
She discussed how she "remained optimistic, trying not to let people who were uninterested discourage [her]." She considers serving as a Teen Ambassador a "great opportunity," and notes how in fundraising one must be "very hard working" and have a "drive to succeed."
Meghan Arbegast, community engagement & volunteer program specialist at The Inn, said she was impressed with Samantha's initiative.
"Middle and high schoolers are so busy with their studies and extracurricular activities, yet teens like Samantha are still dedicating time to help others and learn about nonprofit fundraising," Arbegast said. "She exemplifies the passion and skills we try to instill in young people through our Teen Ambassadors program."
The Teen Ambassador program unites passionate middle and high school students ages 12 to 19 to support the mission of The Children's Inn through engagement in philanthropic efforts such as volunteering, fundraising and special activities. Teen Ambassadors represent The Inn as "official ambassadors," and are required to organize an individual fundraiser or collection drive in support of The Inn as well as complete at least one off-site service project. Members of the program also help raise visibility and awareness of The Inn within their community and at school.
Stay Up To Date
on how The Children's Inn is creating 'A Place Like Home'