Sydney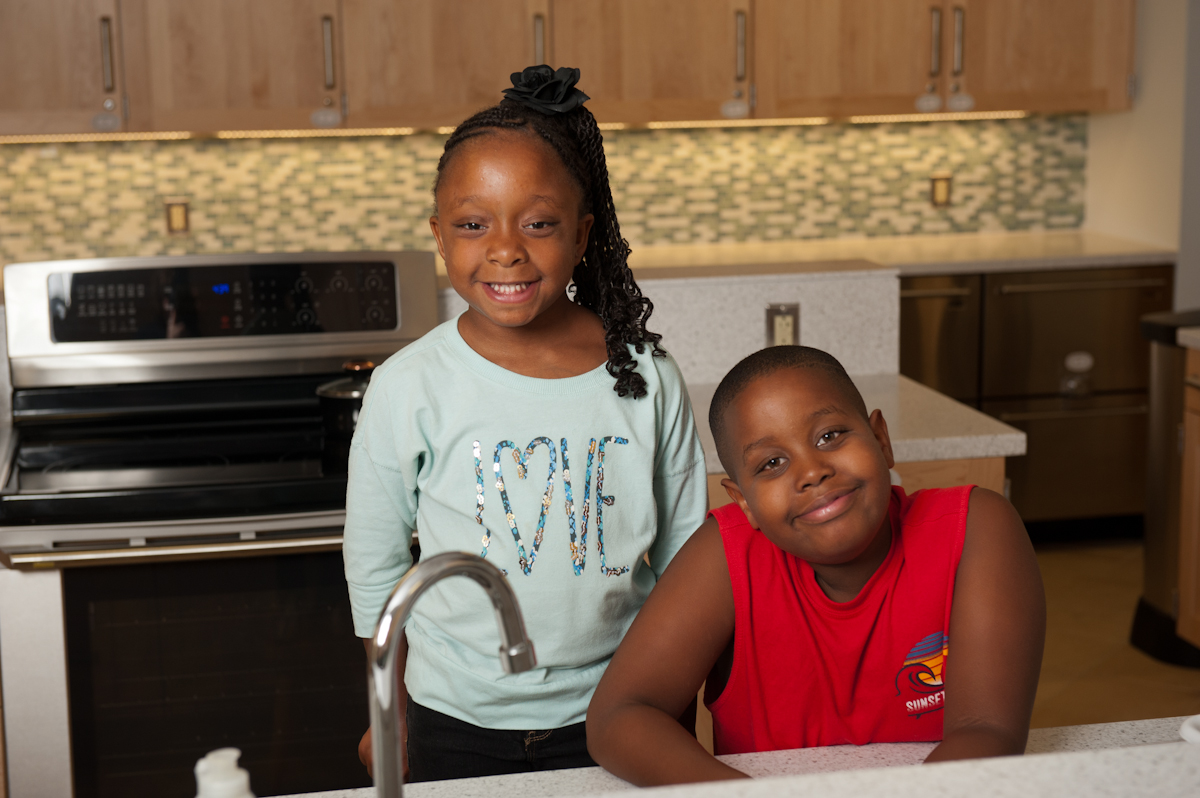 Sydney, six, can't help giggling while preparing the perfect peanut butter and jelly sandwich in one of the two newly remodeled kitchens at The Children's Inn at NIH. For this pint-sized chef, PB&J is child's play when it comes to the kitchen. Perched on top of a stool in order to reach the counter, this vivacious and animated young girl happily recounts her favorite foods to prepare with her big brother, Ethan, eight. At their home in Bronx, NY, Sydney and Ethan enjoy helping in the daily preparation of their family's meals. For the family, which also includes mom, Nicole, and dad, Sekou, spending time in the kitchen is a way to relax, unwind, and enjoy time together after a long day.
The last six years have held many long days for Sydney's family. Nicole and Sekou knew something was wrong with their new baby immediately after her birth. She was unable to breathe on her own and required assistance to eat. Over the next three years, Sydney faced many trips to the hospital due to chronic high fevers and bouts of pneumonia. Unable to establish a diagnosis and an effective treatment plan, Sydney's pulmonologist referred her to a doctor at the National Institute of Allergy and Infectious Diseases (NIAID) at the National Institutes of Health. The Coore family made their first trip to the NIH in 2011 when Sydney was three. During this trip, Sydney was diagnosed with Hyperimmunoglobulin E Syndrome, also known as Job's Syndrome. Common symptoms of Job's Syndrome include bone and tooth defects, eczema, skin abscesses and infection, and repeated sinus and lung infections. Due to Sydney's weakened immune system, she developed a MRSA infection. Sydney spent the next two trips to the NIH in isolation at the Clinical Center so her doctors could treat the infection while also working to strengthen her fragile immune system with antibiotics, antifungal and antiviral medications. Due to these effective medical therapies, Sydney's health is greatly improved today.
From playing on the Playground, to participating in many of the programs and activities offered each day, this active family appreciates that The Inn allows them to be together in a relaxing, kid-friendly, and family-focused environment. Nicole and Sekou also enjoy the opportunity to create friendships with families from all over the world.
When Sydney is at home, she enjoys helping with household chores including cleaning, sweeping the floors, and of course, cooking. She also enjoys riding her bike around the neighborhood with Ethan, playing with her favorite dolls, and "anything girly," according to her parents. Sydney began a new challenge this year—first grade at a brand new school, which should be a fun experience for this social butterfly.
Stay Up To Date
on how The Children's Inn is creating 'A Place Like Home'