Sibling Day Celebrates "Super Sibs" – and "Super Cousins"
When a child is seriously ill, his or her siblings take on a special helper role, supporting their sick brothers or sisters in untold ways. Sibling Day, celebrated every year by the NIH and The Children's Inn, highlights the contributions of healthy siblings – and cousins – and allows them to gain a greater understanding of the medical procedures their ill siblings undergo at the NIH Clinical Center.
After icebreaker games at The Children's Inn, a group of seven siblings and cousins of sick children made their way up the hill to the NIH Clinical Center, located across the street from The Inn. Visiting several areas of the world's largest hospital devoted entirely to research, super sibs and super cousins delved into the world of medical research their sick siblings participate in to help find groundbreaking treatments that benefit children today and generations to come.
A visit to the Clinical Center's virtual reality lab was a highlight for many of the siblings and cousins. The lab, set up for medical purposes, looks like a gamer's dream. To the children's delight, staff brought the world below the sea to virtual life. Sibling Day participants enjoyed testing the virtual reality headsets and walking across the simulated ocean floor.
Super sibs also had the chance to learn what it's like to have an MRI done by using a model MRI machine. Each of the siblings and cousins volunteered to enter the noisy white pipe – a procedure many of their sick siblings go through during their visits to NIH.
For Dania, 7, from Mexico, the best part about Sibling Day was learning about phlebotomy and blood analysis in the hospital's laboratory medicine section. There, NIH staff had set up several stations for children to learn how blood is drawn, tested and analyzed under a microscope. One station used candy to demonstrate the different components that make up blood – red jelly beans signified red blood cells; marshmallows, white blood cells; and sprinkles, platelets.
"I learned how blood is taken from the arm," said Dania in Spanish, her native language. "Because they always do that to my little sister, and I was always wondering what they are doing."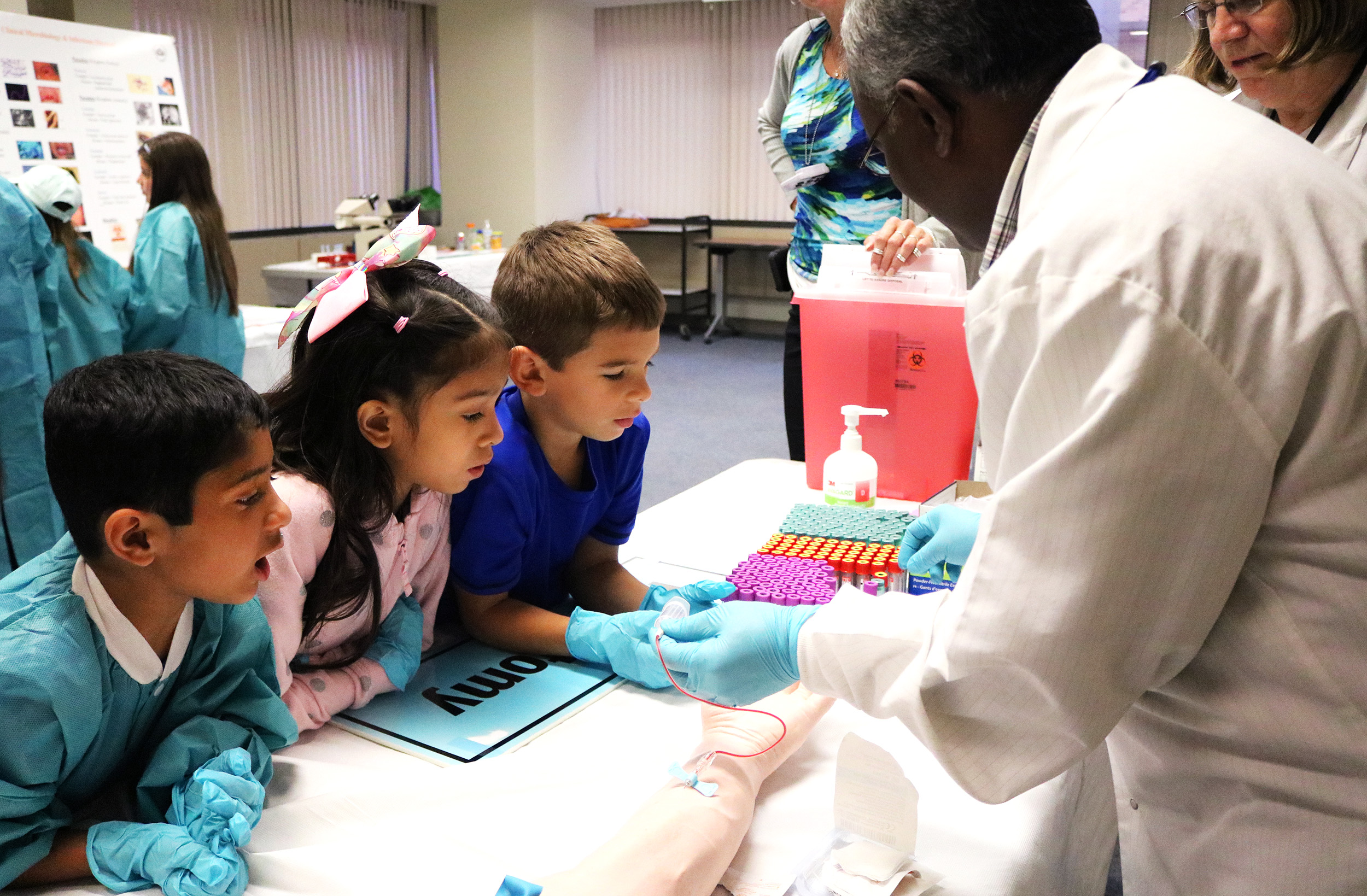 "Super Siblings" learn about phlebotomy
Zakaria, Dania, and Noah learn about phlebotomy
Last but not least, super sibs enjoyed a presentation about how broken bones heal, how lungs function and more.
For lunch, Sibling Day participants headed back to The Inn and concluded the day with super sib art activities and the creation of a "super sibs and super cousins" song that they presented to their families to close out Sibling Day 2018 on a high note.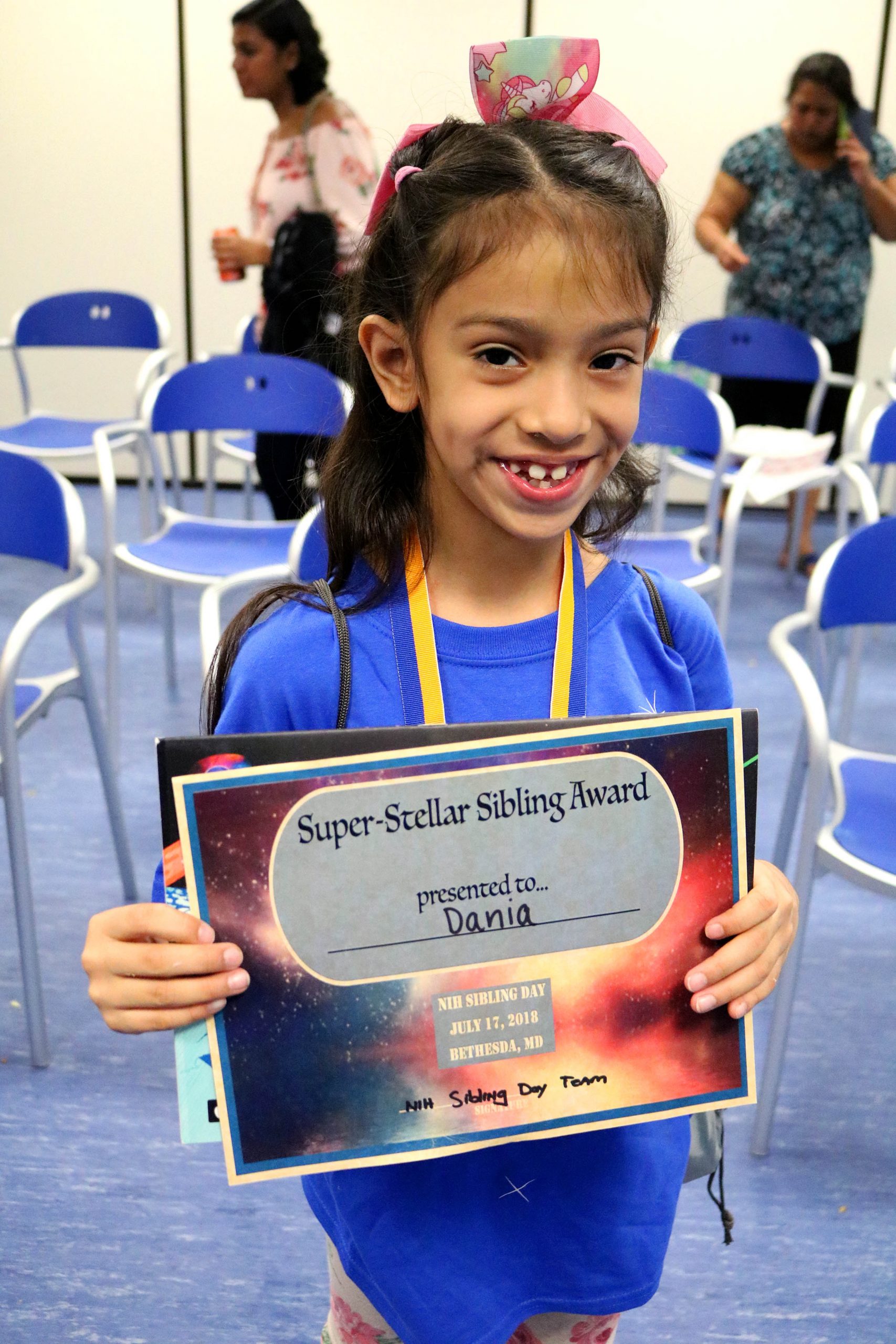 Sibling Day – Dania
All participants received backpacks and gear, and super sibs awards to help remind them of their special role as a super sib.
The annual Sibling Day is organized by Lori Wiener, head of the Pediatric Psychosocial Support and Research Program in the Pediatric Oncology Branch at the NIH. She also is a Children's Inn trustee and former board member.
See photos from the event here.
DONATE
Stay Up To Date
on how The Children's Inn is creating 'A Place Like Home'