Soccer for the Future is Fun for All Ages at The Inn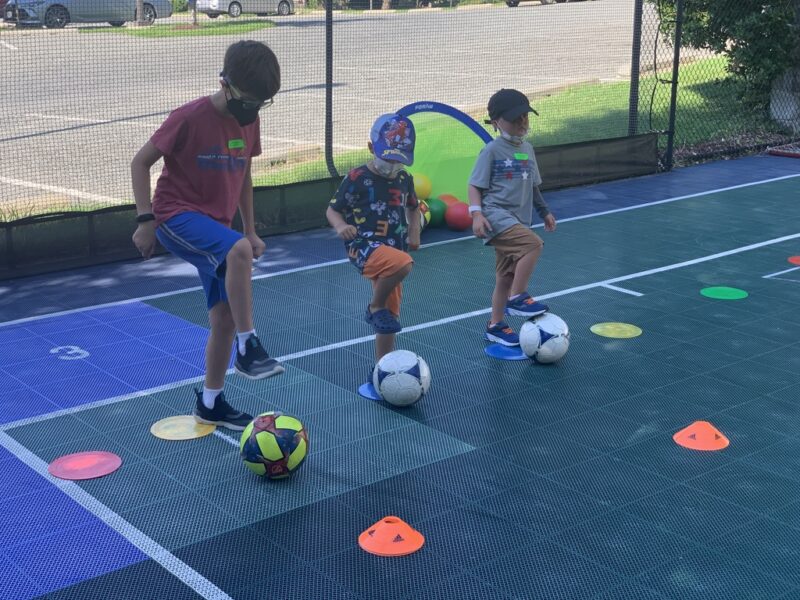 Over the summer, many volunteers have been able to return to The Inn for the first time since before the COVID-19 pandemic began. Back onsite, they have helped run a wide variety of activities and events for the children, teens, and young adults staying here. One of those volunteers is Hannah Penman, the founder and executive director of Soccer for the Future.
Hannah, a native of Olean, N.Y., is a two-time cancer survivor. After going through treatments for a melanoma that obstructed her airways at ages 11 and 12, she completed middle school, high school, and college at the University of Pittsburgh at Bradford. She played soccer throughout that time and dreamed of working for a professional soccer club.
Only a week after graduation from UPB, her doctors found a cancerous lymph node. Surgeries removed all the lymph nodes on her right arm, and Hannah luckily recovered quickly and completely. Afterward, she made up her mind to do something to help other children who found themselves in similar situations.
"Originally, [Soccer for the Future] was an idea that started with me wanting to do a soccer clinic for kids at the hospital where I received the bulk of my treatment, Roswell Park," Hannah explained. "After I got my health sorted, I was able to get an internship with D.C. United and moved down here. I wanted to go home to do one clinic, but after doing one I realized how much fun it was, and thought it could be something. So, I started working on it."
Hannah got Soccer for the Future licensed as an official nonprofit in 2017. Since then, her goal has been to serve as many children as possible, particularly in her home region around Buffalo, N.Y. and in the Washington, D.C. area.
At D.C. United, Hannah met and befriended Meghan Smith, the current Volunteer Engagement Manager at The Children's Inn. Also a former collegiate soccer player, Smith encouraged Hannah to bring her program to The Inn when volunteers were allowed back on campus. This spring, that opportunity arrived.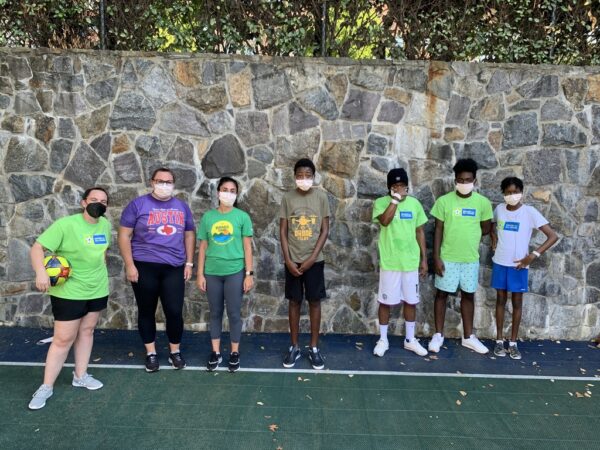 Hannah (far left), members of the Inn Programming Team, and participants in Soccer for the Future
Since then, Hannah has had a weekly presence at The Inn, running soccer clinics for any interested participants each Tuesday afternoon. That routine is important, she believes, and she strives to make the program accessible to anyone who might be looking for some activity in the fresh air.
"The idea I have for this program is that it can be something that a kid can come out and play if they're only here for a week, and we make it a welcoming space," Hannah said. "But also, the kids staying for a very long time can have some consistency and activity they can count on. Tuesdays are soccer days; they can put it on their schedule. I know how much of a positive that can be."
The response at The Inn has been encouraging, and Hannah is seeing participants build their calendars around it as she had hoped. She develops diverse programs for younger and older participants, so each of the children, teens, and young adults staying at The Inn can get a rewarding experience during her weekly visits.
"Soccer for the Future has been an amazing program for people of all ages, including some of our caregivers," Inn Family Programs Operations Manager Emily Johnson said. "Hannah's program provides a fun and inclusive environment for anyone to get active!"
Hannah hopes to build Soccer for the Future further and bring staff on board to help her expand operations beyond her capacities. For now, though, she has found a way to give back while fulfilling her dreams and sharing her passion for soccer with children facing some of the same challenges she faced along the way.
Stay Up To Date
on how The Children's Inn is creating 'A Place Like Home'