Only Make Believe Brings Smiles to Sick Children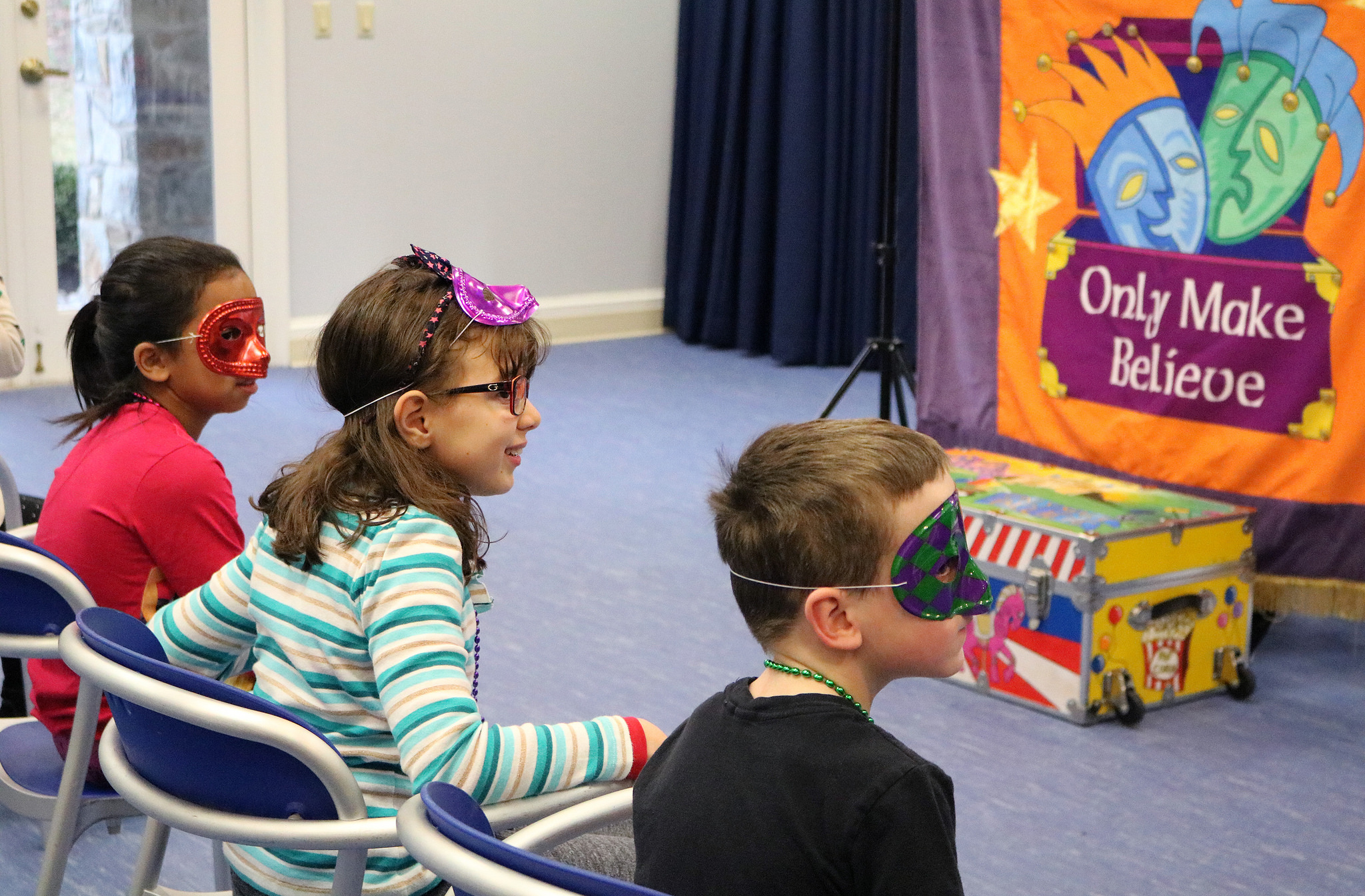 During her last appointment of the day at the NIH Clinical Center, 8-year-old Children's Inn resident Olivia looks anxiously at her mom. "Will we get back in time?" she asks. While the young girl's Mom has spent the day trying to focus on communicating with medical staff and keeping her daughter comfortable throughout back to back appointments, X-rays and blood work, Olivia has had only one thing on her mind. She is waiting for the moment when she can head back across the street to The Inn and catch the 4:30 show of Only Make Believe.
A New York-based nonprofit that brings live theatre to children in hospitals and care facilities, Only Make Believe began performing for Inn residents in 2012. For six consecutive weeks, three times a year, a team of professional actors arrives at The Inn equipped with a backdrop curtain and a trunk full of costumes and props. From a distance, the setup looks basic. The talent, however, is anything but. For the next 60 minutes, the small team of performers transforms the environment and manages to keep all members of the audience on the edges of their seats.
A longtime hospital volunteer with a compassion for ill children and a love of theatre, Dena Hammerstein founded the organization in 1999 in honor of her late husband, James. James was the son of Broadway composer and producer Oscar Hammerstein. The group began with performances at one New York hospital. Fifteen years later, the organization now performs in more than 50 hospitals and care facilities in New York City and Washington, DC.
Only Make Believe staff not only conquer the ability to be imaginative and entertaining, they understand and adapt to their audience. "They just get it", says Inn Education Program Coordinator Ronny Kempenich. "Whether it's a family new to our environment that doesn't speak any English or a child too excited to sit down when prompted, they read their audience and somehow make it all work." Ronny is amazed by the group's ability to engage all types of kids. A seemingly withdrawn child may appear reluctant at the start of the show. Perhaps the young audience member is naturally shy, or self-conscious over a physical abnormality. It's no surprise, says Ronny, that by the end of the performance, that child is on their feet, laughing and performing alongside the Only Make Believe team. "You can sense a relief among the parents", says Ronny. "They manage to put behind them an often challenging medical day and finally see their kids be kids. And for the children, it's the best kind of therapy. This is what The Children's Inn is all about."
To learn more about the organization, visit www.onlymakebelieve.org. To see more photos from their performances at The Inn, click here.
Stay Up To Date
on how The Children's Inn is creating 'A Place Like Home'