Welcoming Zilly, The Inn's New Therapy Dog!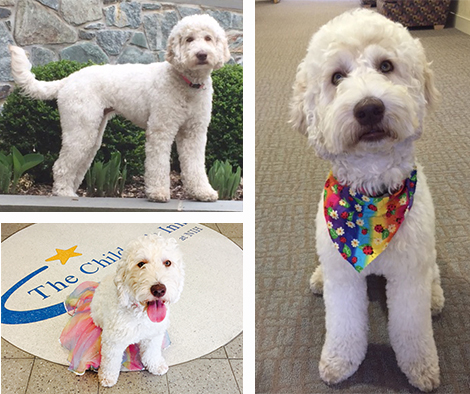 Follow @zilly_the_therapy_dog on Instagram!
Many studies prove that having a furry companion can lead to several positive emotional and physical benefits. "Not only are therapy dogs known to decrease stress and improve one's mood, but some of our families may be missing the pets they have at home, so having a dog here gives them a sense of that same comfort," says Jennie Lucca, The Inn's CEO.
The Inn formed a 'BARK Committee' to make this very important decision. We're excited to announce that an adorable one-year-old Labradoodle arrived at The Inn in mid-January and, after a successful trial period, we've determined she is the perfect fit!
Zilly is a Multi-generational Australian Labradoodle, which are known to be hypoallergenic, friendly, energetic, and good with families and children.
The Inn's therapy dog program is made possible by the support of Tom and Mimi Nordlinger and the Gwyn and Nancy Ackland Memorial Fund at the Montgomery County Community Foundation through trustees Steve and Louisa Hollman.
Thanks also to Al Marx, the owner of Obedience Works, LLC,who has generously volunteered his time to help train our new therapy dog. Also to A Better Pet LLC for Zilly's training foundation and placement guidance at The Inn.
Stay Up To Date
on how The Children's Inn is creating 'A Place Like Home'