Charlie Finds His Happy Place at The Inn
Suffering from Proteus Syndrome, Charlie has "A Place Like Home" at The Children's Inn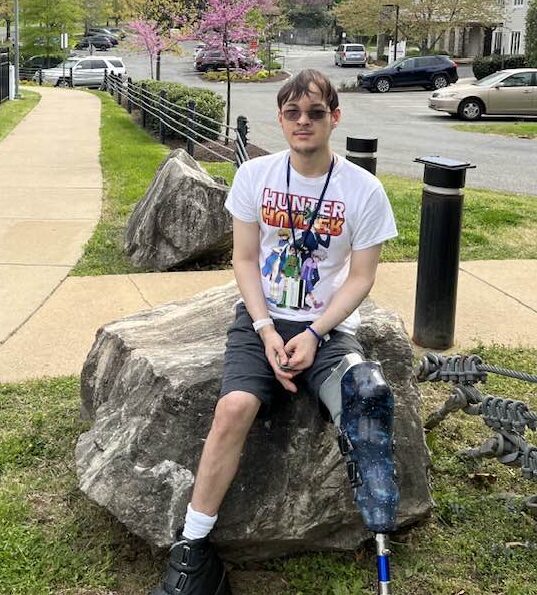 Charlie outside of The Children's Inn on a recent visit
The Children's Inn at NIH prides itself on its reputation as "A Place Like Home." The Inn provides a comfortable living environment for the families who come to NIH hoping for a cure and a convenient location steps from the NIH Clinical Center. But it is more than that for many of the children, teens, and young adults who stay there.
One person who feels that way is Charlie. Now a 21-year-old from Vernon, CT, Charlie has lived his whole life with Proteus Syndrome, a progressive disease characterized by excessive and often asymmetric growth on a part or portion of the body. For Charlie and his mother, Angie, who first visited The Inn in 2005 when Charlie was three, staying at The Inn has been less about the physical space and amenities and more about the warm, welcoming community they found on each visit.
"I remember coming here a long time ago," Charlie smiled. "It's always been a great place. I love coming here every single time. There have definitely been a lot of changes throughout the years, but it's always had the same vibe. Everyone has been nice to us. I've always loved it here."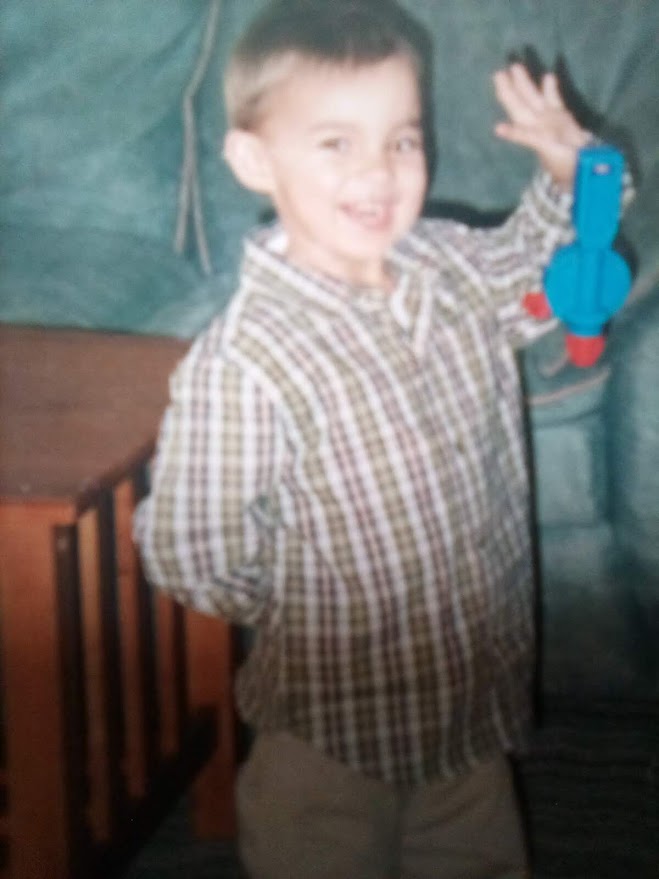 Charlie at the age of three when he first started coming to The Inn
Charlie's mother, Angie, first noticed something was amiss when bathing her three-month-old son. "I noticed a patch of skin on his leg," she recalled. "So I took him to a dermatologist." The dermatologist could not give a confident diagnosis, so she sought a second opinion. After a referral to Hartford Children's Hospital did not lead to a definitive diagnosis, Angie was told to contact the National Institutes of Health. By age three, Charlie had been accepted into a study at the National Human Genome Research Institute (NHGRI), which brought them to The Children's Inn.
Proteus syndrome is, as Angie explained, an overgrowth syndrome. In the early years, Charlie would visit NIH every six months, then every year. On his visits, his doctors reacted to changes they observed. Charlie underwent "more surgeries than I could remember" on growth plates in his fingers, ankles, and feet to prevent the overgrowth and the pain that could accompany it.
Charlie developed a passion for writing and other creative outlets as he grew up and progressed through school. "I'm a very creative person," he said in his quiet but friendly and engaging voice. "I love creating all sorts of stuff. Drawing, art, and things like that." He explained that he writes for himself to polish his skills for bigger projects in the future.
School was never a comforting environment for this thoughtful young man with a painful – and painfully obvious – medical condition. "I knew I wasn't a normal person with my syndrome," Charlie said. "When I went to school, people would treat me differently because of how I looked."
The Inn, though, was a refuge for Charlie and Angie. It was a place where Charlie could be a kid and have fun without fear of judgment or bullying.
"I've had so much fun here with all the stuff they've done," Charlie laughed. "Our favorite was always the Bingo. I still have memories from when I was a little kid of all the fun [activities]. We went on little field trips around Maryland, and it was always really fun. I know the staff here are always very kind to me and have something for me to do. They talk and socialize with me. I love this place."
Proteus Syndrome affects less than one person for every million in the world. Angie laughed as she described doctors at home treating her like the medical expert because of their lack of experience with the condition. The fact that he would meet other people like him at The Inn was another part of what made it such a special place for Charlie. "It's cool to meet someone who has what I have," he explained. "We can relate to each other and our experiences."
Charlie with his mother Angie
In 2018, Charlie elected to have his lower left leg amputated. His left foot was particularly enlarged and was getting infected constantly. The pain was unbearable. He had to drop out of school in the 11th grade to deal with the issue leading up to the amputation, but he has no regrets now, five years later.
"It was the best decision I've ever made," he said confidently. "I'm very grateful for it."
That surgery was performed back home in Connecticut during a prolonged period without a visit to The Inn or NIH. But in the spring of 2022, Charlie began having trouble breathing and experienced terrible chest pain. A trip to the emergency room revealed lungs full of cysts, and a consultation with his team at NIH led Charlie and his mother back to Bethesda for the first time in seven years.
Then 20, Charlie had a decision to make. He could continue going to The Children's Inn or, at his age, also could elect to stay at the Edmond J. Safra Family Lodge or an off-campus hotel, places more geared for adults. For Charlie, the choice was simple.
"I chose The Children's Inn because it's what we know, and the people here know me," he said. "I love this place. It's what I know. It's what my mom knows. It's very convenient for us, so I wanted to keep coming here."
Since his return in April of last year, Charlie has been on a new experimental drug, miransertib. Initially a cancer drug, it has been repurposed for use on Proteus Syndrome patients, and Charlie is pleased with the early results.
"I come every month now, and they check how things have changed with me. In the past year, I definitely think my syndrome has had some changes to it. I've noticed some positive benefits to how I feel on a regular basis and what I'm able to do."
The Children's Inn has been there for Charlie since he was a toddler. For his part, his appreciation of The Inn and the people he's met here runs deep.
"Without the NIH and The Children's Inn, I might not even be here right now," he said. "This place has saved my life."
Stay Up To Date
on how The Children's Inn is creating 'A Place Like Home'