Alison Gets Back in the Classroom and on the Soccer Field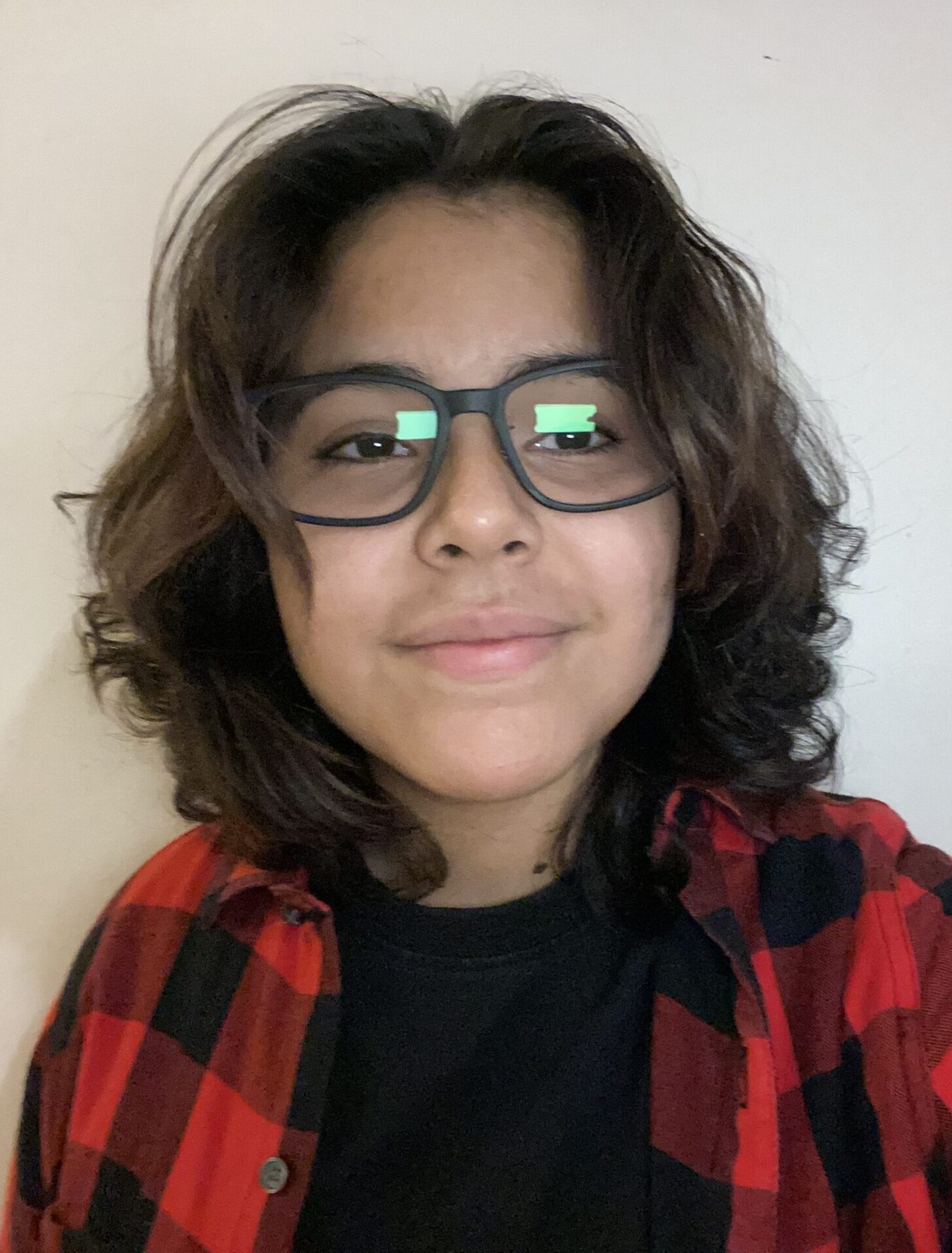 As a teenager, Alison faced down a pair of potentially-fatal diseases during two lengthy stays at The Children's Inn. Just as the El Salvadorean was preparing to return home the second time, the COVID-19 pandemic struck and Alison's visit was extended. She remained in the care of The Inn for six additional months. Now 22, Alison is building a new life for herself in El Salvador, a life she knows is thanks to the support she got at The Children's Inn.
Back in early 2016, Alison got an infection on her lip thanks to a scrape from her braces. Her father brought her to the emergency room, where she underwent some standard lab work and was sent on her way with topical cream.
But the lab work was alarming, and less than half an hour after they arrived home, her father got a phone call summoning them back to the hospital. A painful bone marrow biopsy revealed Alison had severe aplastic anemia, or bone marrow failure, a potentially fatal blood disorder.
Alison would spend the next six months in the hospital, getting blood transfusions to keep her alive but unable to receive the long-term treatment she would need because the serum treatment and bone marrow transplant she would require was not available in El Salvador.
"I didn't believe I'd leave the hospital alive," she remembered.
After extensive research, Alison's family reached out to the NIH and discovered that they had a trial that would work perfectly. Only days later, she arrived at The Children's Inn at NIH to join a clinical trial conducted by the National Heart, Lung and Blood Institute. After many months of trying medications, Alison's bone marrow finally began producing blood again.
A year-and-a-half after arriving at The Inn, Alison returned home. She returned for regular checkups at the NIH Clinical Center, though, and in 2019, one of those checkups showed that her blood counts had plummeted again. This time, she was diagnosed with an aggressive form of leukemia caused by her underlying blood disorder.
Fortunately, a bone marrow donor had been found, and she underwent the grueling bone marrow transplant in the hopes of a cure.
Six months after her transplant, having been so weak that she had to relearn to walk and eat, she was ready to go home. But just as she was ready to depart, the COVID-19 pandemic struck and kept her from being able to leave the NIH campus.
Unable to leave campus, Alison asked The Inn team if there was a tent she could borrow. One was quickly procured, and she set up camp on the playground. She used the tent as a personal space to read, journal, reflect, listen to music, watch the stars, and observe the NIH campus deer herd from up close.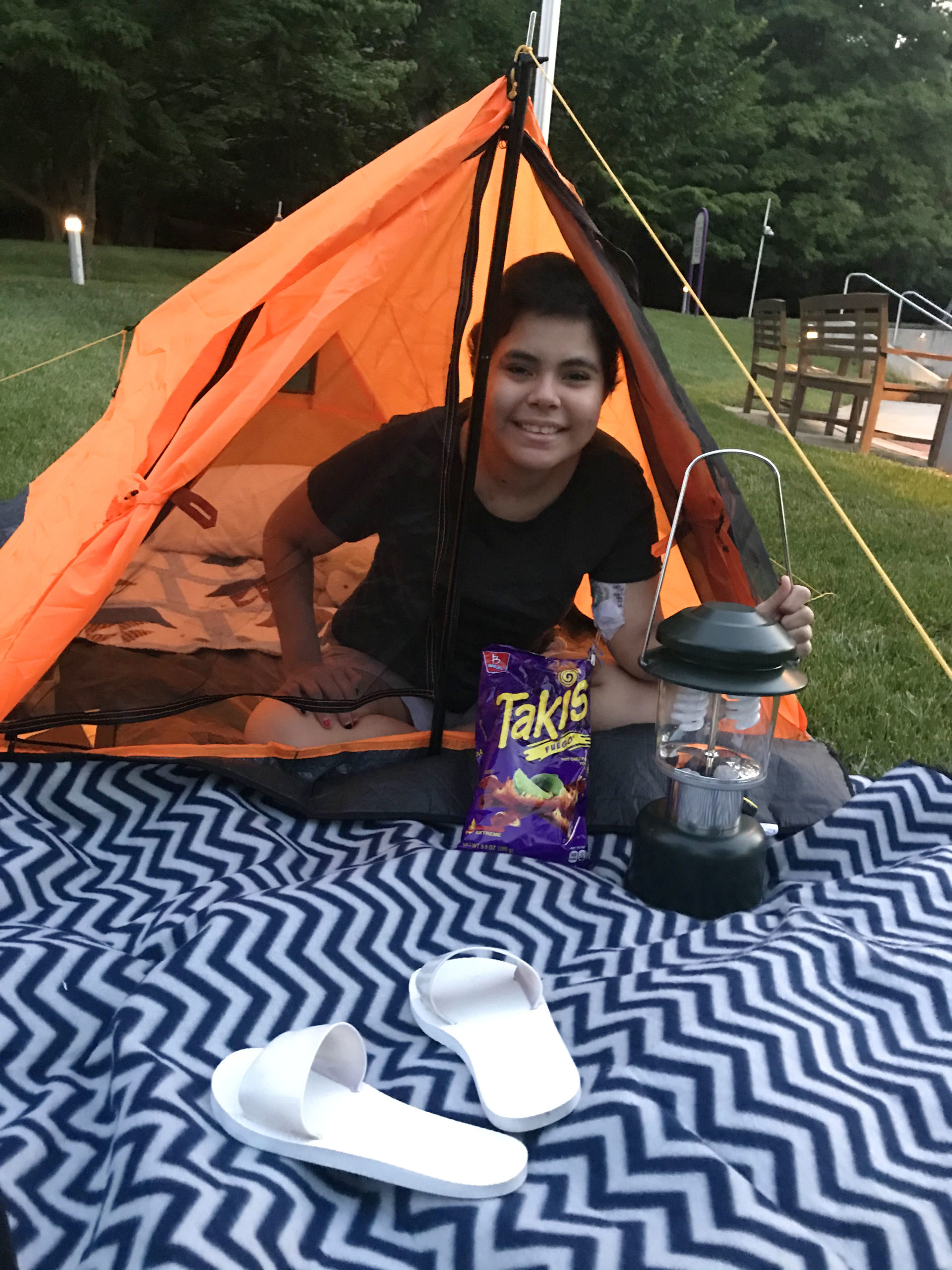 Alison in her tent on the playground at The Inn during the early days of the COVID-19 pandemic.
Though it extended her time away from home, COVID-19 was just another obstacle to overcome on Alison's journey to wellness. "I remember talking to one of the managers at The Inn and we were talking about having to wear masks," she recalled. "I felt like it was normal for me. I've been doing it since I was 15 years old. Not being able to see many friends or family was how I spent the first years of this journey anyway. It was a bit challenging, but I got used to it."
Back in El Salvador, Alison lives with her family and her dog, Apolo. "He's the first dog I've ever had," she said. "I'm learning things; for example, don't give them chicken when they're puppies. I love my dog."
She still takes comfort in nature, though that is more likely to take the form of long walks than camping. But she will sometimes sleep in the backyard, and looks back on a pair of hikes through the forest as a milestone in her recuperation.
"I like to go to forests just walking, just long walks with people," she said. "I've done it twice and it was a pretty big deal to me. We did six kilometers and we had to walk uphill."
A soccer player before her initial diagnosis, Alison has also begun regaining some of the strength that abandoned her during her toughest days. Gradually over the course of the last year, she has spent more and more time in the gym. Now, Alison has her sights set on a lofty goal to further reclaim the path she was on before her illnesses.
"I'm trying to join the soccer team at my university," she smiled. On her most recent visit to The Inn, Alison took part in a field trip to the Germantown SoccerPlex, where she was excited by what she was capable of when she got some expert coaching attention. "I played really well compared to when I was playing on the playground last time I was here."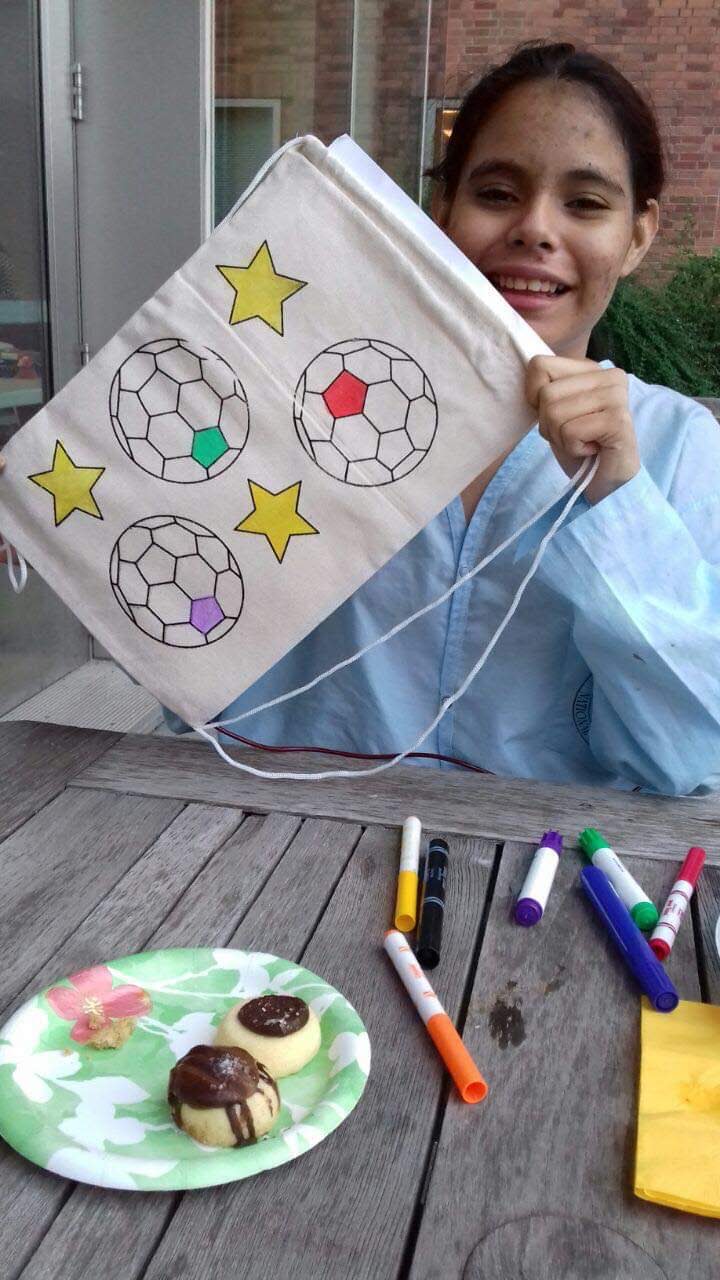 The soccer-loving Alison during an early visit to The Inn
But that is not all. A law student in her first year of a five-year program, Alison also hopes to be able to teach some subjects, essentially serving as a teacher's assistant. She is excited about the program and hopes to follow in her father's footsteps.
"My father is a lawyer," she explained, describing her father's experience with contract law. "I still don't know what type of lawyer I want to be, but I do like constitutional law. So maybe a judge."
Indeed, Alison is doing well. Her visit in February was her first since being at The Inn for the early days of the pandemic. She expects to return annually for check-ups, but is excited not only to show off her own growing confidence and abilities but to see what is new at The Inn.
"I missed everyone there," she said of her hiatus between visits to The Inn. "From friends to the people that work at The Children's Inn, I missed them so much. I wanted to tell them to keep their hopes up. Just look at me now. My hair is [grown back]. I'm so much better, and it's all thanks to the people at The Inn. You helped me in ways that I couldn't even put into words. Just thank you for that. You're always going to be in my heart."
Stay Up To Date
on how The Children's Inn is creating 'A Place Like Home'