Learn about NIH and The Inn on Discovery Channel
Winters have been the hardest on Lucy.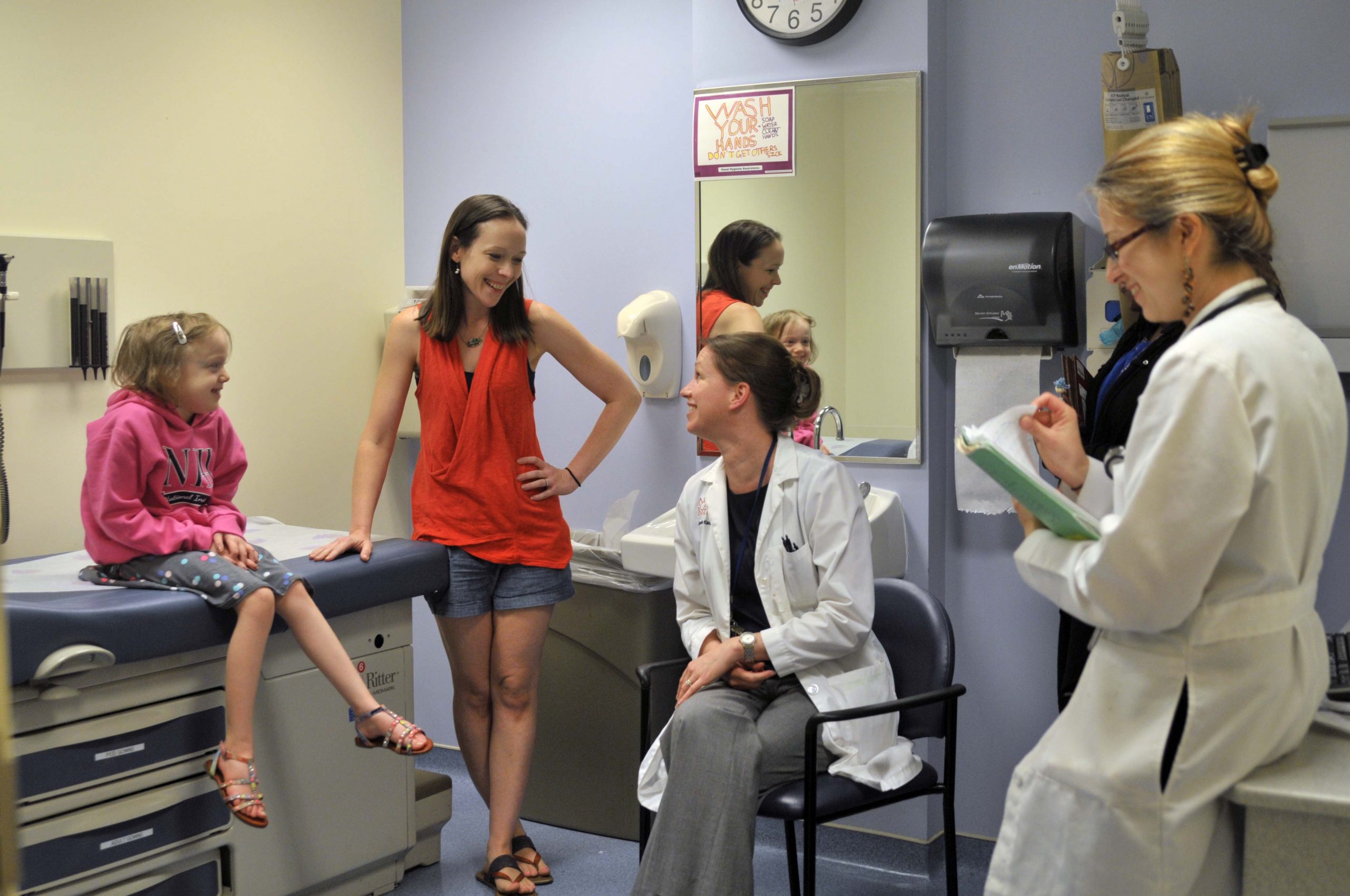 Doctor speaking to a group of three kids at NIH including patient Lucy
Born with an incomplete immune system, the little girl has had to be hospitalized for serious respiratory infections multiple times. Twice, she spent weeks on a ventilator in a medically induced coma to give her body a better chance of fighting life-threatening bouts with pneumonia. The unpredictability of Lucy's frequent illnesses and the stress that comes with caring for a seriously ill child also deeply affected her parents and 6-year-old brother.
Diagnosed at age 3 with Job's syndrome, a highly rare genetically based immune deficiency, Lucy was referred to the National Institute of Allergy and Infectious Diseases at the National Institutes of Health – a last resort for many patients like her who have rare disorders or critical illnesses that cannot be successfully treated in the community and who look to clinical trials in the hope of finding a new treatment or cure. Since becoming an NIH patient, Lucy, now 9, and her family, who live in Midlothian, Virginia, have stayed at The Children's Inn 28 times for periods of days, weeks and even months at a time.
"Patients with Job's syndrome often can do well enough with good medical care to prevent and treat infections and skin issues," says Dr. Jennifer Kanakry, a staff clinician in the Experimental Transplantation and Immunology Branch of the National Cancer Institute's Center for Cancer Research, one of the NIH doctors who has been overseeing Lucy's treatment as part of a clinical trial. "However, some patients – like Lucy – have life threatening infections due to Job's syndrome, and for them, medication alone isn't enough."
Lucy's story of seeking help at the nation's premier biomedical research hospital by participating in a clinical trial is one of four patient stories featured in Discovery Channel's three-part "First in Human" documentary series, scheduled to premiere Thursday, August 10. Filmed over many months by a team of filmmakers embedded at the NIH Clinical Center, the series explores the lives of the doctors, researchers and patients as they make progress possible together, providing an unprecedented behind-the-scenes look at the groundbreaking work of the NIH. Following Lucy's treatment at the Clinical Center and her daily life as an NIH patient, the film team also spent countless hours filming Lucy at The Children's Inn.
"We're very excited about this series, which provides a unique look at the amazing work of the NIH," said Jennie Lucca, CEO of The Children's Inn. "We are thrilled that Lucy, one of our Inn residents, is part of the series. That's especially gratifying for all of us at The Children's Inn who work hard every day as partners in hope and discovery with the NIH."
The series is narrated by Emmy®, Golden Globe®, and Critics Choice® winning actor Jim Parsons ("The Big Bang Theory," "Hidden Figures"), directed by Emmy winner John Hoffman, and executive produced by Hoffman and Emmy winner Dyllan McGee.
"First in Human" is set to air August 10, 27 and 24 at 9 p.m. ET/PT on Discovery Channel. Click here to learn more about the series and support The Children's Inn.
become a monthly donor
Stay Up To Date
on how The Children's Inn is creating 'A Place Like Home'