Leidos: More than 20 Years of Crucial Support
Leidos is always committed to stellar performance – whether as a government contractor, an employer, a responder to the COVID-19 crisis, or a Children's Inn supporter. It was therefore no surprise when Leidos agreed to maintain its sponsorship of The Inn's 2020 An Evening for Hope gala when the pandemic impacted the annual star-studded event.
"Leidos is a fundamental pillar of support for The Children's Inn and has been for more than 20 years," says Jennie Lucca, CEO of The Children's Inn at NIH. "Their response to our gala cancellation was instantly supportive, as Leidos turned its platinum-level sponsorship pledge into a generous donation. It is just another example of their sincere caring for the children and families of The Inn, whose best hope is a clinical trial at the NIH. We truly could not do what we do without Leidos and the countless ways they support our organization and the children and families we serve."
A star in The Inn's donor hallway signifies the NIH contractor's long and substantial history of support, including more than one million dollars donated to The Inn over the years. What it does not capture are the immeasurable aspects of Leidos' in-kind support of Inn children and families, including the smiles produced by free scoops from the company's ice cream truck or the many hours of playtime on The Inn's playground, built in large part by Leidos volunteers.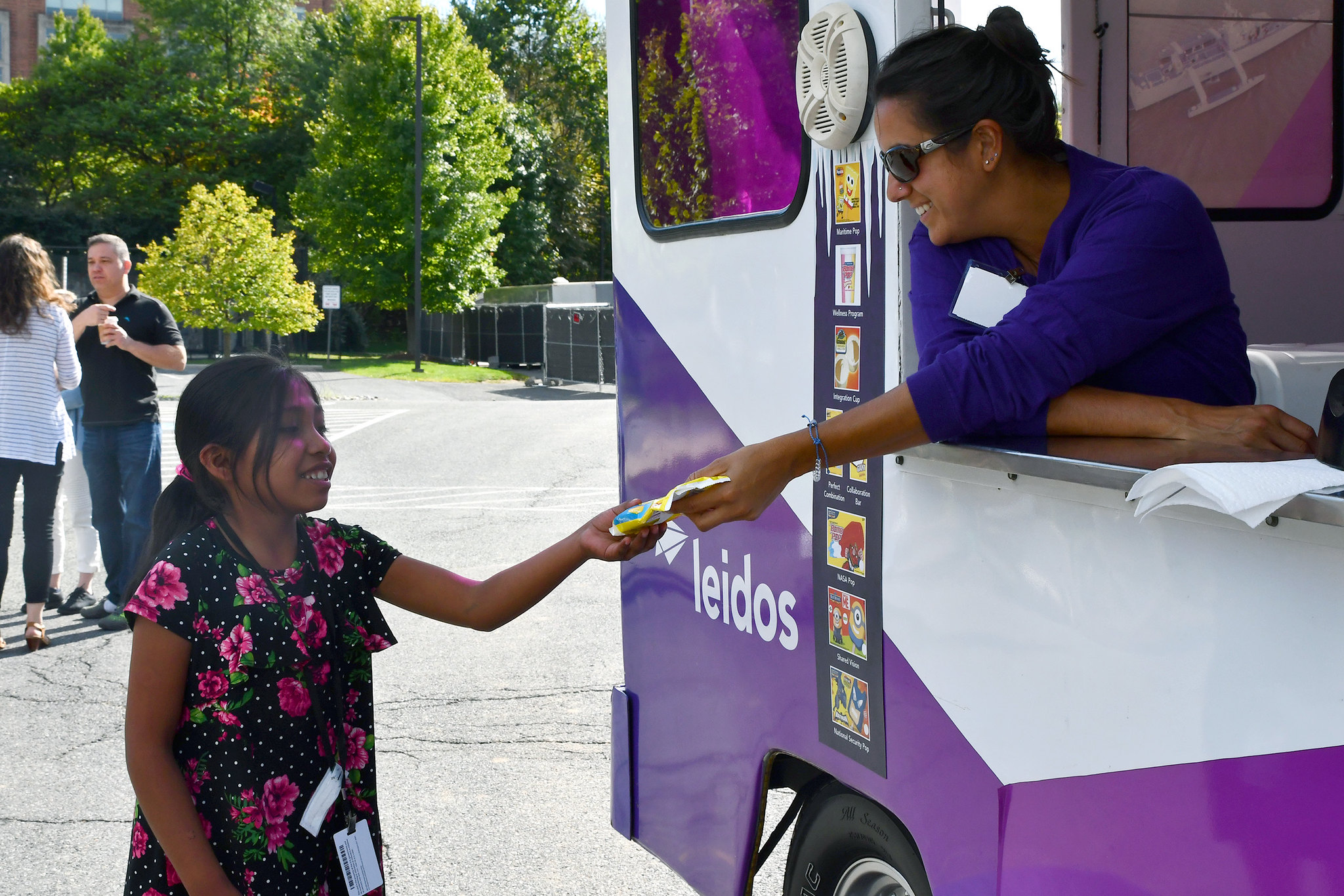 Girl buying ice cream from Leidos ice cream truck
Inn resident Melva gets ice cream from the Leidos Scoop truck.
Thanks to Leidos, Inn families have also had the chance to experience the thrills of attending DC United games, eat delicious, catered brunches on Sundays, and enjoy hearing Leidos staff and the DC United mascot cheer as kids kicked soccer balls into miniature goals during a company-organized party at The Inn.
DC United's mascot, Talon, appears with Inn residents, siblings Amana, Amani, and Abel.
"Leidos' mission is about saving lives through IT, engineering, and science – the work that we do for our customers – which is right in line with what The Inn does," says Erika Killian, a program director at Leidos. "And so coming to The Inn and seeing the children reminds us why we do what we do – why we support the NIH and their mission, why we are at the FDA, supporting the medical research and the drug discovery to ultimately save the lives for these kids and furthering cures for the future."
Stay Up To Date
on how The Children's Inn is creating 'A Place Like Home'