Kayla & Cody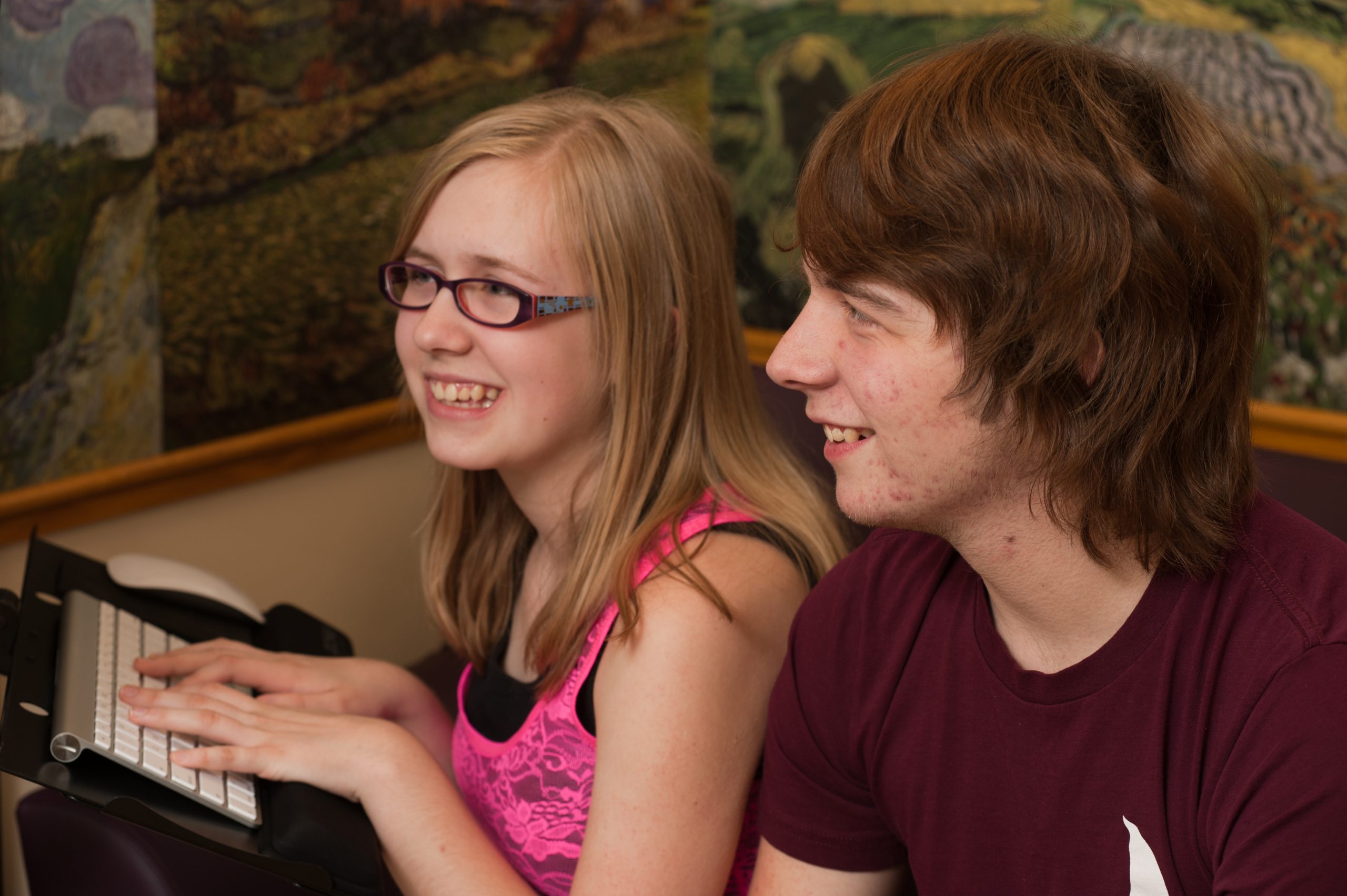 Cody and Kayla, siblings from Lexington, Texas live with Niemann-Pick Type C disease (NPC), yet are filled with optimism and a love for life. Whether it's high fiving other residents, or sharing jokes and stories with Children's Inn staff, these two upbeat teenagers leave an unforgettable impression everywhere they go. The family has traveled a long and difficult road before arriving at the NIH, though.
When Cody was three, his parents Dena and Scott took their son to the doctor for a routine check up. After noticing Cody had an enlarged spleen, further testing showed that he had an unidentifiable genetic disease. Doctors weren't sure that any physical manifestations would ever occur due to the diagnosis. "As Cody got older and when Kayla was born, we noticed that they walked a little differently, and even talked a little differently, than other children, but we didn't think anything of it," Dena explains. Nothing came of the diagnosis for several years.
By 2009, both Cody and Kayla were experiencing mobility loss, speech impediments, and learning disabilities and the family needed answers. After two years of searching, the family saw an optometrist who was familiar with NPC. Cody and Kayla could not roll their eyes up or down to see, common in NPC patients. The family was sent to a Pediatric Genetic Neurologist at Vanderbilt University Hospital in Nashville, Tennessee.
Once Cody and Kayla arrived at Vanderbilt, an extensive medical family history investigation was completed, along with several tests on Cody. On January 28, 2011 Cody was officially diagnosed with NPC and Kayla shortly after. NPC is an extremely rare Neurological Disease that causes progressive deterioration of the nervous system. Currently there are less then 500 diagnosed cases worldwide and there is no cure.
Cody, now 18, and Kayla, 14, first came to The Children's Inn in January 2014 when they began participating in a clinical trial with a handful of other NPC pediatric patients through the National Institute of Child Health and Human Development (NICHD). Since beginning the trial, Dena and Scott have noticed slow progress in both of their children.
They now stay at The Inn one week each month and have built a sense of community with staff and other residents. The entire family loves The Inn. Kayla can be found painting in the Arts & Crafts Studio and Cody is usually socializing with staff and other teenage residents. Dena and Scott can be found in the kitchen, trying their best to share with and support International families.
"The Children's Inn is our getaway, a place where we are taken care of outside of the medical world. And the NIH, it means hope. We are grateful for both," says Dena. "This is where we are supposed to be."
Stay Up To Date
on how The Children's Inn is creating 'A Place Like Home'