Karly
For the nearly 10 years Karly, 17, has been coming to The Children's Inn, her older sister, Kelsey, often accompanied her. The two shared the same rare immune deficiency disorder and supported one another through the toughest times. "Kelsey was my inspiration," Karly says. "On my sick days, she was the one that filled me with hope."
Family is paramount to Karly, who won an art contest at The Inn themed "What Makes Me Happy." In addition to Kelsey, she has two younger sisters and two older brothers. In her art, she illustrated her large family of eight from Indiana and their strong bond— a bond that has helped them heal through the darkest days.
On Feb. 2, 2011, the family lost Kelsey, 22, to the disease after complications from a bone marrow transplant. The two sisters have been part of a research study with the National Institute of Allergy and Infectious Diseases (NIAID), which recently discovered their DOCK8 gene deficiency. The vexing disorder, found in people with inherited immunodeficiency, is characterized by relentless health problems, including persistent bacterial and viral skin infections, severe eczema, acute allergies and asthma, and cancer.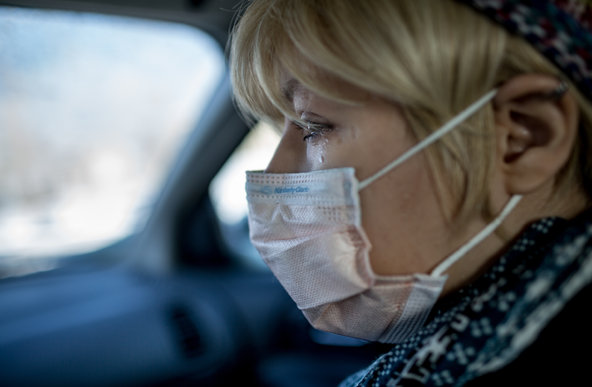 Kelsey and Karly had all of those ailments. Karly battled lymphoma and endured chemotherapy before her sister prepared for her bone marrow transplant. Kelsey was the first identified DOCK8 patient to receive the bone marrow transplant, according to Dr. Steven M. Holland, Chief of the Laboratory of Clinical Infectious Diseases.
"Kelsey wanted to pave the way not just for her sister, but for many, many others," says her mother Tammy. "She wanted to be a pioneer. That was Kelsey." Indeed, she was, says Dr. Holland. "Kelsey's contributions were significant," he says. "She and her family really have contributed extensively to our knowledge about the disease."
Karly is preparing for her upcoming treatments and relies on The Inn to help her family stay together. "The Inn makes you feel at home when you can't be home," she says. She carries her sister's strong faith in God. "When I lost Kelsey, I lost a great companion and the best sister, but I did not lose the things she taught me."
After nearly 20 years of not knowing what disease the girls had, Tammy and husband Tracy say it has been a huge relief to finally find a diagnosis at the NIH.
"You've got to have hope," says Tracy. "Finding a place like the NIH where doctors are working so diligently and not just on the symptoms, well, that gives you hope."
Stay Up To Date
on how The Children's Inn is creating 'A Place Like Home'