Volunteer Spotlight – John Weiner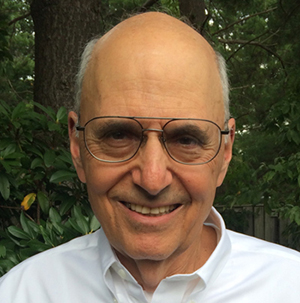 John Weiner has been volunteering at The Children's Inn for the past 16 years. Although he started as a computer room assistant and then a van driver, taking families to the grocery store, the last six years have been devoted to tutoring Inn residents, including patients, parents and siblings.
"Sitting down to study English or American History or reading The Red Pony, Shiloh, or a poem by Robert Frost offers family members a constructive and enjoyable respite from the burdens of a sick child," says John. "It provides them with some much-needed structure and, if only briefly, takes their minds off of their routine of doctors' appointments and Clinical Center visits."
John retired in 2006 from many years of overseeing publications and website management with an agency of the Department of Energy. Prior to starting his government career, he served as a Peace Corps volunteer in the Republic of Guinea, where he taught English as a foreign language, and he later earned a masters degree in Linguistics from Georgetown University.
Recently, one of John's students at The Inn was a 16-year-old from Barbados who wanted to learn about Dr. Martin Luther King, Jr. John told the teenager that he should try to understand Dr. King in a broader context, so they also talked about the Civil War, the Supreme Court's Plessy and Brown decisions, and other heroes and milestones of the Civil Rights movement.
"Like working in the Peace Corps, I get so much more out volunteering at The Inn than I give," says John. "When Ronny Kempenich (The Inn's Education Program Coordinator) asks me to come in to tutor, I say, yes!"
John has a busy life in retirement. In addition to spending 8-14 hours a month at The Inn, he and his wife, Judy, have a daughter and grandchildren in the area, and John sings with the National Men's Chorus and serves on the board of the National Energy Education Development Project.
Stay Up To Date
on how The Children's Inn is creating 'A Place Like Home'