The Children's Inn Celebrates 30th Anniversary and 30 Years of Support by GDIT
Since The Children's Inn opened its doors to the first NIH families 30 years ago, government services provider GDIT has stood by its side. The company's support extends from serving meals to Inn families on a monthly basis to holding team-building events that raise funds for The Inn.
"We've enjoyed the support of GDIT leadership and staff for so many years," says Jennie Lucca, CEO of The Children's Inn. "We value and treasure GDIT's long history of support and the special partnership we've built. GDIT immediately supported our decision to cancel our April gala due to the coronavirus outbreak and maintained its pledged sponsorship in the form of a generous donation. We are very grateful for this strong support, especially during such a challenging and uncertain time."
As a fundraiser for The Inn, GDIT hosts popular bowling nights, which typically draw more than 100 people. In recent years, the activity raised enough funds to help The Inn purchase new ovens for its community kitchens. This year, funds raised supported The Inn's Feeding Families program, which helps The Inn safely provide meals to families during the virus outbreak while all volunteer activities are suspended, including dinner groups like the one GDIT supports.
Kamal Narang, vice president of GDIT's federal health sector and a Children's Inn board member since the fall of 2019, says it's serving dinners to Inn families he and his staff look forward to most.
"GDIT is very proud to continue to support The Children's Inn and their work during the COVID-19 pandemic. We are especially looking forward to serving dinners again soon. It's about putting smiles on children's and families' faces," Narang says, adding that it's also about the palpable excitement GDIT staff members exude when planning the monthly dinners.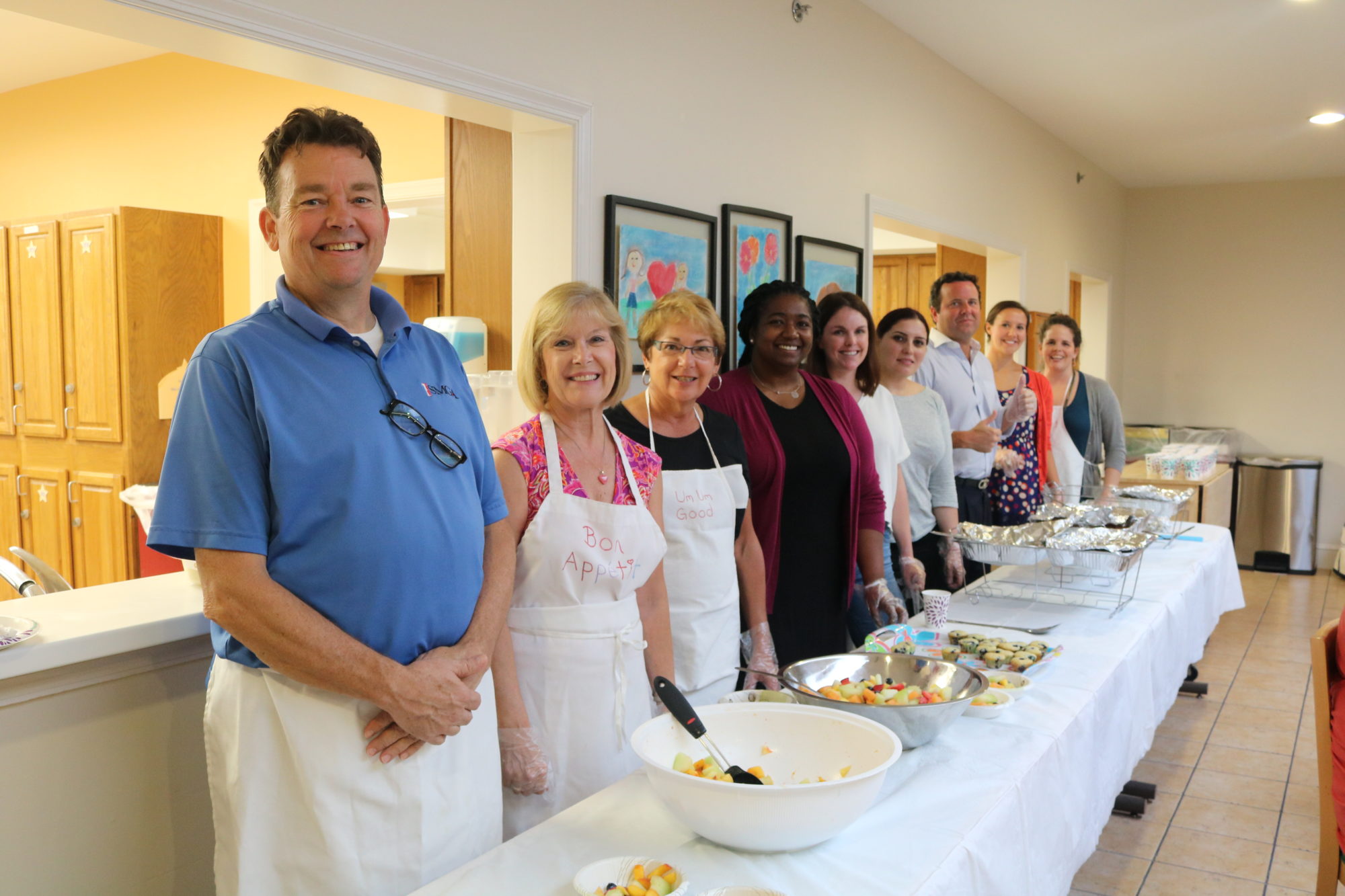 The GDIT team prepares to serve a family meal to Inn residents.
Interactions with Inn children and families are not only meaningful to Narang and his staff but they also tie them more closely to the life-saving work of the NIH. "It's humbling," Narang states.
Stay Up To Date
on how The Children's Inn is creating 'A Place Like Home'