Meet NIH Police Corporal Alvin Maker: Friend to The Children's Inn
Alvin Maker is a trained sculptor with a degree in fine art, a gardener, lifelong bike enthusiast and former dog trainer. His most important and beloved role, however, is being the NIH's community policing coordinator, responsible for keeping Children's Inn residents, volunteers, staff and visitors as well as other NIH patrons safe and supported.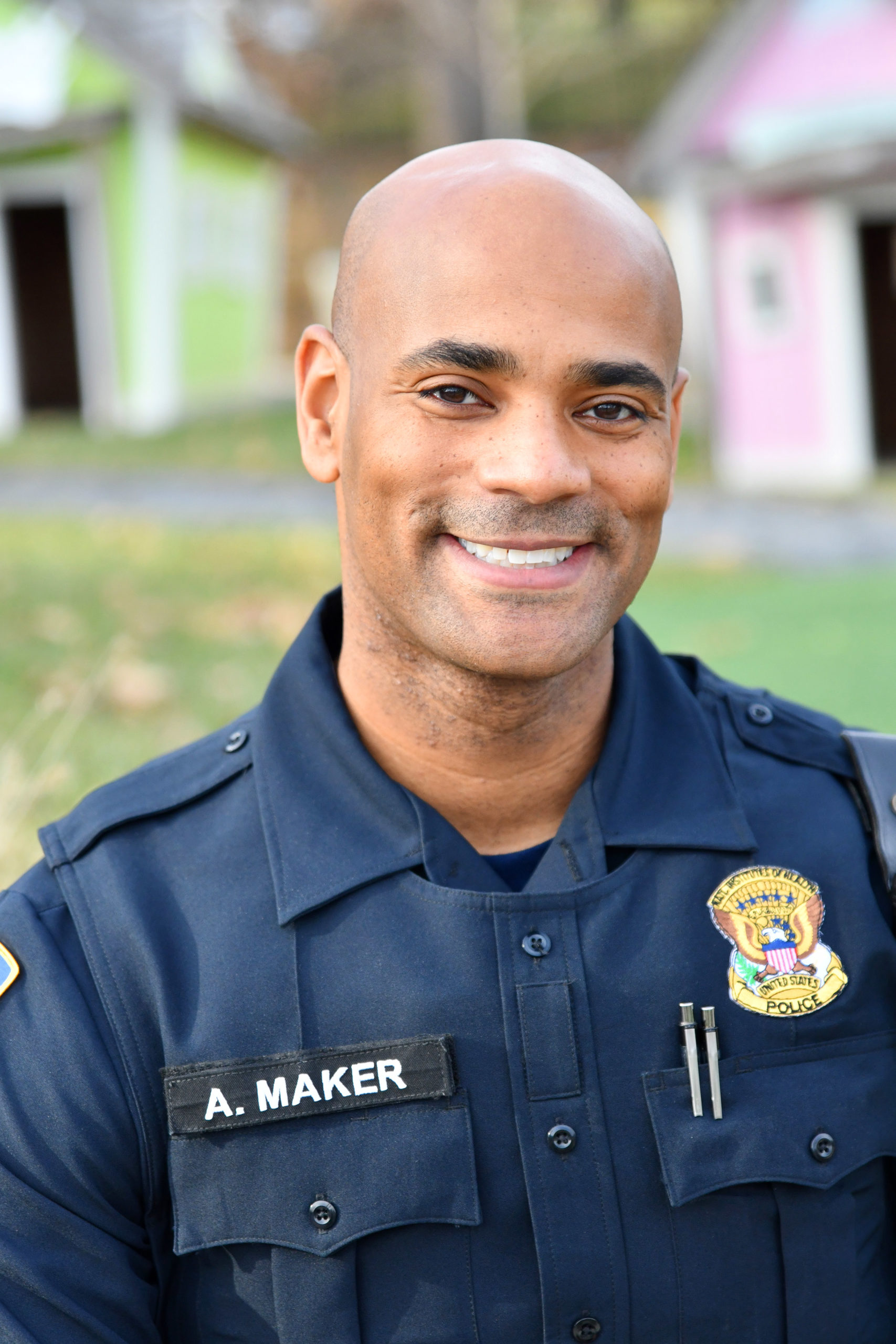 "My core goal is to strengthen the bridge between the community and law enforcement," Maker says. "In my position, I listen to community concerns and dive into them to find a solution or route them in another direction. What attracted me to this position is the chance to effect positive changes in people's lives."
Maker regularly meets with Children's Inn staff. Working behind the scenes, he helps ensure the general safety of events held at The Inn and arranges for NIH police officers to participate in special events. Maker has participated in occasions ranging from monthly parties for Inn children and families to larger events that bring guests to The Inn, such as the annual Montgomery County Police Department's "Santa Ride."
"The officers who participate in these events all have good hearts, and they swell a little bit more when they get into the moment," he says.
To make sure families understand that the uniformed officers are here to assist them, Maker visits with caregivers and children on a monthly basis for Coffee With a Cop. The 7 a.m. gathering is a perfect time for families before heading to the NIH Clinical Center for a day of appointments.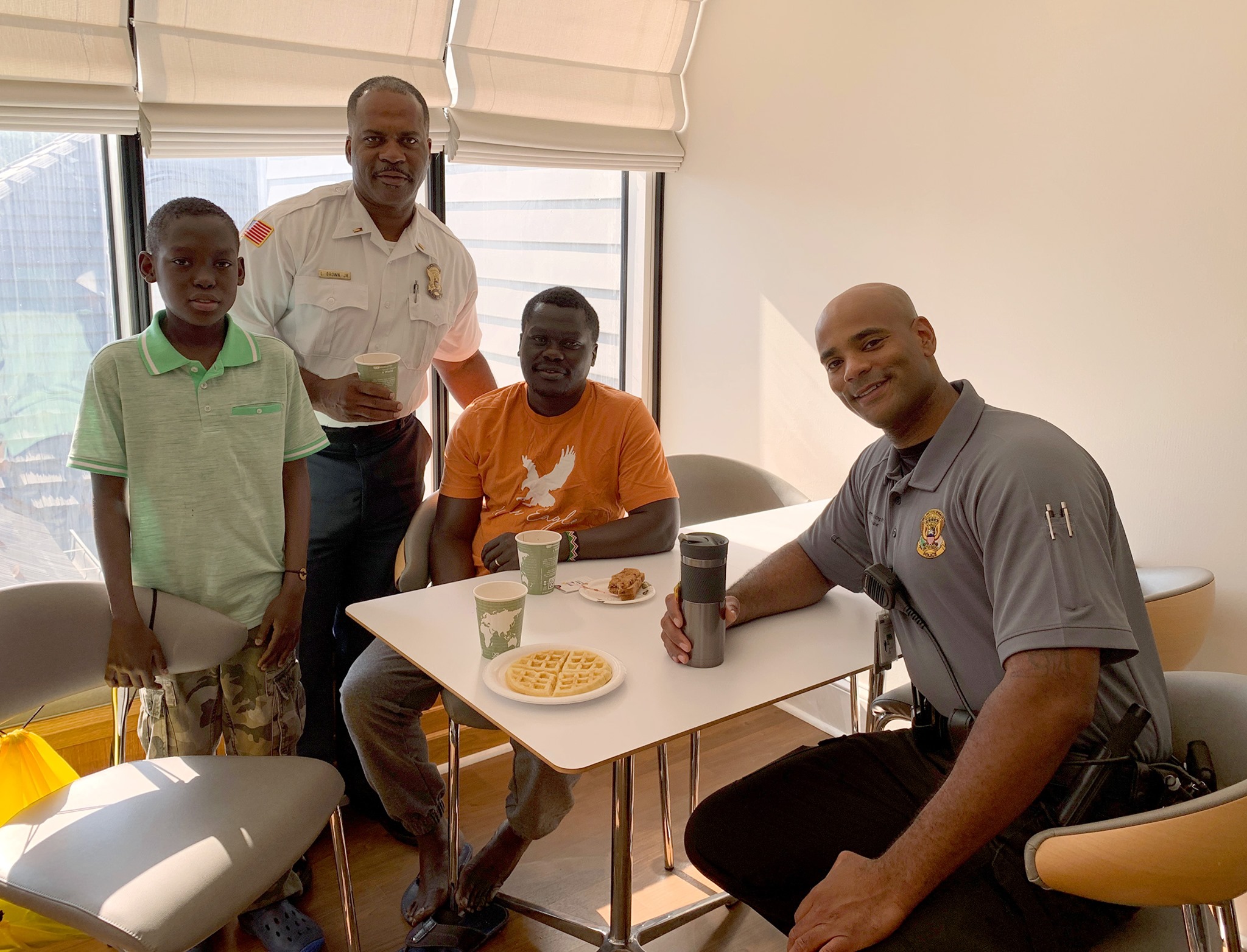 "Events like these give NIH guests the chance to meet officers and ask questions that break the ice," Maker says. "They share their lives and experiences with me. The moments of interacting with families – that gives me the motivation to keep going. If these children can deal with all their medical problems, we really shouldn't complain about things."
Last fall, Maker and other NIH police officers got into the Halloween spirit, decorating an NIH police vehicle for The Inn's trunk-or-treat party. It was the second year NIH police officers participated in The Inn's Halloween festivities.
"Corporal Maker and the other NIH officers have a great demeanor with our families," says Javin Smith, The Inn's program operations manager. "They're really engaging, friendly and always happy to help. They have a good sense of humor, and we're so glad they're participating in our events to get to know our children and families. Our children often are in awe the officers are participating in these events. It's often the only time they get to engage with officers in such a fun way, and it leaves a deep impression on them."
Maker is looking forward to monthly "Ice Cream With a Cop" days this summer to enjoy sweet treats and conversation with Children's Inn family members of all ages.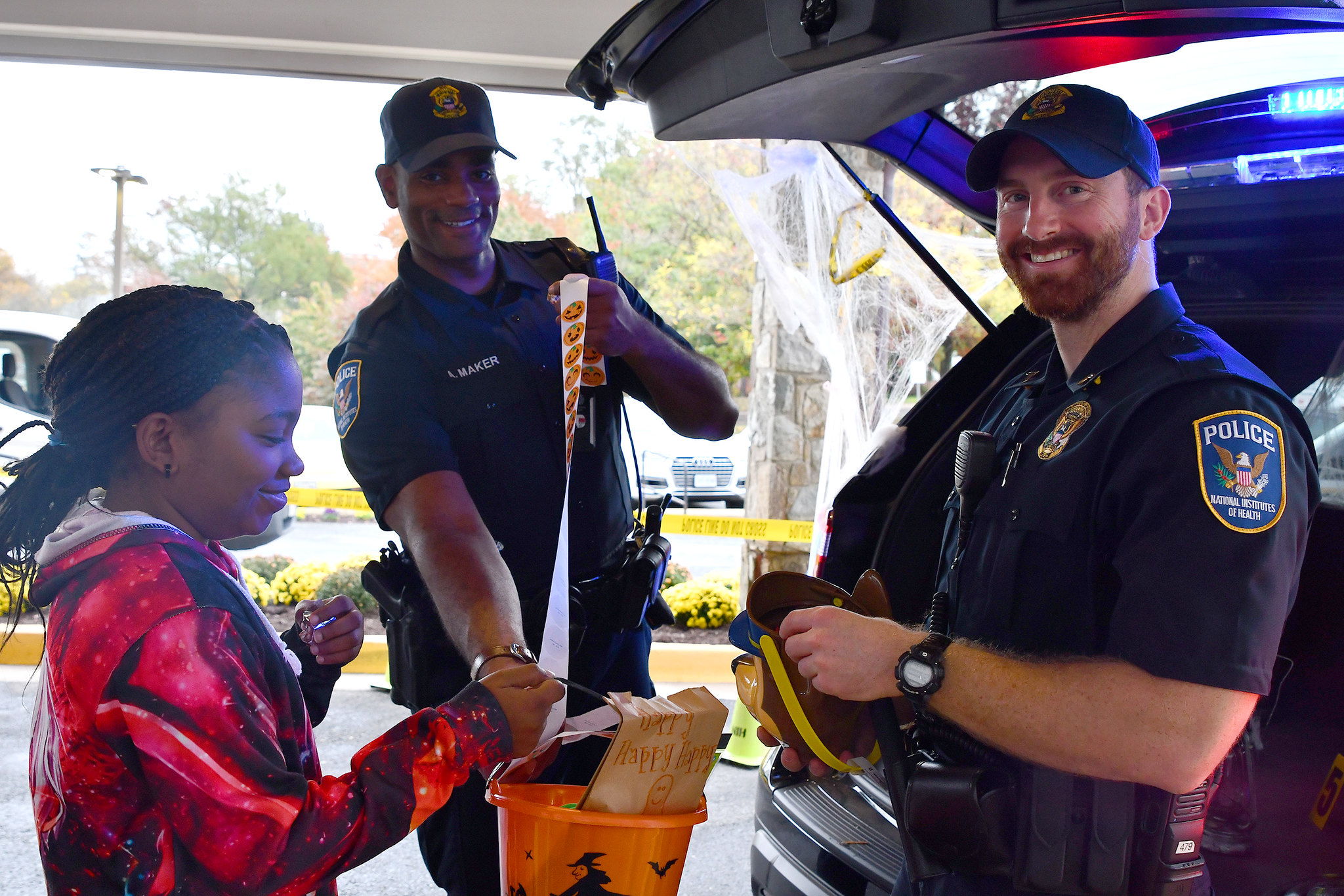 Officer Maker has enjoyed biking and fixing bikes all his life, and also plans to start a bike clinic for Inn families later this year. During the clinic, he hopes to teach caregivers and children how to care for bikes and even how to fix them. He also intends to tune up The Inn's fleet of bikes, available for use at any time.
"The NIH police officers provide escorts to Inn families, supporters and staff whenever the shuttle isn't working or there are other transportation-related issues," he says. "We're here to guide our guests to their destinations on campus at any time."
Maker's love for police work was ignited by community police officers he met growing up in nearby Howard County, MD. From age 14 to 21, he joined the Howard County Police Explorers, a police-led training opportunity for teens and young adults interested in learning about law enforcement and serving their communities.
In college, Maker followed in his artist mother's footsteps and earned a degree in art, specializing in sculpture. But in the end, his love for police work won out, and he trained to become an officer rather than an artist. He continues to draw as a hobby.
During his time off, he also enjoys gardening, biking and exercising. But from 7 a.m. to 3 p.m., his favorite job responsibility is assisting and spending time with the children and families who call The Inn their "place like home."
Stay Up To Date
on how The Children's Inn is creating 'A Place Like Home'