More Than a Decade of Visits to The Inn Allows Green Family to Help NIH Advance Research Into XLA
Nothing about having children came easy for Sonia and Colby Green of River Forest, Illinois. They endured years of failed fertility treatments, a miscarriage and a stillbirth. When Sonia gave birth to a healthy baby boy, the couple was over the moon. But their joy quickly turned to concern.
Though Harrison looked like a healthy baby, soon after birth he developed dangerous bacterial infections requiring hospitalizations and IV antibiotics. He also suffered persistent coughs and frequent ear infections. Sonia was adamant about getting to the bottom of her son's health issues – and received alarming news once Harrison's blood tests were complete.
"The immunologist called and said: 'This is critical; you need to come in today. Your child has no immunoglobulin, and we need to start him on replacement therapy right away,'" Sonia remembers.
Immunoglobulins, or antibodies, are pathogen-fighting proteins produced by the blood's plasma. They are an essential part of the human immune system, and without them, young Harrison was vulnerable to life-threatening infections.
Genetic testing revealed Harrison suffers from X-linked agammaglobulinemia (XLA). People with XLA have extremely low numbers of the immune cells that produce immunoglobulins, and this defect makes patients especially vulnerable to many infections.
XLA primarily affects boys, and although there's no cure, fortunately the condition is treatable. To stay healthy, Harrison started monthly immunoglobulin infusions and began taking a daily antibiotic.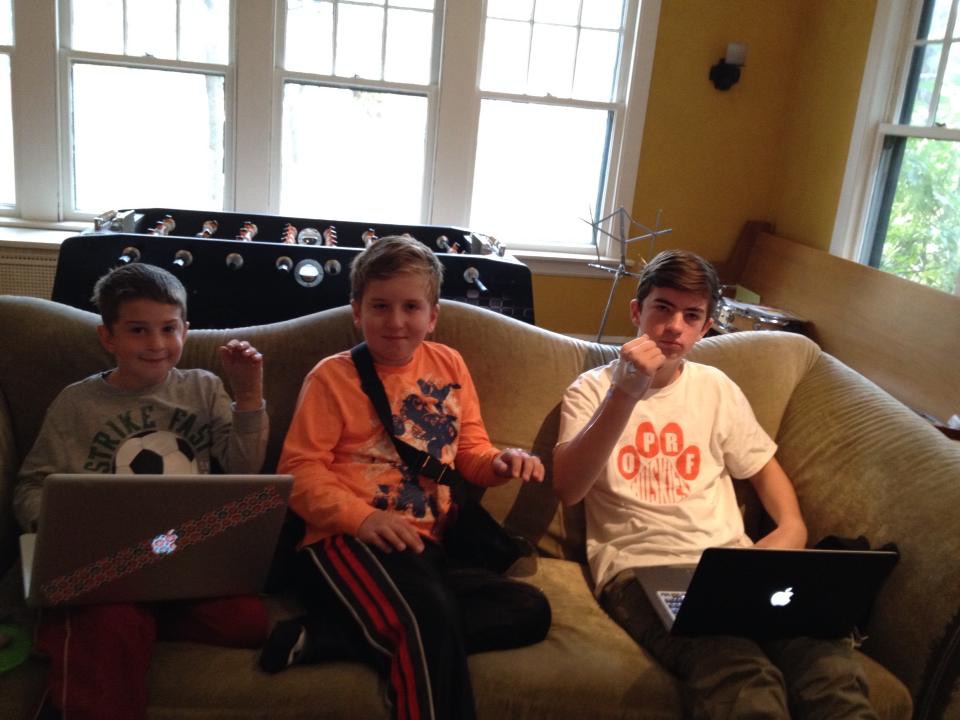 Green family boys get transfusions
The boys receiving their infusions
After Harrison's diagnosis, his mother wasn't sure what to expect for his future. She got in touch with a young man with XLA, John Doyle, whose mother, Marcia, had founded the Immune Deficiency Foundation in order to educate other families about XLA. Sonia was relieved to learn from John that besides needing regular infusions and antibiotics, he lived a nearly normal life.
The fact that Harrison's disease was genetically based – and inherited – made Sonia and Colby wary of having more children. But the couple's fertility clinic guaranteed them it was possible to choose only healthy female embryos for implantation, thereby eliminating the possibility that their future children would be affected by XLA. Eventually, the couple was thrilled to learn they were expecting twin girls.
Not taking any chances, the couple opted to do every in-utero test available – including gender testing.
"When the tests came back, the doctor told us we needed to be sitting down," Sonia says. "The twins were both boys." Further testing showed that one of the fraternal twins also had XLA. Then, a few months after the twins' birth, Sonia and Colby were shocked to find they were expecting their first naturally conceived child – a fourth boy. He, too, has XLA.
Fast forward to today: Harrison, 19, and his brothers Holden, 15, and Davis, 13, have been getting monthly immunoglobulin infusions since they were 6 months old. (Langford is the Green's only son without XLA). The family first visited the NIH more than a decade ago to participate in a clinical trial at the National Institute of Allergy and Infectious Diseases (NIAID). They continue to come together for yearly checkups at NIH, and their visits help NIAID physician-scientists understand how genetic mutations affect the immune system. XLA is so rare that many physicians are unfamiliar with treatment options, so the Green's NIH visits ensure the boys receive the gold standard of care.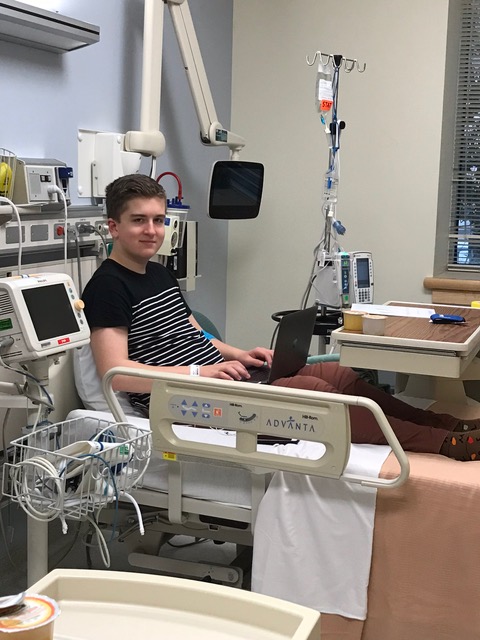 Green family boy getting a transfusion in the hospital
Thanks to supporters like you, this extraordinary family has stayed at The Children's Inn free of charge 15 times for over 40 nights while receiving treatment at the NIH.  Of The Inn, Sonia says, "It's an amazing, one-of-a-kind place. When the kids were little, it helped them look forward to the NIH visits. The Inn is just magical, and everybody there is so nice. It's really cool."
The Inn's children's playroom brings back many joyful memories for Sonia. "All four boys would spend hours there, and I could sit back and relax," she recounts.
Now, as teens, the boys gravitate toward playing foosball in the teen lounge or basketball on The Inn's outdoor sport court. The family carries out fierce pool and air hockey tournaments in the game room, where Langford loves playing the video game Fortnite.
When Sonia feels stressed or needs a few moments to think, she retreats to The Inn's reflection space. "Every time I visit, I sit there for 10 minutes," she says. "It's a very special place for parents. I find time to stop and think big picture. It feels very peaceful."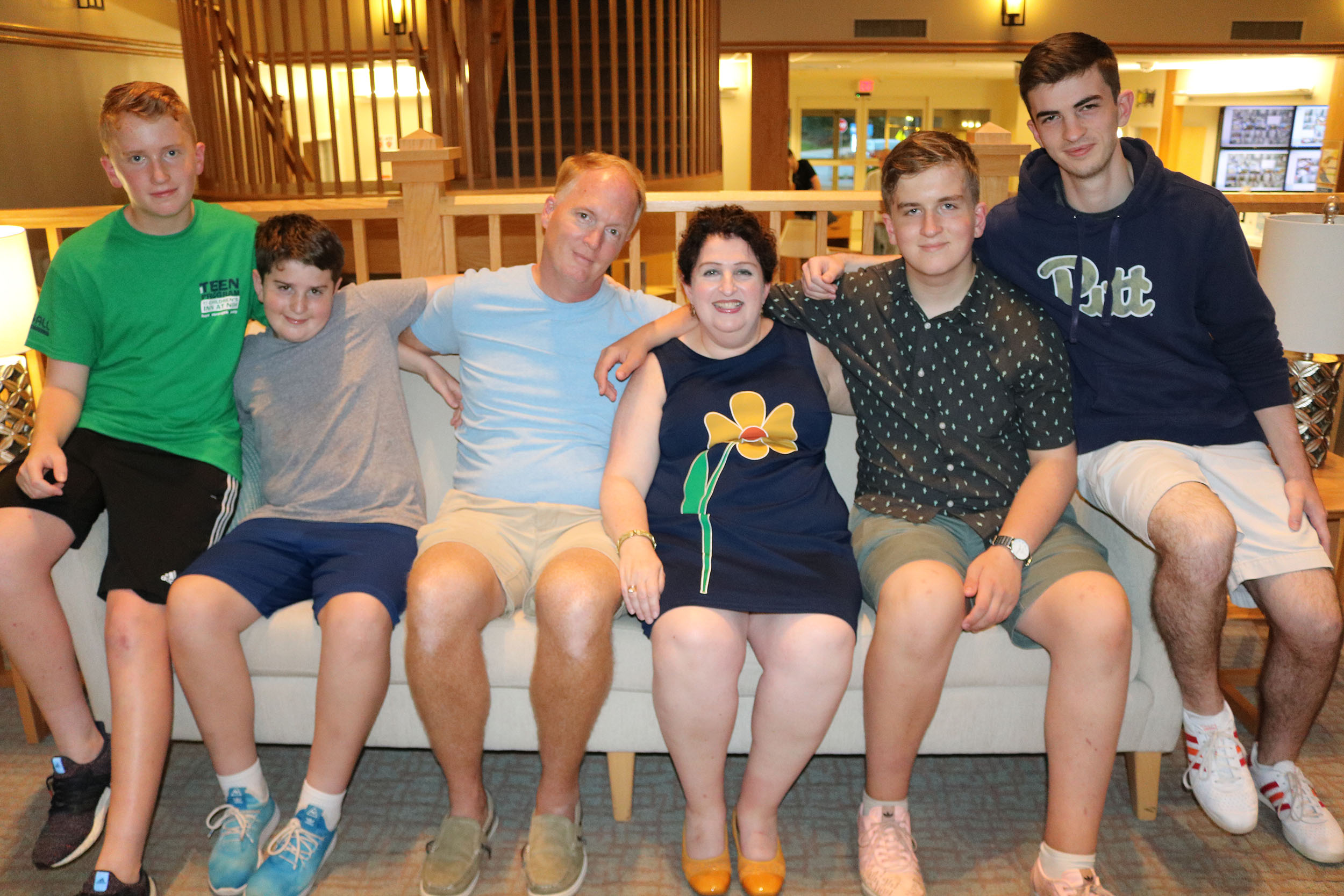 The entire Green family together at The Inn.
Your support makes it possible for families like the Greens to participate in clinical trials that not only benefit their own children, but that help NIH researchers develop better treatments for generations of children to come. To help other families of seriously ill children get expert medical help and contribute to the NIH's medical breakthroughs, please make a gift to The Children's Inn at childrensinn.org/donate. Thank you for your generous support!
donate today
Stay Up To Date
on how The Children's Inn is creating 'A Place Like Home'