Jennie Lucca and The Inn Welcome First Lady's Delegation to NIH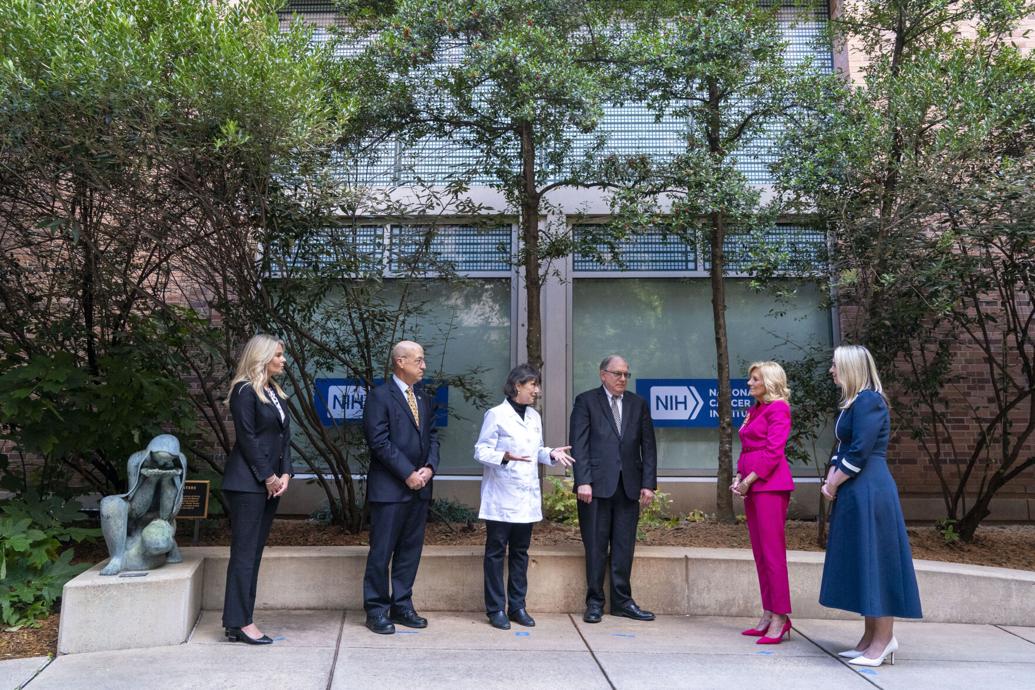 On Wednesday, The Children's Inn at NIH was honored to participate in welcoming Dr. Jill Biden, the First Lady of the United States of America, along with Ms. Jodie Haydon, the partner of Australian Prime Minister Anthony Albanese, to the National Institutes of Health for a visit. Jennie Lucca, the Chief Executive Officer at The Inn, joined Acting Director of the NIH, Dr. Larry Tabak, Director of the National Cancer Institute, Dr. Monica Bertagnolli, and NIH Clinical Center CEO, Dr. James Gilman, in welcoming the delegation to the campus.
The welcome took place in the Healing Garden of the Mark O'Hatfield Clinical Research Center, part of the NIH Clinical Center. There, Lucca provided the delegation with an overview of The Children's Inn, highlighting how The Inn is an essential part of the NIH pediatric research infrastructure.
"We were thrilled to welcome Dr. Biden and Ms. Haydon to the NIH this morning,where I had the privilege of sharing The Children's Inn mission – to provide a free place like home for children, teenagers, and young adults receiving medical treatment at the NIH Clinical Center," Lucca said of the event. "Since The Inn opened in 1990, we have served families from all 50 states and 106 countries, including 80 families from Australia. We are grateful for the Congressional spouses who were critical early supporters of The Inn and the continued special impact they and leaders like Dr. Biden and Ms. Haydon have on our mission."
The visit was an integral part of a state visit by Prime Minister Albanese and Ms. Haydon to the United States. The visit will conclude on Thursday.
Stay Up To Date
on how The Children's Inn is creating 'A Place Like Home'